More than 30 Easter Brunch Recipes to inspire your weekend celebrations, from pancakes and waffles to breakfast casseroles and fruit salads. Throw the ultimate Easter breakfast with these delicious ideas and helpful tips!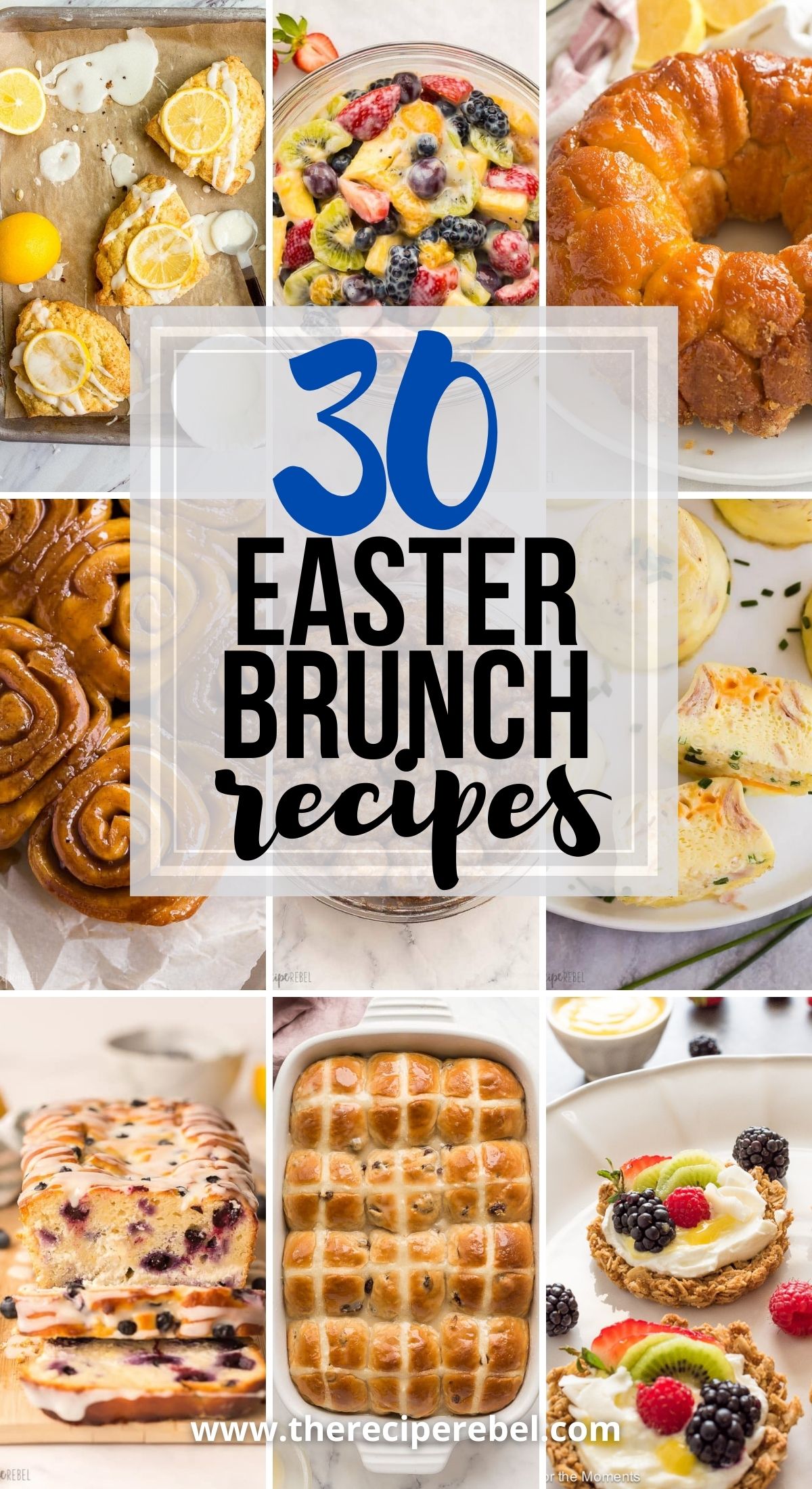 Table of Contents
I'm a brunch fanatic, so when Easter rolls around, it's time to shine! I always found it a pity that more holidays aren't associated with a giant brunch spread. Normalize brunch at Christmas! Brunch at Thanksgiving! Who's with me?
Needless to say, I've waited all year for the big brunch buffet, and I love nothing more than a long table full of breakfast food. For that reason, I came up with the ultimate list of Easter brunch ideas.
What Do You Eat on Easter Sunday?
Like other holidays, Easter is often associated with particular foods. And many traditional Easter dishes date back hundreds of years! You'll often find a few usual suspects on the table come Easter Sunday:
Lamb. Lamb is one of the most well-known Easter meats, since it's also often associated with springtime. Roasted lamb is the main dish at Jewish Passover and is a traditional main dish on Easter Sunday.
Ham. An Easter ham is another tradition that grew popular in America, where eating lamb isn't as common.
Eggs. Not just for decorating, hard-boiled eggs are a popular breakfast choice for Easter weekend.
Hot Cross Buns. The white crosses on top of hot crossed buns are symbolic of the crucifix. Traditionally eaten on Good Friday, hot cross buns have become a side dish served on Easter Sunday, too!
How Do You Plan a Brunch Menu?
Since brunch combines breakfast and brunch, aim for a menu that brings out the best in both! Think egg dishes, fresh ingredients, a balance between sweet and savory, and something for dessert. Of course, there will be coffee and tea, and a brunch cocktail never fails to round a perfect brunch spread.
Here are some tips to keep in mind when planning your brunch menu:
Try to include a wide variety of types of food: high protein, healthy dishes mingled with sugar-laden coffee cakes and donuts, next to coffee, juice, punch and water (because I'm saving my sugar calories for that french toast bake).
Cut fruit and make fruit salads just a couple of hours before serving. They just don't last like we would like them too!
Choose a few dishes that can be made up to 24 hours ahead, and some that need to be cut or cooked fresh. This way you won't be scrambling on the big day doing everything simultaneously. Casseroles are great dishes that can be prepped completely in advance.
My Favorite Easter Brunch Ideas
A round up of 30 of my favorite brunch ideas for Easter, from sweet pastries to savory quiches, breakfast casseroles and more!