This Cream Cheese Filled Blueberry Lemon Bread is sweet, tangy and filled with a decadent cheesecake layer! Let's call it breakfast or dessert 😉 Includes how to recipe video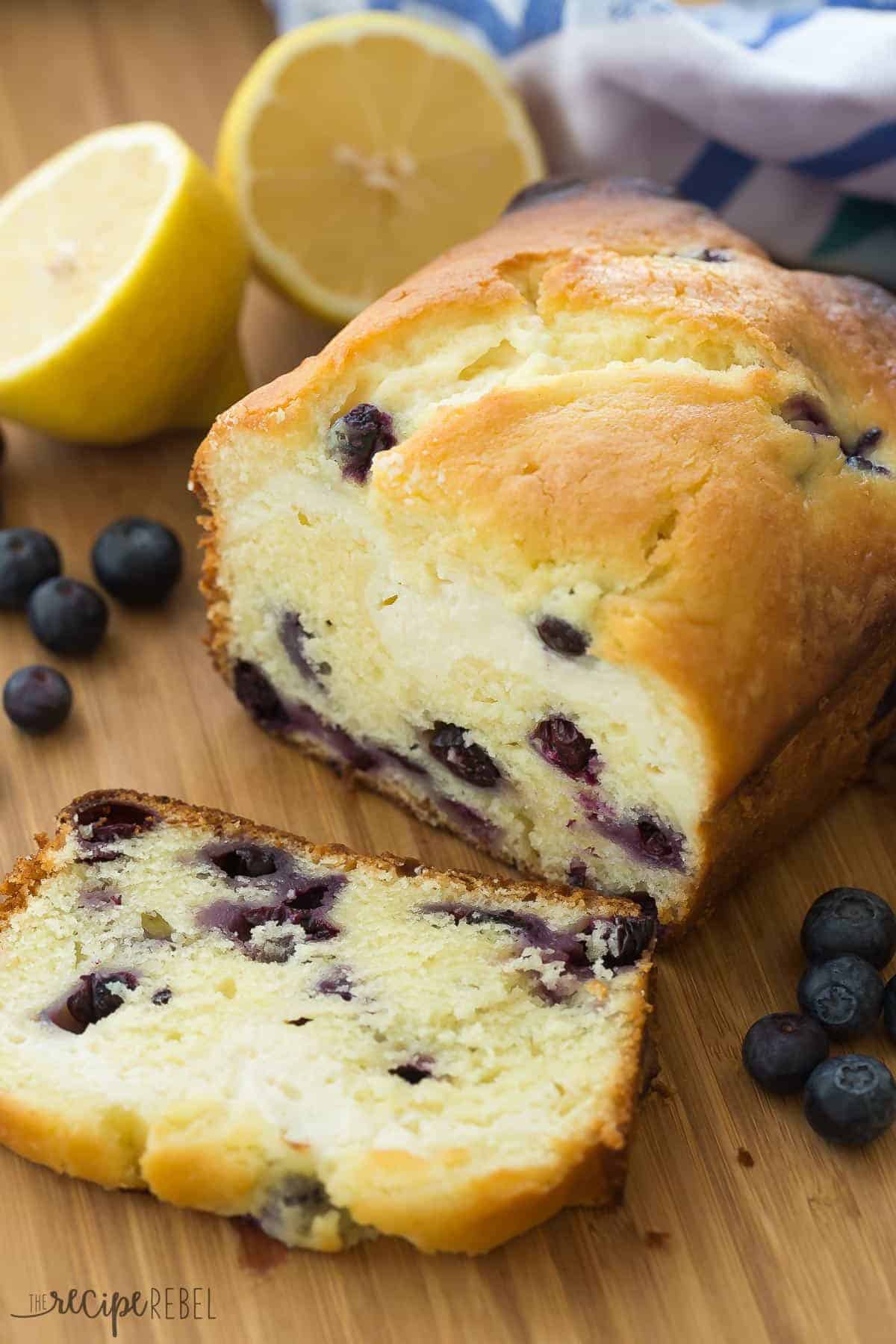 It feels a little weird, to be honest, but I actually can't remember the last quick bread recipe I shared.
Around here, quick bread is a pretty regular thing, but it's something that I rarely experiment with. This Banana Bread is our favorite by far, even without chocolate chips (whaaaat?!?), and buried deep in the archives I have quite a few variations (samoa, peanut butter and coconut to name a few). There's also this Praline Glazed Apple Bread which is another one of those breakfast/dessert hybrid we love.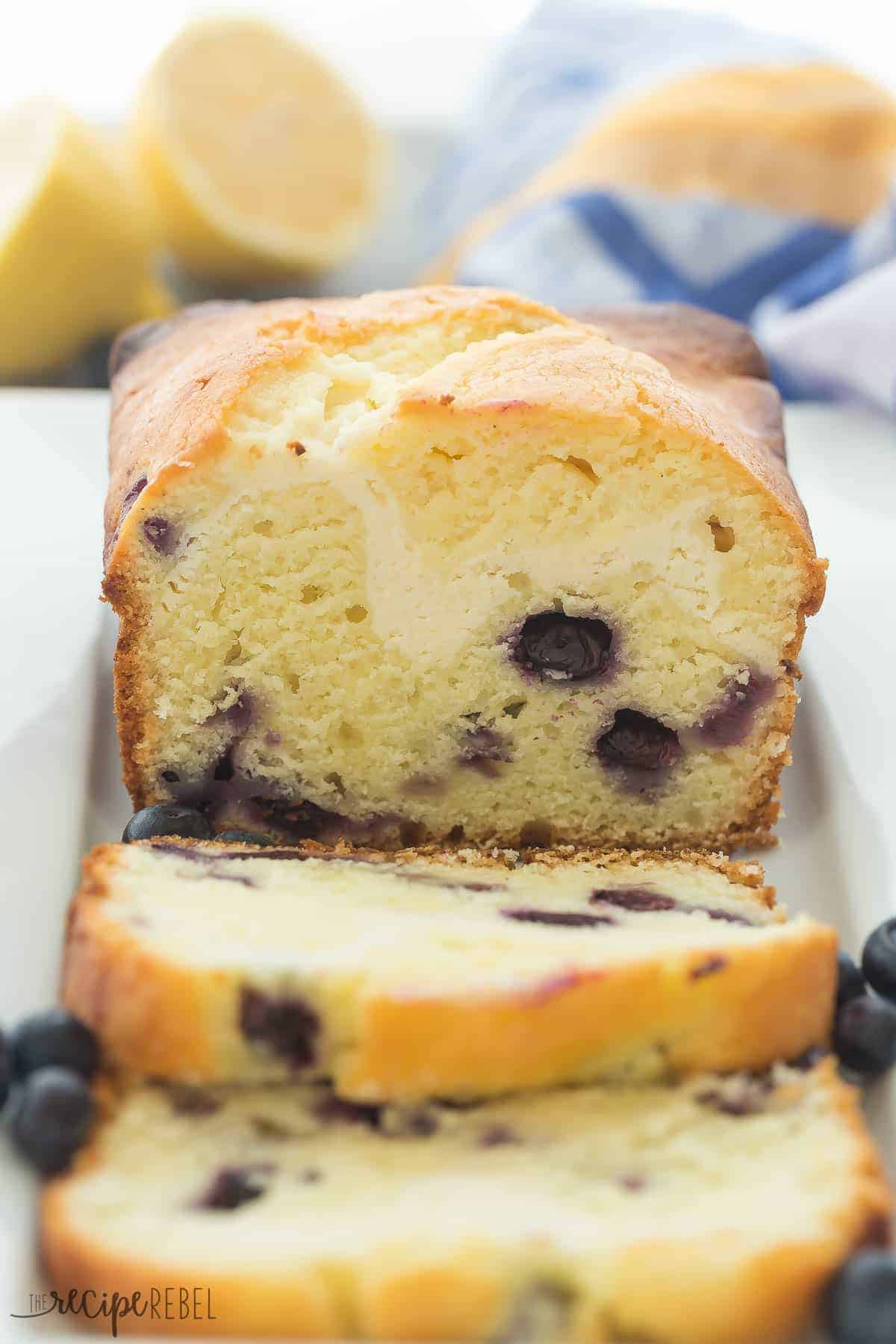 I love quick breads because they're less work than muffins (no messing with liners or scooping), and they can go from breakfast to school lunches to dessert pretty easily, with an extra serving of fruit or a drizzle of glaze.
And since it's officially summer now, I'm busting out all of the sunshiny flavors. (Okay let's get real — I've been loving on lemon alllllll winter long, as is to be expected).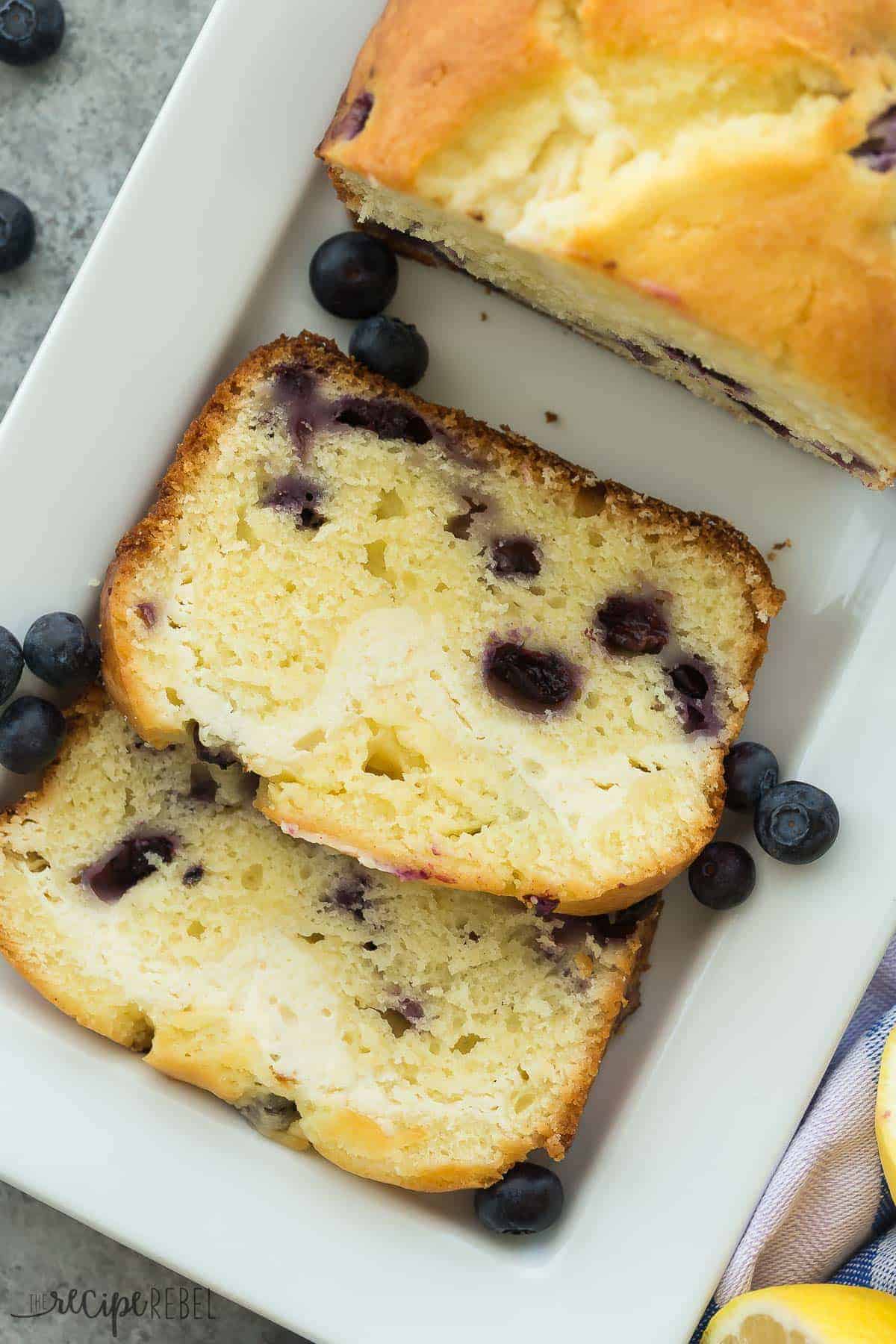 This lemon bread is a spin-off of possibly my favorite coffee cake to date — this Lemon Blueberry Cream Cheese Coffee Cake. It went over pretty well with my taste testers (and it's going over pretty well with you, too!), so I figured I couldn't go wrong!
I was planning to use my favorite Lemon Bundt Cake recipe and just halve it to make this lemon bread. Well, 4 loaves later I realized that was not going to work!
I ended up adapting the recipe from Taste of Home's Complete Guide to Baking cookbook (which I actually can't find on Amazon anymore), which I love when I'm looking for help with a basic baking recipe! You could skip the cream cheese layer completely if you want to, but I think that's what really makes this bread extra special.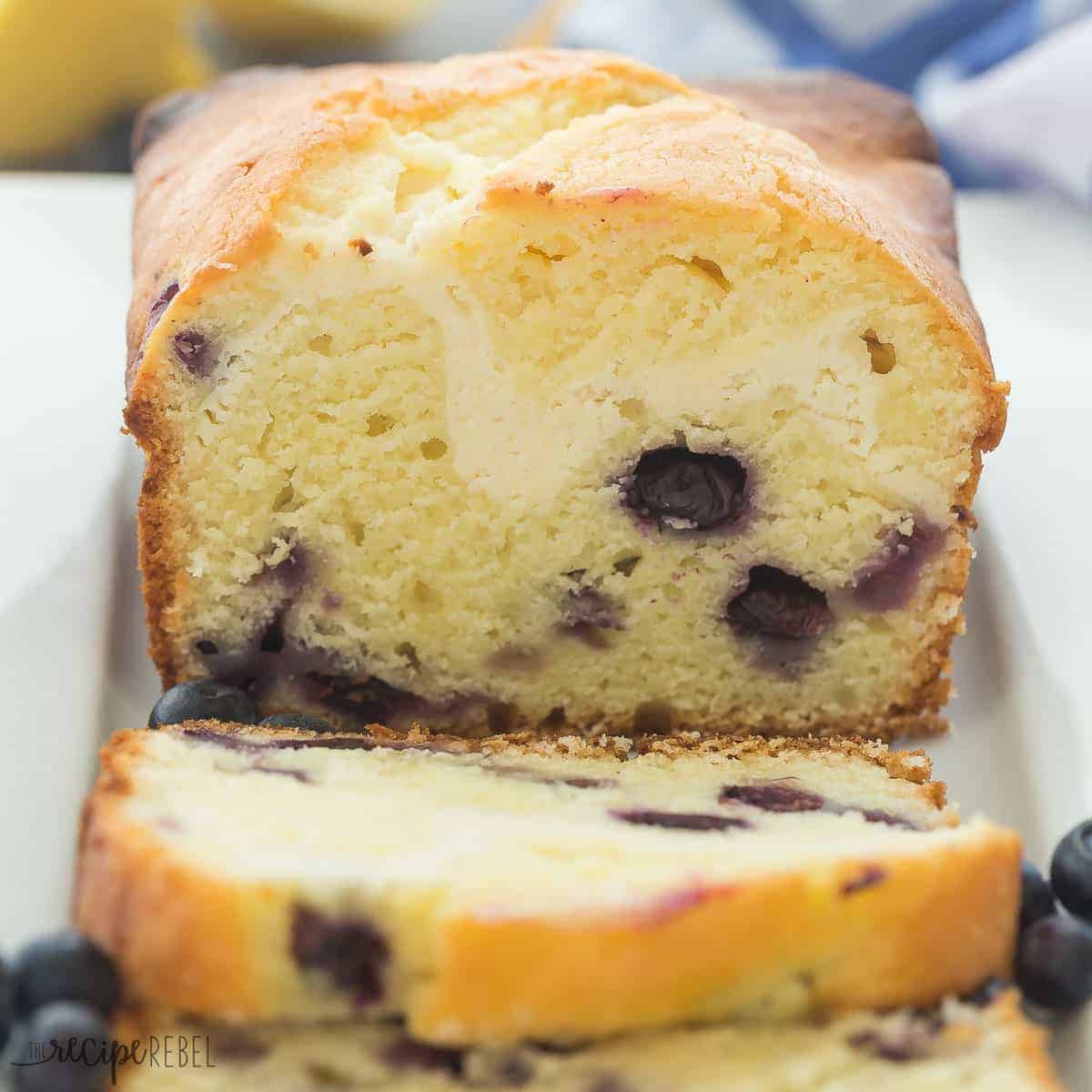 NOTE:
A while back, I switched out my old non-stick loaf pans for glass pans, which I love. However, my glass pans are only 1.5L, while my other pans were 2L, and I'm noticing how much of a difference that makes! Please note that this recipe is tested in an 8×4″ glass loaf pan, and if you have a 9×5″ or a dark non stick then you might find it bakes much more quickly and is a little lower. Just check the bread 10-20 minutes before the end of the baking time and check every 5 minutes with a toothpick.
You might also like these Blueberry Lemon Muffins with Cream Cheese Swirl (made a little healthier!)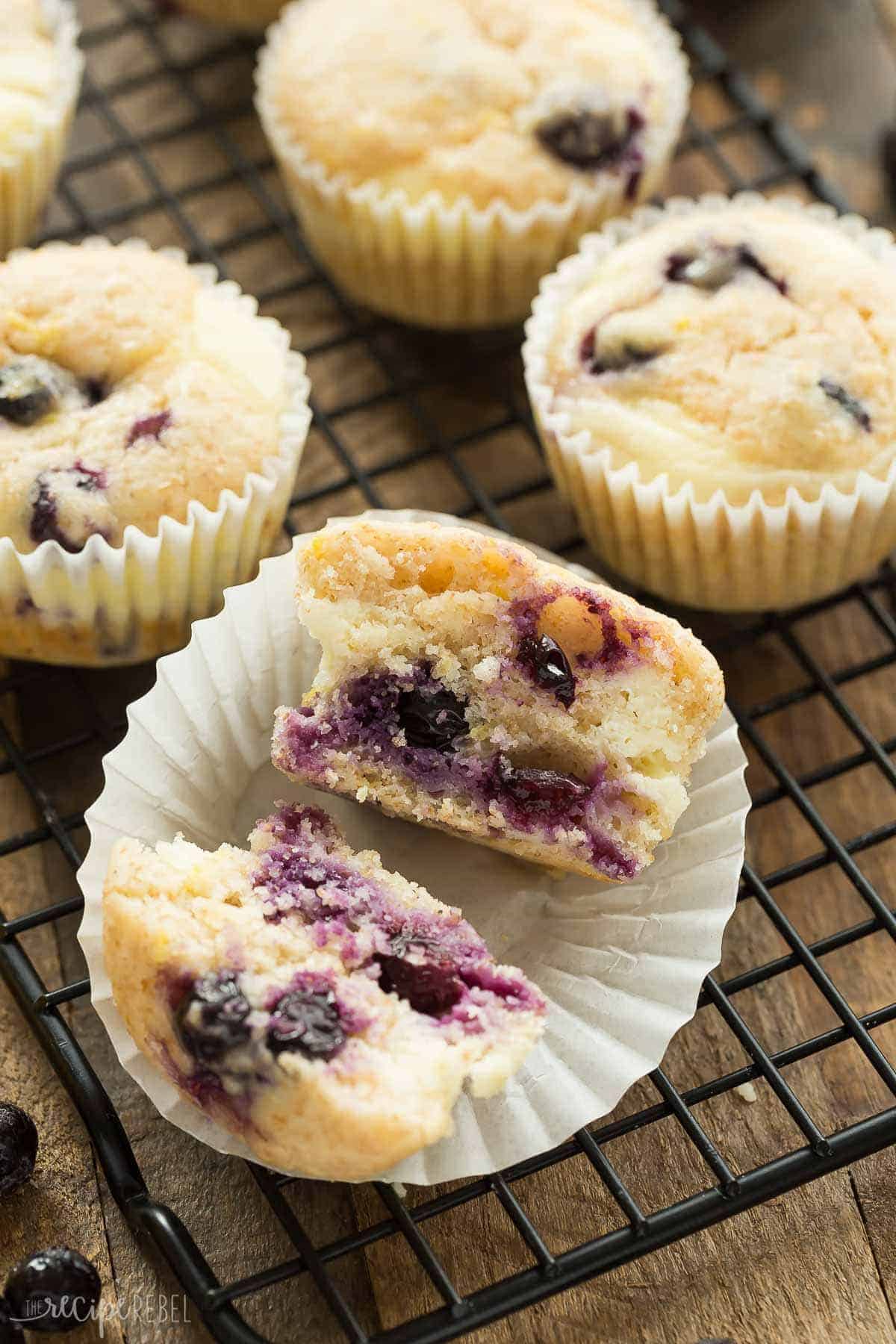 See how easy it's made!

Cream Cheese-Filled Blueberry Lemon Bread + RECIPE VIDEO
This Cream Cheese Filled Blueberry Lemon Bread is sweet, tangy and filled with a decadent cheesecake layer! Let's call it breakfast or dessert 😉 Includes how to recipe video
Ingredients
1/3 cup canola oil
1 cup (200g) sugar
2 large eggs
1/2 cup plain 0% Greek yogurt
1 teaspoon vanilla
juice of 1 lemon
1 1/2 cups (188g) all purpose flour
1 teaspoon baking powder
1/2 teaspoon salt
zest of 2 lemons (or 3, if you like things tangy!)
1 cup fresh or frozen (unthawed) blueberries
Cream Cheese Layer
4oz (1/2 package) cream cheese
1/4 cup (50g) sugar
1 egg white
Directions
Preheat oven to 350 degrees F and lightly grease an 8x4" (or 9x5" -- see note above) loaf pan (I recommend glass or silicone as it will darken more quickly in a non stick pan).
In a large bowl whisk together oil and sugar. Add eggs, yogurt, vanilla and juice and whisk until smooth.
Add flour, baking powder, salt and lemon zest and stir just until combined. Fold in blueberries.
Make the cream cheese layer: in a medium bowl, beat cream cheese, sugar and egg white with an electric mixer until smooth.
Pour ⅔ of your bread batter into prepared loaf pan. Top with all of cream cheese mixture and spread evenly. Top with remaining ⅓ bread batter and smooth the top.
Bake at 350 degrees F for 50-55 minutes, covering loosely with foil after 30 minutes or when top is golden, until a toothpick in the bread (not the cream cheese) comes out clean or with moist crumbs. Note that the cream cheese will set as it cools.
Cool to room temperature before slicing and serving. Store leftovers in the fridge for up to 4-5 days.
Recipe Notes
*Nutrition information is estimated and will vary depending on exact serving size, types and brands of products used.
Loading nutrition data...