The Best Easter Desserts are full of spring flavors and cute themed treats that the family will love! Fresh spring weather calls lemon, lime and all things Easter egg. From easy and impressive to yeast breads and cakes!
Looking for the best Easter dinner recipes while you're at it? Also check out my list of Easy Easter Dinner Ideas!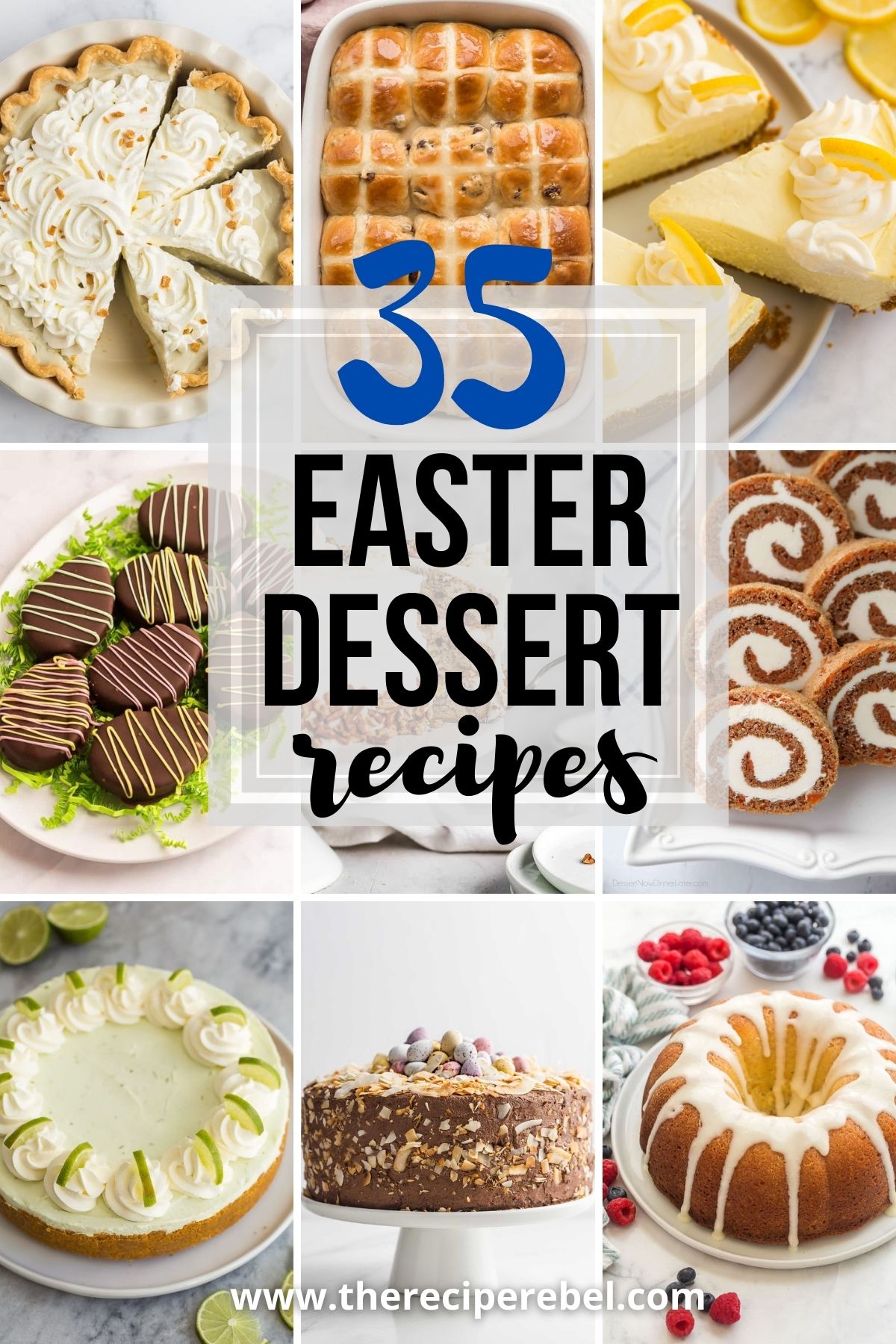 Easy Springtime Desserts for Easter
Even though the official first day of spring has come and gone, Easter is always my way of ushering in the new season. Maybe it's all the bunnies, bright colors and flower decorations! After Easter rolls around, it always feels like spring finally gets the memo. Suddenly the days get just that much longer and warmer again!
Inspired by the fresh spring weather, Easter is the time for fresh spring eats! This includes dessert. And when it comes to Easter desserts, I have a few criteria:
Ease is key. We're going to have our hands full with all sorts of cooking. Dessert needs to be something that's delicious (obviously) but also easy to put together and, preferably, doesn't take up much space on the counter or in the oven. This is why I love no-bake desserts for Easter, make-ahead recipes, or desserts that are quick to bake!
Fresh spring flavors. It's been a few long, cold months. Easter is the best time to shake off the pumpkin spice! My Easter dessert menu is all about light, fresh flavors. Seasonal fruits like berries, pineapple and lemons are a must, in the form of airy whipped pies and lots of tangy cheesecakes.
Kid-friendly. Easter is all about family, and it's such a special time for kids. My desserts need to wow the adults and still cater to the kiddies' tastes! It's also extra fun to get kids involved in the baking and making process where possible. So any recipe that's friendly for little hands is always a winner!
If you're on the hunt for dessert ideas to round out your Easter dinner or family brunch, this one's for you! Below I'm sharing 35 easy recipes for the creamiest cheesecakes, delightful cakes, and spring-themed treats that I just know the whole family will love.
35 Easter Dessert Ideas
From creamy cheesecakes and adorable Easter-themed cookies, to luscious cakes, cupcakes and pies, these are the best Easter desserts to try this year! You and the family are going to LOVE these delightful homemade goodies that are perfect for spring!