A smooth, extra creamy No Bake Lemon Cheesecake made with lemon juice and lemon zest and no artificial flavors! It's firm enough to stand up to being cut and is even great frozen! Includes step by step recipe video
Follow my NO BAKE TREATS board on Pinterest for more recipes like this!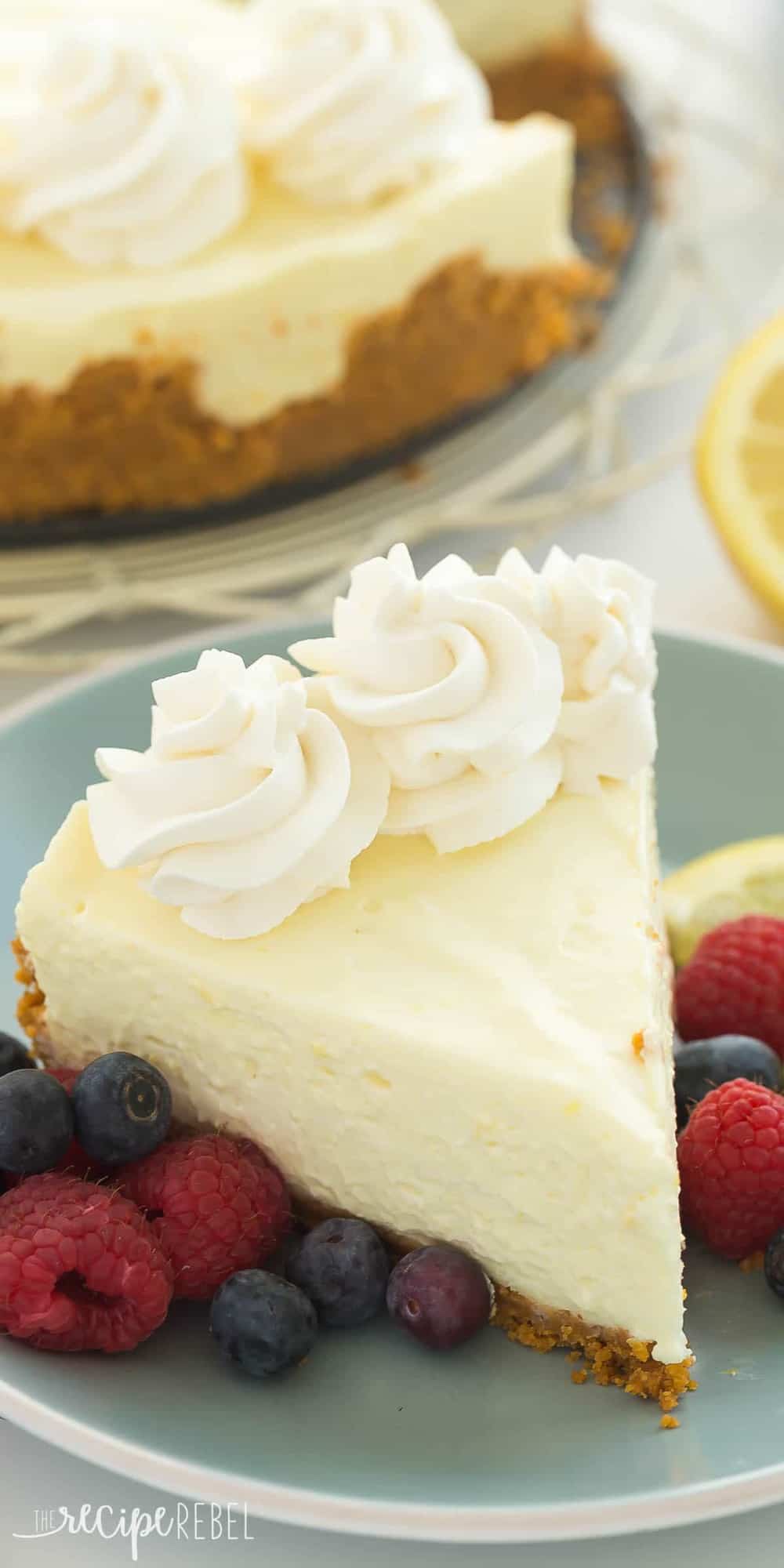 Happy weekend friends!
Here in Manitoba we are having some incredibly beautiful weather (we actually busted out the kiddie pool yesterday!), and we're loving it. And when the weather is this gorgeous, all plans for cooking and baking kind of go out the window in favor of simple grilled meals and easy, no bake desserts.
This No Bake Lemon Cheesecake is possibly my favorite cheesecake ever. It is light and fluffy and creamy and just sweet enough to balance out all that tang from real lemon juice and zest. It is perfection, especially when you load it up with real whipped cream and fresh summer berries (<– those we're still waiting for).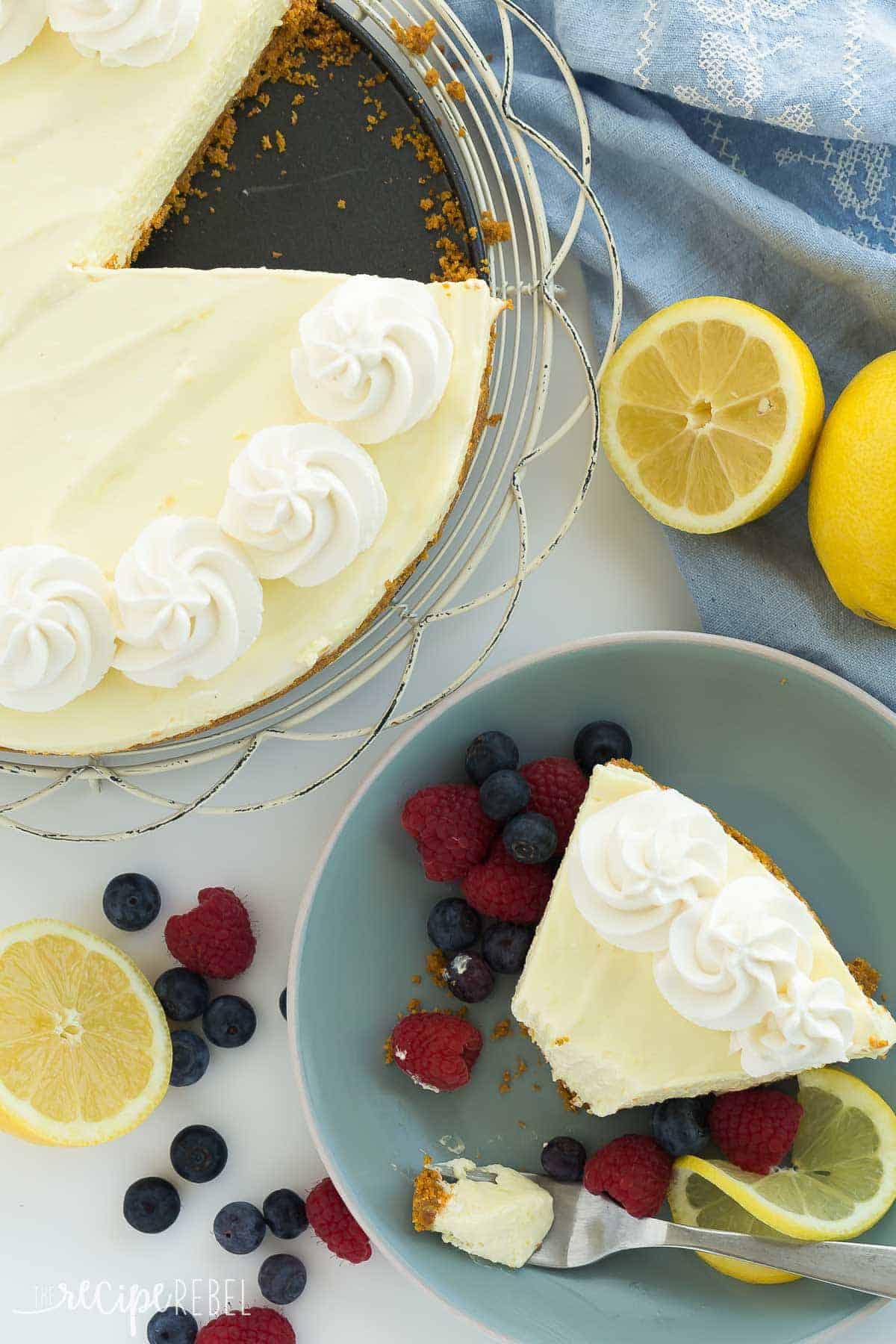 This cheesecake is made with cream cheese and Greek yogurt for an extra boost of protein (it also makes it so smooth and silky!). I haven't tried it without the yogurt, but if you don't have Greek yogurt, you can probably swap it for an extra cream cheese. You can use plain or vanilla yogurt, but keep in mind that vanilla is sweetened so if you use plain you may need to add more sugar (just sweeten to taste before pouring into the crust).
I used unflavored gelatin so that the cheesecake would keep its shape when sliced, but I mixed it with freshly squeezed lemon juice for that real lemon flavor. If you like your lemon flavor really strong, feel free to add extra zest or pure lemon extract until it reaches your preferred level of lemoniness!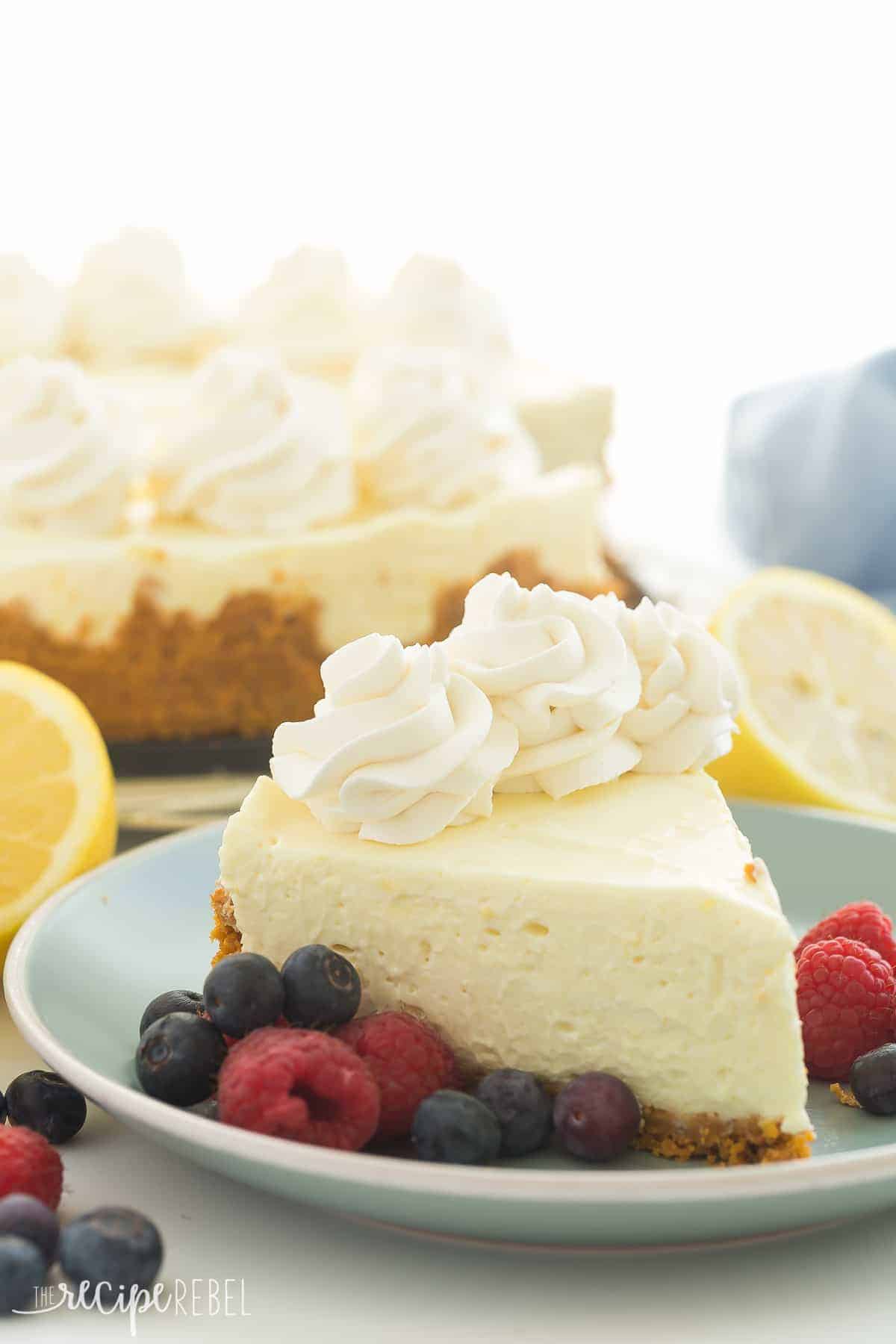 Watch the recipe video and see how easy it is to make!
Post and photos updated from June 2016
Real Deal No Bake Lemon Cheesecake
A smooth, extra creamy No Bake Lemon Cheesecake made with lemon juice and lemon zest and no artificial flavors! It's firm enough to stand up to being cut.
Ingredients
Crust
2 1/2 cups graham cracker crumbs
1/2 cup butter, melted
Filling
juice of 1 lemon (about 1/4 cup) (zest it before juicing!)
1 package unflavored gelatin (about 7g)
2 packages light cream cheese
1 cup vanilla 0% Greek yogurt
zest of 1 lemon (or 2 lemons for big lemon flavor!)
1 teaspoon vanilla extract
1 1/4 cup powdered icing sugar
1 cup whipping cream (not whipped)
Directions
*NOTE: Baking the crust is completely optional. It just assures that it will hold together better. You can skip the baking if you want, it just won't be quite as sturdy.
Preheat the oven to 350 degrees F. Lightly grease a 9" Springform pan..
Combine graham cracker crumbs and butter and press into prepared pan, and about 1" up the sides. Bake for 10 minutes or just until dry. Remove from the oven and cool to room temperature.
In a small bowl, sprinkle gelatin evenly over lemon juice. Let stand for 1 minute. Microwave on high for 20-30 seconds until hot and whisk until dissolved. Set aside to cool to room temperature.
In a large bowl, beat the cream cheese until fluffy. Add the Greek yogurt and beat until combined.
Add gelatin mixture, lemon zest, vanilla and sugar and beat until combined.
Add whipping cream and beat on low until combined, then beat on high for 3-5 minutes until fluffy and thickened (the mixture should hold stiff peaks on the beaters).
Pour filling into cooled crust, cover and refrigerate until set, at least 6 hours. Serve with whipped cream and berries if desired!
Loading nutrition data...
 More lemon cheesecake love!
Lemon Raspberry Cheesecake Squares from Live Well Bake Often
No Bake Strawberry Lemon Cheesecake from House of Yumm
No Bake Meyer Lemon Cheesecake with White Chocolate Ganache Layer from Floating Kitchen