Here are some of the best Thanksgiving Side Dish recipes that will go with almost any main dish to make your holiday meal delicious and magical! From potatoes and vegetables, to salads and the all-important dinner rolls, there's something for everyone.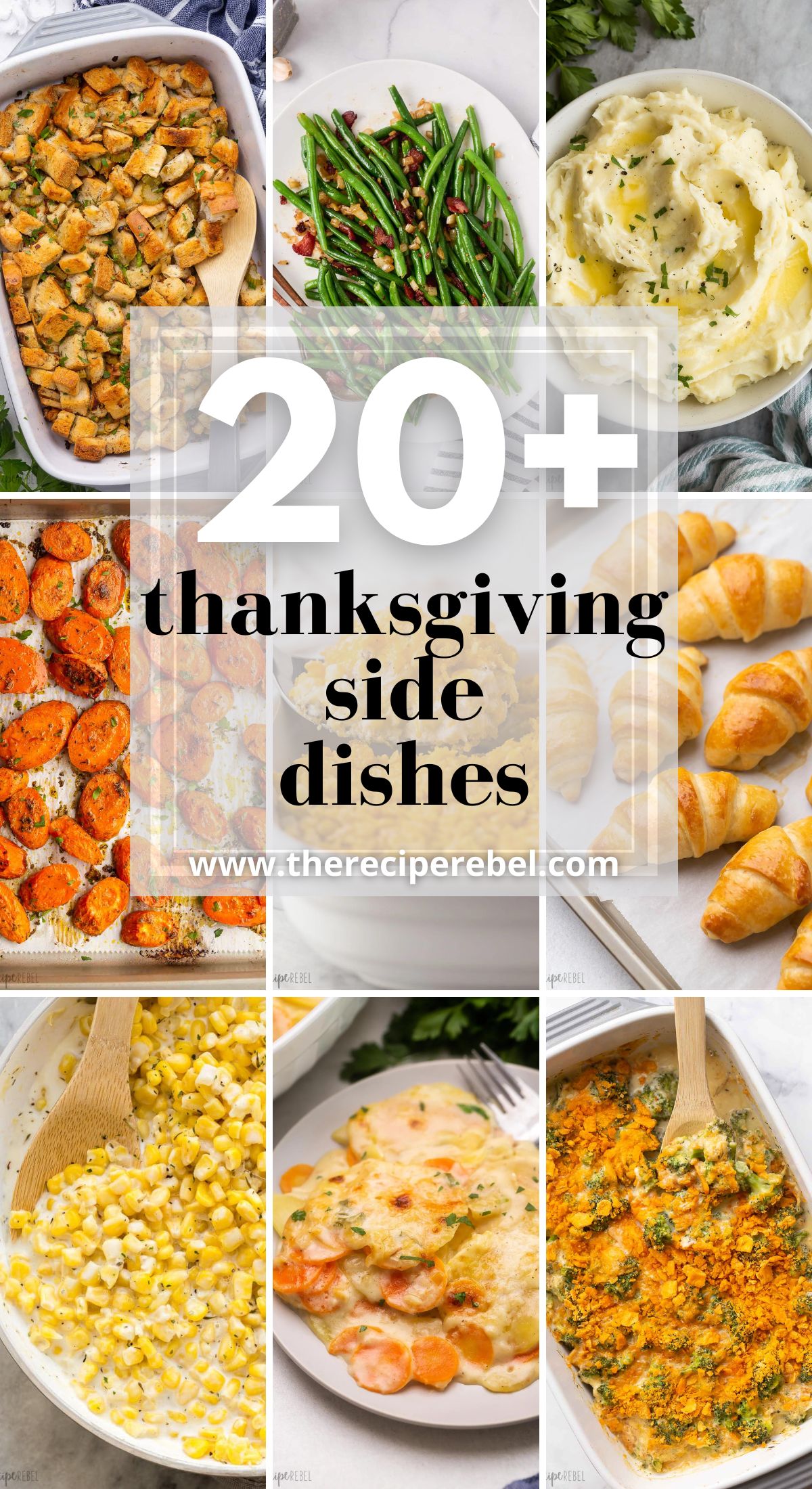 Table of Contents
As we gear up for the holiday season, it's time to start planning our Thanksgiving feasts.
Whether you're having roast turkey, ham, or beef as your main dish, we all know that the side dishes are what really make the meal complete.
Try my Garlic Brown Sugar Dry Brine Turkey, Crockpot Turkey Breast, Honey Baked Ham, or my Honey Garlic Pork Tenderloin Recipe for something different this year!
Whether you prefer classic comfort foods or more adventurous options, there are endless possibilities for delicious Thanksgiving side dishes.
Here are some of the best Thanksgiving side dish recipes that are sure to impress your guests and make your Thanksgiving dinner unforgettable.
What are the most popular side dishes at Thanksgiving?
On a traditional American Thanksgiving menu, you'll find some tried-and-true classics like green bean casserole, Thanksgiving stuffing, cranberry sauce, creamed corn, and sweet potato casserole.
Here in Canada, we also like to have some Brussels sprouts and butternut squash on our holiday table.
Mashed potatoes or some sort of a potato dish is a must have wherever you are!
How many dishes should a Thanksgiving meal have?
Sometimes it's difficult to know how much to cook for the number of people you will have for your Thanksgiving dinner. Here's a quick guide for deciding how many side dishes to prepare for your Thanksgiving table!
If you'll be having 4 people, choose 1-2 appetizers and 3 sides with your main. You might want smaller sides rather than very large, shared dishes.
For 8 people, choose 1-3 appetizers and 3 large, sharing sides.
For 16 people, choose 2-3 appetizers and 5 or more sides, depending on their size.