This Garlic Brown Sugar Dry Brine Turkey is perfectly golden and crispy on the outside and juicy on the inside! The best roast turkey you'll ever have!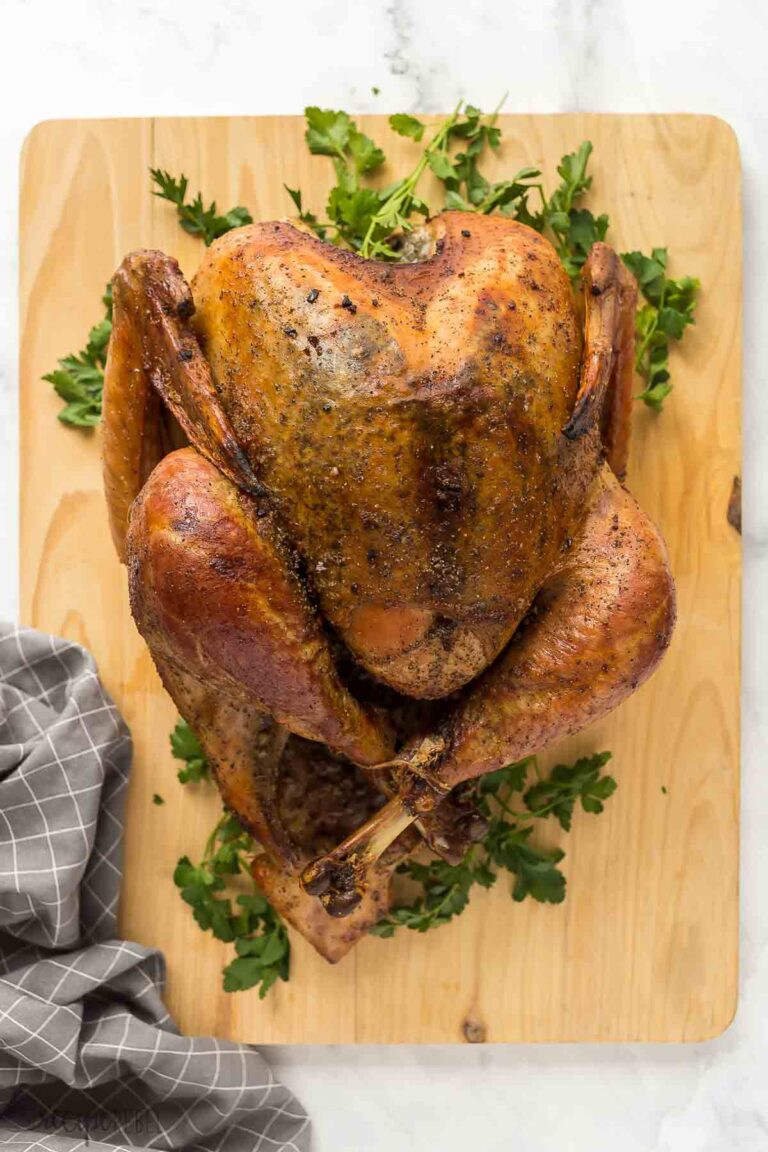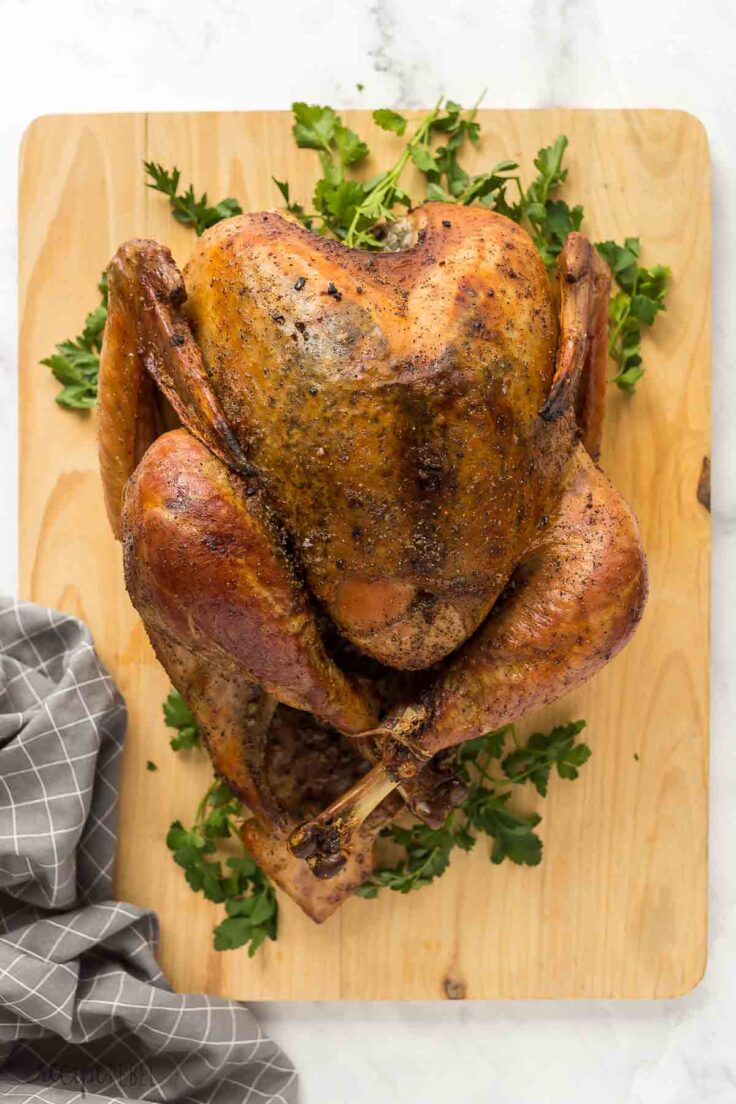 Table of Contents
The holiday season is upon us again and it's time to talk turkey! Garlic Brown Sugar Dry Brine Turkey to be exact, which is really the only roast turkey recipe we need for Thanksgiving or Christmas.
Once I started dry brining, I've never turned back. There are times when a traditional turkey brine is the way you want to go, or maybe you're having a smaller gathering and you just want a simple Roast Turkey Breast with Garlic Mashed Potatoes.
But a dry brine turkey can't be beat when you're feeding a hungry crew and you want to keep things simple.
Why we love a dry brine:
Dry brining a whole turkey has become more popular lately for a number of reasons:
it doesn't take up as much space in the fridge as a wet brine (and you don't need a jumbo stock pot to do it!)
it's less messy
the skin becomes dry in the fridge, which results in an ultra-crispy golden turkey
it adds great flavor!
There are a lot of different ways to do up a roast turkey, but I wanted to keep this turkey recipe as simple as possible because we all know there are a hundred other things to do, too!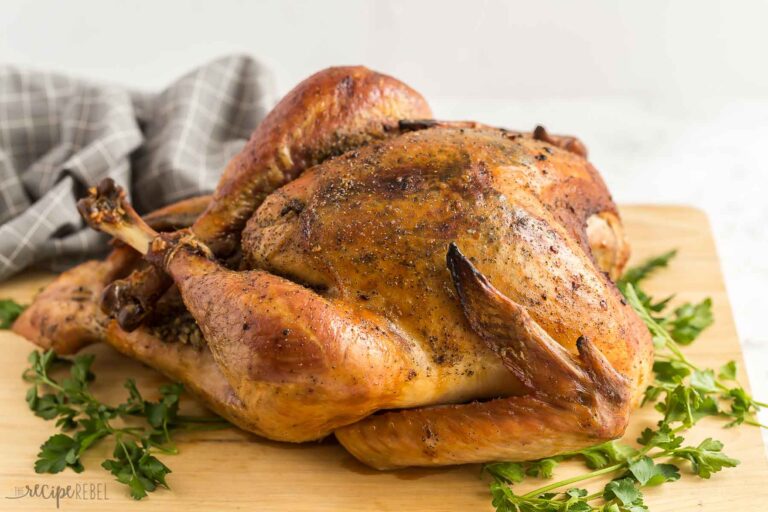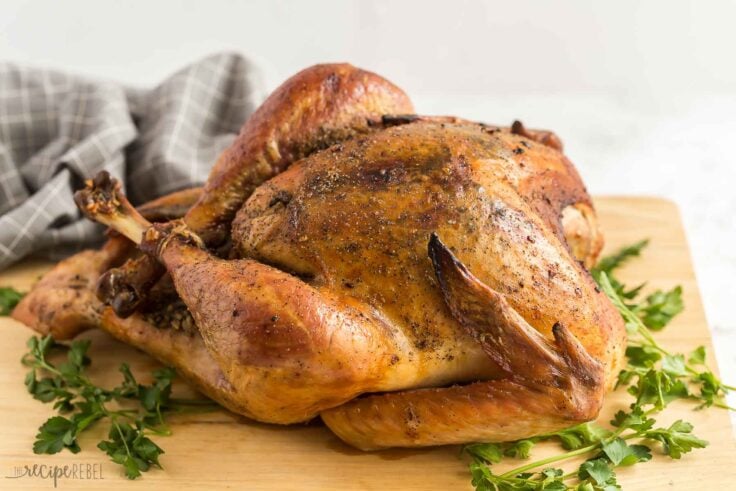 Cooking a whole turkey requires minimal prep, there is very little hands-on work and a family can easily get many, many meals out of one turkey (even if you're not feeding a crowd!).
We love roasting a whole turkey any time of the year!
How to dry brine a turkey:
Dry brining is easy to do and the perfect way to simplify your holiday dinner!
Make your brine: just salt, sugar, garlic and pepper!
Rub it down: rub the brine all over the skin and underneath where you can — more coverage equals more flavor!
Refrigerate: place in the fridge for at least 12 hours or up to 3 days. I recommend a minimum of 24 hours for best flavor. Don't worry when it starts to try out and look kind of strange! That is normal.
Roast: let come to room temperature before roasting for the most even cooking results. Watch that turkey turn the most perfect golden brown as it cooks!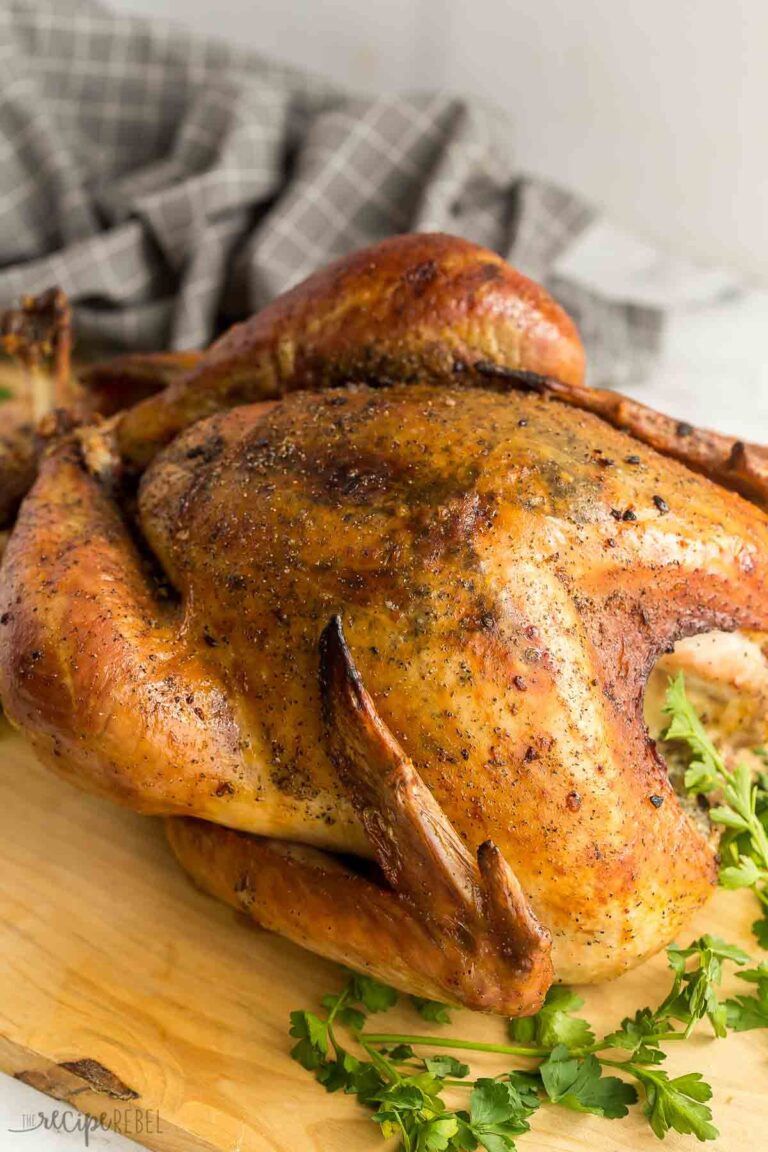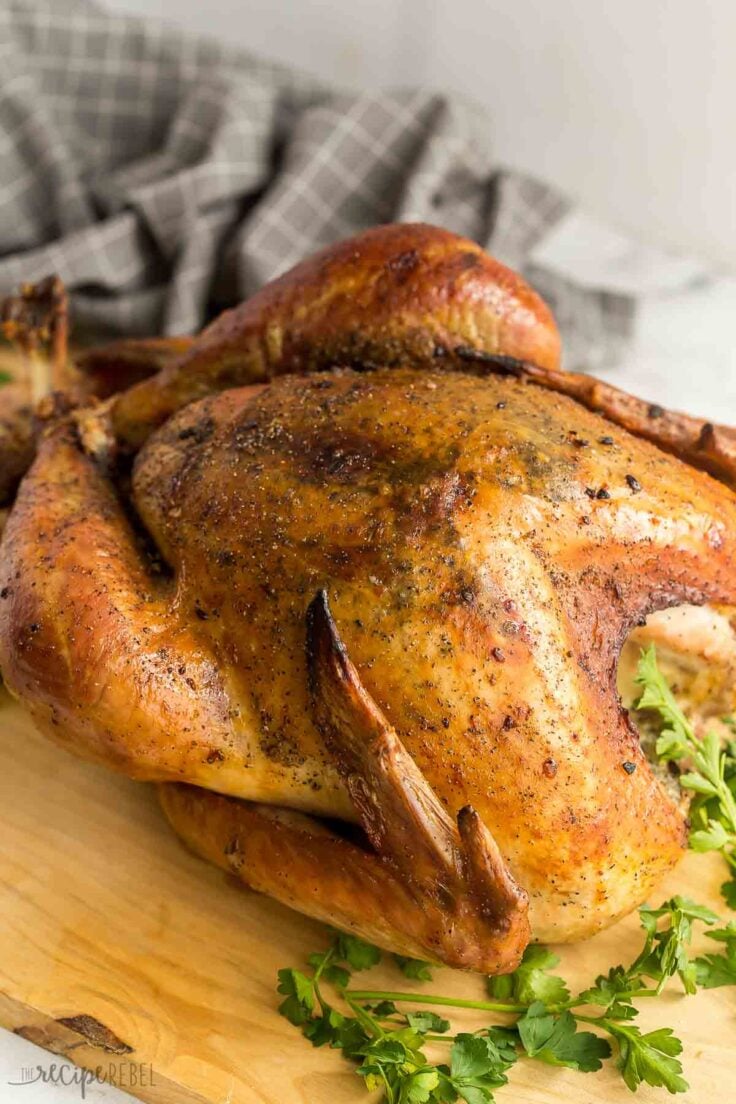 Dry Brine Turkey FAQs
How long to cook a turkey?
A turkey's cook time depends on a few factors, such as how large it is, how high your oven temperature is, and your method of cooking.
A good starting point would be 10-12 minutes per pound for unstuffed, or 13-15 minutes for a stuffed turkey.
How long do you dry brine a turkey?
You can dry brine your turkey for as little as 12 hours or up to 3 days. I like to aim somewhere in the middle — between 24 and 48 hours for best results. If you cook it too soon, your skin may not be as crispy and your meat may not be as juicy.
Can I skip the sugar?
Absolutely! The brown sugar just adds a subtle sweetness and adds to the caramelization of the turkey skin.
Will my roast turkey be salty?
No! It will be well-seasoned, but not overly salty. The brine adds a lot of flavor and moisture, but it should not taste salty even though it seems like a lot of salt.
Do I need to rinse a dry brine turkey before roasting?
No! Rinsing the skin will add moisture to the skin and prevent it from browning.
What temperature should a turkey be cooked to?
A whole turkey is cooked when the meat thermometer reads 170°F (77°C), and the juices run clear. Insert meat thermometer in the thickest part of the inner thigh, but not touching the bone.
Since a number of factors can play into the correct cook time, it's a good idea to start checking the internal temperature 30-60 minutes before the cook time is up.
How to store leftover cooked turkey:
Leftover turkey can be store in an airtight container in the refrigerator for up to 3 days.
It can also be frozen (tightly wrapped, in a freezer bag or an airtight container) for up to 3 months.
You can also chop leftover turkey meat and freeze in smaller portions to add to soups, salads and pastas.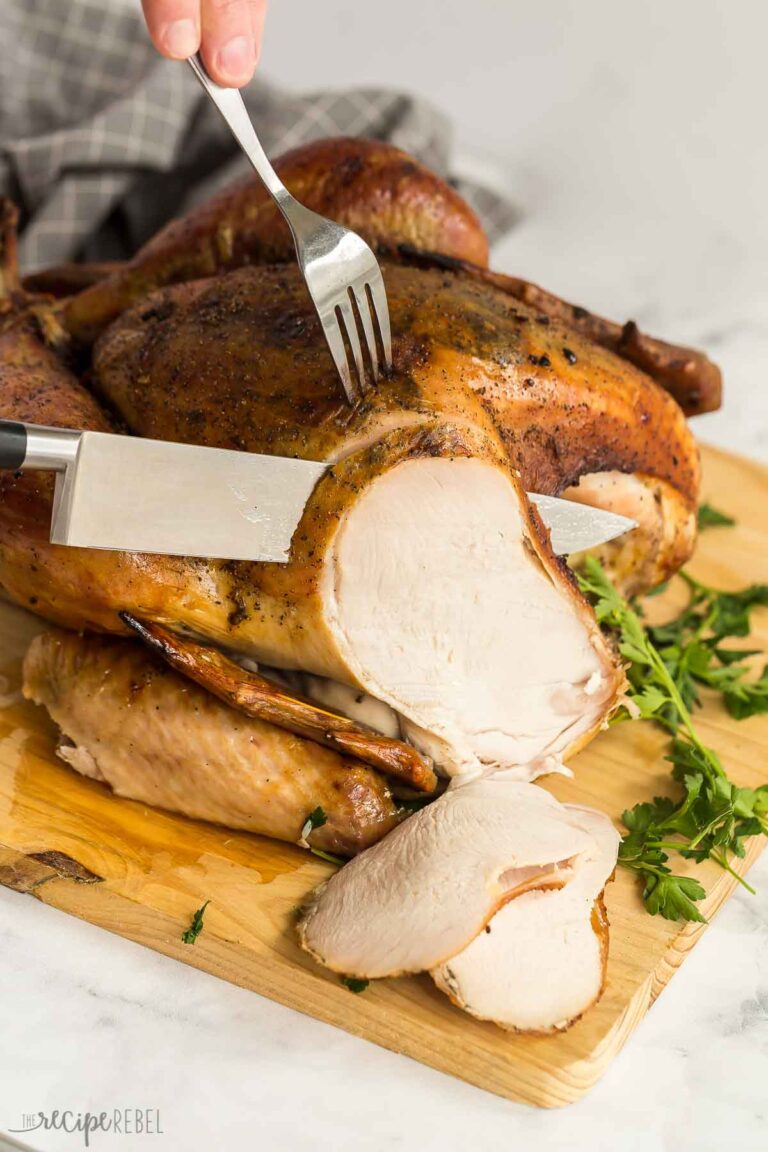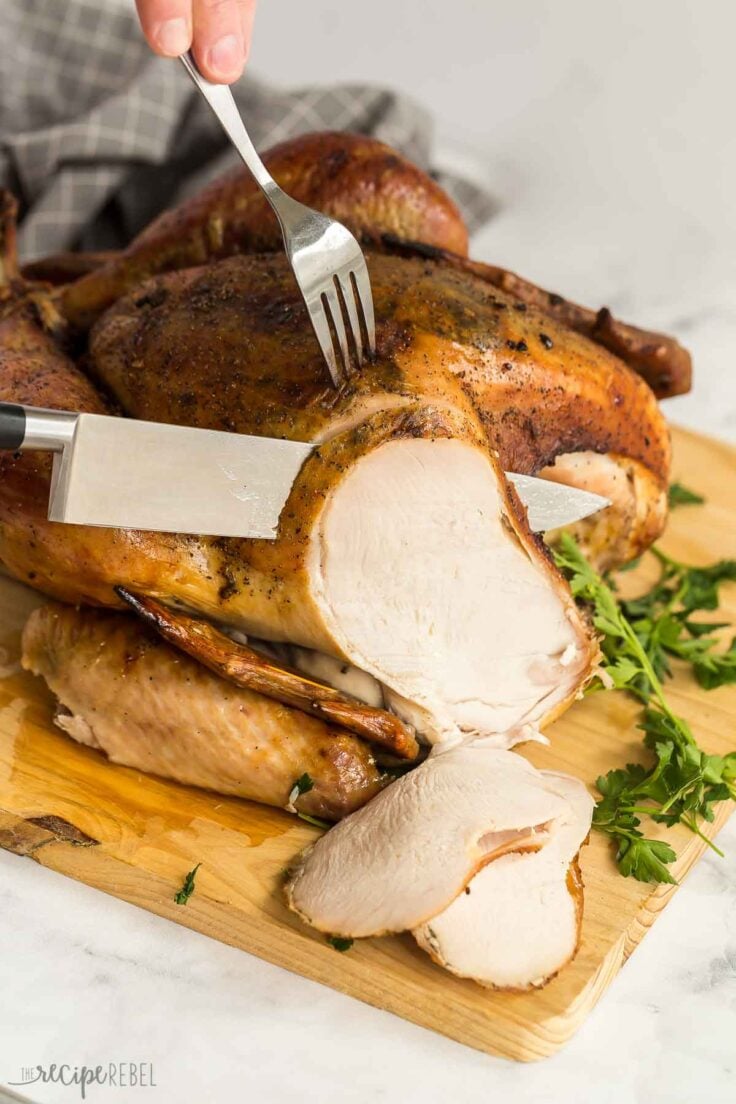 How to Make Turkey Stock:
Once you have roasted a turkey, the most logical next step is to use that turkey carcass to make some incredible turkey stock — with so many added nutritional benefits over the boxed stuff or bouillon!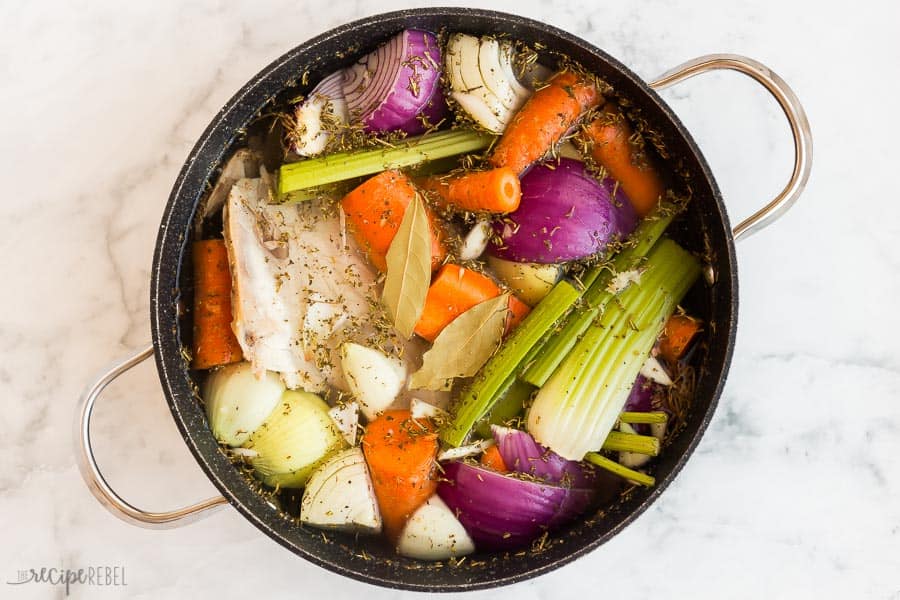 Homemade turkey stock is an incredible base for any soup, as well as a great way not to let any of your turkey go to waste.
Carve the meat from your turkey and enjoy, or set aside for another use (see my tips above on refrigerating or freezing cooked turkey!)
Place the turkey carcass in a large pot (you may need to break the carcass into smaller pieces to fit)
Add 2 onions, 3 large carrots, and 3 ribs of celery to the pot.
Add 1 tablespoon Italian seasoning, 2 bay leaves, and 1 tablespoon minced garlic (or a couple garlic cloves, no chopping required)
Fill the pot with water — there isn't really a need to measure, as a turkey carcass from most average sized turkeys has a lot of flavor to go around, so I usually just fill it. You're aiming for roughly 5-6 litres of water.
Bring the water to a boil over high heat, then reduce to a simmer over medium-low, cover, and simmer 1-2 hours.
When your turkey stock is done, you can let cool to room temperature and then refrigerate, skimming the fat from the top before using if desired.
If freezing, let cool slightly before pouring into freezer safe containers or large freezer bags. If using freezer bags, lay flat to freeze and then stack. Turkey stock can be frozen for up to 3 months.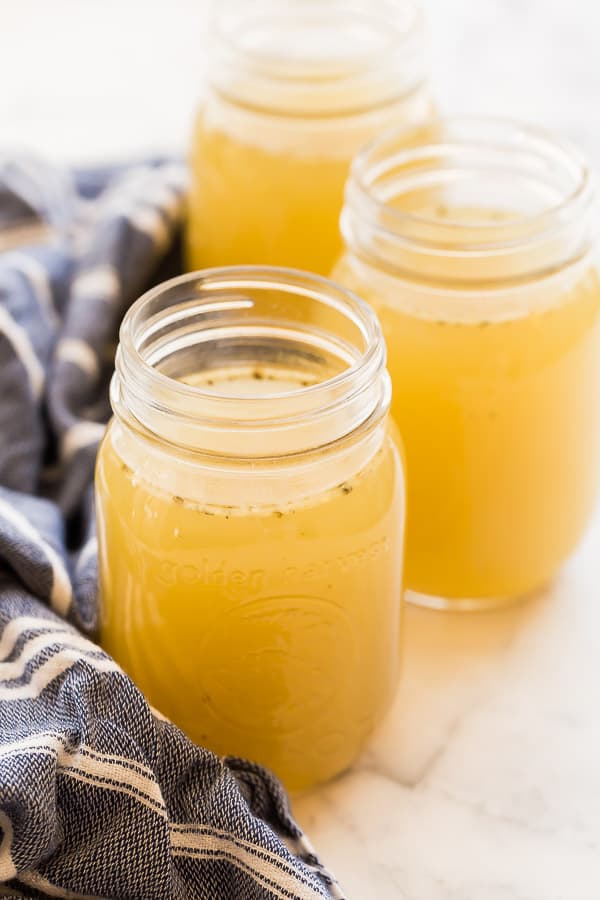 More recipes to make with leftover turkey: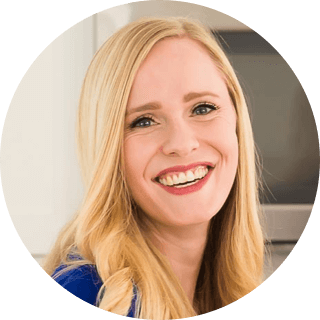 Pin this recipe to save for later
Pin this recipe to your favorite board
Garlic Brown Sugar Dry Brine Turkey recipe
This Garlic Brown Sugar Dry Brine Turkey is perfectly golden and crispy on the outside and juicy on the inside! The best roast turkey you'll ever have!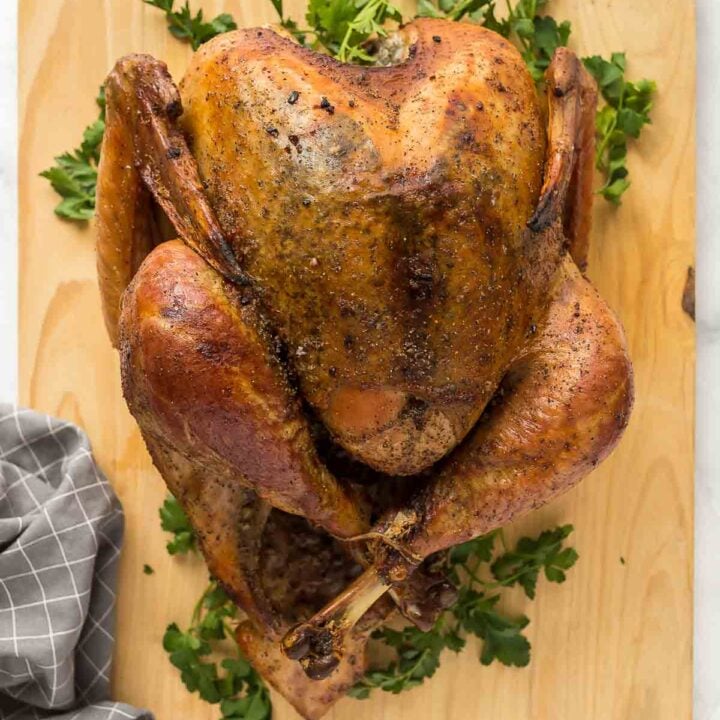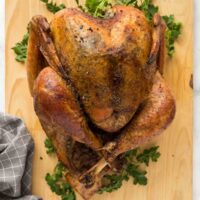 Print
Ingredients
11-12

lb

whole turkey

(thawed if frozen)

1/4

cup

kosher salt

1/4

cup + 1 tbsp

brown sugar

divided

1

tablespoon + 1 tsp

minced garlic

(or 1 teaspoon garlic powder) divided

1/2

teaspoon

black pepper

1/4

cup

melted butter

1 1/2

cups

water
Instructions
Place turkey in a large baking dish or roasting pan.

In a medium bowl, combine salt, ¼ cup sugar, 1 tablespoon garlic and pepper. Rub all over turkey and under the skin where possible, using a large spoon to loosen the skin if necessary.

Place uncovered in the refrigerator for at least 12 hours and up to 3 days. It will dry out, but don't worry — that is normal!

Remove turkey from the fridge 1 hour before roasting.

Place turkey in a roasting pan or on a large rimmed sheet pan on a roasting rack. Use cooking twine to tie the legs together.

Combine melted butter, 1 tbsp brown sugar and 1 tsp minced garlic and brush over turkey.

Heat oven to 425 degrees F.

Pour water into the bottom of the roasting pan and roast turkey at 425 degrees for 20 minutes, until just starting to brown.

Reduce oven heat to 350 and continue roasting until the turkey reaches an internal temperature of 170 degrees F in the breast, about 2-2.5 hours more.

Remove turkey from the oven and let rest for 30-60 minutes before slicing.
Nutrition Information
Calories:
476
cal
|
Carbohydrates:
7
g
|
Protein:
64
g
|
Fat:
20
g
|
Saturated Fat:
7
g
|
Cholesterol:
223
mg
|
Sodium:
2726
mg
|
Potassium:
676
mg
|
Fiber:
1
g
|
Sugar:
6
g
|
Vitamin A:
284
IU
|
Vitamin C:
1
mg
|
Calcium:
44
mg
|
Iron:
3
mg
Keywords
dry brine turkey, tortilla soup, turkey soup
Want to save this recipe?
Create an account easily save your favorite content, so you never forget a recipe again.
Tried this recipe?
Tag @thereciperebel or hashtag #thereciperebel —
I love to see what you're making!
Tag @thereciperebel