Try one or more of these Easy Sides for Pork Chops if you're looking for the perfect complement to those juicy chops! From pasta and breads to veggies and salads.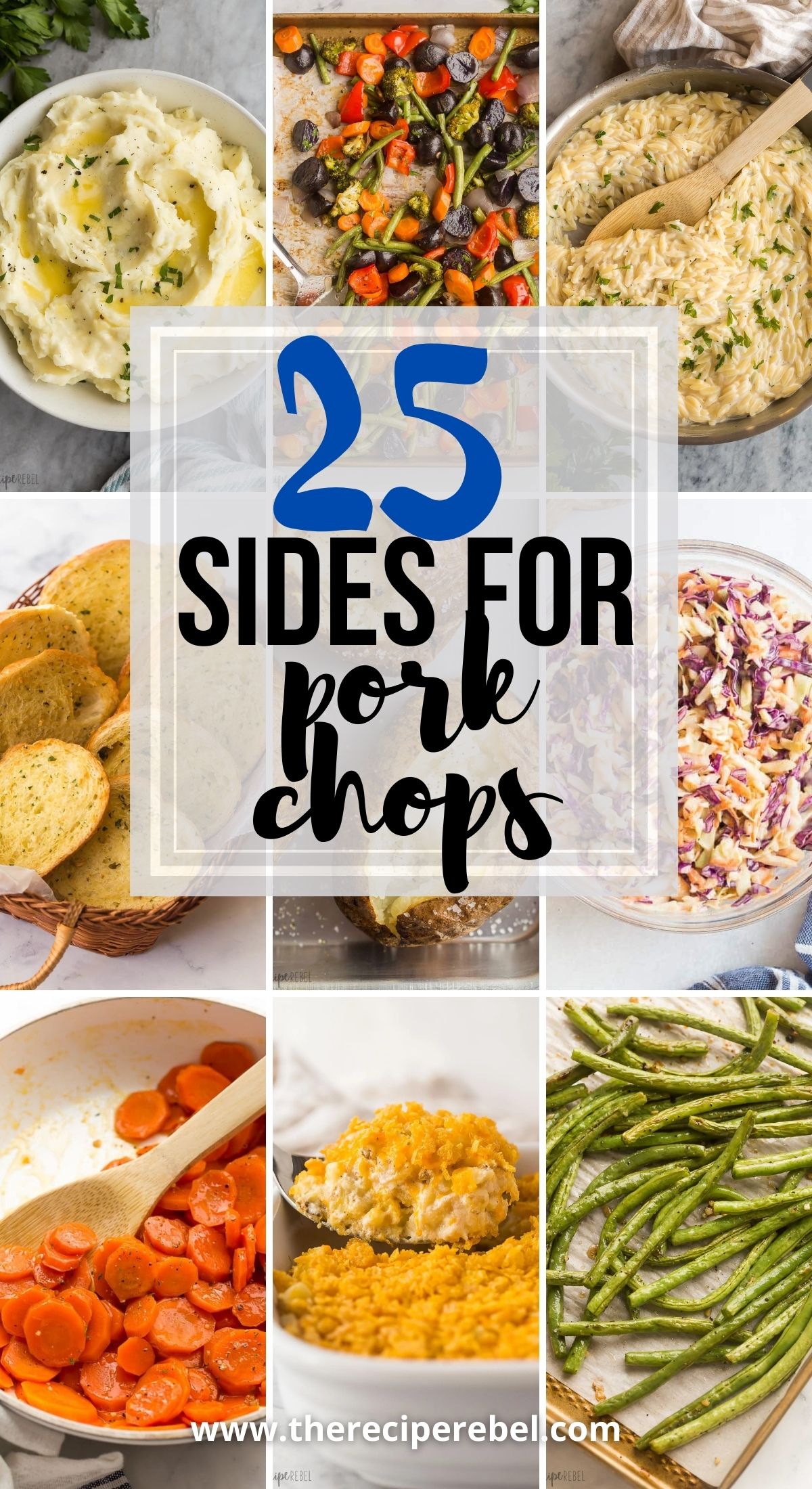 There are just so many ways that you can enjoy pork chops, it makes it so easy when planning family dinners. It's also helpful that pork has a milder flavor that kids seem to love!
All of these things make side dish possibilities next to endless! With this in mind, I created a list of 25 easy sides for pork chops to round out your meals.
These side dishes are perfect no matter how you like your pork. Air fryer pork chops, Instant Pot pork chops, crock pot pork chops, Smothered Pork Chops – you name it. Try out your next pork dinner with one or more of the fabulous sides below!
What Tastes Good with Pork?
Pork is such a versatile meat, it pairs well with almost anything! There are a few flavors and foods that really fit the bill, though:
Potatoes. Mashed, roasted, fried, whichever way you spin it, potatoes are a common side for pork dishes.
Roasted Veggies. Cruciferous vegetables like broccoli, cabbage, and spinach are great to serve with pork dishes. Also root vegetables like carrots and parsnips.
Grains. Rice makes a simple and easy side for pork that can be dressed up to your liking.
Salads. Fresh green salads and pasta salads are perfect for serving with pork in the summer, and really all year round.
Fruit. Yes, fruit! Pork and a little sweetness go a long way in the flavor department. Particularly sweet-tart fruits like apples, pineapple, cranberries, mango and apricots.
Side Dishes that Go With Pork Chops
25 easy side dishes that pair perfectly with pork chops. From roasted vegetables and cheesy pastas to mashed potatoes and cookout-worthy salads!