This Crockpot Shredded Chicken is easy, flavorful and a great way to meal prep for the week ahead! How to make slow cooker shredded chicken including tips, tricks and additional recipes.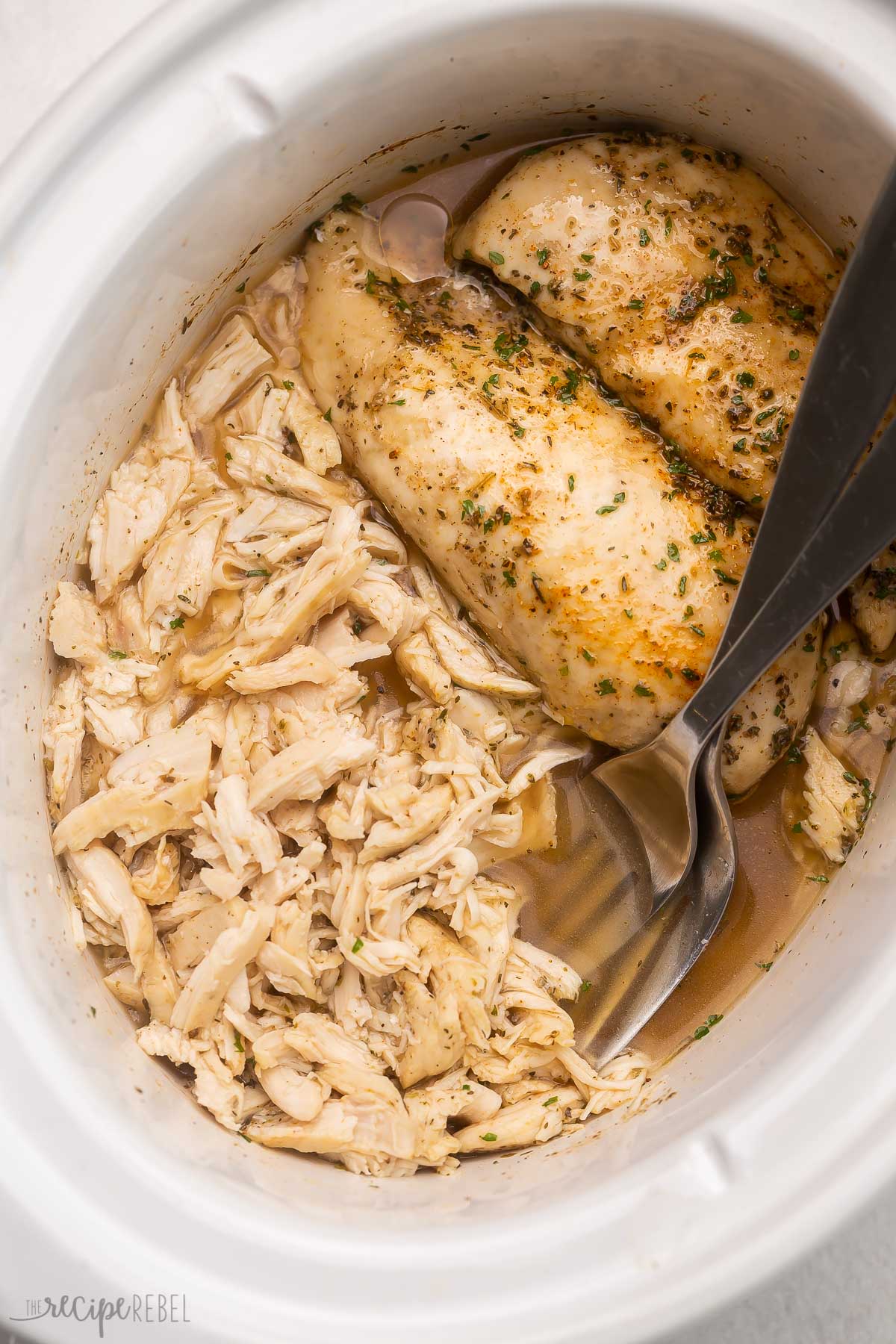 Table of Contents
I know, I know.
There's no bacon, or cheese, or chocolate…. There's not even any carbs 😉
But since the popularity of this Instant Pot Shredded Chicken, I've realized that I really love storing up a collection or super practical, easy recipes for kitchen basics that will make your life a hundred times easier through the week.
It was high time for this crockpot shredded chicken to join the family. It's one of my favorite recipes when we're short on time!
As moms and dads and adults who have a million things on our plates, recipes like this slow cooker pulled chicken, this easy Baked Chicken Breast, these Dump and Go Slow Cooker Recipes and these Easy Crockpot Meals are the best way to get dinner on the table.
Having this crockpot shredded chicken prepped is a lifesaver and is so easy to stir into soups, pasta, make quick sandwiches or, hey, even add to a boxed pasta mix when times are really crazy! 😉
(Yes, I have a couple emergency boxes of mac and cheese in the cupboard! Go ahead and judge).
Easy meal prep makes these busy days much more manageable!
No time for the slow cooker? Check out my stovetop Shredded Chicken recipe.
Ingredients needed: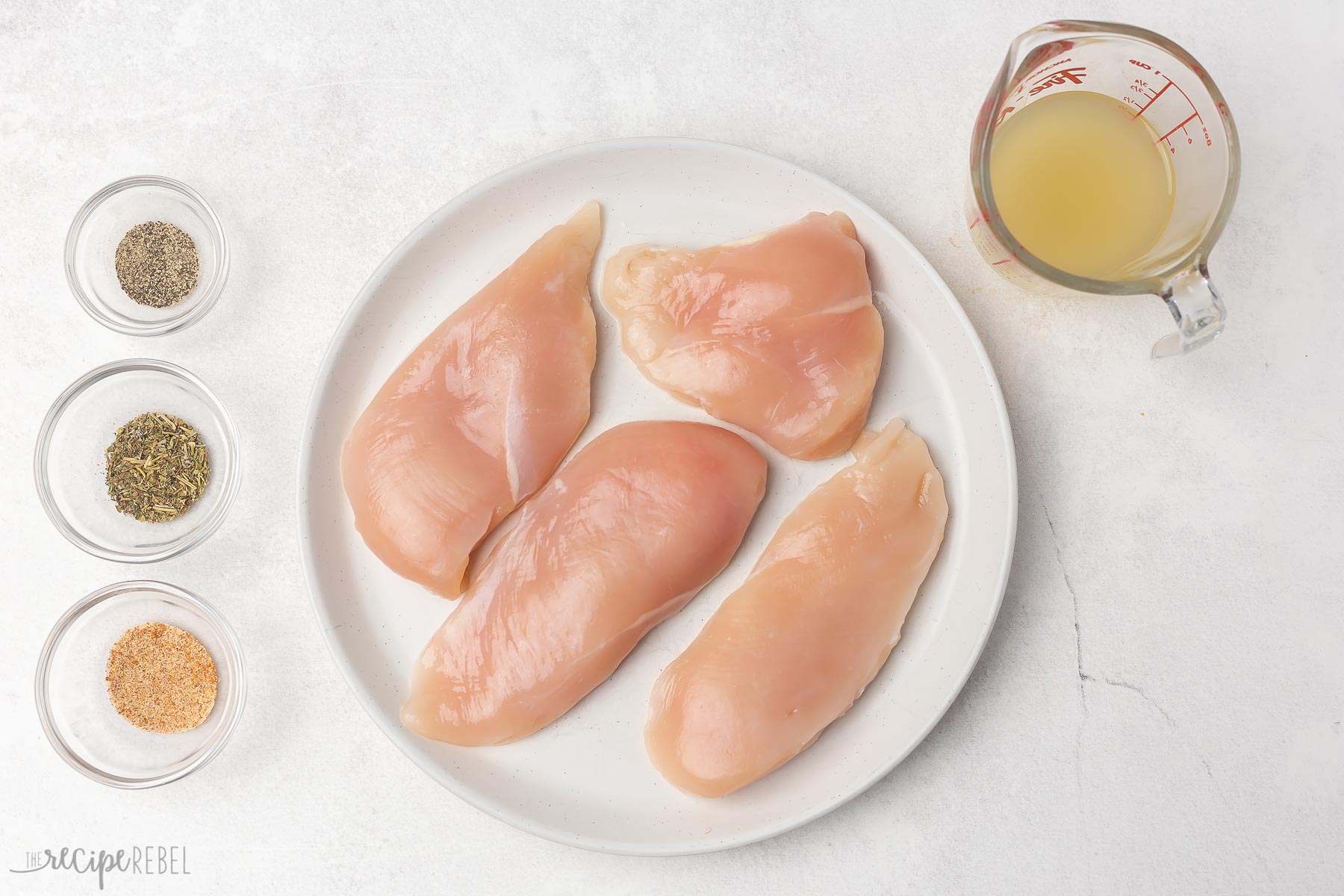 Chicken breasts: I prefer to use boneless skinless chicken breasts but you could also use boneless skinless chicken thighs if you prefer. If you would like to use bone-in chicken, you'll want to add a couple hours to the cook time.
Chicken broth: I always choose low sodium chicken broth so that I can add salt according to our tastes. If you are using a salted broth, you may want to reduce the amount of seasoning salt added.
Seasoning salt: seasoning salt is one of my favorite all-purpose seasonings — it packs a lot of flavor in one bottle! If you don't have any, you can add salt, paprika, garlic powder and onion powder.
Italian seasoning: I love the herby flavor of Italian seasoning and I think it goes well with most flavors. Feel free to reduce or omit according to your tastes and your uses.
Black pepper: adds a bit of heat to balance out the flavors.
How to make Crockpot Shredded Chicken:
Here are a few step by step photos to guide you! See the full recipe down in the recipe card.
Add chicken to the bottom of the crockpot (I use my 2.5 quart when I am making 4-6 chicken breasts, and my 4 or 6 quart slow cooker when making more than that).
Add broth and seasonings and give everything a stir.
Cover and cook on low until tender and cooked through (roughly 3-4 hours) — it may be cooked before it is fall apart tender, so don't be afraid to let it cook for a couple extra hours on low so that it shreds easily.
Open lid and shred in the juices, or shred on a cutting board and add back to the juices after shredding.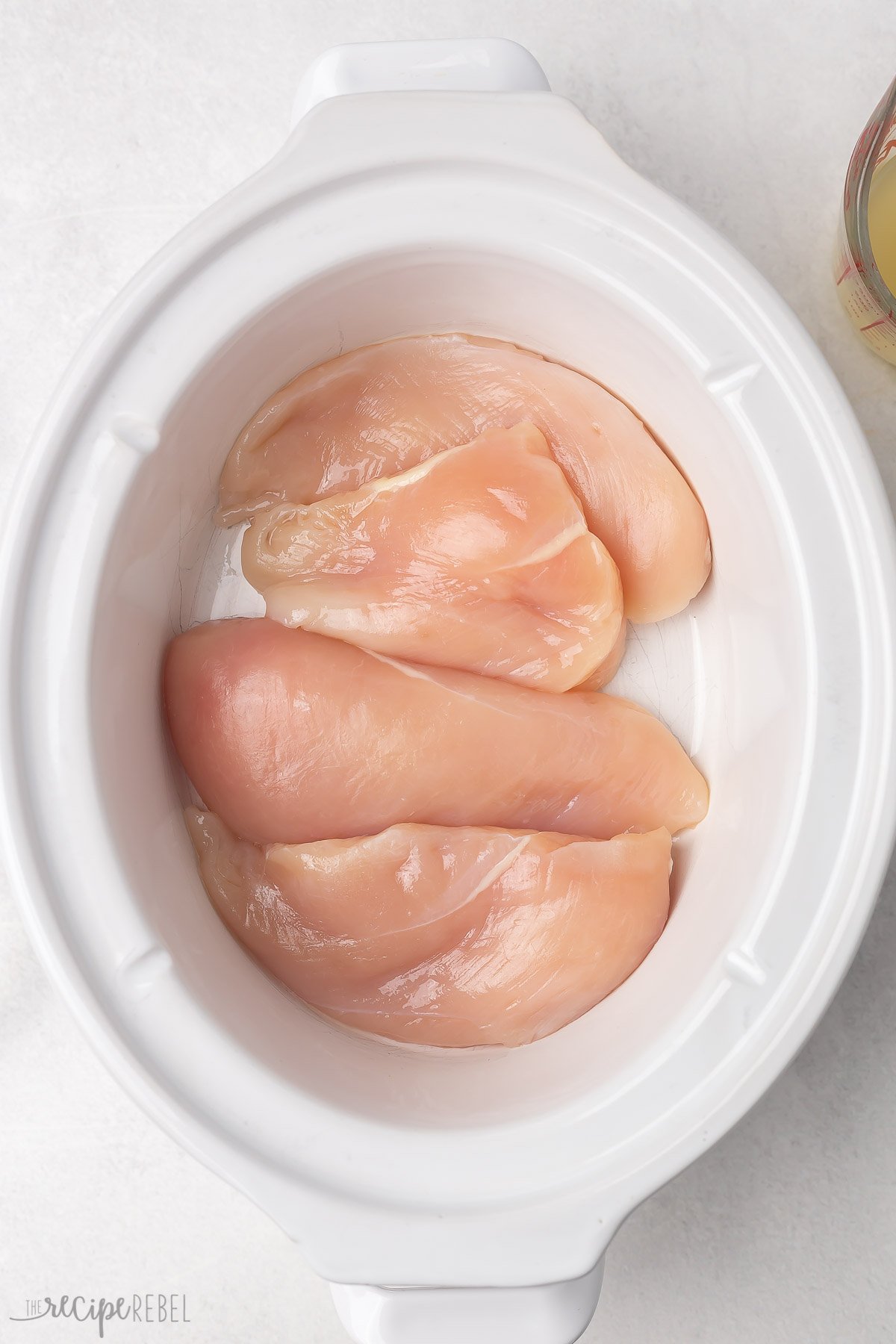 Slow Cooker Shredded Chicken FAQs
What size crockpot do I need?
The crockpot pictured here is a 2.5 quart casserole crock — it's one of my favorites! It's a great size for a family of 3-5. It works great for 4-6 chicken breasts.
If you're looking to do a big batch, I recommend a 4-6 quart slow cooker.
Can I let it cook all day?
The answer is yes, but you might not want to. Overcooked chicken tends to be dry and unappetizing. The slow cooker is a forgiving environment but even so, 8 hours or more is a long time for chicken to cook.
If you want to let your chicken cook longer than the recipe calls for, I recommend choosing a smaller crockpot and filling it to the 2/3 point. A fuller crockpot will cook more slowly.
Why is my Crockpot Shredded Chicken tough?
It's likely that it hasn't cooked long enough to shred. While chicken breasts are often cooked through in just 2 hours on low, I like to let them cook a little longer if I plan to shred them so that they are fall-apart tender.
How do I keep chicken from drying out in the slow cooker?
Don't overcook! It's important to hit that sweet spot between "tough and hard to shred" and "dry and overcooked". Thankfully, the crockpot is one of the best ways to get juicy chicken.
Is it better to cook chicken in the crockpot on low or high?
I think it is always better to cook on low if you can, but cooking on high is an option if you are pressed for time.
Do I need to cover the chicken with liquid?
No! The liquid in the crockpot creates steam that will cook the chicken and keep it moist even if it is not covered in liquid.
Can I freeze leftover shredded chicken?
Absolutely! Leftover cooked chicken can be frozen in an airtight container or zip-top freezer bag for up to 6 months.
Tips for making this easy Crockpot Shredded Chicken:
Don't overcook. I know it can be tempting to leave the chicken in for a long time as you would think it would end up more tender, but that's not always the case. With slow cooker chicken recipes, you really want to be sure you hit the sweet spot between "just enough" and "dry and unappetizing".
Use boneless chicken breasts or boneless chicken thighs. Avoid having to deal with skin and bones to make this crockpot shredded chicken recipe super simple. Chicken thighs will have a little more fat (flavor!) and more moisture. Chicken breasts are leaner, but also don't pack quite the same amount of flavor as thighs. You can use one or the other or a combination! I use chicken breasts because they always turn out incredibly moist and it's easy to add flavor 🙂
Know your slow cooker. When cooking 4 chicken breasts like this recipe calls for, I love using my 2.5 quart crockpot — it's the perfect size and heats up quickly. If you're doing more chicken than that, you'll likely want to use a 4-6 quart crockpot. Note that if your crockpot is very full, it will take longer to heat and cook. The size affects the cooking time!
Keep the seasoning simple. You don't want to end up with a week's worth of single-purpose chicken (unless you do, I guess!), so by keeping the seasoning on this slow cooker shredded chicken basic, you can use it in a multitude of ways. It doesn't scream "Mexican!" or "Italian!" or "curry!".
How to shred chicken:
I know a lot of people like to make easy shredded chicken with a hand mixer or stand mixer because it shreds quickly and easily.
This is a great way to do it, but honestly? I prefer a couple of forks.
It really doesn't take that long, and I'm all about using the least amount of dishes as possible. I really dislike washing big pots and bowls so I avoid using extra at all costs! You pick the easiest way for you.
After simmering away low and slow, this slow cooker shredded chicken comes together (or rather, apart! Lol) with little effort. No need to pull out the big guns 😉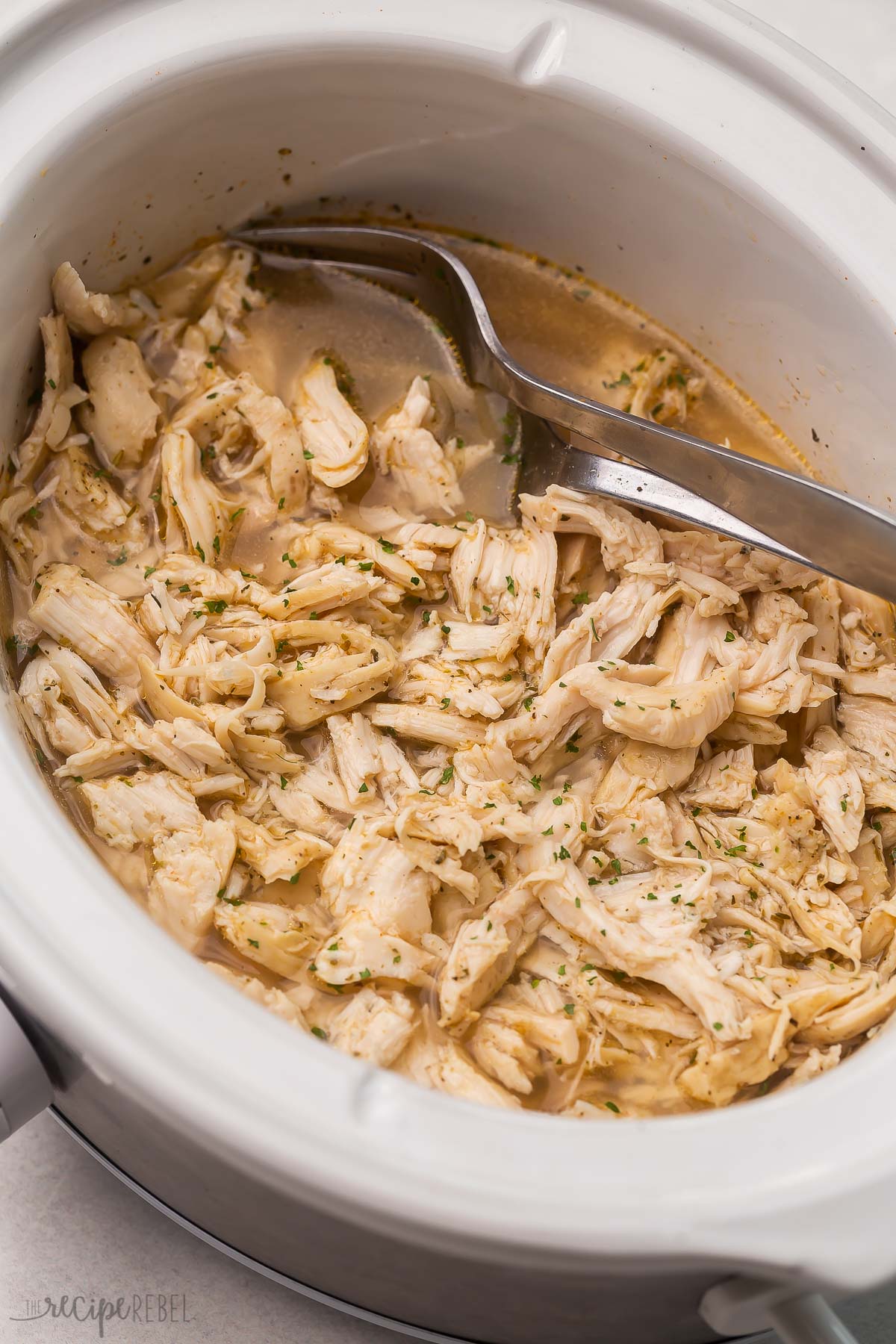 Ways to use Shredded Chicken:
So now that we have all of this wonderful, flavorful, moist slow cooker shredded chicken, the real question is what to make with shredded chicken?
I love having a bunch on hand in the fridge because it is so versatile and makes meal planning so much easier to manage.
Here are some easy things to make with shredded chicken:
Variations on this Crockpot Pulled Chicken:
This is an easy recipe to customize! Try one of these delicious recipes to make it your own:
Skip the Italian seasoning and add 2-3 teaspoons taco seasoning and some mild salsa for shredded chicken tacos or taco salad! (Go crazy and add a can of green chiles if you like!)
Stir in some barbecue sauce and make BBQ Chicken sandwiches
Stir in some buffalo sauce and serve it over Air Fryer Baked Potatoes or with nachos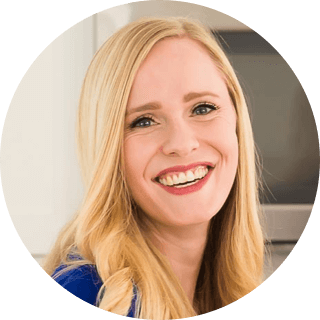 Pin this recipe to save for later
Pin this recipe to your favorite board
Crockpot Shredded Chicken
This Crockpot Shredded Chicken is easy, flavorful and a great way to meal prep for the week ahead! How to make slow cooker shredded chicken including tips, tricks and additional recipes.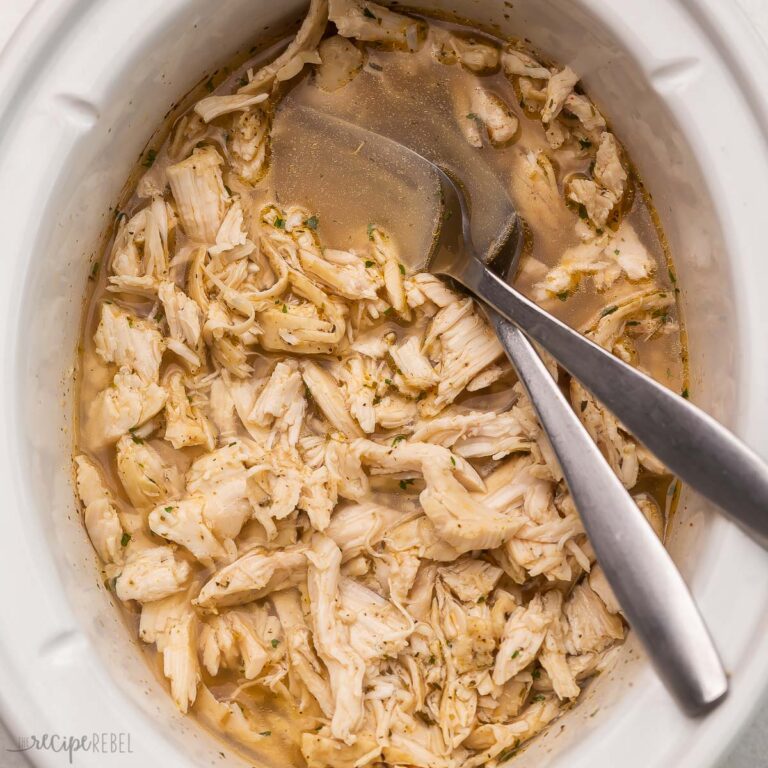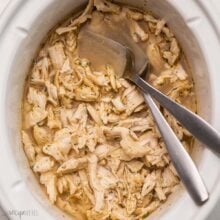 Print
Ingredients
4

boneless skinless chicken breasts

(about 2 lb)

¾

cup

low sodium chicken broth

1

teaspoon

seasoning salt

(I use Lawry's)

¾

teaspoon

Italian seasoning

¼

teaspoon

black pepper
Instructions
Place chicken breasts in 2.5-4 quart crockpot. Pour in chicken broth and sprinkle with seasonings.

Cover and cook on low for 3-4 hours or high for 2-3 hours, until chicken is cooked through (165 degrees F minimum) and fall apart tender.

Using two forks, gently pull and shred the chicken in the liquid (if your chicken has released a lot of liquid, you may want to remove some liquid before shredding, but save it in case you want to add more back in).

Serve as desired or let cool slightly before refrigerating. Cooked chicken can be stored in the refrigerator, tightly sealed, for 3-4 days, or packaged and frozen for 3-4 months.
Notes
*The cook time in this recipe has been adjusted to 3-4 hours on low from the previous 6-7. I find that a lower cook time is sufficient when using 4 chicken breasts in a smaller crockpot. If you have a larger crockpot, it is very full, or you have large chicken breasts, you may still need to cook for 4-6 hours on low.
Ingredients and Substitutions:
I recommend boneless, skinless chicken breasts or boneless, skinless chicken thighs for this recipe. You may be able to use bone-in chicken but it will take longer to cook.
If you are using regular broth and not low sodium, you may want to reduce the added salt.
Storage
Leftovers can be refrigerated for up to 4 days in an airtight container.
Leftovers can also be frozen in a freezer-safe bag or container for up to 6 months, although it will have the best taste and texture if used in the first 3-4 months.
Nutrition Information
Calories:
67
cal
|
Protein:
12
g
|
Fat:
1
g
|
Cholesterol:
36
mg
|
Sodium:
288
mg
|
Potassium:
221
mg
|
Vitamin A:
15
IU
|
Vitamin C:
0.7
mg
|
Calcium:
5
mg
|
Iron:
0.3
mg
Keywords
crockpot shredded chicken, shredded chicken breast, slow cooker shredded chicken
Want to save this recipe?
Create an account easily save your favorite content, so you never forget a recipe again.
Tried this recipe?
Tag @thereciperebel or hashtag #thereciperebel —
I love to see what you're making!
Tag @thereciperebel