This Southwestern Potato and Corn Chowder is simple to make with leftover grilled vegetables, or start with fresh from scratch! It's loaded with potatoes, corn, peppers, and tons of Southwest flavor! 
You guys, I just love soup.
You name it, we love it.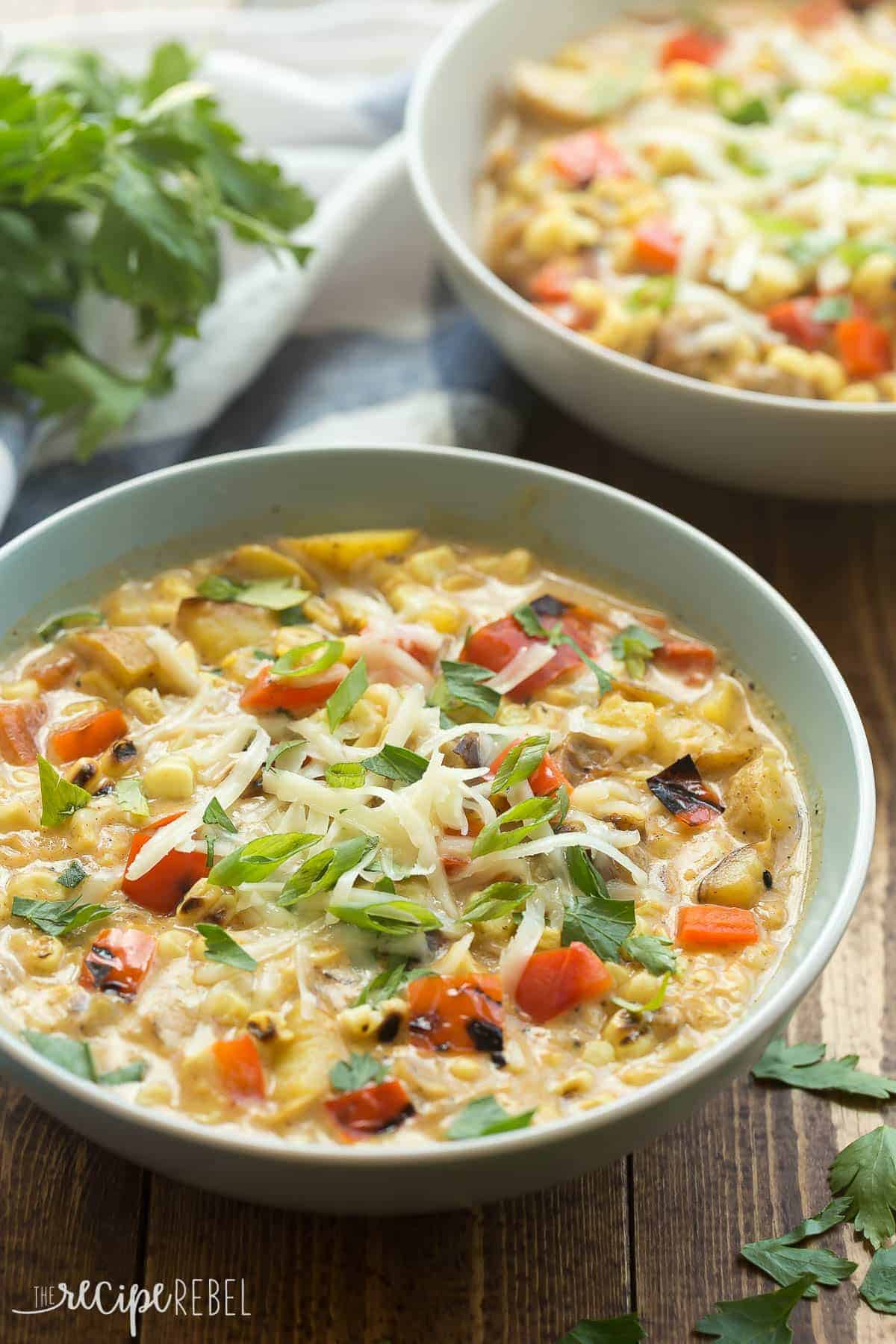 I'll eat it in any season, no matter how hot it may be outside (especially this summer, since we finally had A/C installed in our not-as-new-anymore house!).
I think part of the reason is because even though I can be a bit of a picky eater when it comes to my veggies, when everything cooks down in one big pot together, the flavor is amazing! And the veggies just kind of blend in with everything else and they're less noticeable.
I know I probably sound like I'm about 8 years old, but, well, it's true.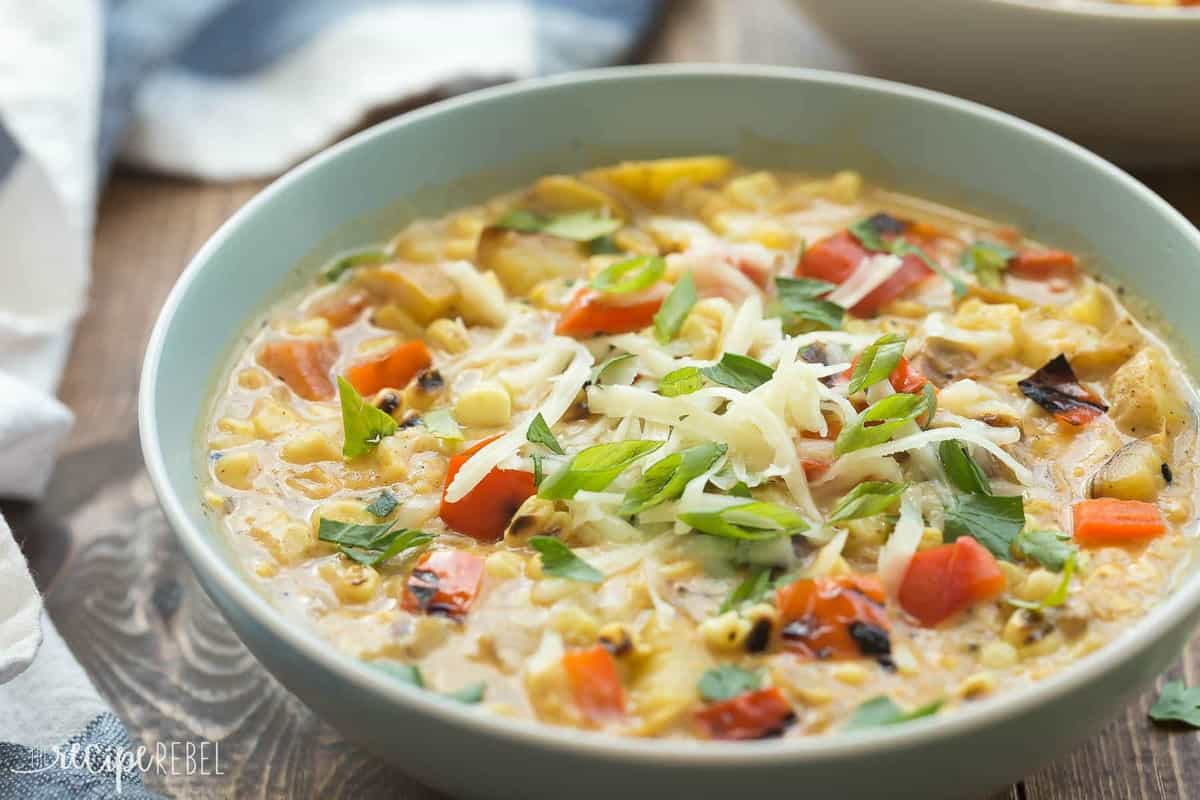 My kids on the other hand love their vegetables and will often pick them out of their meals to eat them first! Meat is another story.
So when I'm making soup, I try my best to load it with veggies and all kinds of good things. This Southwestern Potato and Corn Chowder is full of grilled potatoes, fresh grilled corn, and grilled peppers, but you can add almost any leftover grilled vegetables that you have lying around! The more the merrier, I think.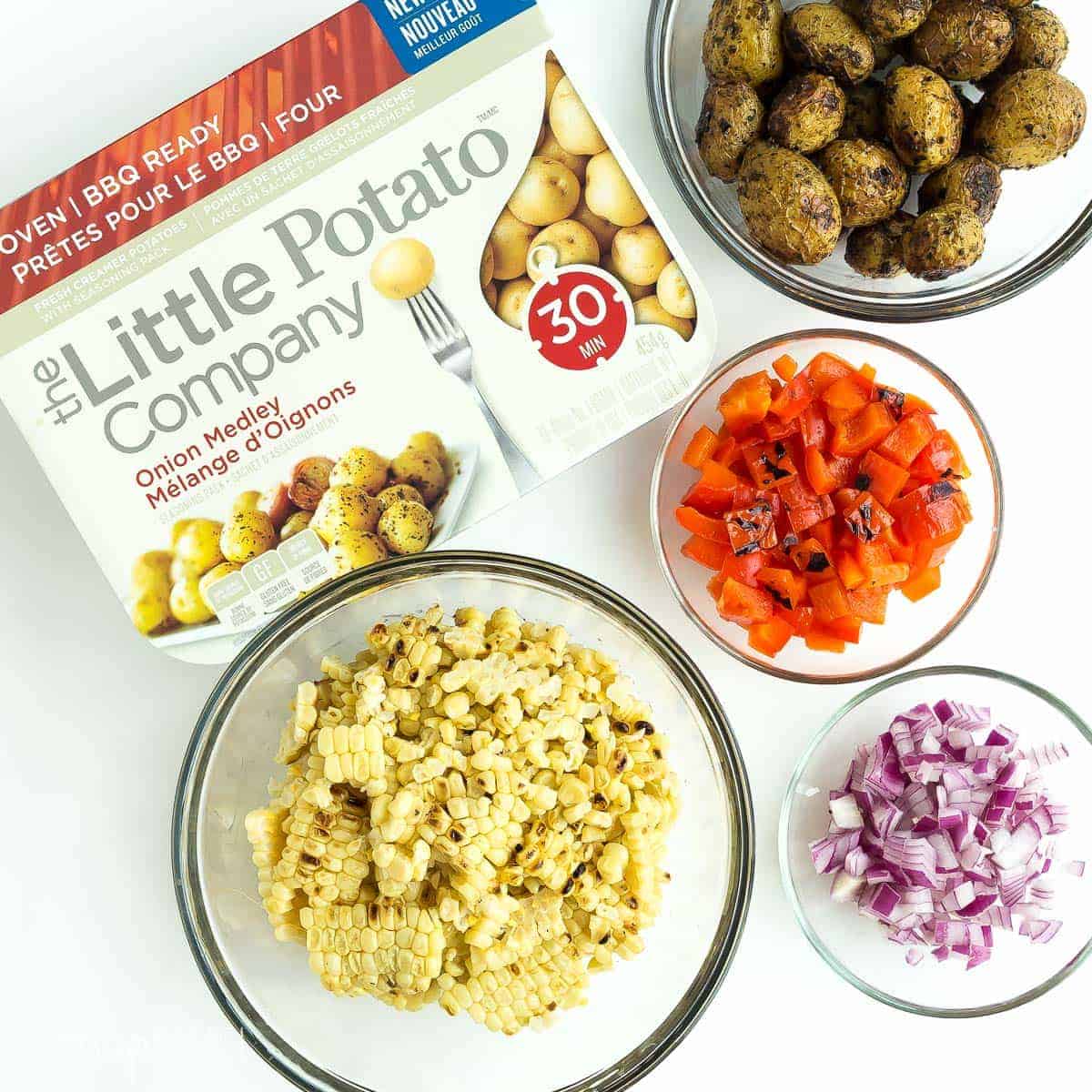 I wanted to come up with a way to use leftover grilled potatoes and corn, because hello deliciousness! They are two of our favorites on the grill and these BBQ Ready Packs from The Little Potato Company make it super simple (I used the Onion Medley but any flavor would be great). The seasoning packs also add a ton of flavor to the soup!
And since potato soup is pretty much my all-time favorite, I knew it was time for a smoky, summery twist!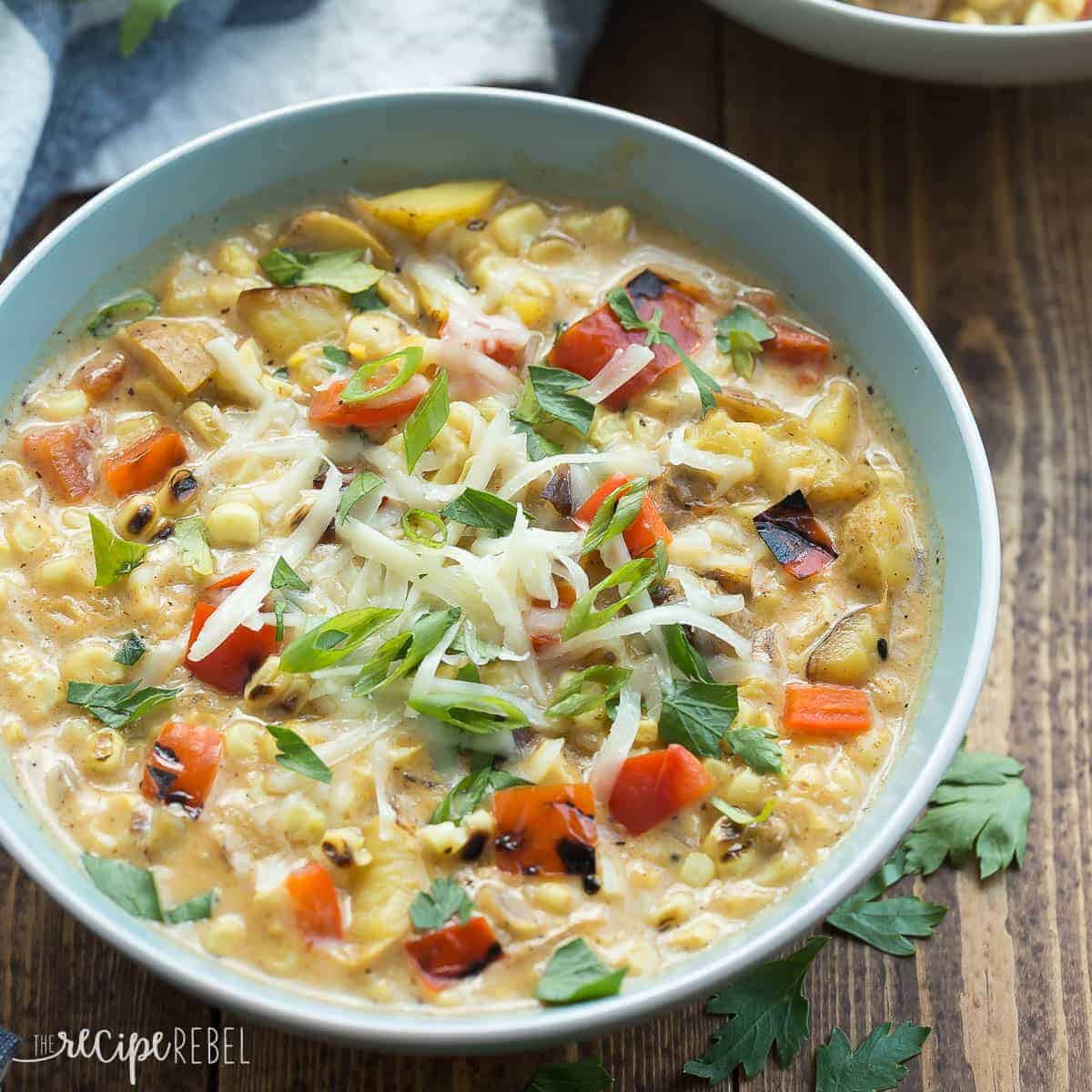 NOTES:
I seriously thought about adding a can of black beans to the soup, but in the end I decided I wanted to keep things simple. I still think they would be a great addition and add a powerful boost of protein and fiber! If you want to, go ahead and add them (rinse first!) with the rest of the veggies.
You can also add other leftover veggies (grilled or not) to the soup — jalapenos for kick, mushrooms, zucchini…. whatever you have around!
Slow Cooker: Most soups are easily made in the slow cooker, this one included! You will want to cook the onions down, (skip adding the rest of the veggies here) add flour to make your roux, then thicken your liquids in a pot. Throw that in the slow cooker with your grilled veggies and spices and let it go for 6-8 hours on low!
Raw Vegetables: You can absolutely start with raw vegetables if it's too cold for grilling or you don't have any leftovers! Add the oil to the pot, and with the onions add the red pepper, quartered potatoes, and fresh corn (or if using frozen, simply stir in with the cheese at the end). Cook and stir over medium-high heat until tender, then continue with the recipe.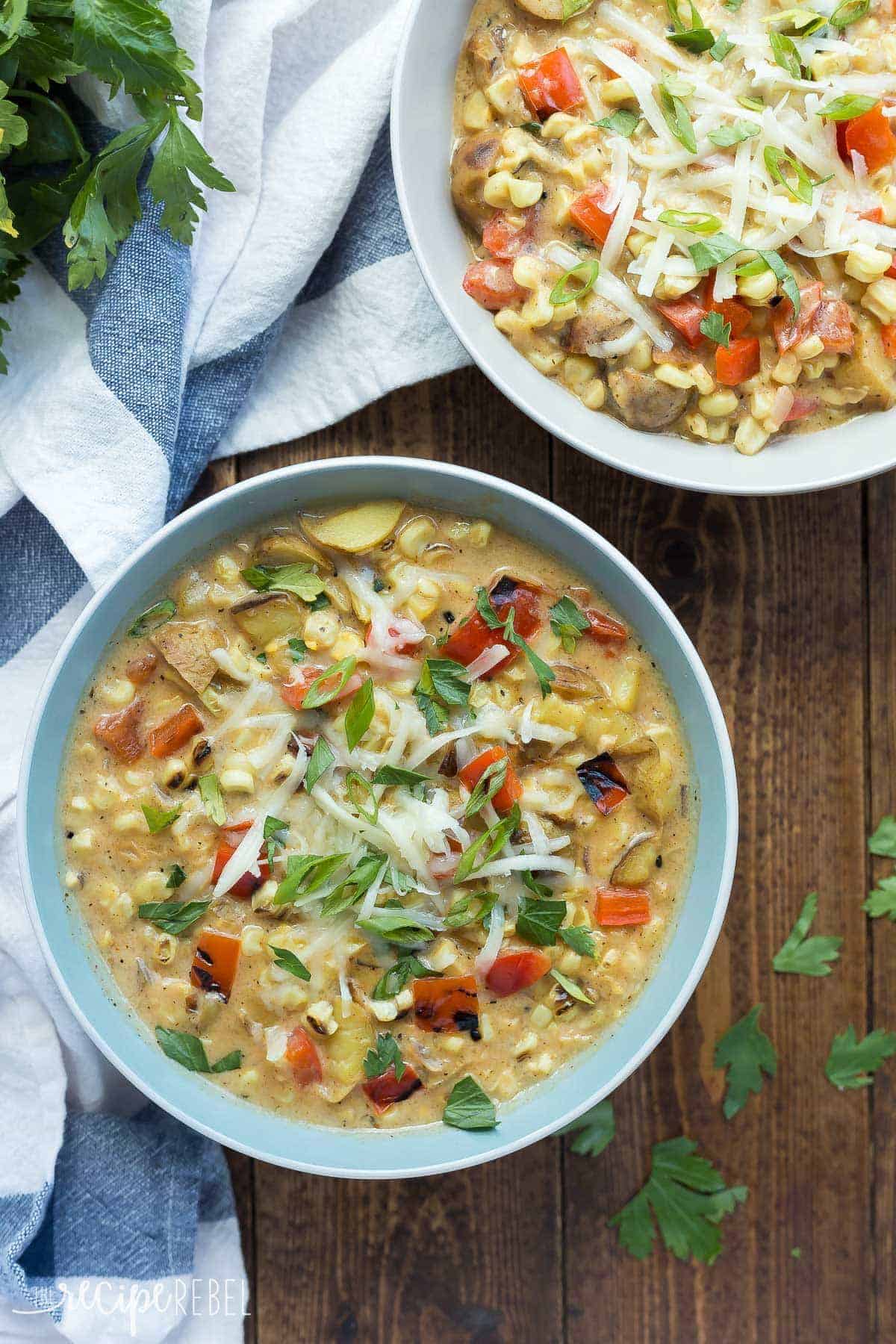 *This post is sponsored by The Little Potato Company as part of my ambassadorship with them! Thank you for supporting brands that help me to bring you alllllll the creamy and comforting recipes!
See how easy it is to make!
4-6 servings
adjust servings
Smoky Southwestern Potato and Corn Chowder
This Southwestern Potato and Corn Chowder is simple to make with leftover grilled vegetables, or start with fresh from scratch! It's loaded with potatoes, corn, peppers, and tons of Southwest flavor!
Ingredients
1

tablespoon oil

1/2

medium red onion, diced

1

teaspoon minced garlic

1/2

teaspoon cumin

1/2

teaspoon chili powder

1

red pepper, grilled and diced

4

cobs corn, grilled and removed from the cob

1lb

Little Potatoes, grilled and quartered (I used the Onion Medley BBQ Ready Kit)

1

teaspoon salt

1

tablespoon flour

2

cups chicken broth

1

cup evaporated milk (regular milk or cream is fine)

1 1/2

cups Monterey Jack cheese (or other favorite)

2

green onions, sliced

Chopped fresh parsley for garnish
Instructions
*NOTE: in my recipe the veggies have previously been grilled and are cooked. See notes above for starting with raw vegetables.
Heat a large pot over medium high heat. Add oil and cook onion until soft, 3-4 minutes.
Add garlic, cumin and chili powder and cook and stir one minute.
Add peppers, corn, potatoes and salt and stir. Add flour and stir until none is visible, cook 1 minute.
Add broth and milk and cook until thickened, about 5-8 minutes.
Stir in 1 cup cheese, green onions and sprinkle with parsley. Serve.