I think these are the best brownies I've ever made.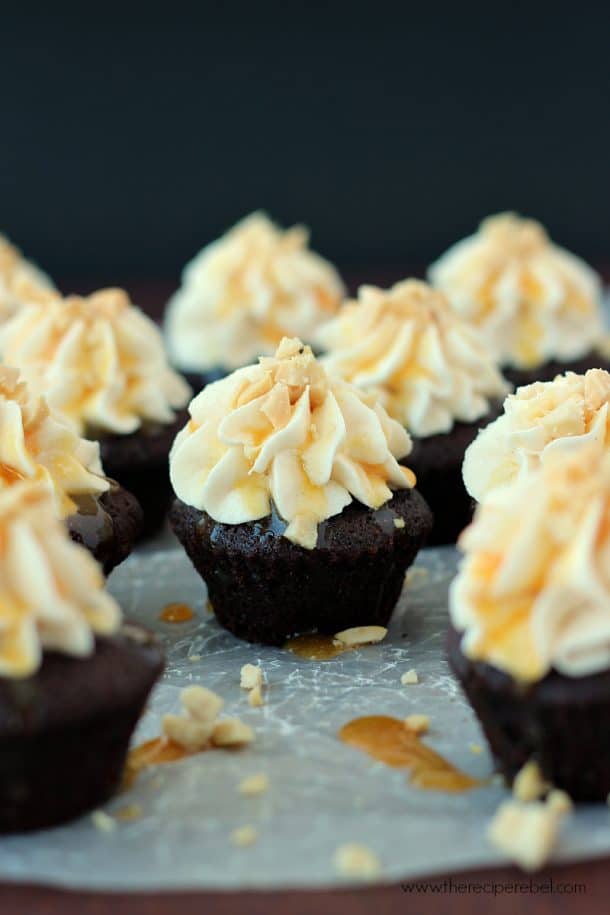 They may even be the best thing I've ever made. Ever.
I know that seems like a pretty big claim, especially after the Snickers Cheesecake Cake. But these are just so perfect, I almost can't handle it.
I was having one of those days when I had so much to do, but wasn't very organized so I end up accomplishing nothing, and feeling frustrated with myself. The hubs gets home for lunch just after noon and at 11:30 I started to whip up a batch of brownies.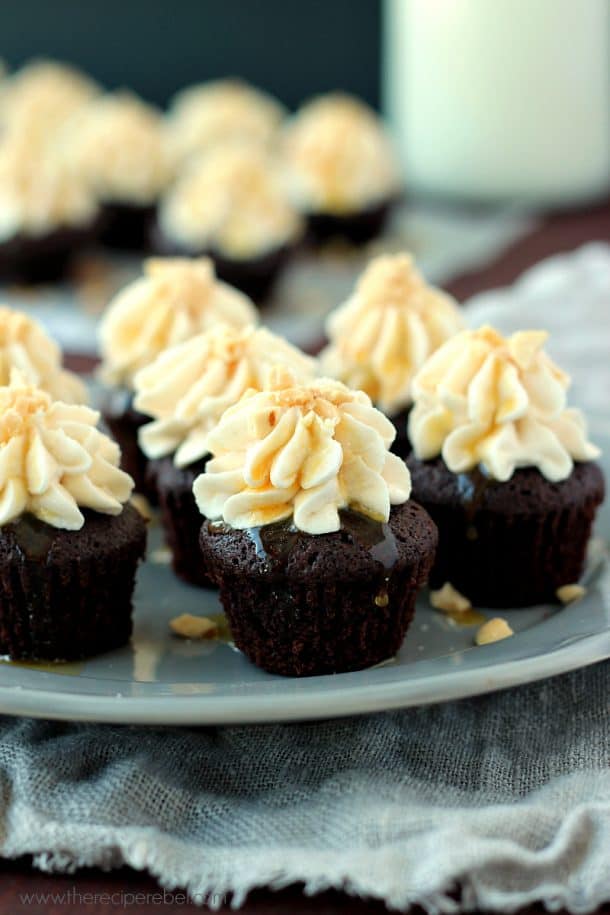 You know, so I could feel like I accomplished something.
For normal people without kids (not that people with kids aren't normal…. but…), this wouldn't even be an issue.
But my almost-3-year-old wanted to "help" me make brownies, and she usually helps by taking all of the paper liners out of the mini muffin pan (you know, the ones I just put in) and stacking them up.
We made it, the brownies were baked, and I stuck them in a container to do something with the next day.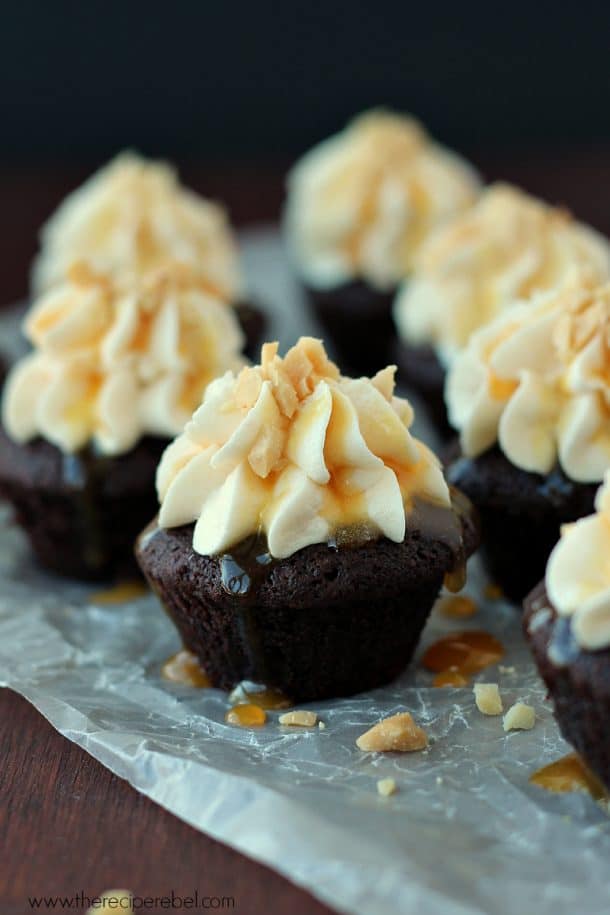 I had a bag of salted, roasted peanuts leftover from when I made the Snickers Cheesecake Cake, and I was kind of loving that idea.
I wanted to make a mini version, that's perfect for when you just need a small bite (or a dozen small bites…. whatevs) of something sweet
OH MY WORD.
The sweet, and fudgy, and chewy, and nutty, and salty, and crunchy….. it's just perfection.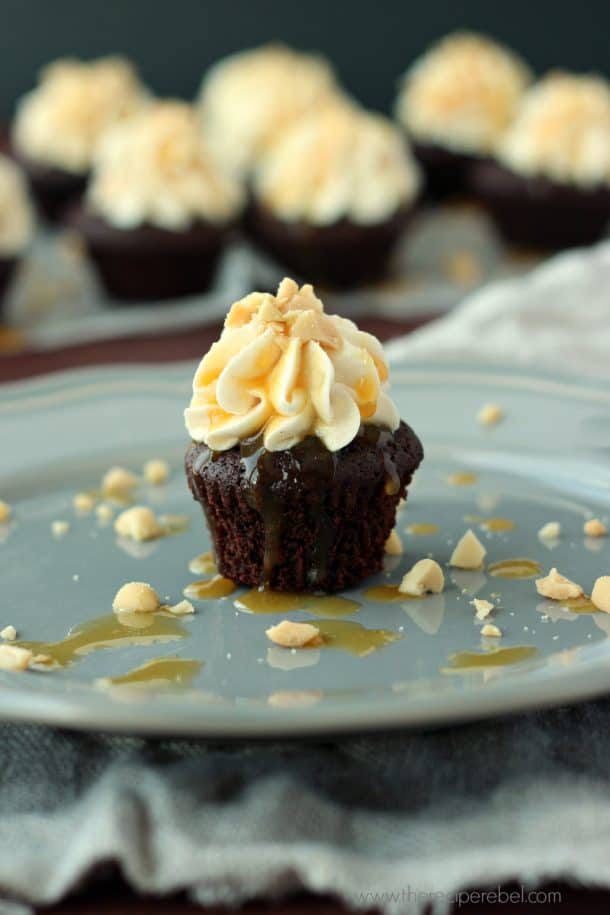 And they're super easy to make ahead! You can either make the brownies ahead, and store them on the counter or in the freezer, or you can finished them and stick them in the fridge or freeze once they're all dolled up.
Whatever you do, don't try to resist. The world is a better place when chocolate, caramel and peanut butter are involved.
3 dozen
adjust servings
Snickers Brownie Bites
Snickers Brownie Bites: mini brownies topped with peanut butter frosting, caramel and salted peanuts -- an epic combination! Freezer-friendly www.thereciperebel.com
Ingredients
For the brownies
1

cup butter, melted

2

1/2 cups granulated sugar

1

tbsp vanilla

4

eggs

1

1/2 cups flour (I've used both whole wheat and all-purpose)

1

cup cocoa

1

tsp salt
For the peanut butter frosting
1/2

cup butter

1

tbsp peanut butter

2

cups powdered icing sugar

1

tsp vanilla

4-5

tbsp milk

Caramel sauce

Chopped, salted peanuts
Instructions
For the brownies:
Preheat oven to 350 degrees and line mini muffin pan with paper liners or spray with non-stick. Set aside.
In a large bowl, combine melted butter and sugar. Whisk until smooth. Add vanilla and eggs and whisk until smooth. Add flour, cocoa and salt and whisk until just combined. Spoon into prepared pan.
Bake for 13-15 minutes, or until a toothpick comes out dry or with moist crumbs (you don't want to overbake). Set aside to cool (*you can also store at room temperature or in the freezer until you're ready to frost – see post above for details)
For the frosting:
In the bowl of a stand mixer (or use a handheld mixer), beat butter and peanut butter until smooth. Add powdered sugar and vanilla and beat until combined. Add milk, 1 tbsp at a time (beating after each addition), until you reach the desired consistency.
Spoon into a piping bag fitted with desired tip or a large Ziploc bag (or just use a spoon – that's fine too!)
To assemble, pipe a small amount of frosting onto each brownie. Drizzle with caramel sauce and top with chopped peanuts.
Store in the fridge up to 4 days or freeze for up to 1 month.