I'm going to try not to get all mushy and tell you over and over how much I love you guys.
But, let's face it. I love you guys!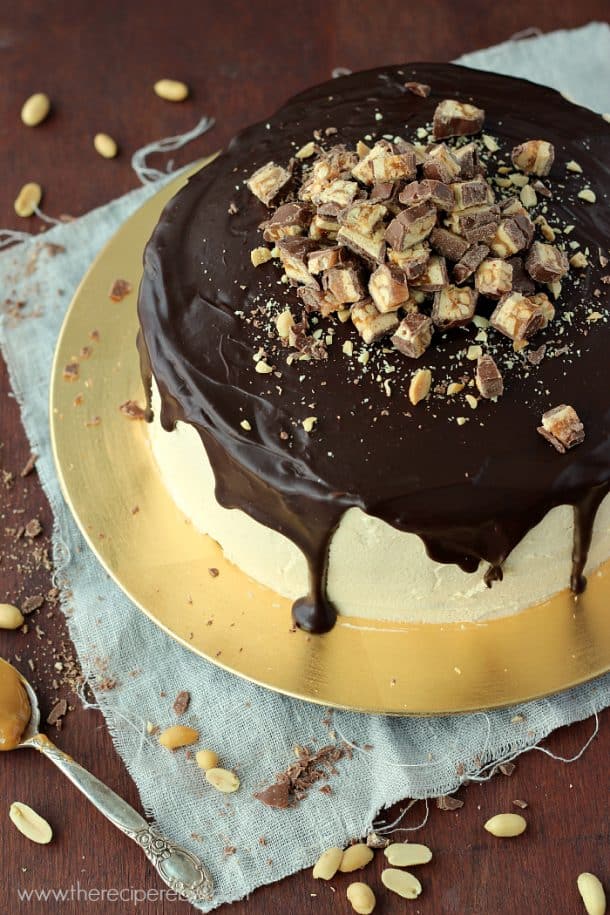 I've been thinking about this day coming up for a few months now. I knew I wanted cake. The cake was the easy part.
Chocolate, peanut butter, caramel, salted peanuts, chocolate ganache, cheesecake – it's got everything you need (yes, need).
But what to write? How to sum up the craziest year of my life? How to keep my ramblings here under 3000 ridiculously mushy words?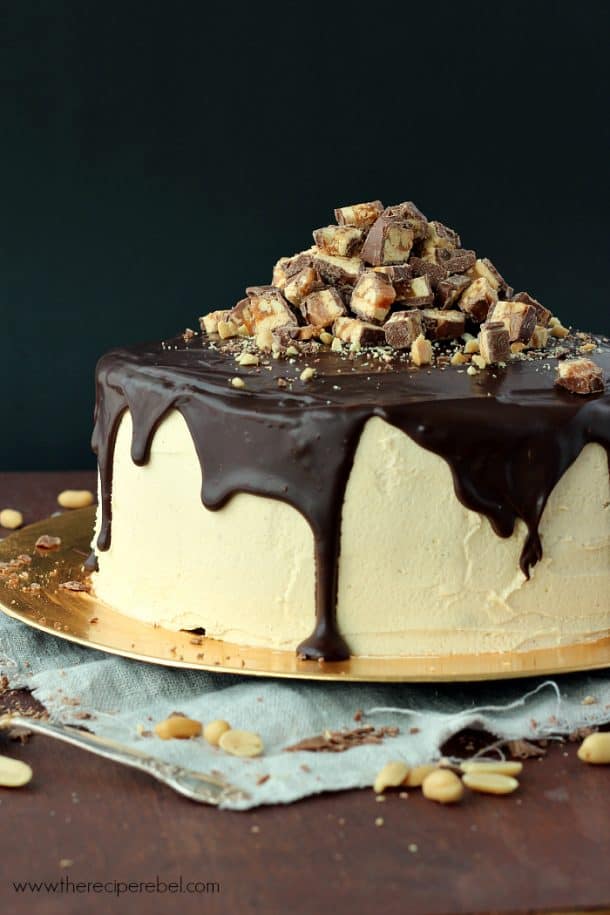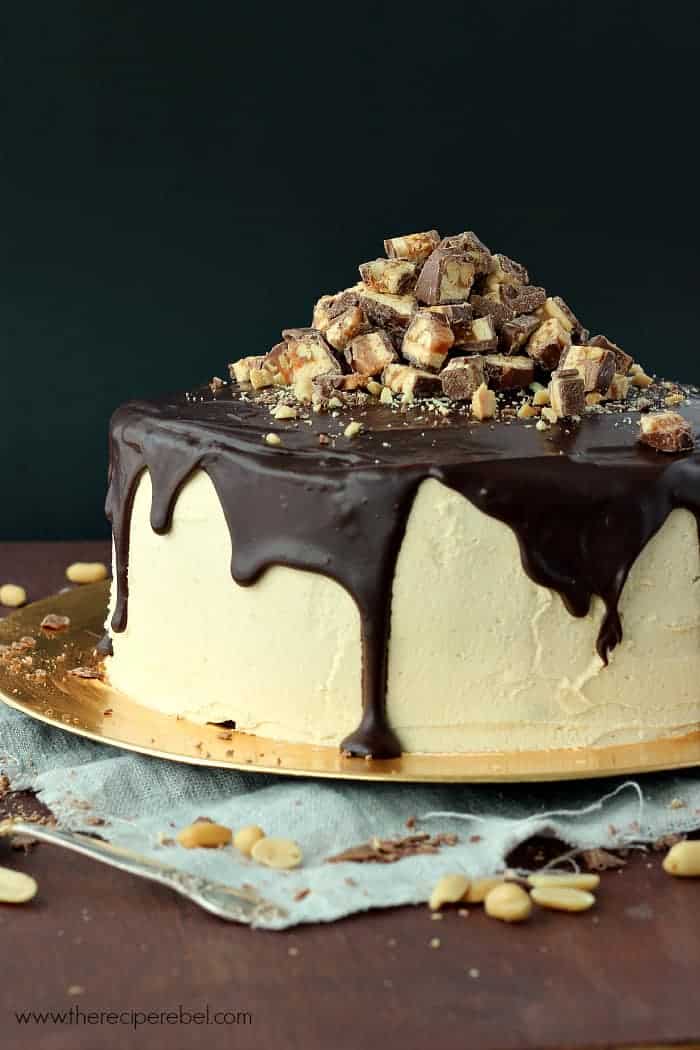 Because, remember — we've got cake to eat.
I remember when this was just a thought, and it was just a thought for a long, long time. I started dreaming of starting a food blog in the summer of 2013. We were renting a tiny little house in the country and had no internet, but I would search Pinterest for all kinds of answers about starting a blog, taking food photos, writing a blog, managing a web site, and working with ad networks and sponsors.
Yesterday I talked about how my view of what food bloggers do has really changed, and the interesting challenges food bloggers face.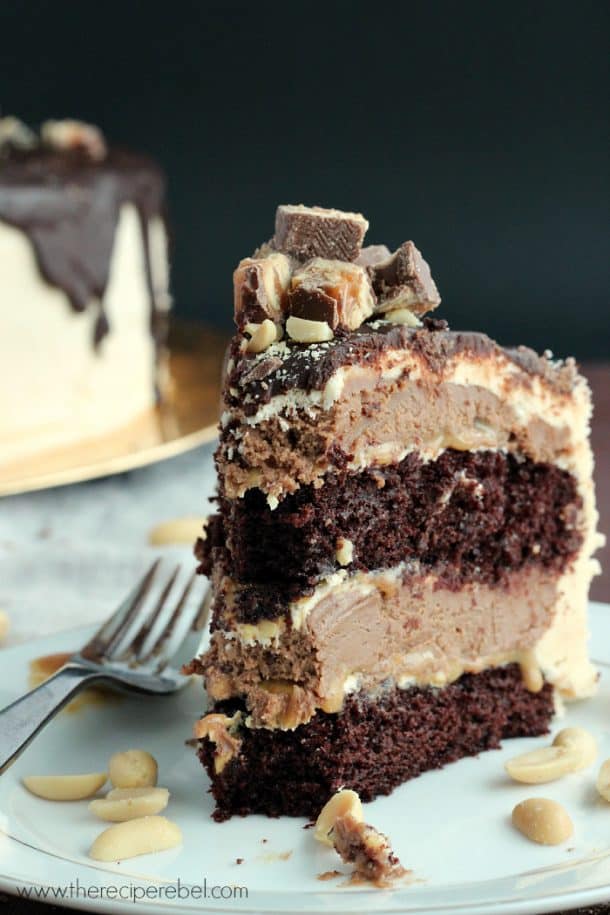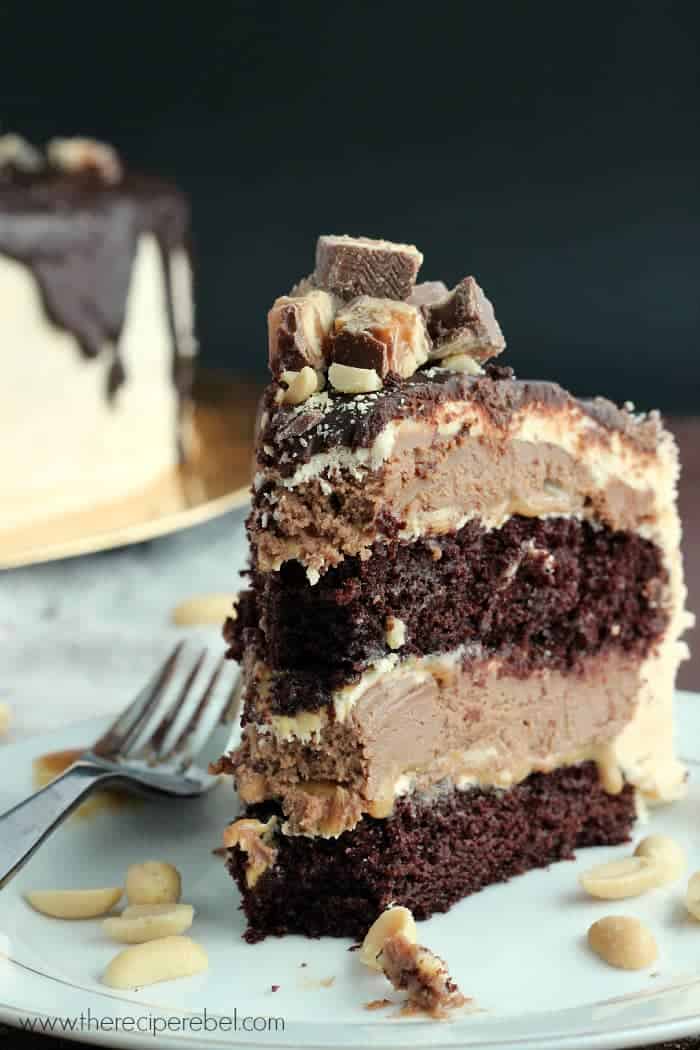 Today, we're talking about everything that's been accomplished.
There are bigger blogs (only about 436,000 of them), but I'm still super proud of how far The Recipe Rebel has come.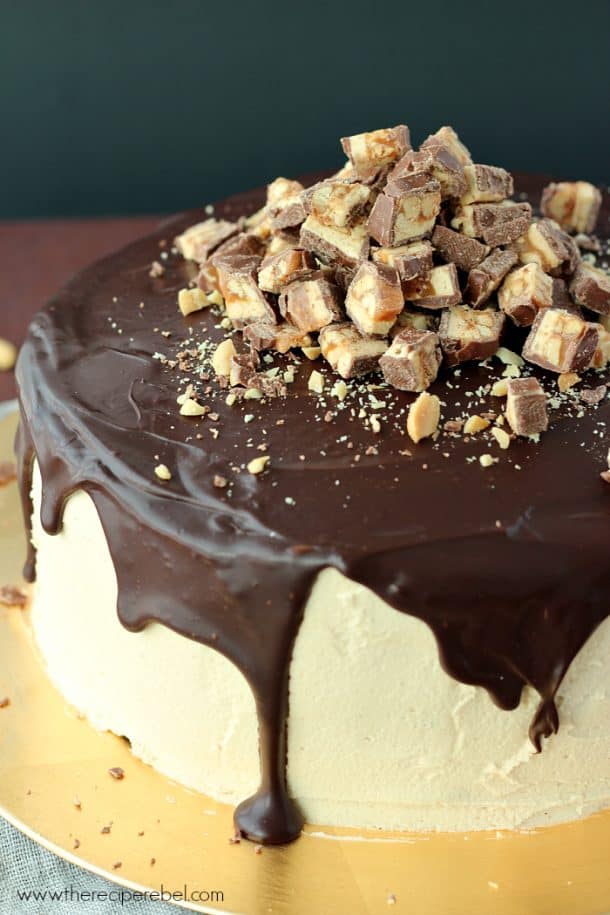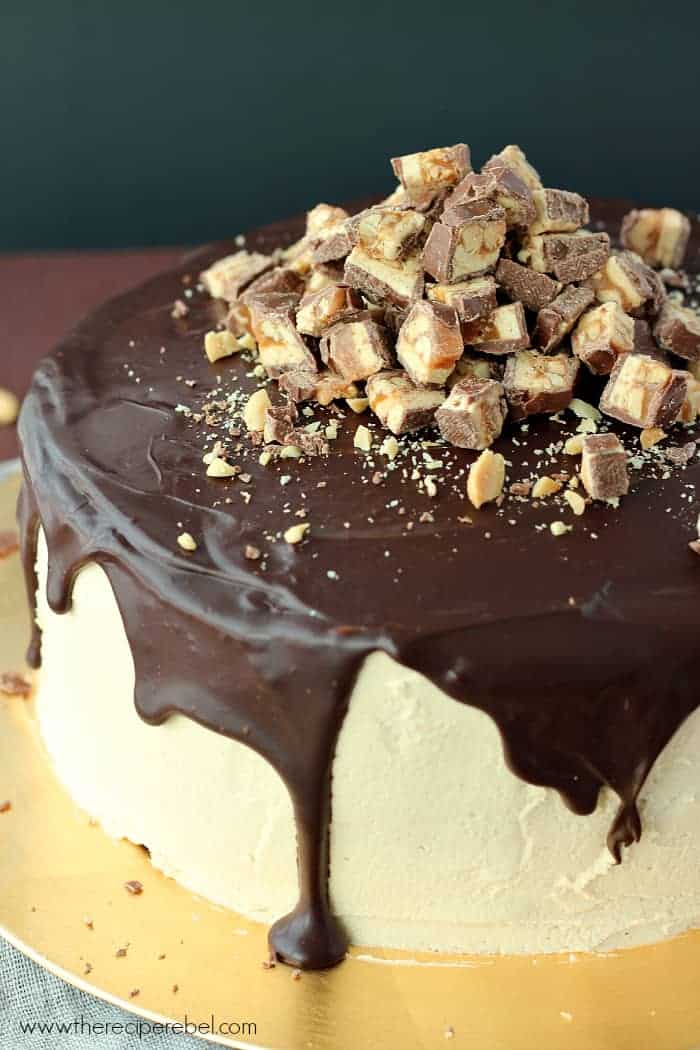 I'm really happy with the way the year has gone. I feel like I've learned a lot, and I've improved in so many areas already. I know I have a long way to go, but I'm eager to learn.
Because, hey, to practice means I get to play with food. And chocolate. And sugar and butter. Just a few of my favorite things.
But today, we're celebrating everything that's been learned.
We're celebrating all 1, 221, 884 of you who visited The Recipe Rebel over 2 million times.
So….. THANK YOU!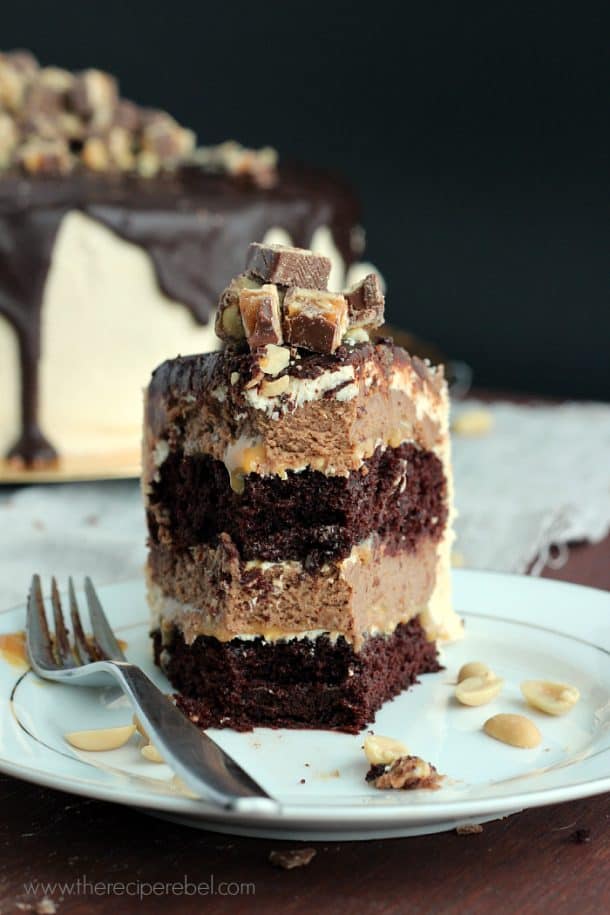 There's absolutely no way I could be where I am without you guys, so I wanted to make you something special.
I wanted an over-the-top recipe. I wanted something unique, and when I searched "snickers cheesecake cake" on Pinterest, I got nothing. I got snickers cheesecakes, and snickers cakes, but no snickers cheesecake cakes. So here it is, friends.
Aren't you glad you stuck it out this far? The rich chocolate and oozing caramel is coming.
There are layers of the best chocolate cake ever, a soft and mousse-like chocolate peanut butter cheesecake, peanut butter frosting, caramel, salted peanuts, chocolate ganache and chopped Snickers bars. Because we're celebrating!
There are a few steps, and it can be a bit time consuming. It's not hard though, and it's totally worth it! I recommend making the cake over the course of a few days, and I highly recommend freezing the cakes and cheesecakes solid before assembling.
14-16 servings
adjust servings
Snickers Cheesecake Cake and a Blog Birthday
Ingredients
Caramel
1

can sweetened condensed milk
Cheesecake
3 8oz

pkg chocolate (or regular) cream cheese

3/4

cup sugar

1

tsp vanilla

3

eggs

1/2

cup smooth peanut butter
Cake
2

cups sugar

1

3/4 cup all-purpose flour

3/4

cup cocoa

2

tsp baking soda

1

tsp baking powder

1

tsp salt

2

eggs

1

cup buttermilk

1

cup strong coffee (or water)

1/2

cup vegetable oil

1

tsp vanilla
Peanut Butter Frosting
1

cup butter, room temperature

1/2

cup peanut butter

1

tsp vanilla

3

cups powdered sugar

3-4

tbsp milk or cream
Chocolate Ganache
1

cup chopped semisweet chocolate

1/3

cup milk or cream

1/2

cup salted roasted peanuts, chopped

3

regular sized Snickers bars, chopped
Instructions
Caramel:
Peel label off can of sweetened condensed milk. Place in a large pot of water (can must be covered – at least 1" of water above the can) and bring to a boil. Boil for 3 hours, topping up the water if needed to keep the can covered.
Cool to room temperature and store in the fridge or the cupboard until needed.
Cheesecake:
Line two 9" springform pans with parchment paper (I like to cut a circle to fit), spray the inside of the pan and parchment with non-stick spray and wrap tin foil around the outside to catch any possible leaks. Preheat the oven to 350 degrees F.
In the bowl of a stand mixer, add cream cheese and beat until smooth.
Add sugar, eggs, vanilla and peanut butter and beat until smooth. Divide evenly between the two pans.
Bake for 20-25 minutes until the center is set, though it might have a slight jiggle to it. Let come to room temperature before removing from the pan. Wrap in plastic wrap and freeze until ready to use. (*Note: the cheesecake is light and mousse-like, even when baked. I like to wrap in plastic wrap and put it back on the bottom of the springform pan to freeze so that it freezes in a flat layer)
Cake:
Line two springform pans with parchment. Spray parchment and pan with non stick spray and wrap outside with tin foil. Preheat oven to 350 degrees F.
In a large bowl, combine sugar, flour, cocoa, baking soda, baking powder and salt with a whisk.
Add eggs, buttermilk, coffee, oil and vanilla and whisk until totally smooth (batter will be thin).
Divide evenly between the two pans and bake for 25-30 minutes until toothpick inserted in the center comes out clean or with moist crumbs (not batter).
Set aside to cool to room temperature. Remove from the pan, wrap in plastic wrap and freeze until ready to assemble.
Frosting:
*I recommend making the frosting right before assembling, because it will be easiest to spread before refrigerating.
In the bowl of a stand mixer, beat butter until smooth. Add peanut butter, powdered sugar and vanilla and beat until smooth, scraping down the sides of the mixer if necessary. Add in milk or cream, one tablespoon at a time and beating after each addition, until you reach the desired consistency. Frosting can be left on the counter at room temperature for several hours before frosting cake if need be.
Assembly:
*Prepare ganache after cake is assembled.
Place one cake layer on your cake plate. Spread with a very thin layer of frosting, ⅓ of the caramel and ⅓ of the peanuts.
Place one cheesecake layer on top of the peanuts. Spread with a very thin layer of frosting, ⅓ of the caramel and ⅓ of the peanuts.
Place the second cake layer on top of the peanuts. Spread with a very thin layer of frosting, remaining caramel and peanuts.
Place second cheesecake layer on top. Freeze for 2-3 hours before frosting.
Frost cake with remaining peanut butter frosting.
Ganache:
In a small pot over low heat, melt together the chocolate and milk or cream, stirring constantly, until melted.
Remove from the heat and set aside for 5 minutes before pouring evenly over the cake.
Top with chopped snickers bars and additional peanuts if desired.
Store in the fridge up to 4 days or freeze for up to a month.
Chocolate cake recipe from Hershey.
And now for the giveaway!
I'm giving away all of the beautiful cookbooks from Raincoast books, starting today. I have a few reviews left to do for you, but those will be up before the giveaway ends. There are 8 cookbooks in total, and I will be giving them away in sets of 2. Winners will not be able to choose cookbooks, but will be drawn randomly.
Here is the list of cookbooks available and the links to the review and recipe (links will be added as they're available):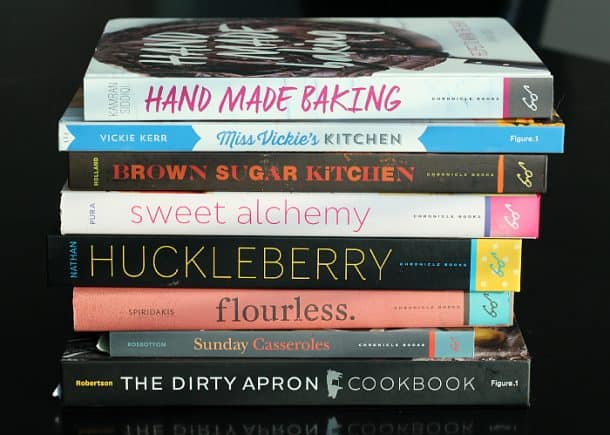 Flourless
Sunday Casseroles
The Dirty Apron