30+ pasta salad recipes perfect for summer and last-minute pool parties! Vegetarian, Chicken, Italian pasta salad and more!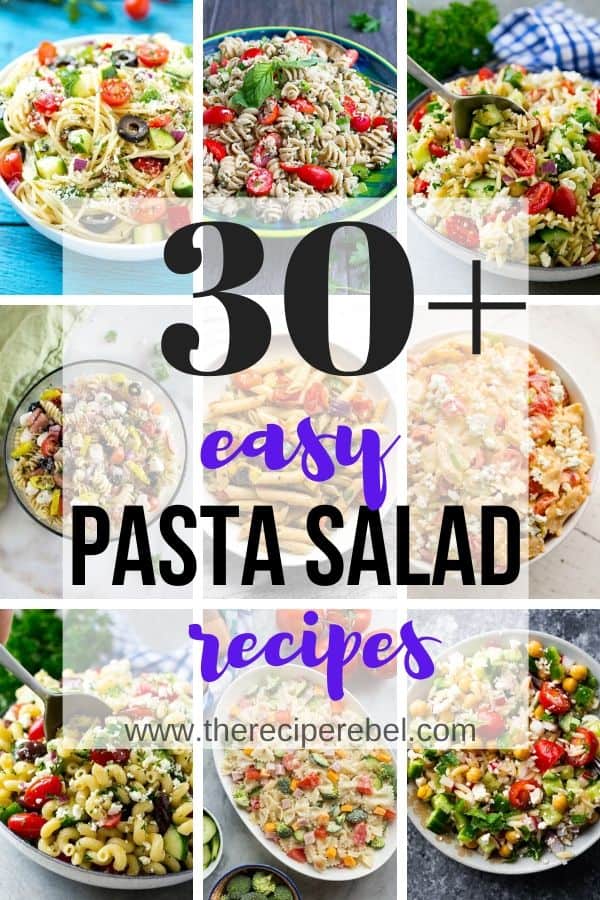 Table of Contents
Spring and summer are the seasons for throw-together meals that are simple, nutritious and packed with flavor!
These recipes keep well in the fridge so you can use up the leftovers for no-cook lunches all week long.
If you can toss pasta in a pot of boiling water and add a few ingredients, you can make amazing pasta salad combinations! I love recipes that are customizable which is great when it comes to convincing picky eaters or navigating dietary restrictions.
Plus, a budget-friendly recipe that's equally as tasty is always a winner! Most of these recipes are made from ingredients we all have in our pantries, like pickles, olives, different pasta shapes and dressings.
Here are some of my favorite pasta salad recipes, and a few from my favorite bloggers! If you are wondering what dish to bring to your next cookout, we've got you covered! 🙂
What goes well with pasta salad?
You can serve just about anything with pasta salad. Pair it with BBQ ham sandwiches, BBQ chicken, Crock Pot Pulled Pork, or Instant Pot chicken breasts for a lighter meal.
Should you rinse pasta for pasta salad?
It's a good idea to rinse pasta for pasta salad after cooking.
Gently rinsing with cool water brings the temperature of the pasta down so it stops cooking and doesn't become overcooked and gummy when mixed with the wet ingredients.
How long does past salad last in the fridge?
Depending on the ingredients, pasta salad can last 3-5 days refrigerated, but a word of caution…
Have you ever had pasta salad on day two and noticed a funny after taste? That's vinegar or another acidic flavor proclaiming victory over the other ingredients. Not a great way to end a bite of your favorite pasta salad recipe!
Acidic ingredients, like tomatoes and vinaigrettes, can alter the flavor of the other salad ingredients after it "marinates" for a day or two. If you are making this recipe to eat on during the week, mix everything together and leave out things like chopped tomatoes or dressings, and just add them in as you serve.
Chicken Pasta Salad Recipes
BBQ Chicken Pasta Salad with Tomatoes, Zucchini & Corn – Whole wheat rotini rounds this pasta salad into a health-conscious version of the summertime classic. Packed with everything you'd eat at a BBQ!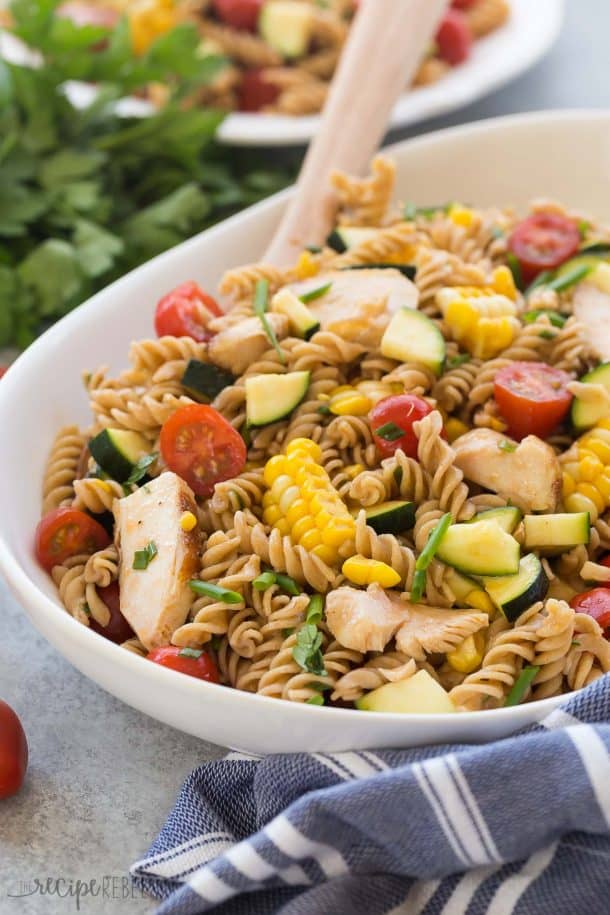 Buffalo Chicken Pasta Salad – Buffalo chicken dip is always a crowd-pleaser, and it's just as delicious as a pasta salad!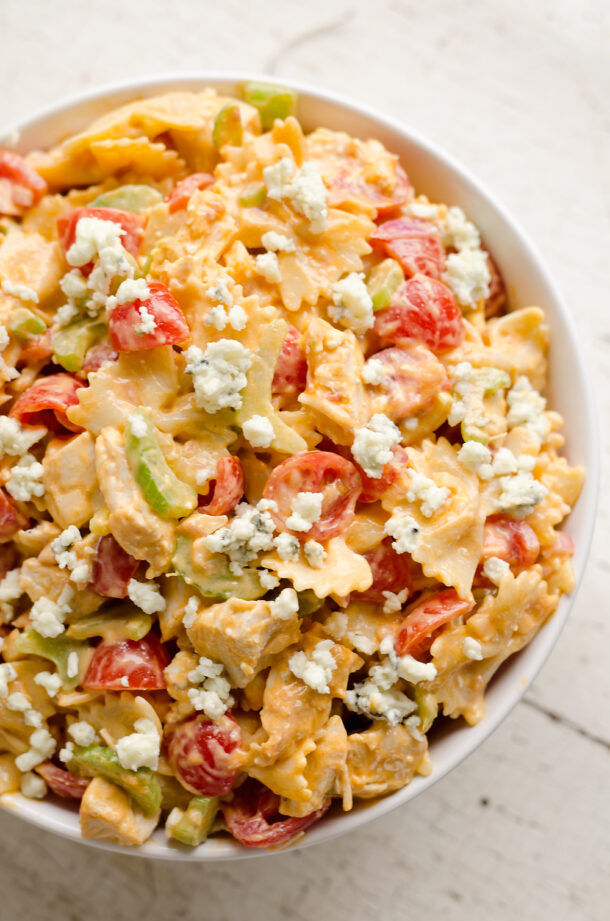 Creamy Ranch Bowtie Pasta Salad Recipe – An easy summer side dish that's budget-friendly! Take this to summer get-togethers or keep in the fridge for a quick and nutritious lunch.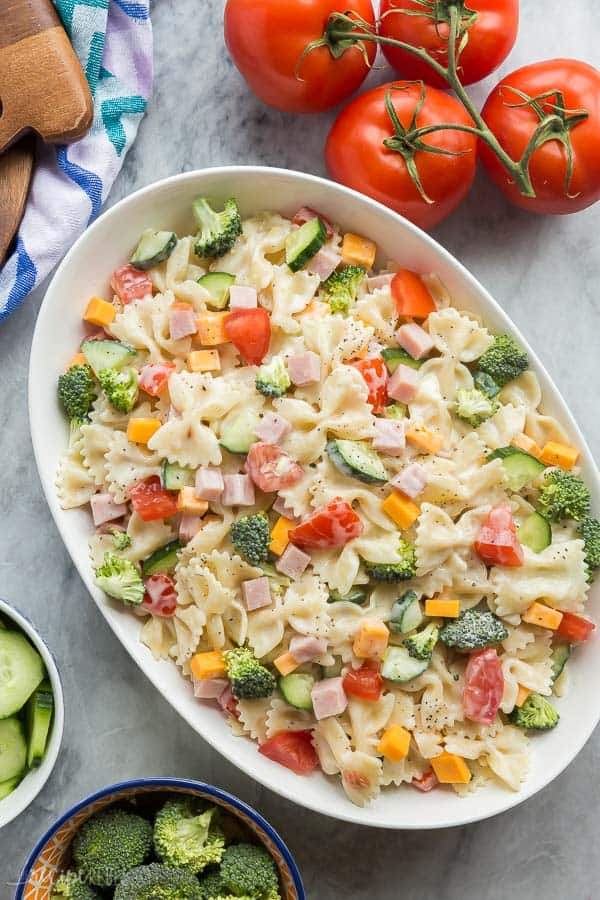 Cashew Chicken Pasta Salad – A delicious mix of sweet fruit and salty cashews give a little extra crunch to pasta salad!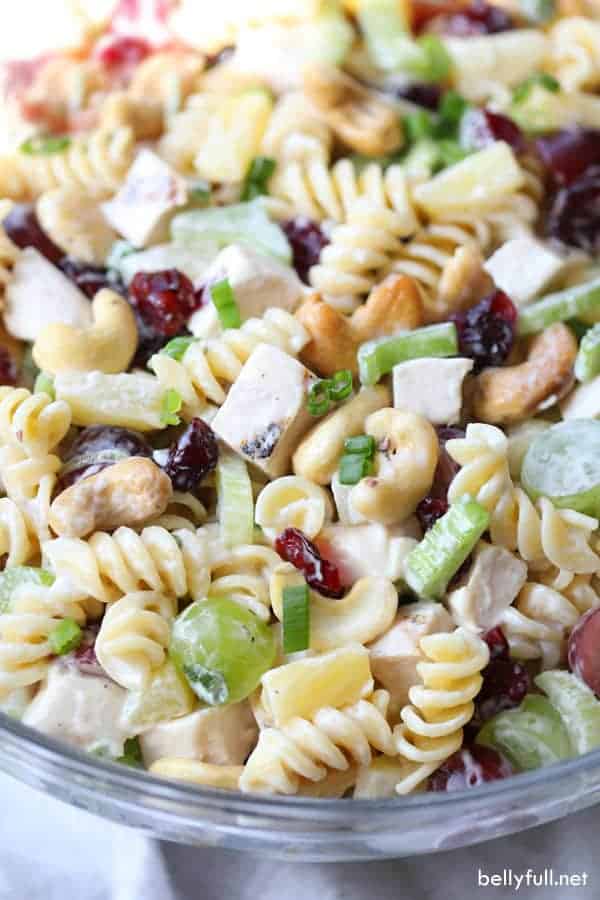 Chicken Broccoli Pasta Salad – Protein and veggies all in one bowl makes a meal, right? A hearty pasta salad with chicken, broccoli and raisins!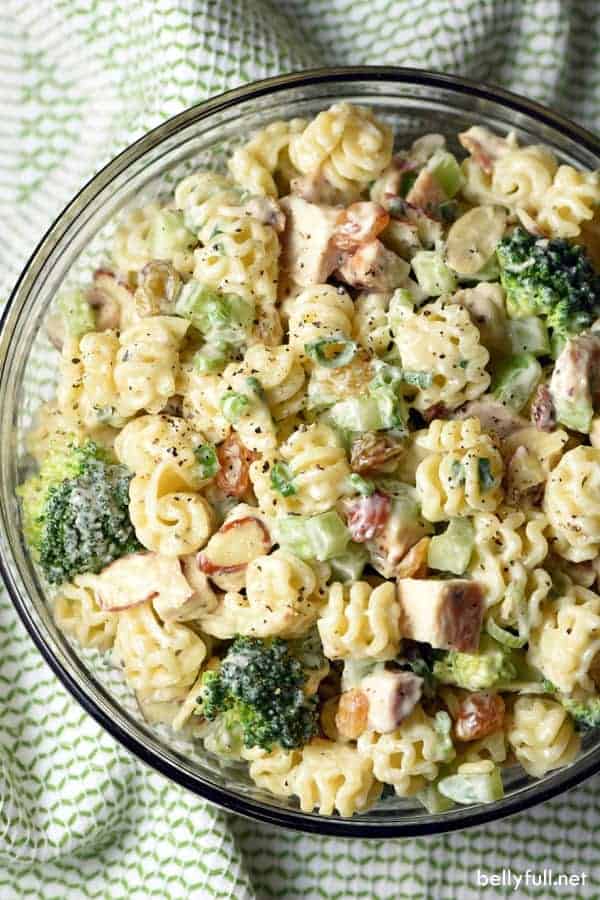 Bacon Cheddar Ranch Chicken Pasta Salad – The ideal BBQ side dish with chicken, bacon, cheddar and ranch!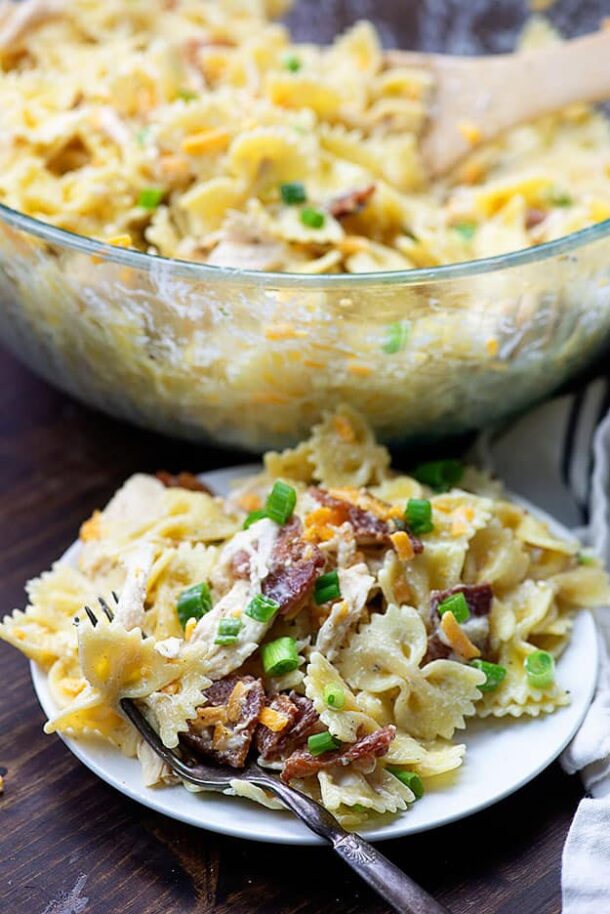 Italian Pasta Salad Recipes
Easy Italian Pasta Salad recipe – Squishy mozzarella pearls, hard salami and a tangy dressing make up so many flavors in one bowl!
Italian Pasta Salad – Brightly colored and full of fresh vegetables, this potluck pasta salad will be your favorite summer side!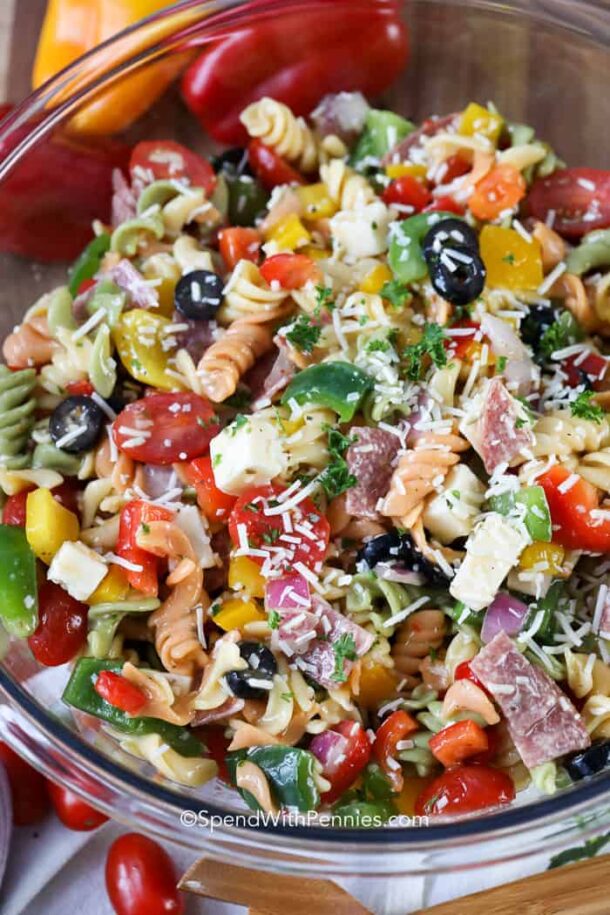 Spaghetti Salad – Instead of shorter noodles, Italian-flavored pasta salad is made with spaghetti and still packs all the delicious flavors!
Antipasto Pasta Salad – Beautiful colors and just like an antipasto platter, but with the added bonus of pasta!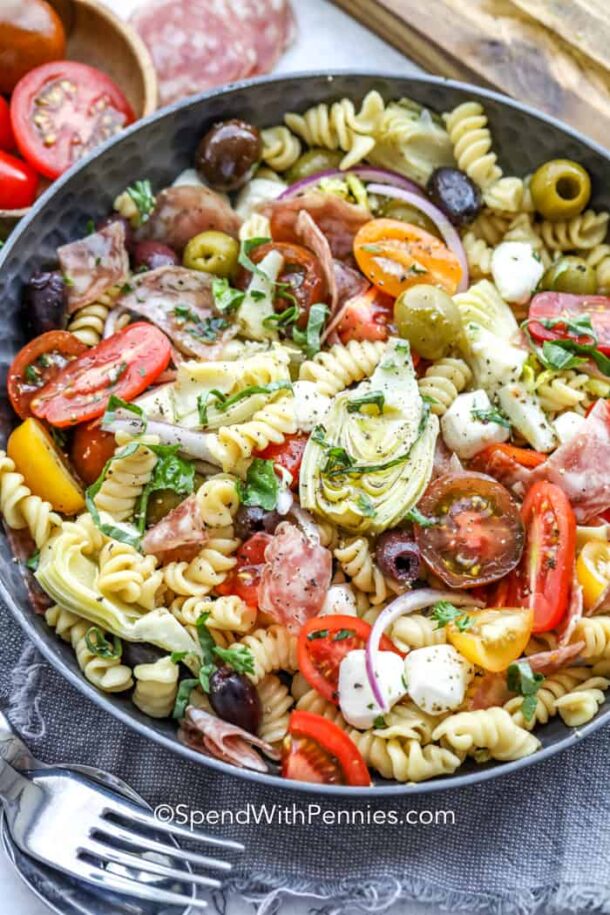 Warm Fresh Basil and Tomato Fusilli Salad – Tomatoes, fresh basil, and fusilli served warm to make a simple Italian pasta salad!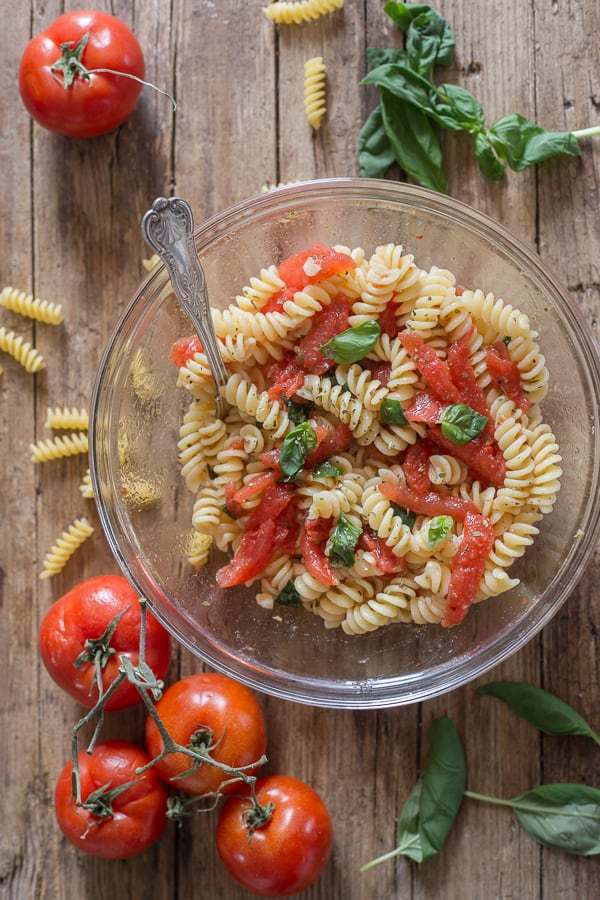 Spicy Italian Pasta Salad (Arrabbiata Style) – Packed with plenty of heat, this Italian pasta salad is kicked up a notch with spicy Arrabbiata sauce.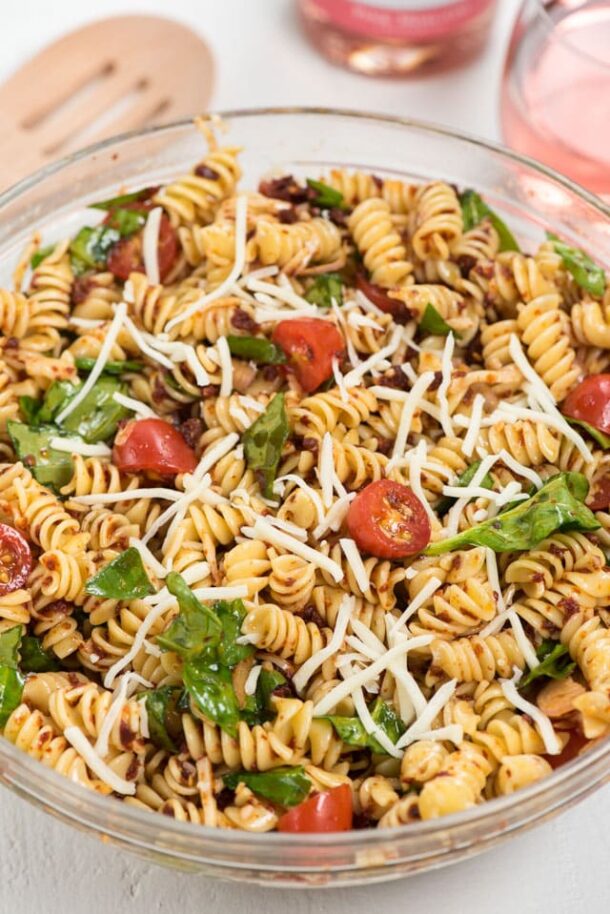 Orzo Pasta Salad Recipes
Orzo Salad with Vegetables and Feta – Creamy feta, herbs, and fresh vegetables make a hearty pasta salad – great for lunch or as a side dish!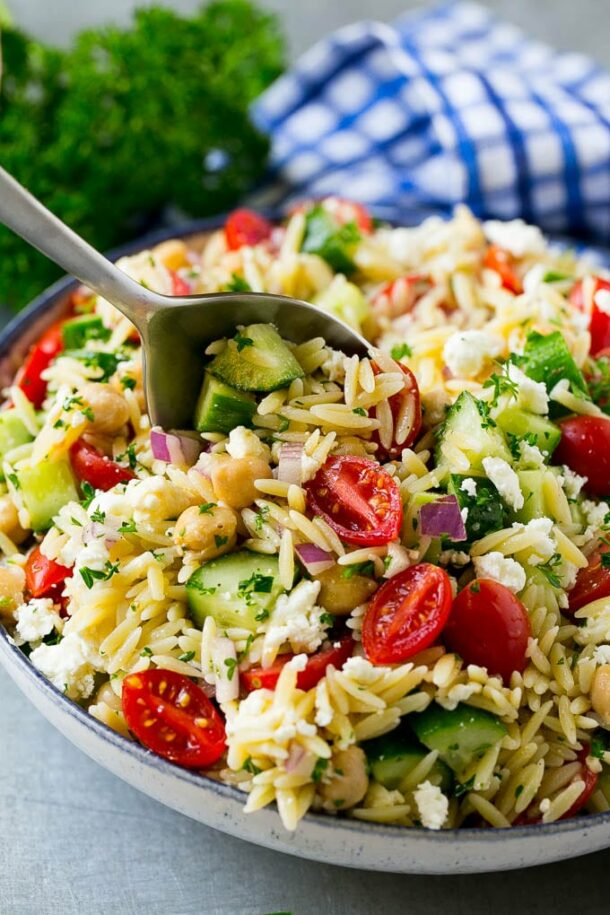 Orzo Pasta Salad with Mint + Feta – Just like a Greek salad, but with pasta! Fresh mint and a zesty vinaigrette are beautiful finishing touches on orzo pasta salad.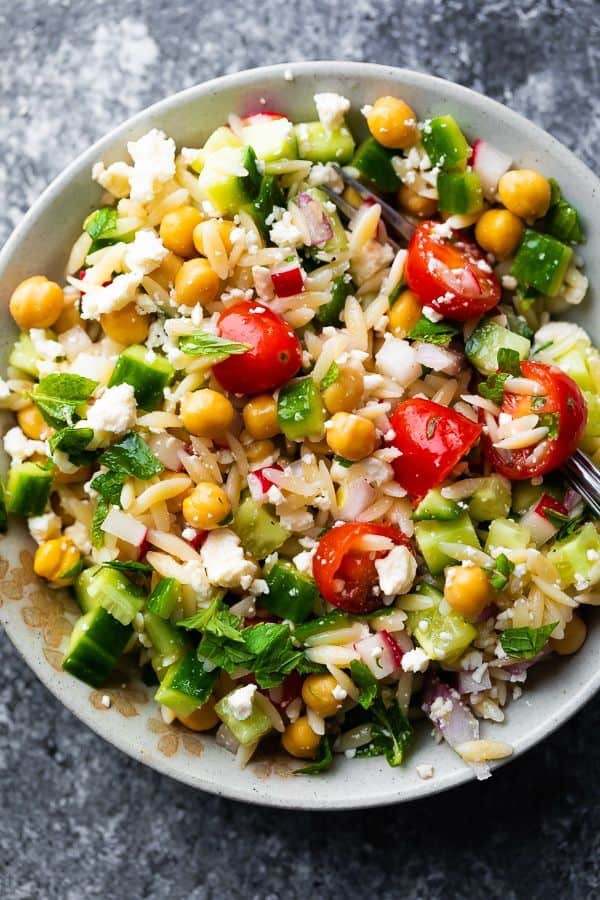 Mediterranean Orzo Salad – Jazz up this Mediterranean orzo salad with homemade dressing or add chicken for protein.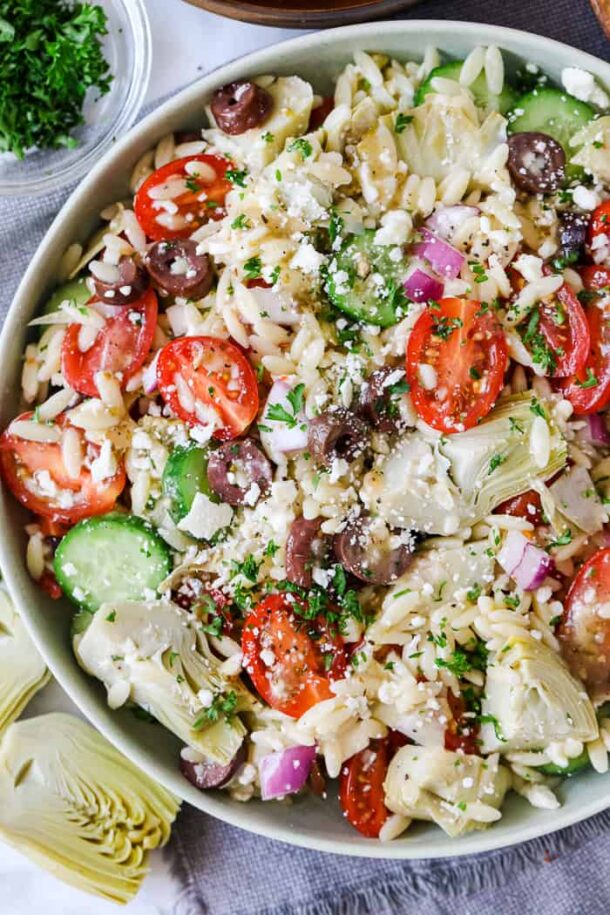 Caprese Orzo Salad – Traditional Caprese salad gets a facelift with fluffy orzo pasta and topped with a tangy balsamic vinaigrette!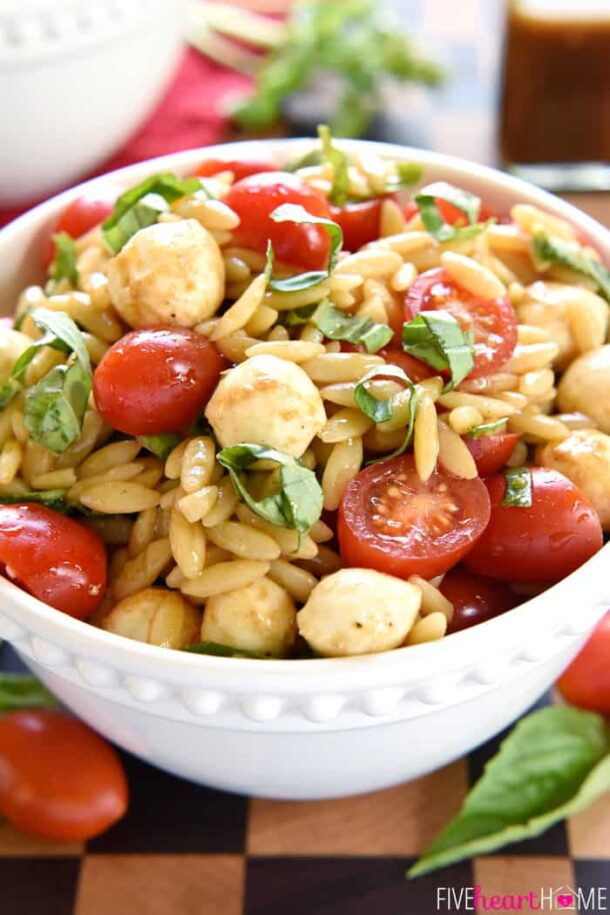 Orzo Pasta Salad with Feta and Grilled Vegetables – A light summer dinner comes together with flavorful grilled vegetables and a homemade vinaigrette.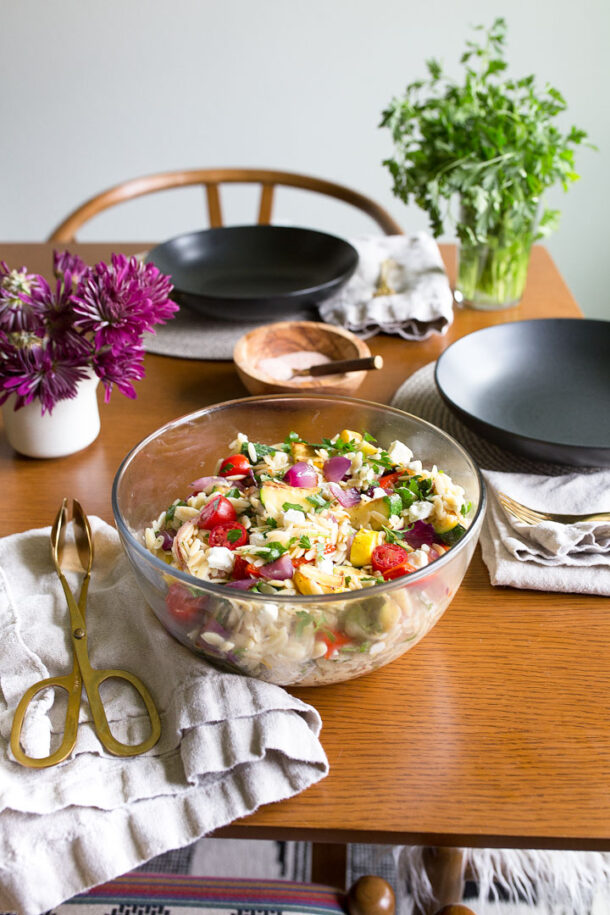 Orzo Pasta Salad with Chicken and Roasted Vegetables – One-bowl meal, complete with warm grilled chicken, roasted vegetables and orzo.
Shrimp Pasta Salad Recipes
Shrimp Avocado Mediterranean Pasta Salad – Don't wait for your next potluck to make this pasta salad! Fresh shrimp, summery vegetables and light lemony dressing are packed into this salad for the ultimate summer side.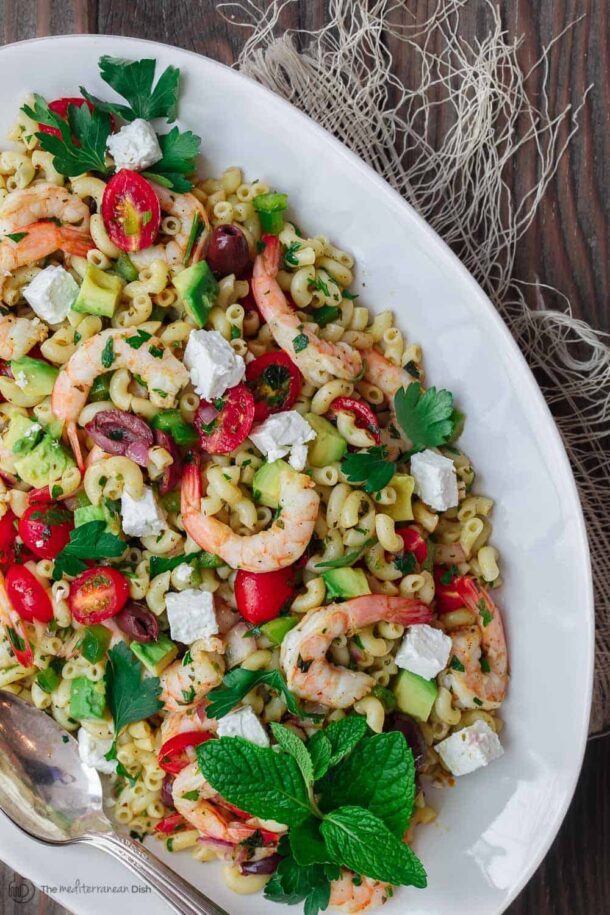 Po' Boy Shrimp Pasta Salad – Your favorite seafood sandwich just got better! Cajun shrimp, crispy vegetables and tender tortellini topped with a zingy remoulade sauce…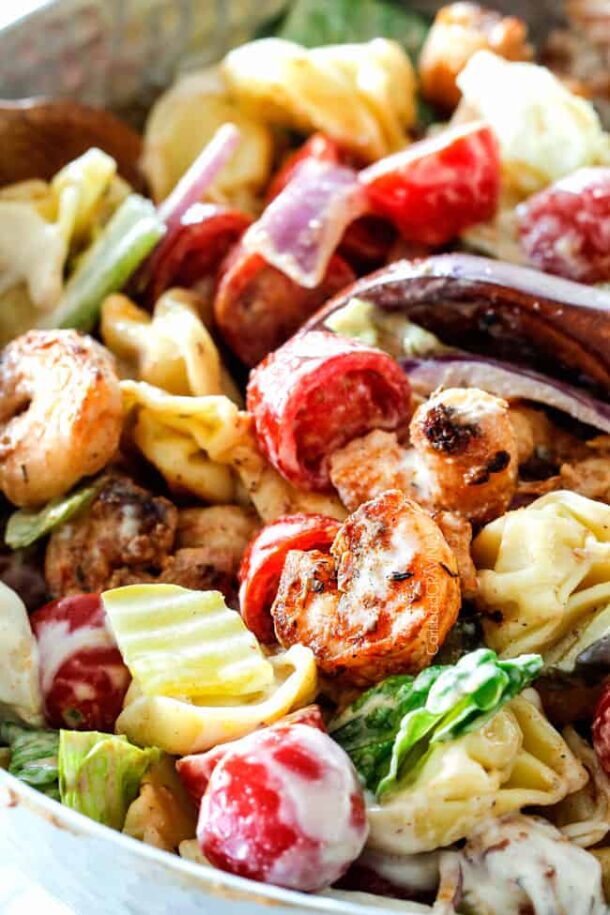 Shrimp Pasta Primavera Salad Recipe – Snappy asparagus, fresh shrimp and crunchy snap peas make this primavera pasta salad the perfect summer lunch.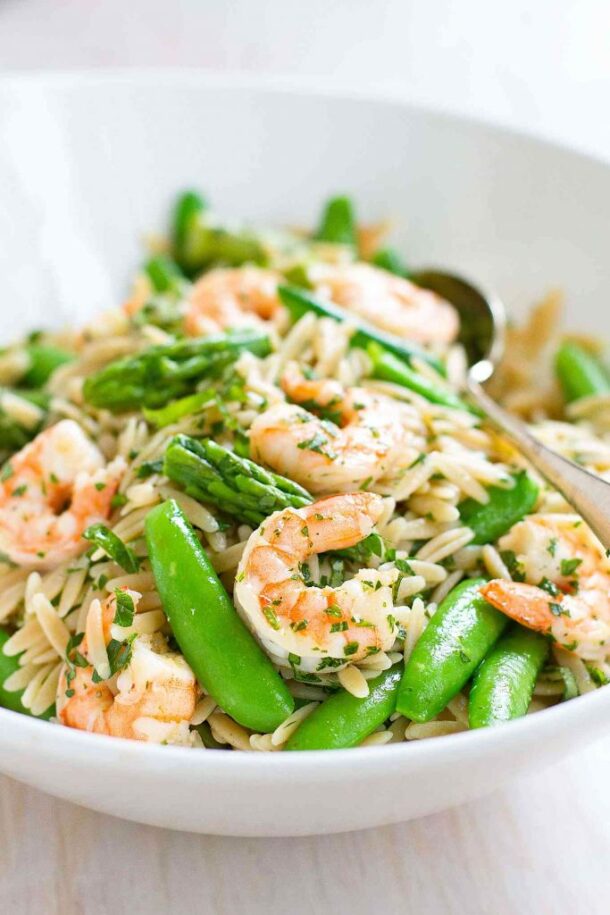 Tuna Pasta Salad Recipes
Tuna Pasta Salad Recipe – A quick and easy pasta salad for picnics and potlucks! With the added veggies and protein, you have a complete lunch all in one bowl!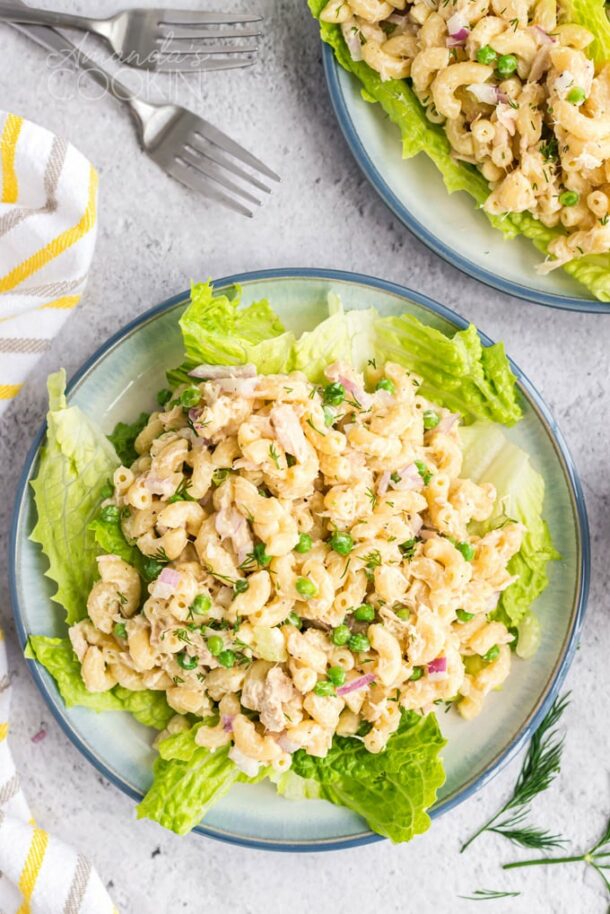 Tuna Pasta Salad – Not your average tuna pasta salad! This is a colorful and flavorful salad with zesty herbs and plenty of fresh vegetables.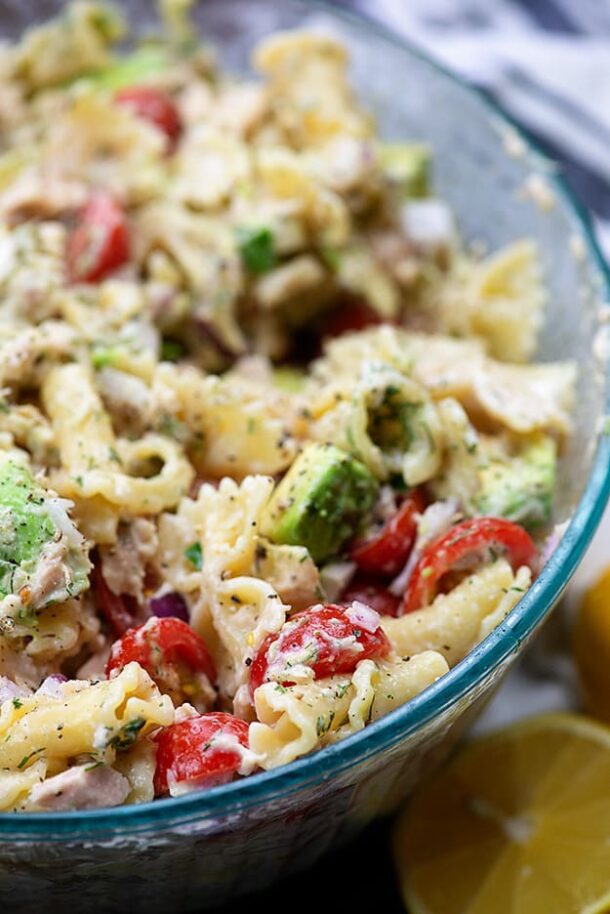 Pasta Salad with Tuna – A quintessential summer salad that's hearty enough to be considered a meal!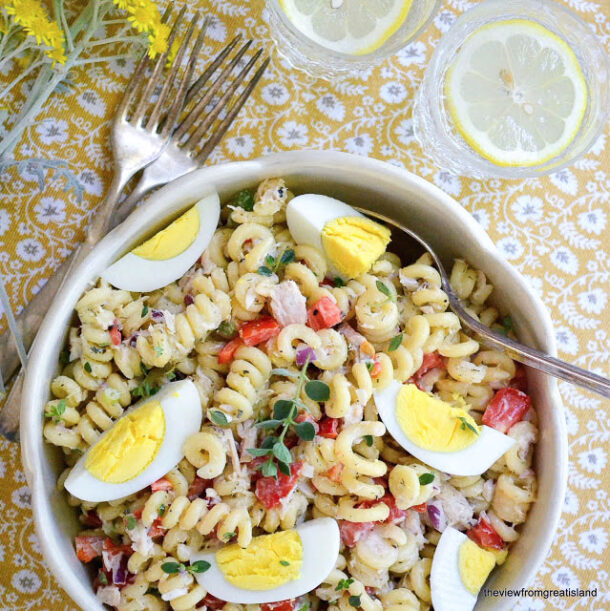 Tuna Pasta Salad with Lemon Vinaigrette – A twist on an American favorite as a lightened up classic with a lemon vinaigrette!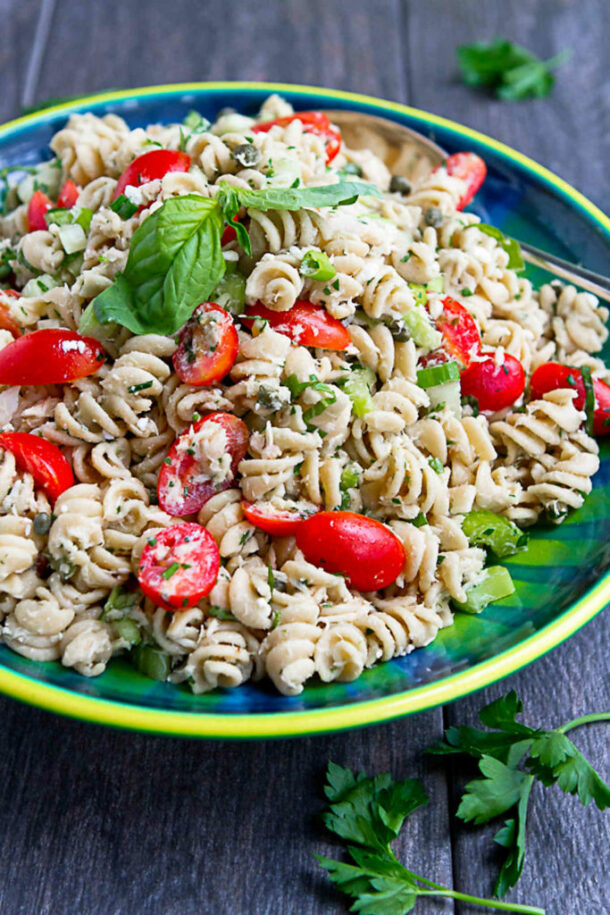 Vegetarian Pasta Salad Recipes
Summer Vegetable Pasta Salad – A colorful and vibrant summer pasta salad perfect for summer pool parties!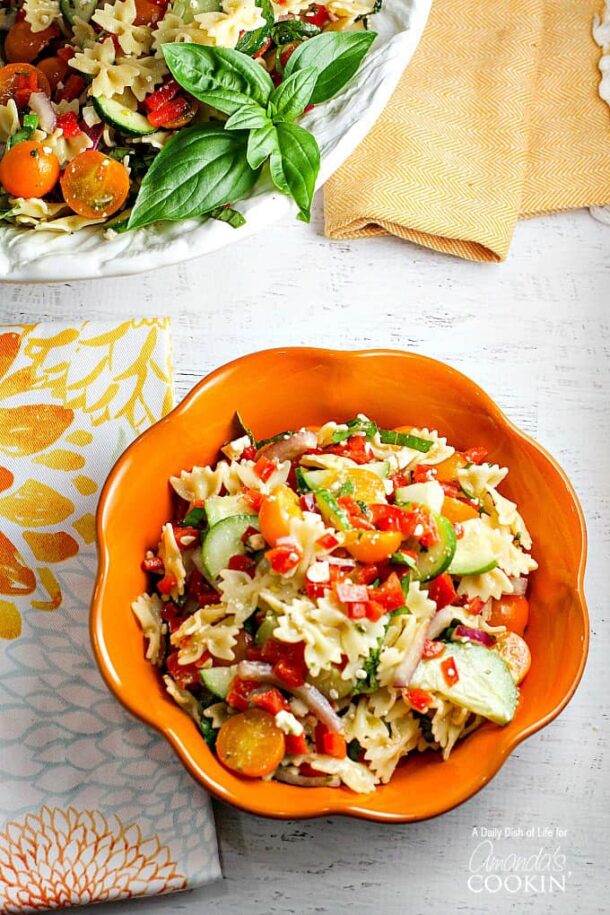 Grilled Vegetable Pasta Salad – With that fresh-off-the-grill flavor, this grilled vegetable pasta salad is packed with summer flavors with a delicious homemade vinaigrette!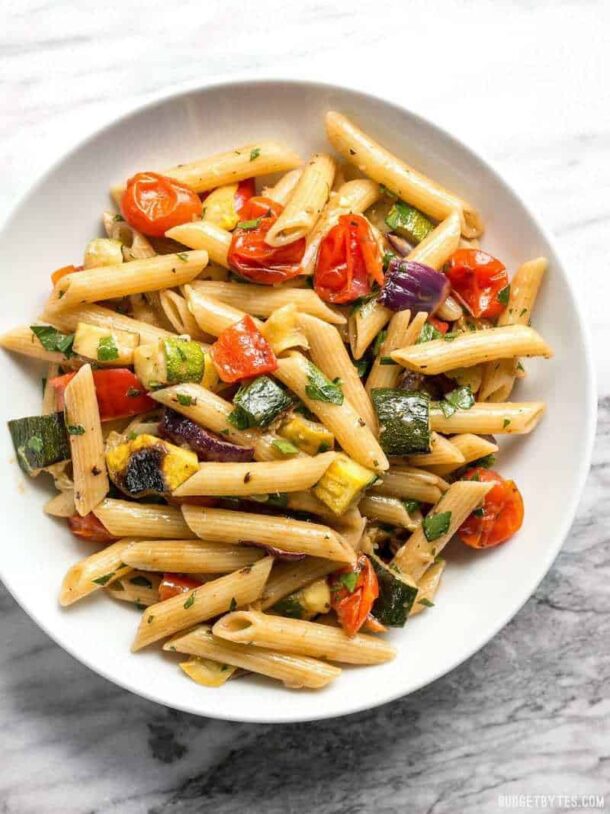 "Sweep the Kitchen" Pasta Salad – Everything but the kitchen sink! The perfect way to use up leftovers, empty out your fridge and have lunch prepped all week.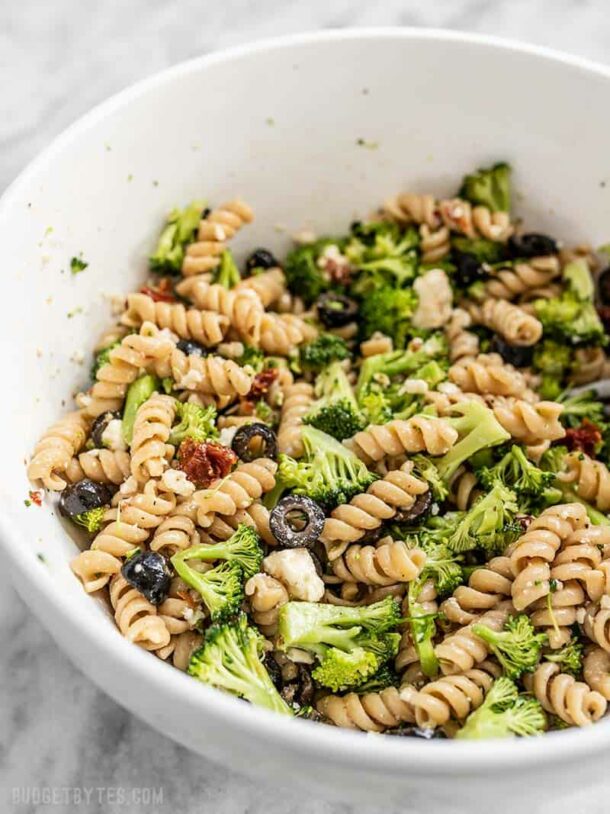 Summer Veggie Pasta Salad – Sneak more veggies into your family's diet with this summer veggie pasta salad recipe!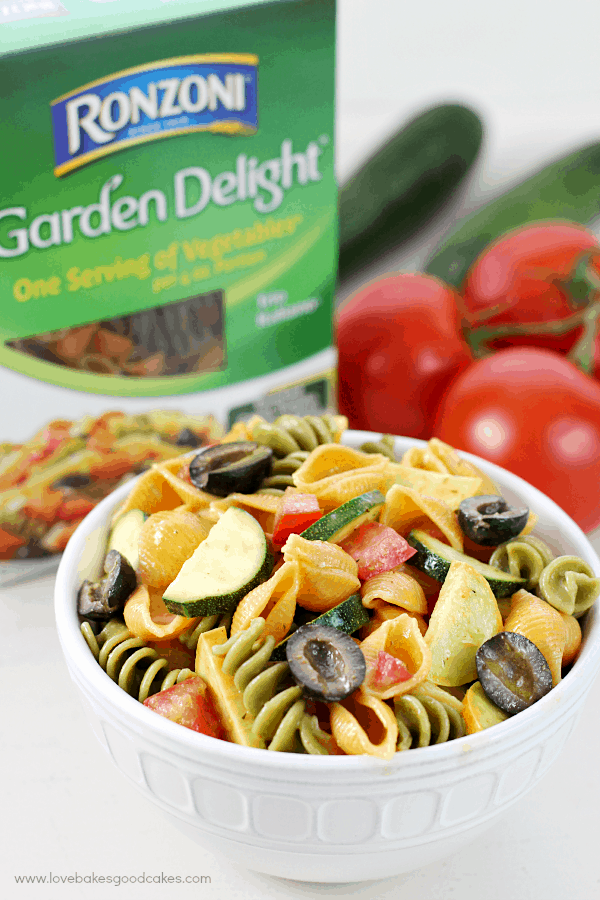 Other Pasta Salad Recipes
Greek Pasta Salad – Crisp, chopped veggies with tender noodles and zesty Greek dressing make this the perfect summer salad!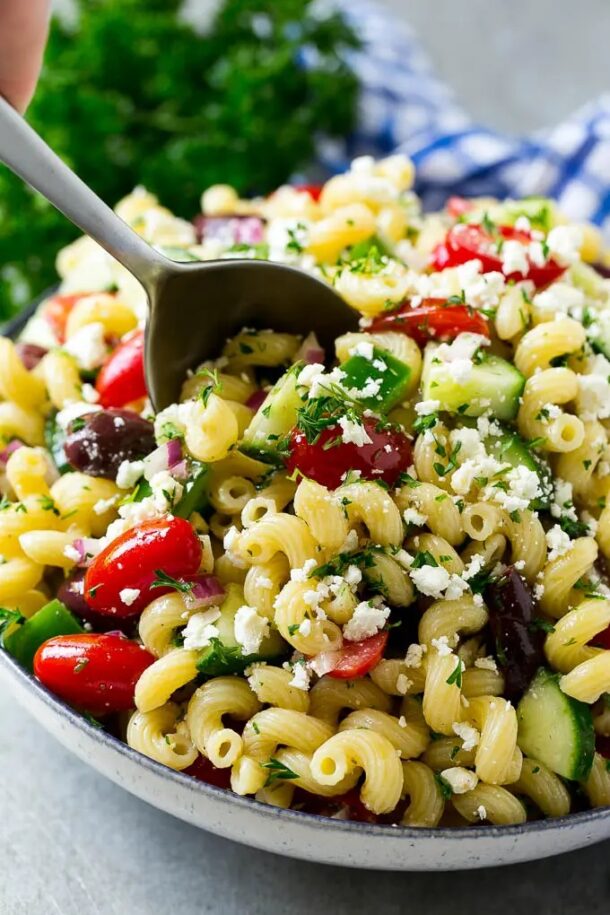 Easy Greek Pasta Salad Recipe – A beautiful summer side dish made in under 15 minutes!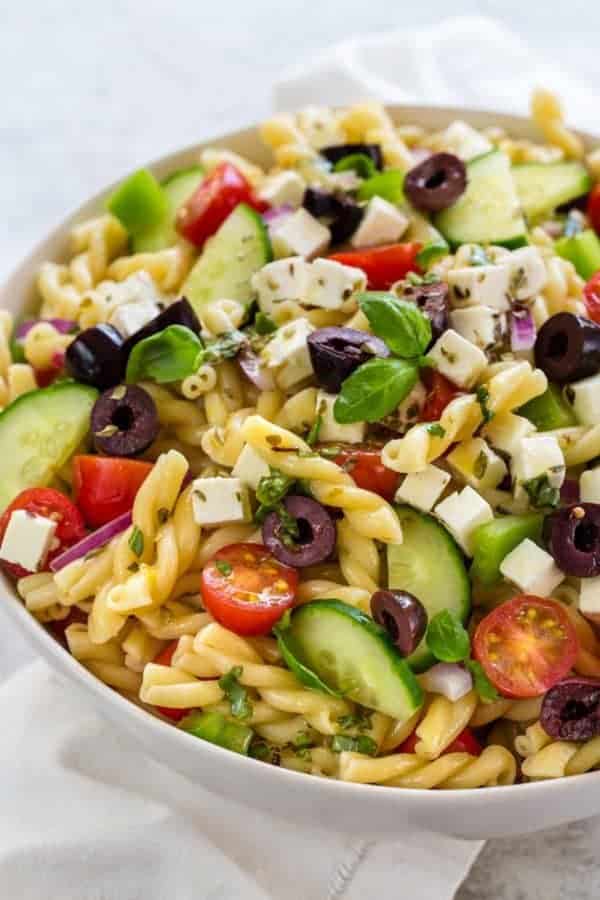 Easy Pasta Salad – Tricolored noodles and simple, pantry staples make this easy pasta salad the answer to every potluck!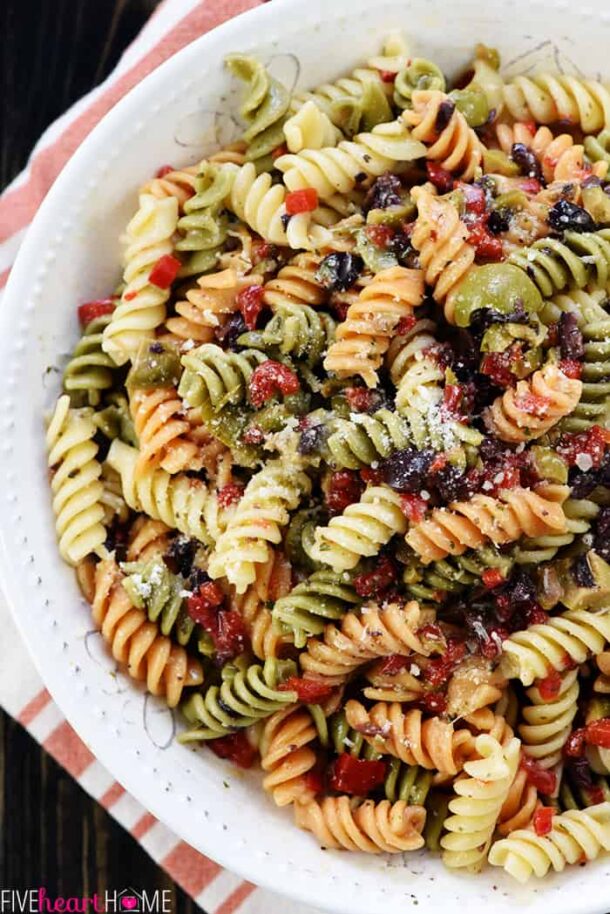 Cowboy Pasta Salad Recipe – Cowboy pasta salad is a unique twist on a summer side dish, chock full of bacon, ground beef, cheese and tangy hot sauce!