These 30 Easy Pasta Salad Recipes are perfect for summer! I've included my favorite ideas, from vegetarian recipes, to chicken pasta salads, Italian pasta salads and more.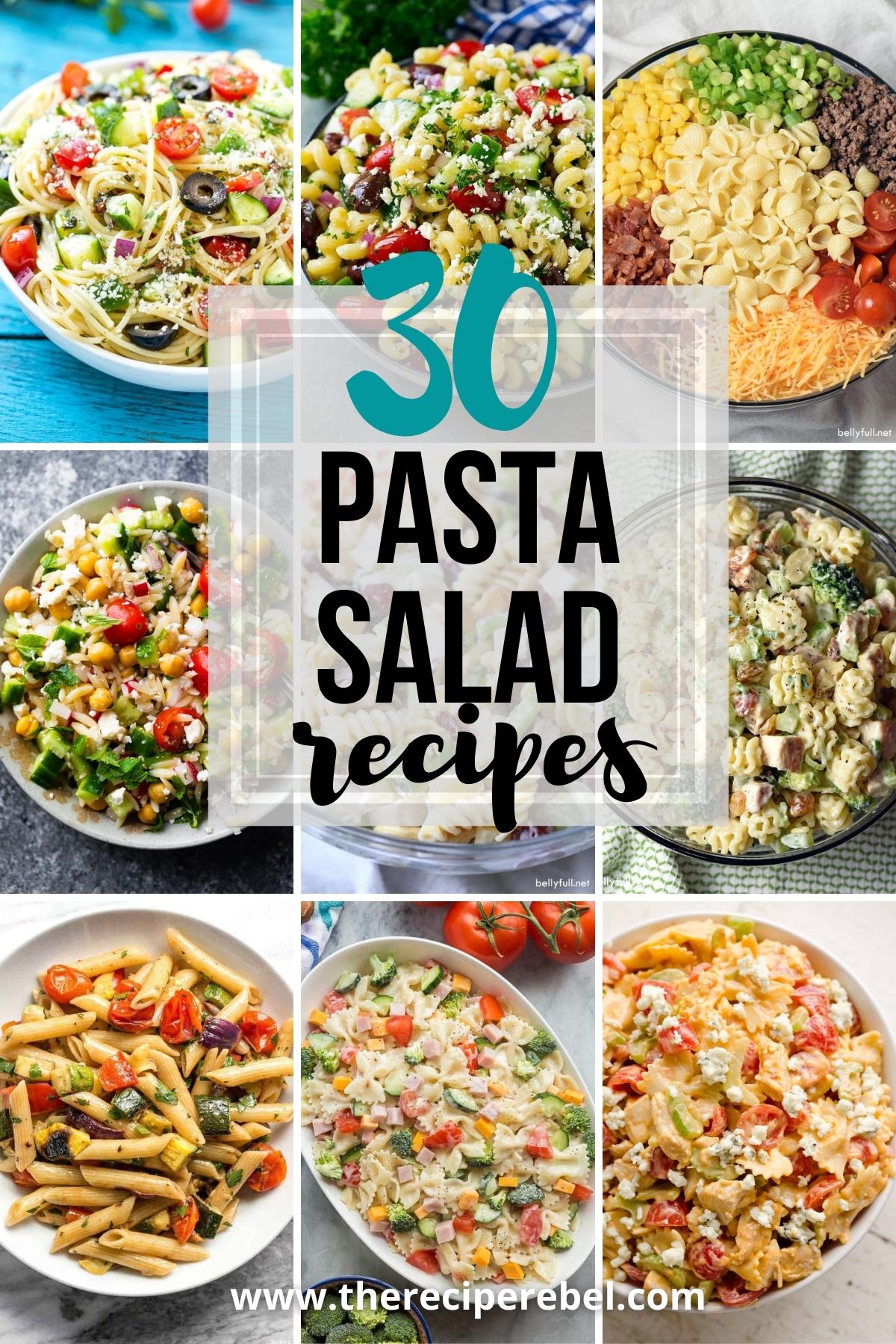 Table of Contents
Spring and summer are the seasons for throw-together meals that are simple, nutritious and packed with flavor. I can't think of a dish that sums this up more than a classic pasta salad!
If you can boil pasta and chop up a few ingredients, you can make an amazing pasta salad right at home. Here are just some of the many, many reasons why pasta salads are my best summer side dish:
The combinations and flavors are endless. I love recipes that can be customized with different ingredients. Pasta salads are also perfect for changing up flavors and ingredients to convince picky eaters or navigate dietary restrictions.
They store super well. Pasta salad recipes keep well in the fridge, too, so you can use up the leftovers for no-cook lunches all week long.
Pasta is budget-friendly! An inexpensive dish that's still crazy tasty is always a winner! Most pasta salad recipes are made from affordable ingredients that we already have in our pantries, like pickles, olives, different pasta shapes and easy dressings.
Serve it anytime, anywhere. You can serve just about anything with pasta salad. Pair it with BBQ ham sandwiches, BBQ chicken, Crock Pot Pulled Pork, or Instant Pot Chicken Breasts for a lighter meal.
What Kind of Pasta to Use
The beauty of a pasta salad is that you can really use almost any pasta you'd like (even spaghetti!). Of course, short pasta shapes like fusilli, macaroni, penne, rotini, and bowtie pasta are all popular choices for pasta salads as they're easy to eat. Plus, these pastas' many nooks and crannies make them perfect for trapping dressings and seasonings.
Should You Rinse the Pasta?
It's a good idea to gently rinse the pasta for pasta salad under cool water after boiling. This brings the temperature of the pasta down so that it won't continue to cook after the fact. Overcooked pasta may become gummy when mixed with the wet ingredients.
Is Pasta Salad Served Hot or Cold?
Both! It's more common to find pasta salad served cold, but there are plenty of recipes for warm pasta salad out there as well. In this sense, pasta salad is really a year-round side dish. And that's more than fine with me!
How to Make Ahead & Store Extras
Many pasta salads can be made ahead and stored airtight in the fridge. Some will even taste better a day or two later! This makes them glorious for advance party prep.
With one small caveat: Have you ever had pasta salad on day two and noticed a funny after taste? That's vinegar or another acidic component, like tomatoes, proclaiming victory over the other ingredients. This can happen to a salad after it "marinates" for a while with flavors that are overly acidic.
For this reason, if you are making such a recipe in advance, I recommend mixing everything together while leaving out things like chopped tomatoes or dressings to preserve the overall flavor. Instead, just add these in before serving.
How Long Will it Last in the Fridge?
Depending on the ingredients, pasta salad can last 3-5 days refrigerated.
Below I've rounded up some of my favorite pasta salad recipes, as well as a few by my favorite bloggers! If you're hunting for a dish to bring to your next cookout, we've got you covered!
The Best Pasta Salad Recipes to Try
30+ of the best pasta salad recipes to make for the family, or bring these creative and tasty pasta salads along to all your upcoming cookouts, potlucks, and last-minute picnics!
How long does pasta salad last?
Depending on the ingredients, pasta salad can last 3-5 days refrigerated. It's always a good idea to check the recipe!
What's the best kind of pasta for salads?
Generally, short pastas are great for salads because they're easy to eat and combine well with the other ingredients (which are normally chopped into small pieces).