No-Churn Chocolate Ice Cream is the perfect dessert for chocolate lovers! Using simple ingredients, you can whip it up in 5 minutes, then freeze it overnight. It is truly ice cream perfection!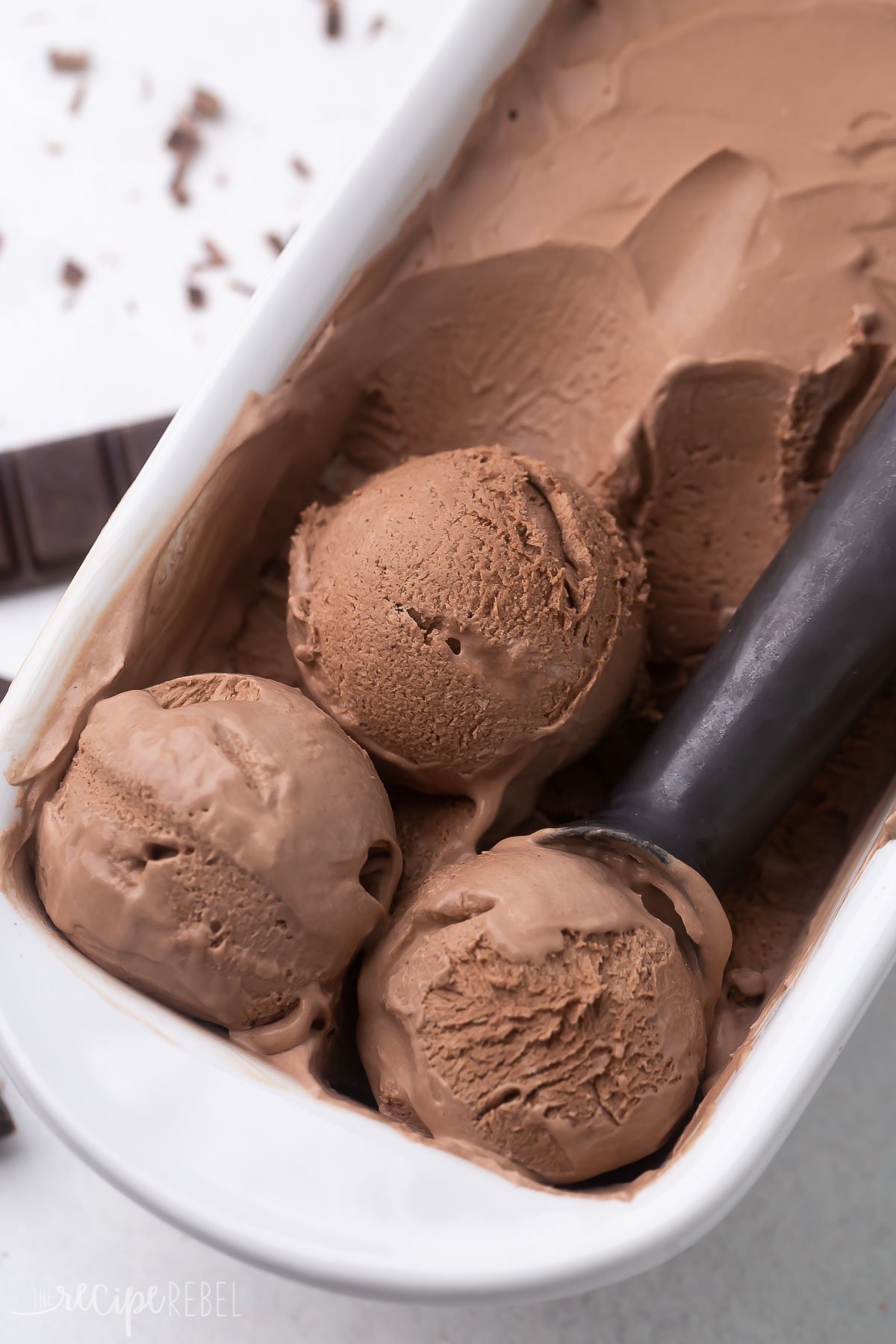 Table of Contents
Chocolate Ice Cream is a classic dessert that's perfect all year round!
It's great for cooling off in summer, but it's so rich and comforting that we love it in cooler months too, especially on top of a warm Homemade Brownie.
This homemade ice cream recipe has been tried and tested, and it's easier to make than you think! It's based off of my basic No Churn Ice Cream recipe, so it's easy to customize.
You don't need any special equipment or a big frozen bowl, and there are no fancy steps. This is an easy chocolate ice cream recipe and it tastes delicious!
So, if you don't have an ice cream maker (or prefer not to use one) then this no churn recipe is for you.
Simply whip the ingredients together, put them all in a pan, and freeze until you're ready to dig in!
For more delicious easy frozen dessert recipes, try my No Churn Biscoff Ice Cream, Frozen Hot Chocolate: 3 Ways, these Banana Split Pudding Pops, and Blueberry Cheesecake Ice Cream Cupcakes.
Ingredients Needed: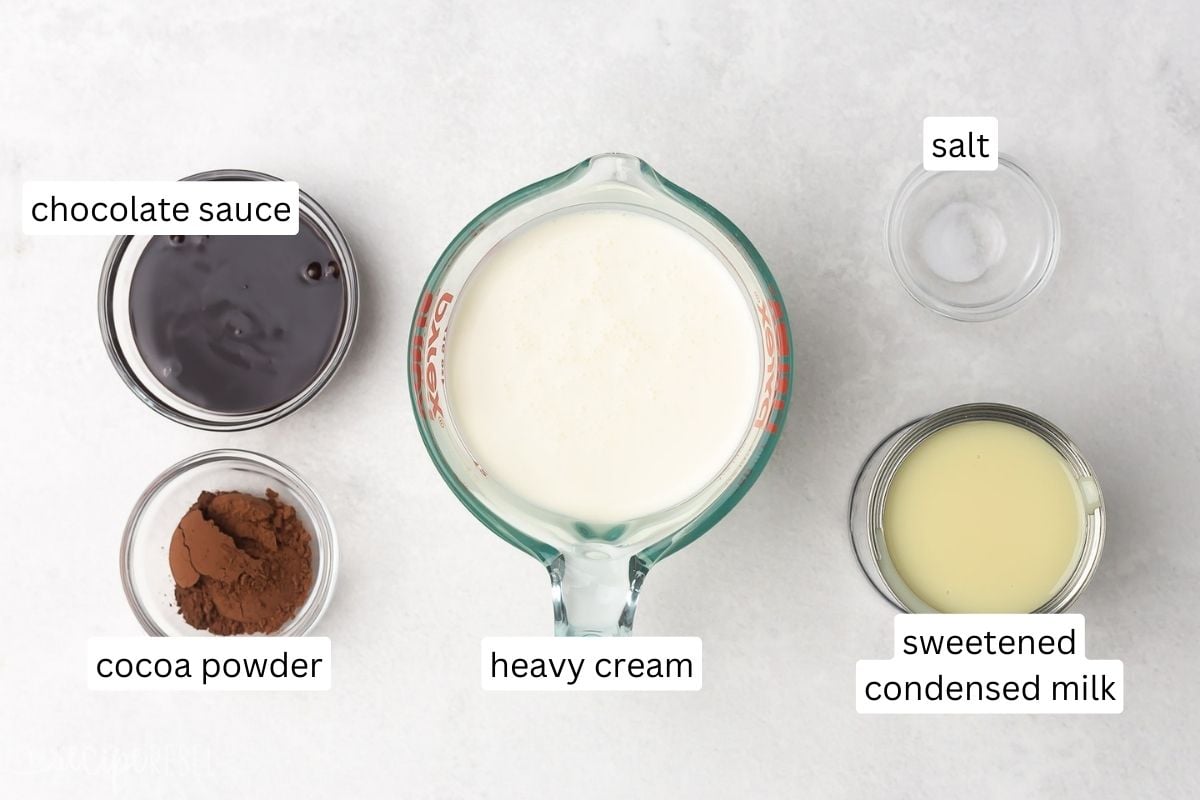 Heavy Cream: Use a full-fat heavy cream for the ice cream base for the best results — low fat dairy cannot be used because it will turn icy and hard.
Sweetened Condensed Milk: this helps to sweeten the ice cream and helps with the creamy texture.
Chocolate Fudge Sauce: I like to use a rich, thick, dark chocolate sauce. One that isn't too sweet but has lots of chocolate flavor is great here.
Vanilla Extract: adds a bit of sweetness and a subtle warm flavor. You can experiment with different flavors if you want.
Salt: a little salt helps to cut through the sweetness. You can omit it if you prefer.
How to Make No-Churn Chocolate Ice Cream
This recipe only has a few easy steps! Full instructions are included in the recipe card below.
Beat cream: Beat the cream with an electric mixer until stiff peaks form.
Add other ingredients: Add sweetened condensed milk, chocolate sauce, cocoa powder, vanilla, and salt (if using).
Combine: Beat or fold the ingredients together.
Freeze: Spread the chocolate mixture into a dish and freeze.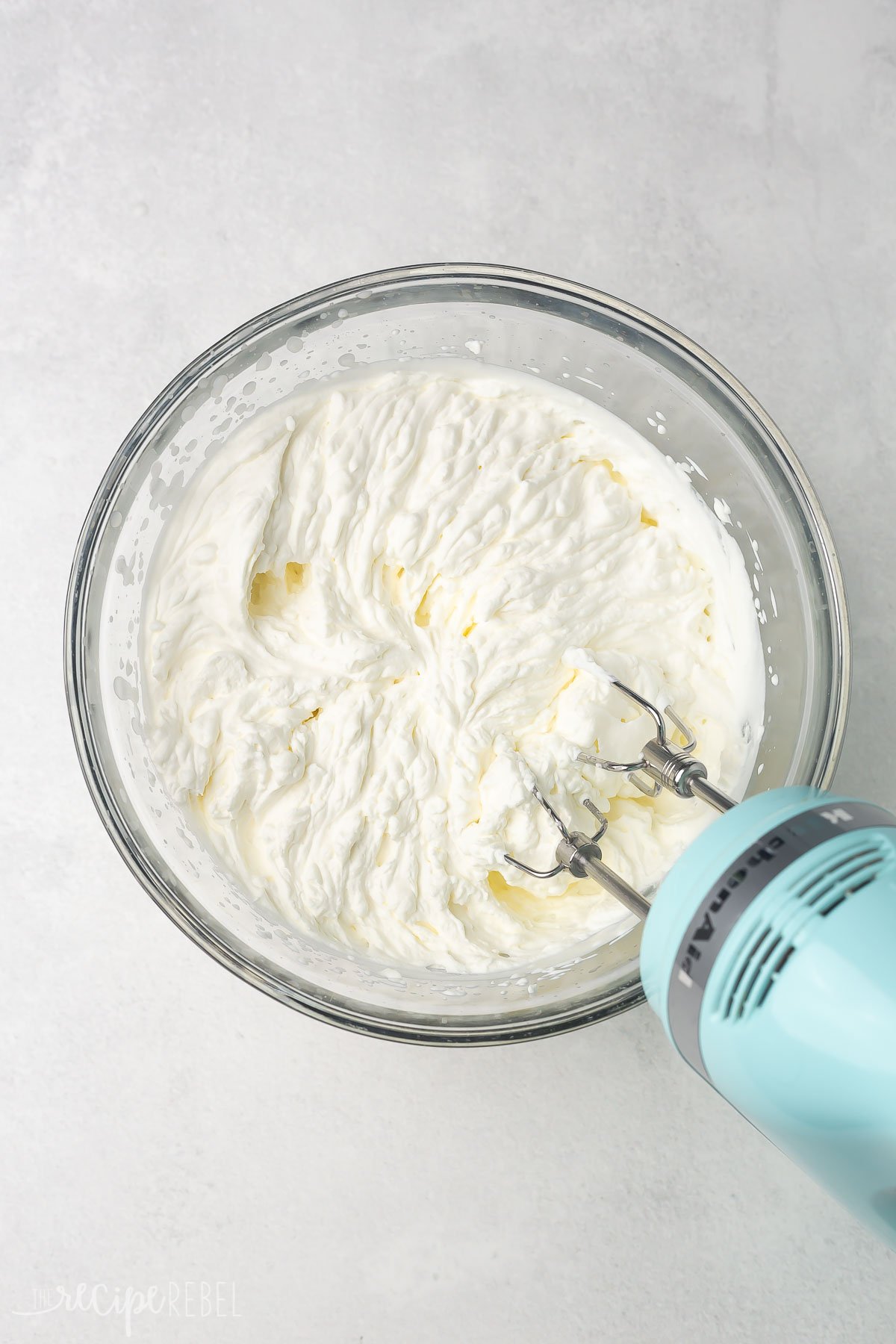 How do I store no-churn chocolate ice cream?
Store homemade chocolate ice cream in an airtight container that's also freezer safe and in the freezer for up to 2 months.
If you're making the ice cream in a loaf pan, you can cover it tightly in a layer of plastic wrap. Sit it at room temperature for about 10 minutes before serving it.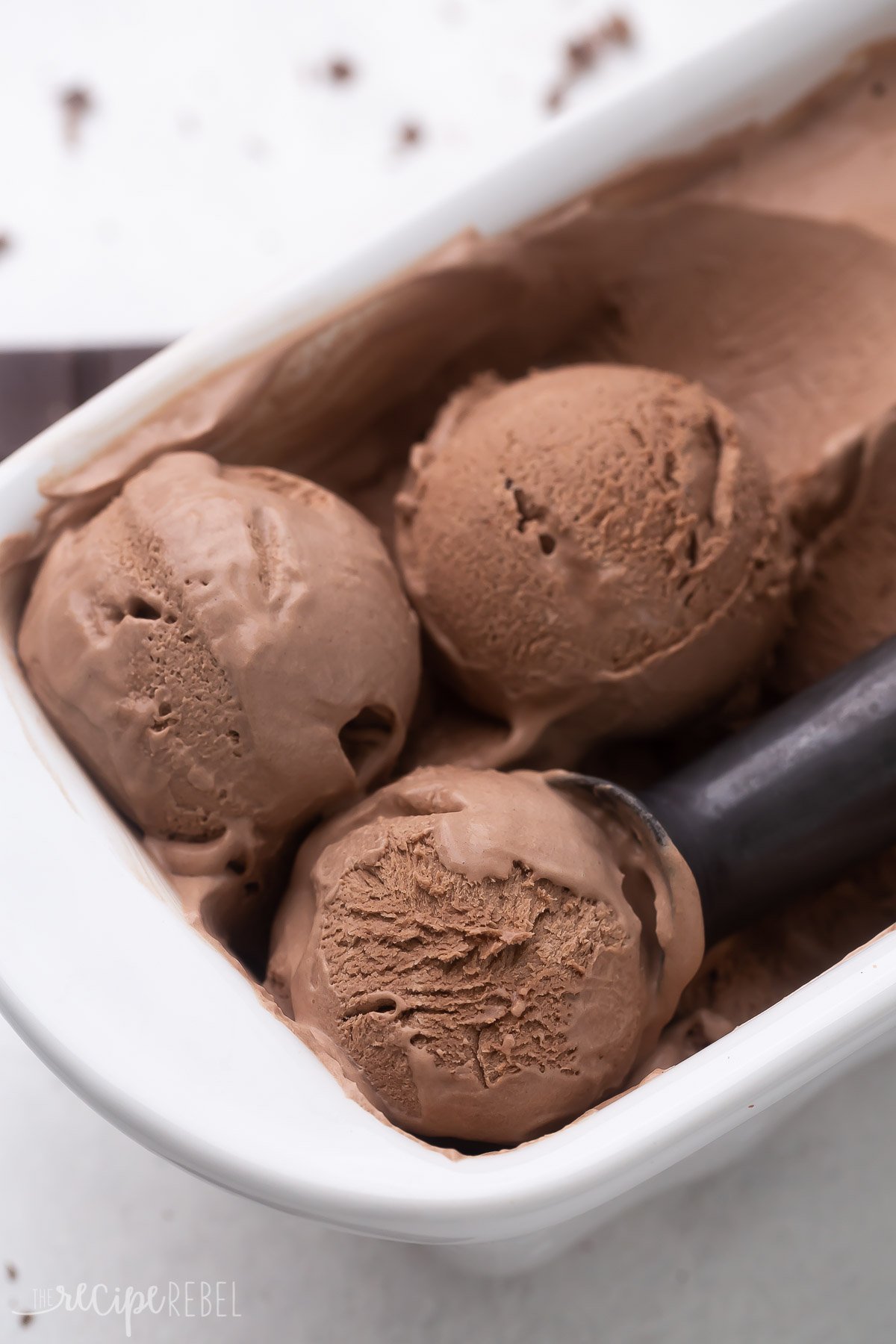 Tips and Notes
Stand mixer. Mix the ingredients in the bowl of a stand mixer using the whisk attachment if you prefer.
Heavy Cream: there is no substitute for heavy whipping cream in this recipe. Other creams won't incorporate as much air and will be heavy and icy. If you are looking for a lighter ice cream recipe, it may be worth looking into an ice cream or gelato maker, as those recipes use more milk and less cream.
Sweetened condensed milk: I have not tested this recipe with any other sweeteners. It's important to note that the sugar prevents the ice cream from freezing too firmly, so if you reduce the sweetness or use a different kind you may find your ice cream very hard and icy.
Vanilla extract: this is a must for vanilla ice cream but you can swap it with any flavor extract you like. Peppermint Extract and Almond Extract also work well with chocolate ice cream!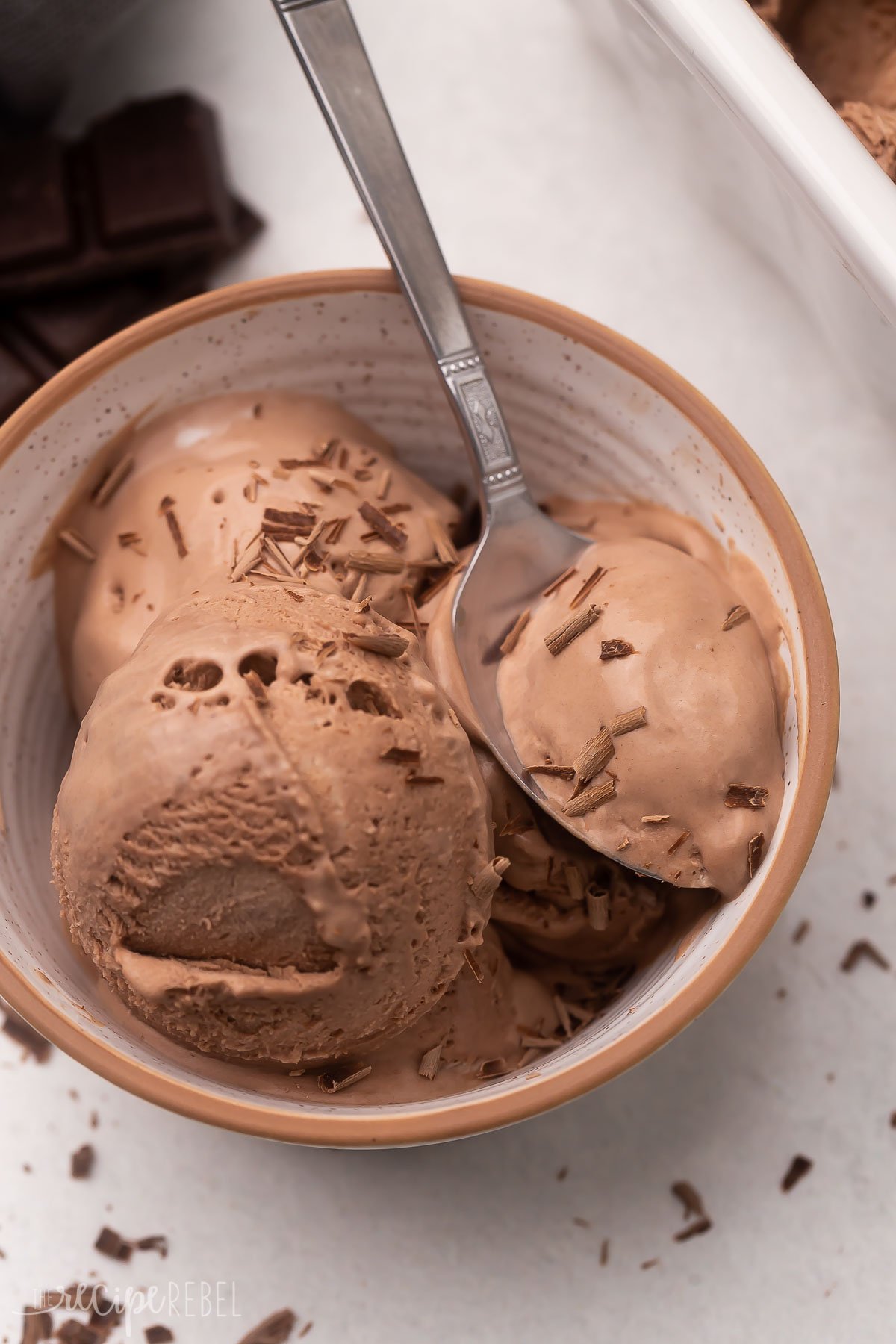 No Churn Easy Chocolate Ice Cream Variations
This recipe is so easy to customize — you really can't go wrong!
Add-ins: Some of our favorite add-ins for chocolate ice cream are chocolate chips, peanut butter chips, min M&Ms, Reese's Pieces, and even marshmallows!
Toppings: Top your ice cream with chocolate sprinkles or crumbled chocolate cookies, or serve it with some chocolatey sauce and whipped cream on top!
Here are a few of our favorite variations:
Mint Chocolate Ice Cream: use 2 teaspoons mint extract for a mint chocolate variation.
Chocolate Oreo: Add in a cup of crushed Oreos to the ice cream base.
Chocolate Peanut Butter: Stir in a couple tablespoons of peanut butter when beating your cream.
Serving Suggestions
Serve this creamy chocolate ice cream with some fresh fruit or Strawberry Sauce, ice cream syrup, and candy toppings, or on the side of a super chocolatey dessert like Grandma's Hot Fudge Sundae Cake or my German Chocolate Cake.
Or serve everyone's favorite toppings in small bowls on the table and let everyone make their own perfect bowl of ice cream! This is a great idea for kids' parties.
Try some of my other no-churn ice cream recipes to have a few different flavors on hand. Check out my Easy No Churn Coconut Cream Pie Ice Cream, No Churn Turtle Ice Cream, and No Churn Peanut Butter Oreo Ice Cream!
More Easy Frozen Dessert Recipes To Try