Rich, fudgy brownies filled with homemade ice cream (or use store bough and keep it simple!) and topped with chocolate ganache, whipped cream, chocolate sauce and sprinkles — the perfect cake for a birthday or celebration! Change up the ice cream flavors to suit your tastes!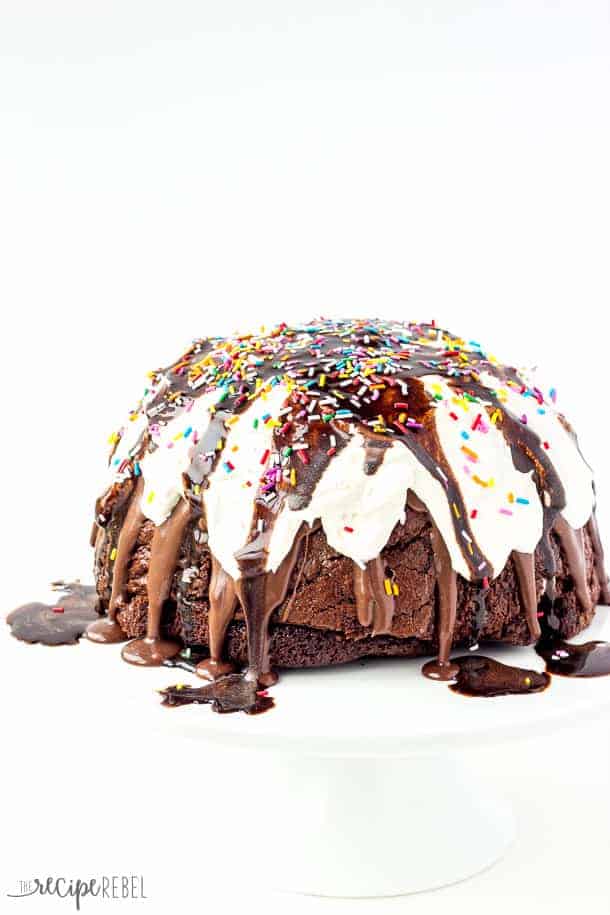 Yes, I need two titles.
Because I think not everybody knows what to expect when they hear the words "Brownie Mountain". And because this is really just the most fun you've ever had making an ice cream cake, even if it looks like your young child put it together.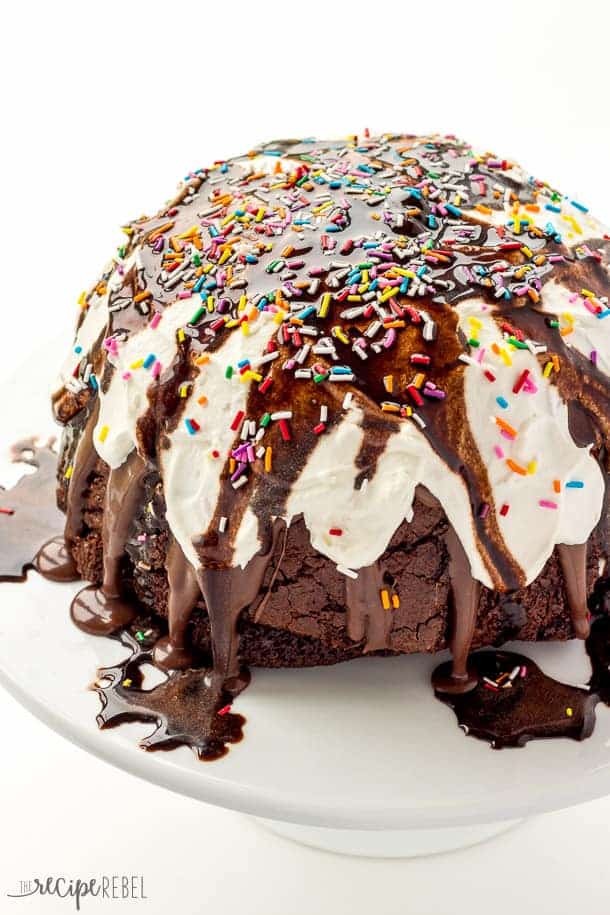 I was tempted to name this "Hot Mess Cake", but I decided that ugly food needs to be loved to. And sprinkles can make almost any cake feel good about itself, am I right? The extra two layer of chocolate on top of the brownie don't hurt either.
As I was photographing this cake all I could hear in my head was the song "Unpretty" by TLC — tell me you know that song and I'm not that old. But it's really what's on the inside that counts, right? And on the inside is no-churn vanilla ice cream. And it's easy.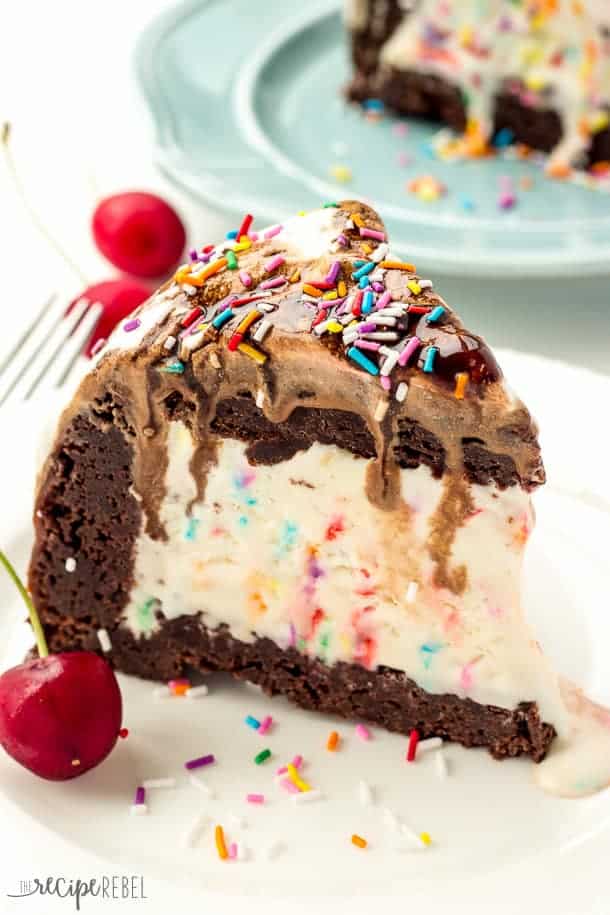 I got stole the idea for this cake from the Taste of Home Celebrations cookbook. I didn't use any of the recipe, as I had my own brownie and ice cream recipes that I like. But I saw it and I knew I had to make it, even though the world is now onto Back To School themed everything and what you really want are granola bars and cookies.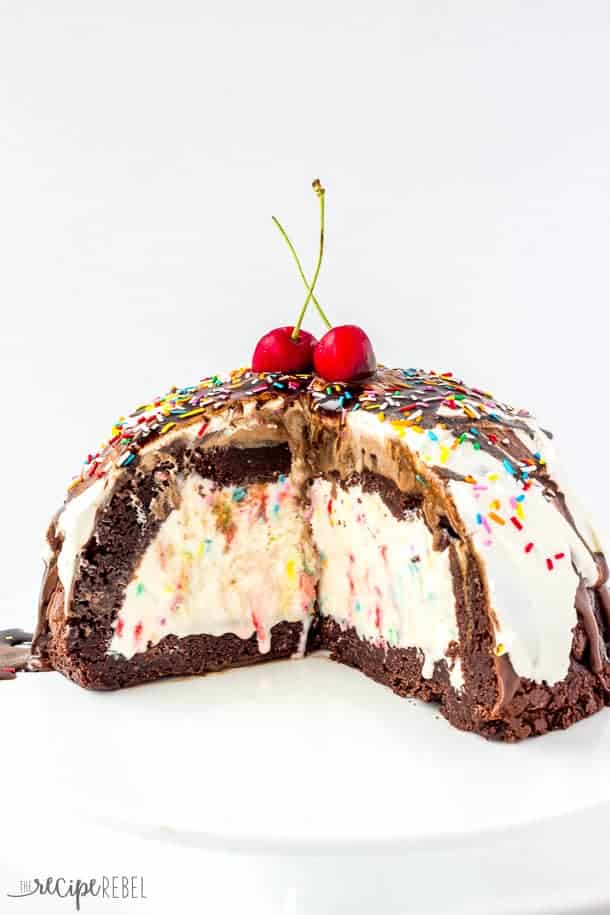 But don't you think the kiddos deserve a treat for making it through that first week? As a teacher, I'm pretty sure I do most years (though this year I'm going to be at home with my babes as the rest of my colleagues make their way back)!
Optional shortcuts:
If you're looking to save time, you can always use a boxed brownie mix or store bought ice cream — mix it up by adding any flavors you like!
12 servings
adjust servings
Ice Cream Brownie Mountain (Brownie Mountain Ice Cream Cake!)
Ingredients
For the brownies
1

cup butter, melted

2

cups sugar

3

eggs

2

teaspoons vanilla

2/3

cup cocoa powder

1

cup all purpose flour

1/2

teaspoon salt

1/2

teaspoon baking powder
For the ice cream
1 1/2

cups whipping cream

1

can sweetened condensed milk

sprinkles, optional
For the brownie mountain
1 100g

milk chocolate bar

1/4

cup whipping cream

2

cups whipped topping or whipped cream

chocolate sauce

sprinkles

cherries
Instructions
Make the brownies:
Preheat oven to 350 degrees F and line a 9x13" with tin foil and spray with non-stick spray.
In a large mixing bowl combine butter and sugar and whisk until combined. Whisk in eggs, one at a time. Stir in vanilla.
Add the cocoa, flour, salt and baking powder and whisk just until combined.
Spread into prepared pan and bake for 25-30 minutes until a toothpick comes out clean or with moist crumbs. Cool completely.
Make the brownie mountain:
Line a 2.5 quart bowl with plastic wrap, letting some hang over the sides. Cut brownies into pieces and press brownies into the bowl, cutting and squishing to fit (see photo below).
For the ice cream: Whip 1½ cups cream until stiff peaks form and fold in sweetened condensed milk and sprinkles if desired. Pour into your brownie-coated bowl until the ice cream mixture almost reaches the rim of the brownies (see photo below). Freeze solid.
Place remaining brownies on the top of your bowl (which will end up being the bottom of your mountain). Freeze until firm.
Make your ganache: in a small pot melt together chocolate bar and ¼ cup whipping cream over low heat until smooth. Set aside.
Unmold your brownie mountain onto a plate. Pour ganache over mountain. Set in the freezer for 15-30 minutes until firm. Cover with whipped topping, chocolate sauce, sprinkles and cherries as desired. Serve frozen and freeze leftovers.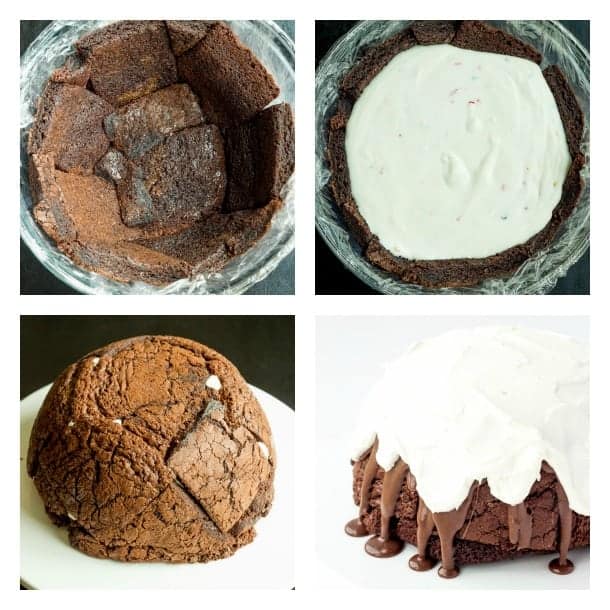 You might also like this No Churn Nutella and Raspberry Swirl Ice Cream Cake!
Or this No Churn Coconut Cream Pie Ice Cream!