3 layers of creamy, frozen pudding: strawberry, banana pineapple and chocolate! The easy way to enjoy a banana split this summer!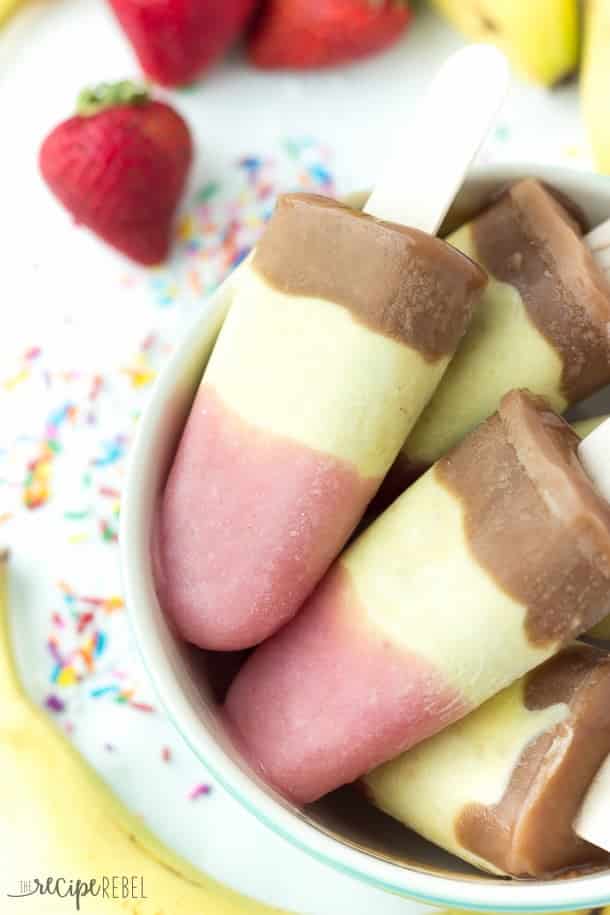 I promise you I'm moving on.
I have been wanting to make banana split pudding pops forever (because – hello – my recent obsession with banana split and pudding pops combined?!). I'm confident that now that I've finally done that and shared them with you, I can find something else equally as awesome to obsess over.
Like Nutella or Oreos or something.
Or Snickers.
You know, something to help you get that bikini body ready.
I just can't believe I've been missing out on pudding popsicles this long, you know? I loved pudding as a kid! If only I had known how great it was frozen!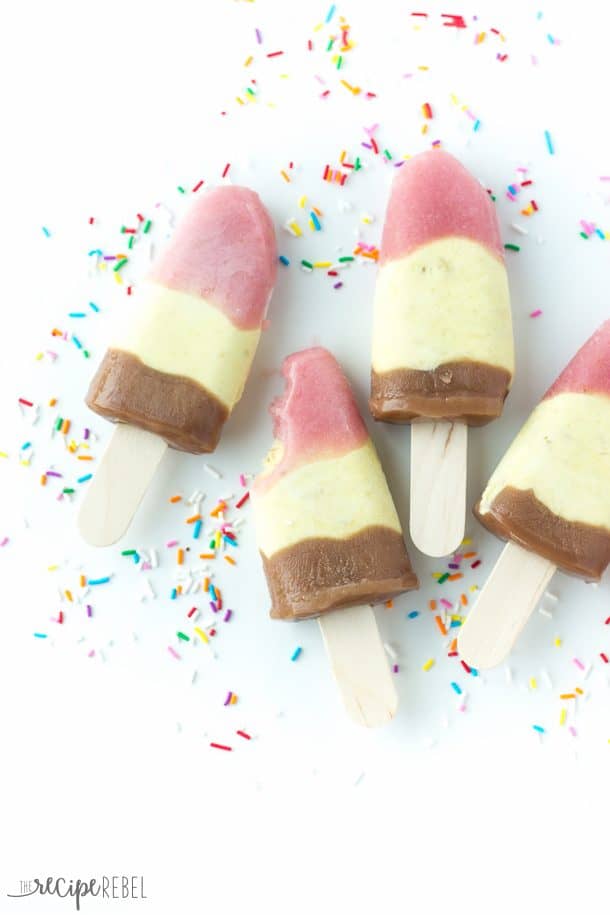 You can skip the Cool Whip, but I think it makes them extra creamy and I looooove extra creamy (don't we all?).
And if you're using strawberries fresh from the plant then you may not have to add the extra sugar, but I find that the ones we're getting from the store right now (fresh weren't available when I made these!) aren't quite the same (are they ever??).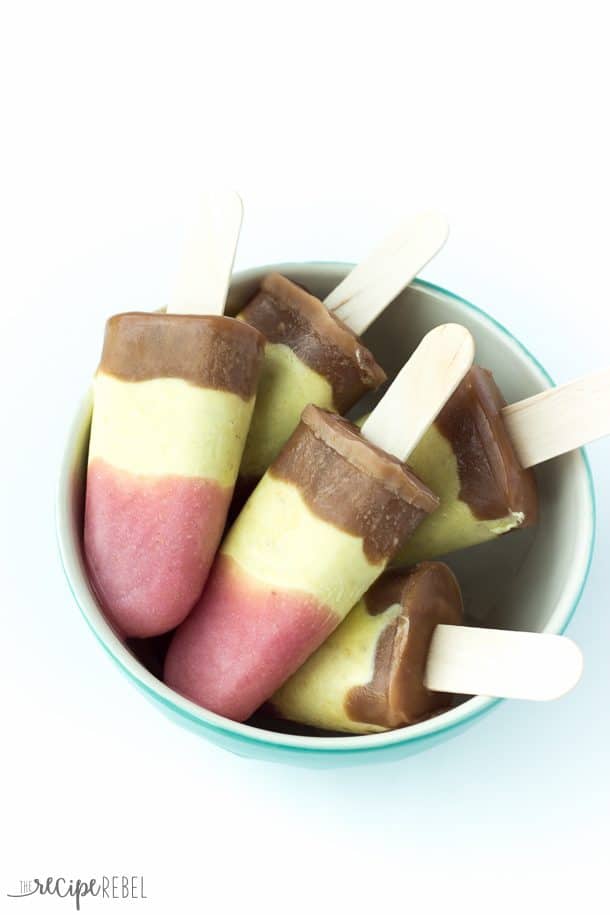 Feel free to mix and match the additions as you like. If you're making a large batch, you could even do a box of strawberry-flavored vanilla pudding (or strawberry if it's available), a box of banana, and a box of chocolate and make them that way! I knew I wanted a smaller batch, so I split one box of pudding 3 ways.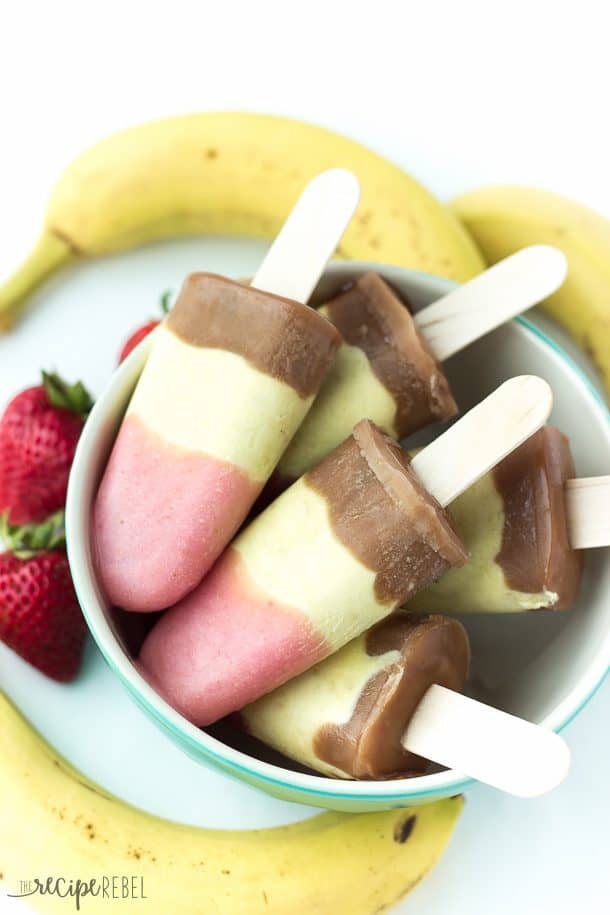 Ingredients
1

banana

2

tbsp pineapple juice

1

cup chopped strawberries

1

tsp sugar

2

tbsp thick chocolate fudge sauce

1

box instant vanilla pudding mix (4 serving size)

2

cups milk

1

cup frozen whipped topping, thawed
Instructions
Prepare your fruit. In a medium bowl, mash together the banana and pineapple juice.
Stir together your strawberries and sugar and let sit 5 minutes. Puree, and then strain into a second medium bowl.
In a third medium bowl, add the chocolate fudge sauce.
In a large bowl, combine the vanilla pudding mix and milk and stir only until combined (don't mix too long or the pudding will thicken too quickly!). Quickly stir in whipped topping.
Divide pudding mixture between the 3 bowls and stir to combine (try not to stir too much or the pudding will become thick and harder to pour).
Divide strawberry pudding mixture between 6-8 popsicle moulds. Divide banana pudding mixture between the popsicle moulds, pouring on top of the strawberry pudding. Divide chocolate pudding mixture between the moulds, pouring on top of the banana pudding. Freeze 6-8 hours until firm. To unmould, run briefly under luke warm water.
 You might also like this No-Bake Banana Split Cheesecake!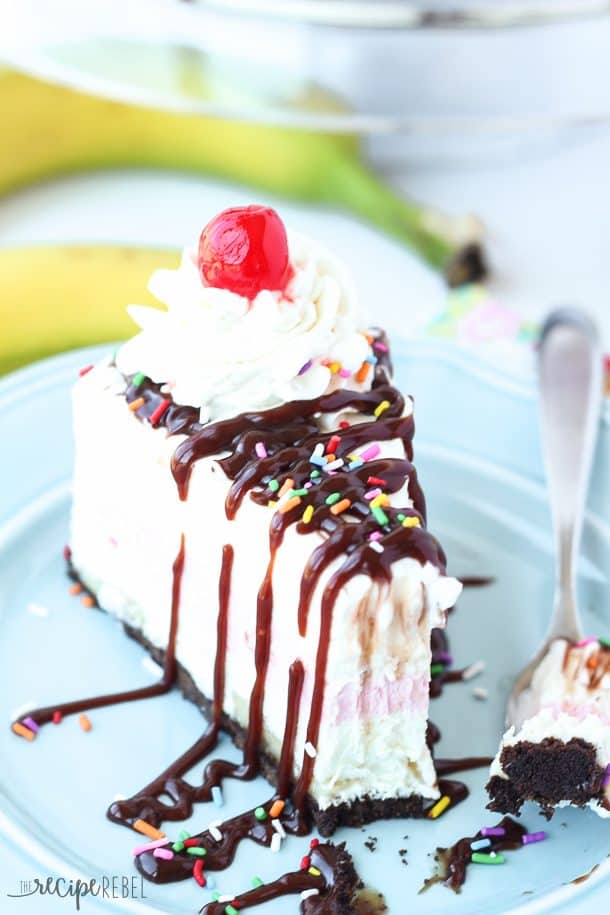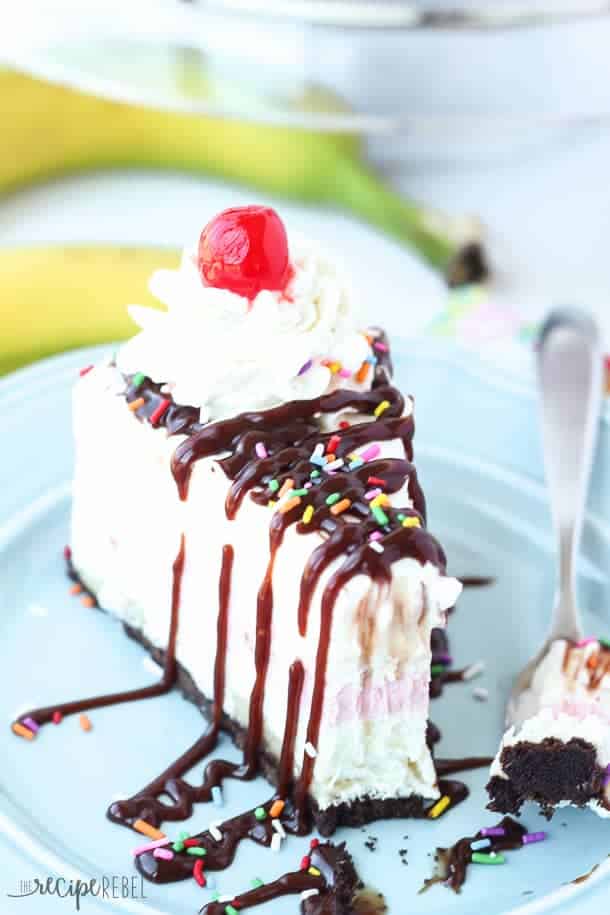 Or these 4-Ingredient Fruit Punch Pudding Pops!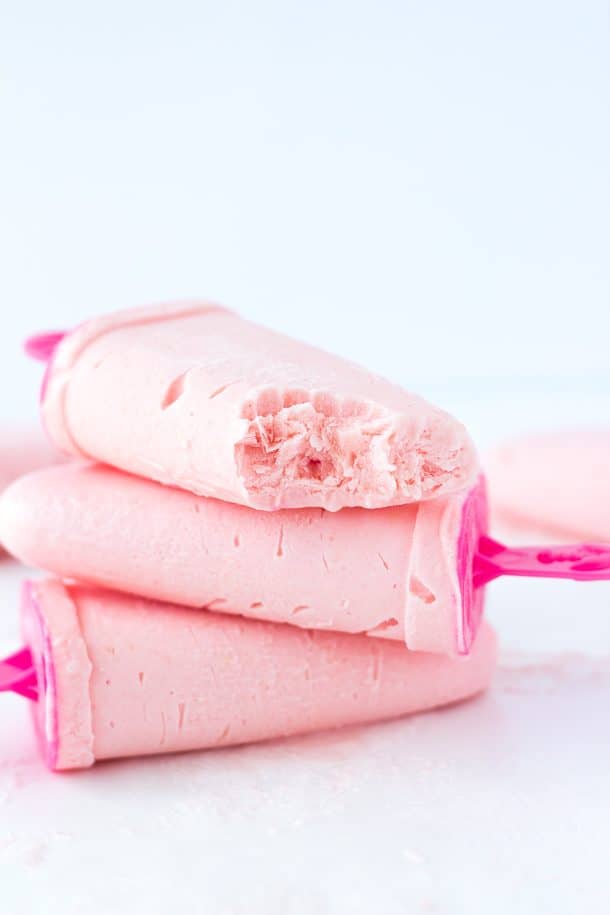 More great popsicle recipes!
Strawberry Kiwi Fruit Popsicles from Diethood
Coconut Raspberry Popsicles from Chelsea's Messy Apron
Salted Caramel Mocha Popsicles from Melanie Makes