So I made this recipe on a Monday, and I warned the husband that he might only get cake for lunch.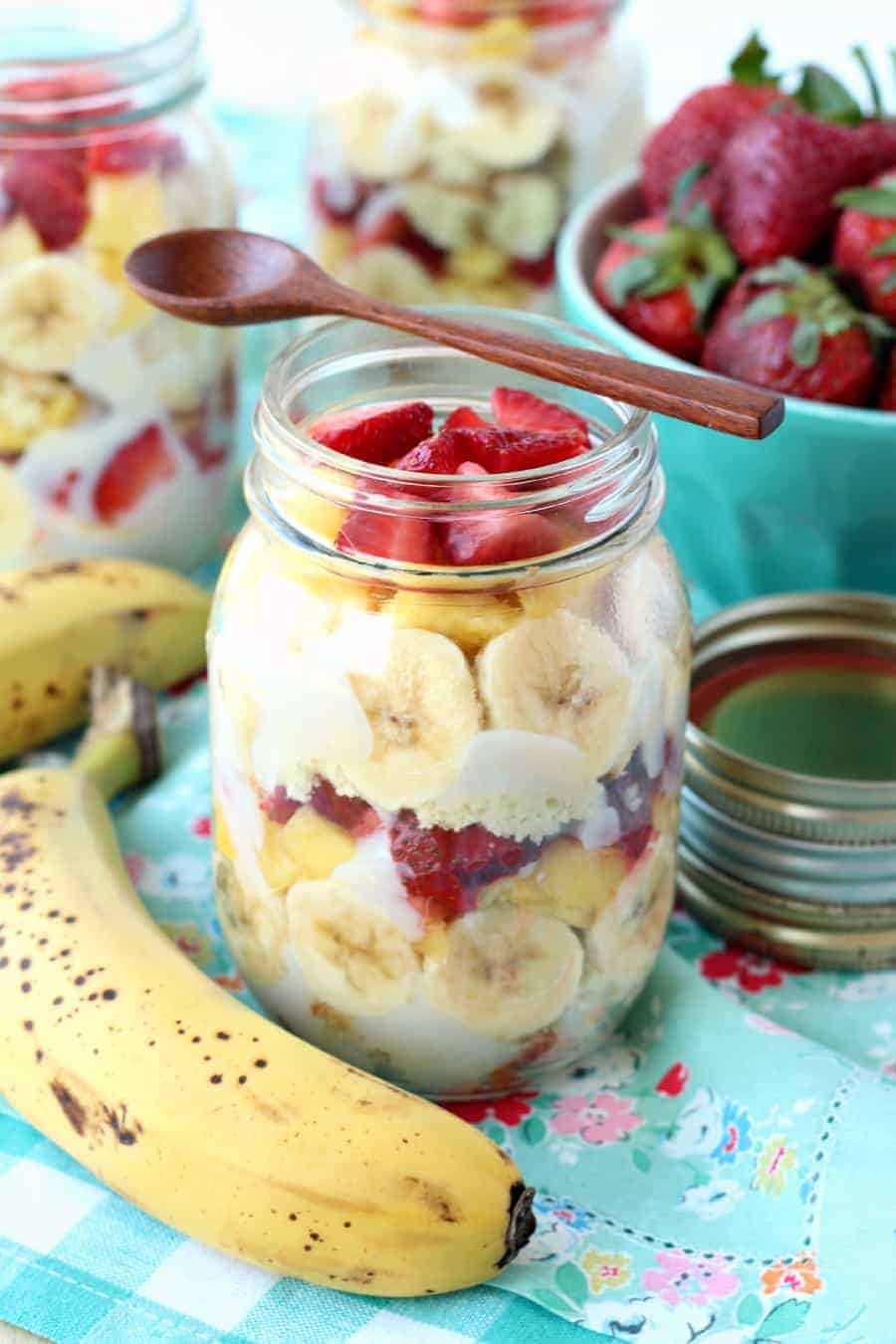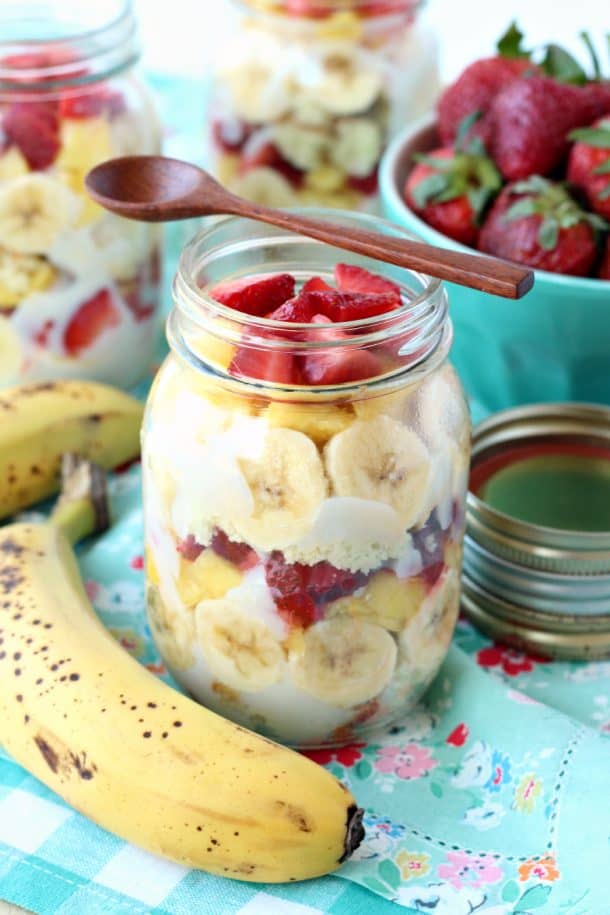 Apparently, it wasn't that much of a stretch, because when he got home for lunch I was still photographing them.
So he made lunch for himself and the 2 year old, and when I was done I ate trifle for lunch.
I mean, there have to be some perks, right?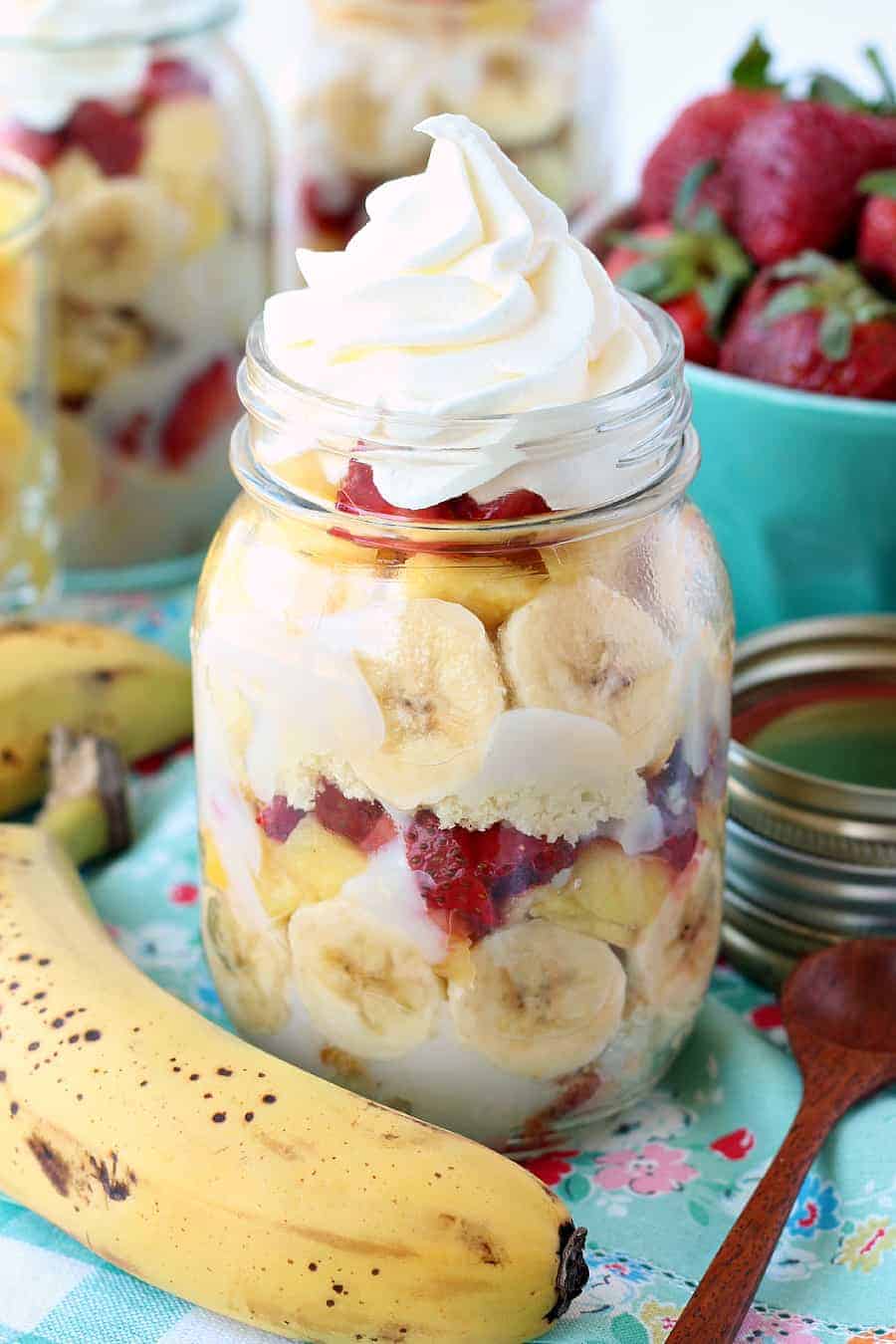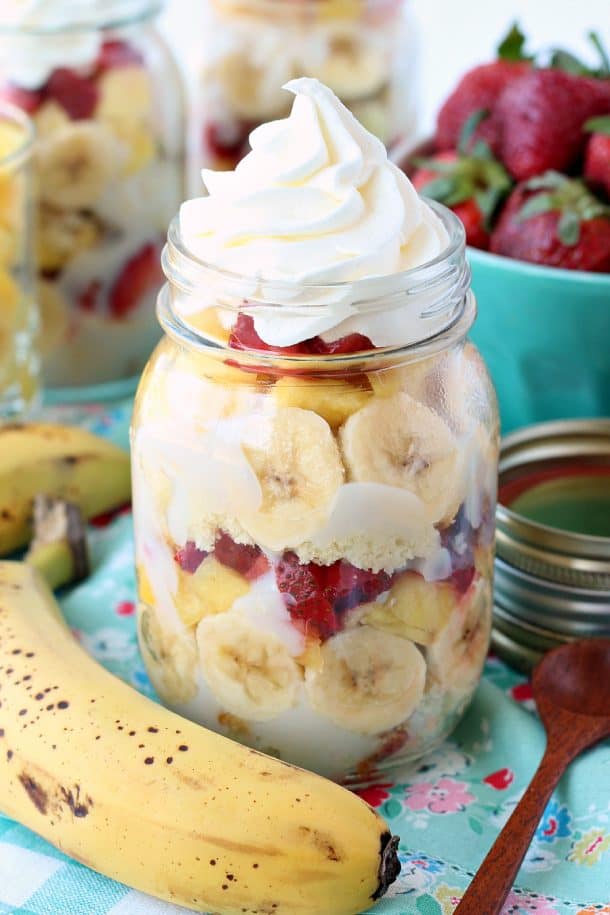 Guys, I thought this would be pretty good. But I was kind of in disbelief about just how good it is.
It tastes like a banana split. That's not cold.
I never realized how much I love the combination of pineapple, banana and strawberry until I made these trifles. It's kind of amazing! And plus, it tastes like summer.
What is your favorite summer treat?
Banana splits?
Ice cream cake?
Fudgesicles?
Popsicles?
Those Strawberry Shortcake ice cream bars? Definitely one of my faves.
Dipped cones?
Excuse me while I sit here and fantasize about summer.
We are so close here in Manitoba. I'm dreaming of long days sitting out on the deck watching my husband and 3 year old do yard work.
I'm also dreaming of fresh fruit and vegetables.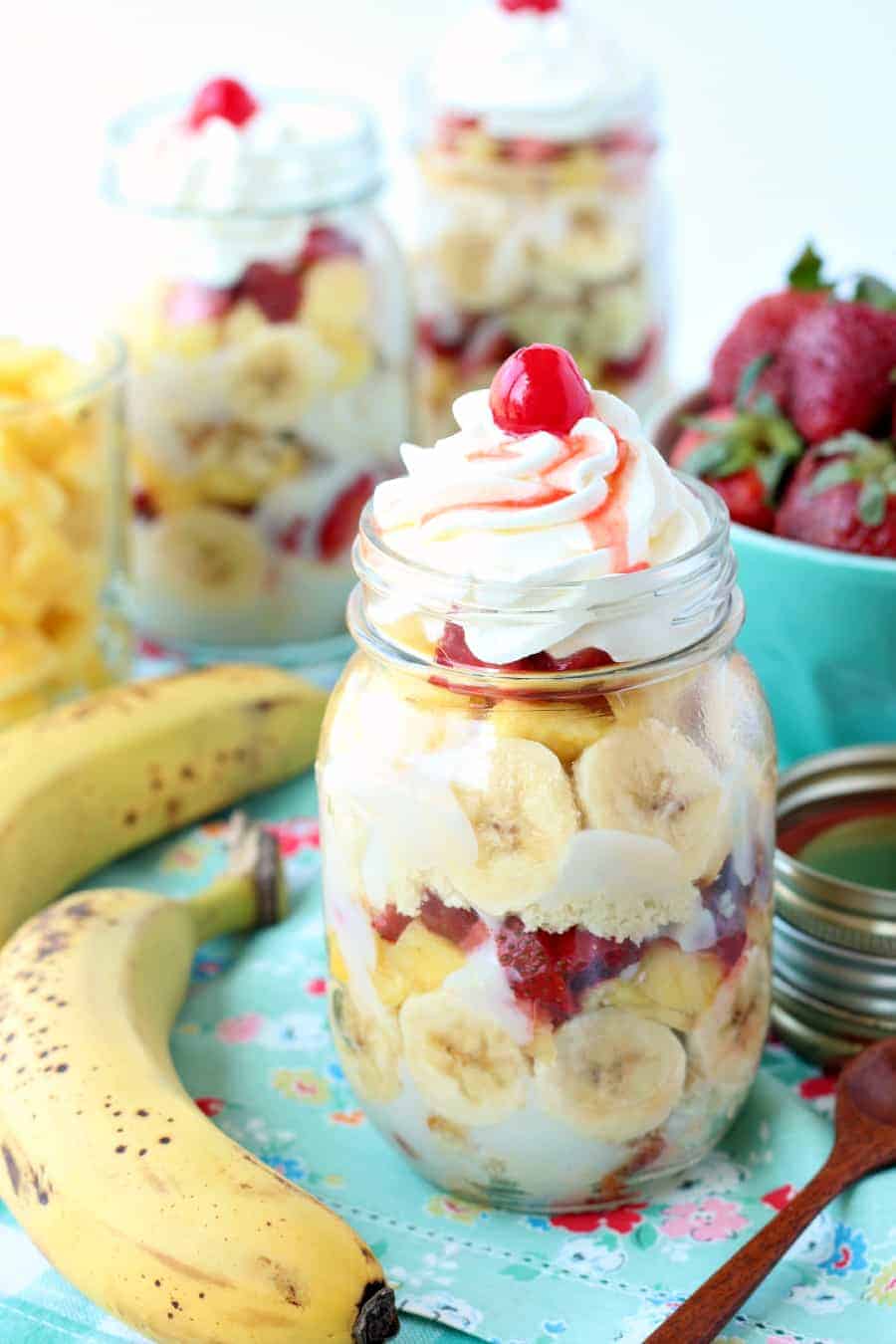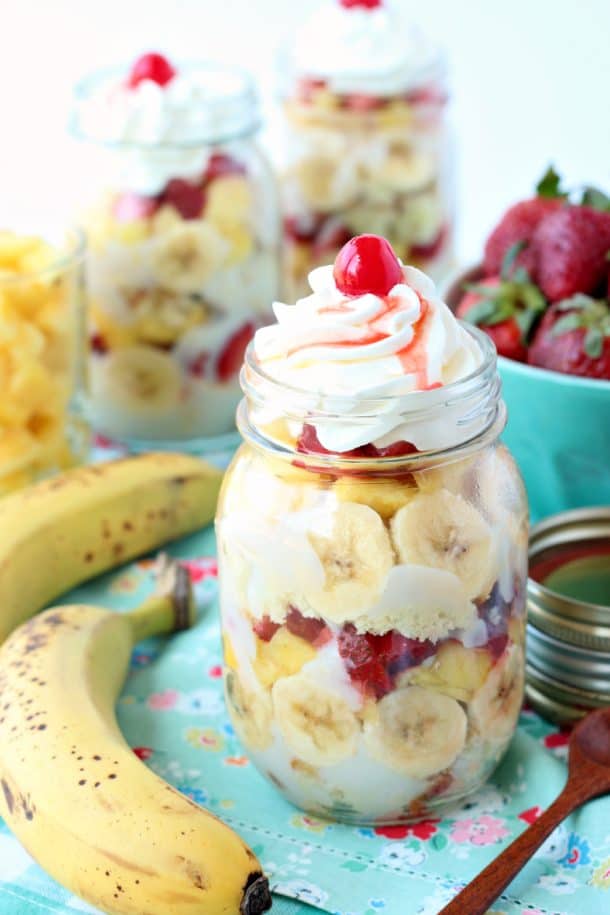 Okay just fruit.
I mean I look forward to successfully growing fresh vegetables for my husband and kids to eat. Not necessarily eating them myself.
There are some of you who have this luxury year-round. There are also some of you who claim that strawberry season starts in April, though I'm not sure I can believe you.
Here, "strawberry season" is about 2 weeks long starting in early-mid July.
That being said, the strawberries you can pick up at the store these days are so much better than the strawberries you can get in the middle of winter. I swear it's like the strawberries were actually white, and they just spray-painted them red to make them look like they're ripe.
I love trifle.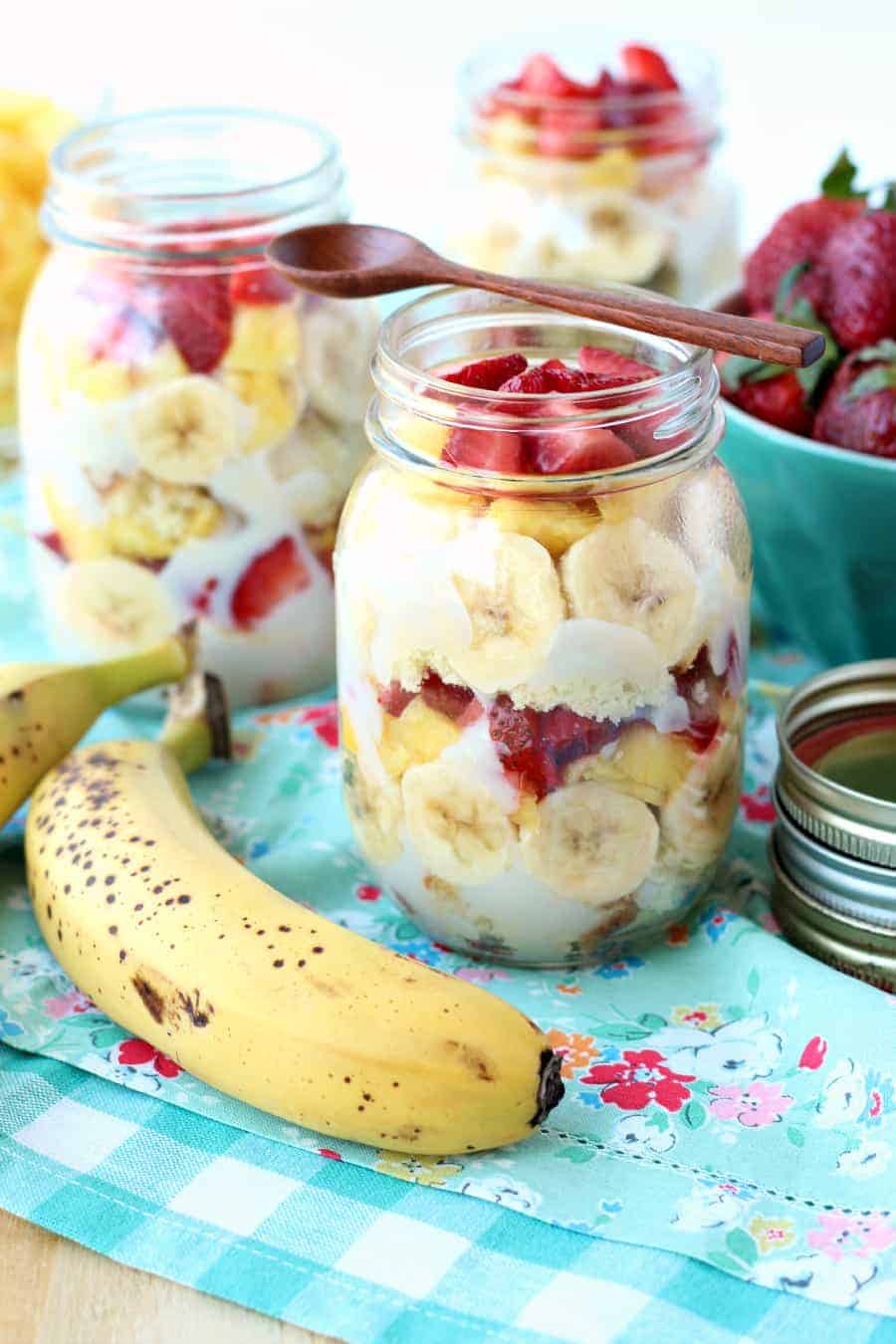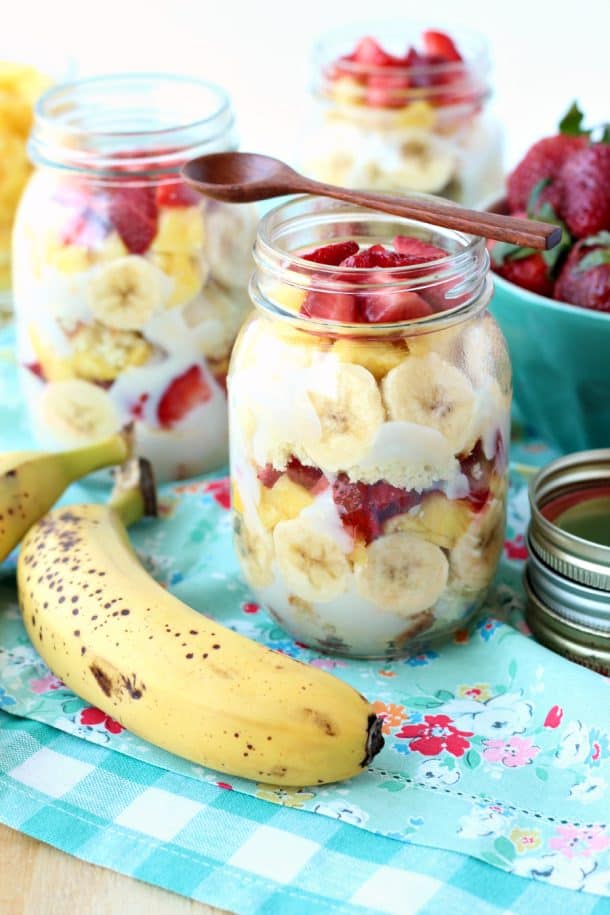 It's something my mom made often we were growing up, but she usually made it the same way. Chocolate cake, chocolate pudding, cool whip, and Skor (Heath) bits.
(P.S. why does one company create different names for an American and Canadian version of the same product anyway? It seems so silly!)
But I've been dreaming of summer flavors and simple treats. This definitely fits the bill!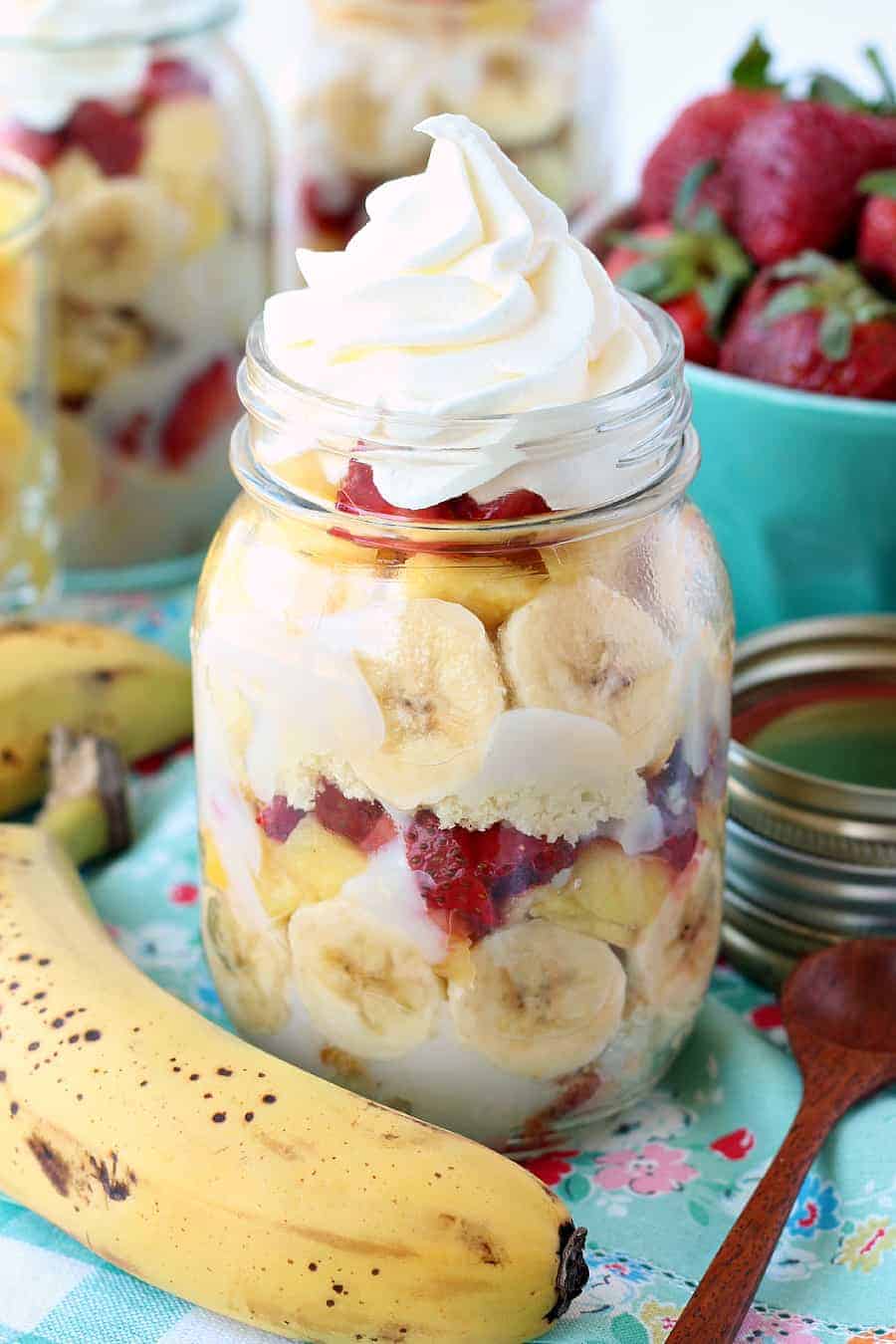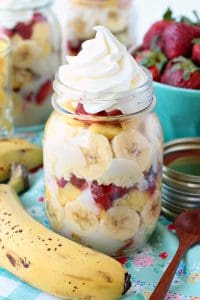 Print
Pin Recipe
Banana Split Trifles
These Banana Split Trifles are made with vanilla cake cubes, pudding, bananas, pineapple and strawberries.
Ingredients
1

vanilla cake mix prepared according to package directions

cooled and cubed
Vanilla pudding:
4

cups

milk

1

cup

sugar

6

tbsp

corn starch

½

tsp

salt

3

tsp

vanilla

2

tbsp

butter
To assemble:
4

cups

fresh strawberries chopped

4

cups

fresh pineapple chopped

4

bananas sliced

2-3

cups

prepared whipped topping

8-10

cherries
Instructions
To make vanilla pudding:
In a large pot, bring milk to a simmer over medium-high heat, stirring often (you don't want the milk to scorch).

In a medium bowl, combine sugar, corn starch, salt, and vanilla. When milk is nearly boiling, whisk in the sugar mixture and continue cooking over medium heat, stirring constantly, until thickened. Stir in butter. The pudding will continue to thicken as it cools. Set aside to cool to room temperature.
To assemble:
Layer trifle in this order: cake, bananas, pudding (cooled to room temperature), pineapple, strawberries.

I like to do 2 layers of this, then top with whipped cream and cherries – you can obviously adjust to your tastes!

Chill until ready to serve. You can store in the refrigerator for a couple days if you need to, but I wouldn't leave it too long because you want your fruit as fresh as possible.
Notes
*When making trifle, I like to work with the pudding before it's chilled and set, this way it sinks into the cake layer more.
*I like to brush banana slices with lemon juice to prevent browning. You could also use pineapple juice!
*This recipe will make 8-10 trifles, depending on the size.
Nutrition (this is an estimate)
Nutrition Facts
Banana Split Trifles
Amount Per Serving
Calories 503
Calories from Fat 90
% Daily Value*
Fat 10g15%
Cholesterol 16mg5%
Sodium 550mg24%
Potassium 519mg15%
Carbohydrates 100g33%
Protein 7g14%
Vitamin A 315IU6%
Vitamin C 70mg85%
Calcium 254mg25%
Iron 1.6mg9%
* Percent Daily Values are based on a 2000 calorie diet.