This recipe is brought to you by my maternity pants.
Because they are way too stretchy and enable me to create and eat things like this.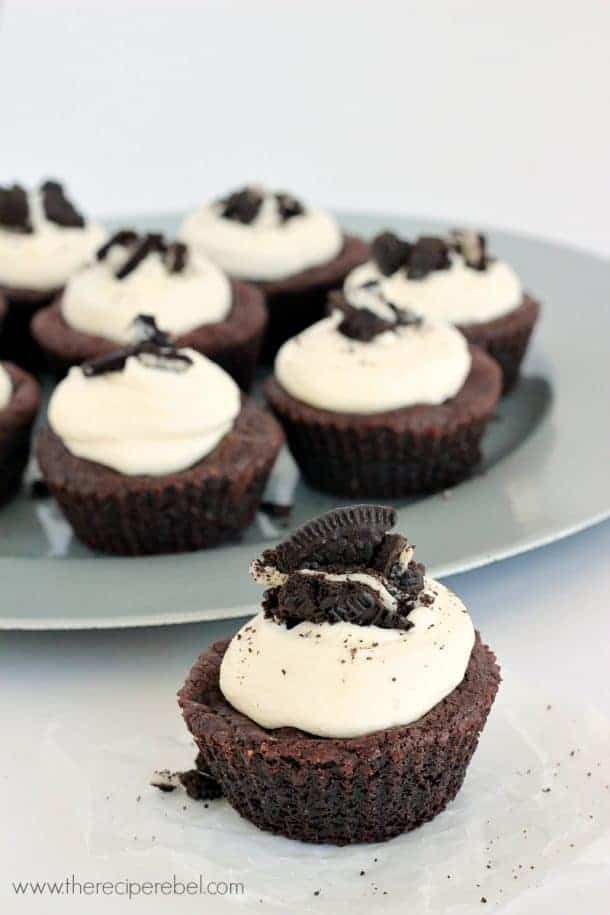 In all fairness, I made these to bring to my coworkers at the high school when I went to bring the baby for a visit. So I guess, knowing that I wouldn't actually be left to eat these by myself, I went a little overboard.
I was trying to think of something to bake to bring to the school, because I have a bit of a reputation.
Now, I'm not saying that I am some sort of baking queen and everything I make is amazing, but I've experimented on them quite a bit in the past so they've gotten a little used to me bringing goodies.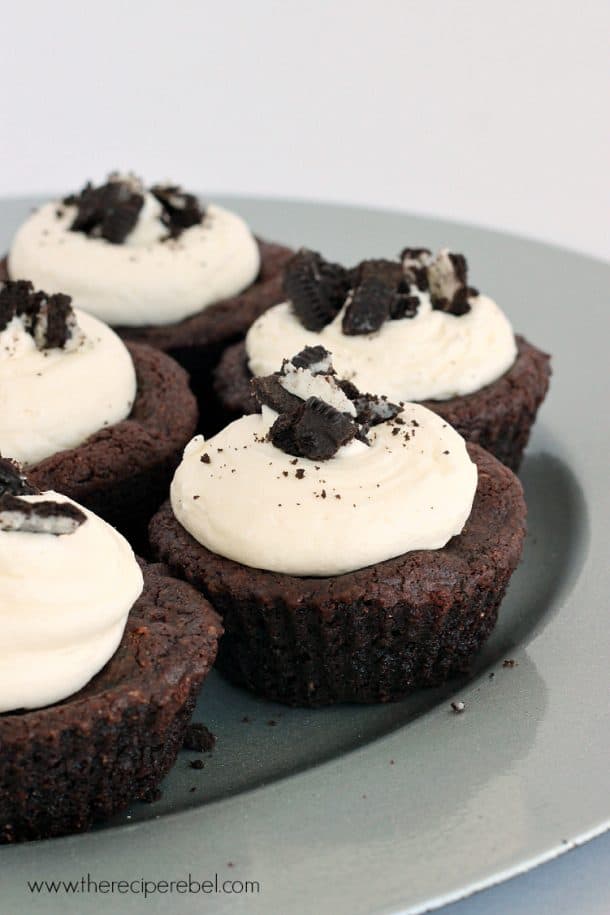 It'd be a little awkward to go empty-handed.
And plus, I'll never get out of these darn maternity pants if I don't share.
So I started scanning my Bars, Square and Cookies board on Pinterest, thinking maybe I would try another blogger's recipe or make something that was already on the blog so that I could just relax and bake, and not worry about the photography and all that jazz.
Then I saw these Oreo-Stuffed Chocolate Chip Cookies from Very Culinary, and I thought, "I should make those."
And then I thought, "more chocolate."
So obviously, I made some double chocolate cookies and stuffed them with an Oreo. And then I remembered this Oreo filling frosting and thought I had better make some to smother on top. And top that with crushed Oreos.
But I know everyone's all green smoothies and salads, so I made you a diet version: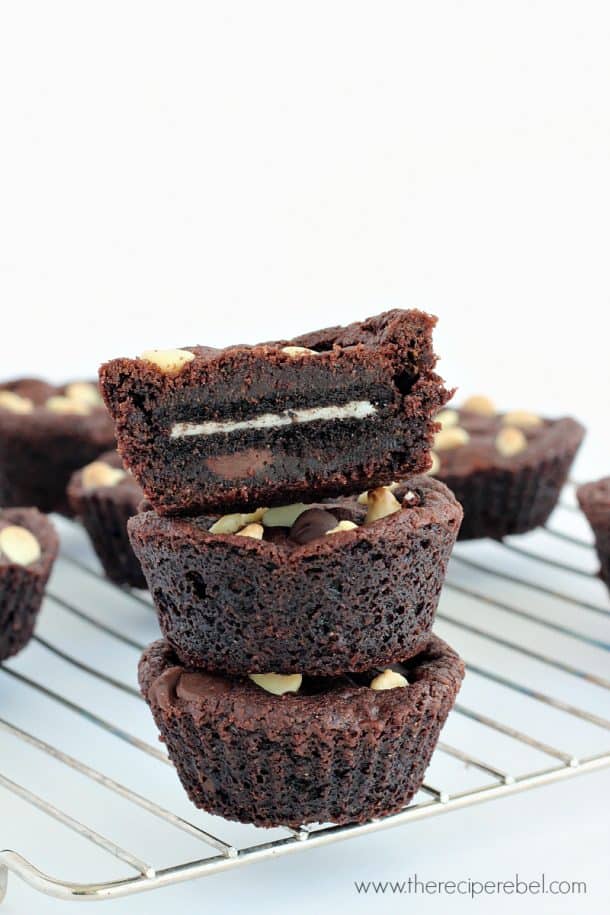 Right??
And, to be honest, they don't need any frosting. And if you're someone who doesn't like things overly sweet, unfrosted is the way to go. But if you're looking to get a little crazy…. go all out.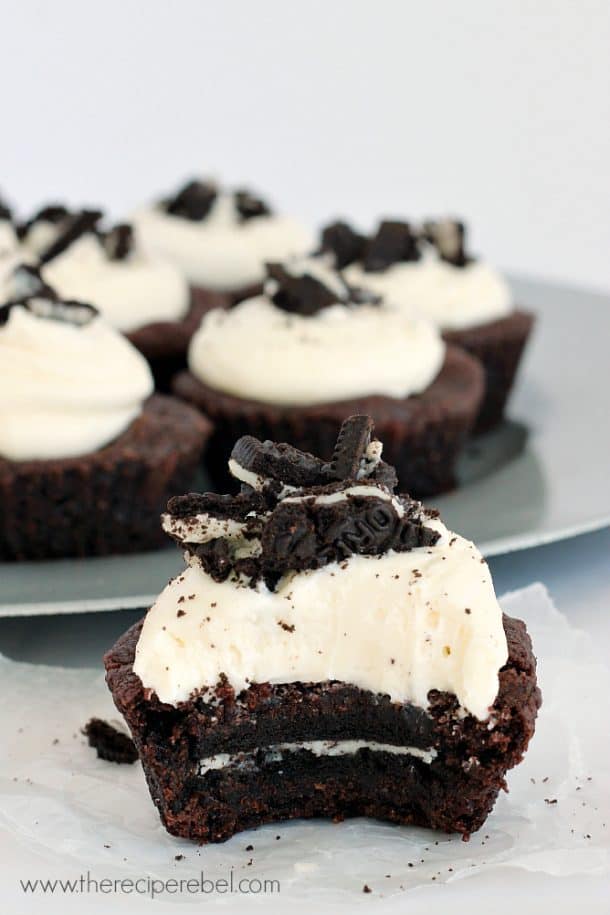 36
adjust servings
Oreo-Stuffed Double Chocolate Cookie Cups
Oreo-Stuffed Double Chocolate Cookie Cups: soft, chewy double chocolate cookies stuffed with an Oreo and topped with homemade Oreo filling and crushed Oreos. For the Oreo lover in your life! www.thereciperebel.com
Ingredients
Cookies
1 1/2

cups butter

3

cups sugar

1 1/2

tsp vanilla

3

eggs

3

cups flour (I used half whole wheat)

1 1/2

tsp baking soda

1

tsp salt

1

cup cocoa

1 1/2

cups chocolate chips

36

Oreo cookies
Frosting
1/2

cup white chocolate, chopped

1/4

cup milk

1/2

cup butter

1

tsp vanilla

3

cups powdered icing sugar
Instructions
Cookie cups:
In the bowl of a stand mixer, beat butter and sugar until light and fluffy. Add vanilla and eggs and beat until smooth.
Add flour, baking soda, salt and cocoa and beat until combined. Add chocolate chips and beat on low until combined. If cookie dough is still a bit sticky, refrigerate for 2-3 hours.
Preheat oven to 350 degrees.
Prepare 36 muffin cups: use a regular muffin pan, well-greased or lined with paper liners, or use silicone muffin cups ungreased.
Drop a rounded teaspoon of cookie dough in each muffin cup. Press down with your fingers and work dough up the edges just slightly. Place one Oreo in the middle, pressing down gently. Scoop another rounded teaspoon of dough and flatten it into a circle the size of the muffin cup. Place on top of each Oreo and press down the sides gently to surround the Oreo.
Bake for 14-15 minutes until centers appear set. Set aside to cool.
Frosting
In a small bowl, melt white chocolate and milk in the microwave in 30 second intervals, stirring in between. Set aside to cool slightly.
With an electric mixer, beat butter until smooth. Add cooled chocolate mixture and vanilla and beat until combined.
Add icing sugar, one cup at a time, beating until combined after each addition. Beat on high 2-3 minutes until light and fluffy.
Frost cooled cookie cups and garnish as desired.