THIS is the fall breakfast you need! This Overnight Pumpkin French Toast is so easy — you can make ahead for holiday gatherings and brunches and bake together in one pan! Naturally sweetened and made with real ingredients.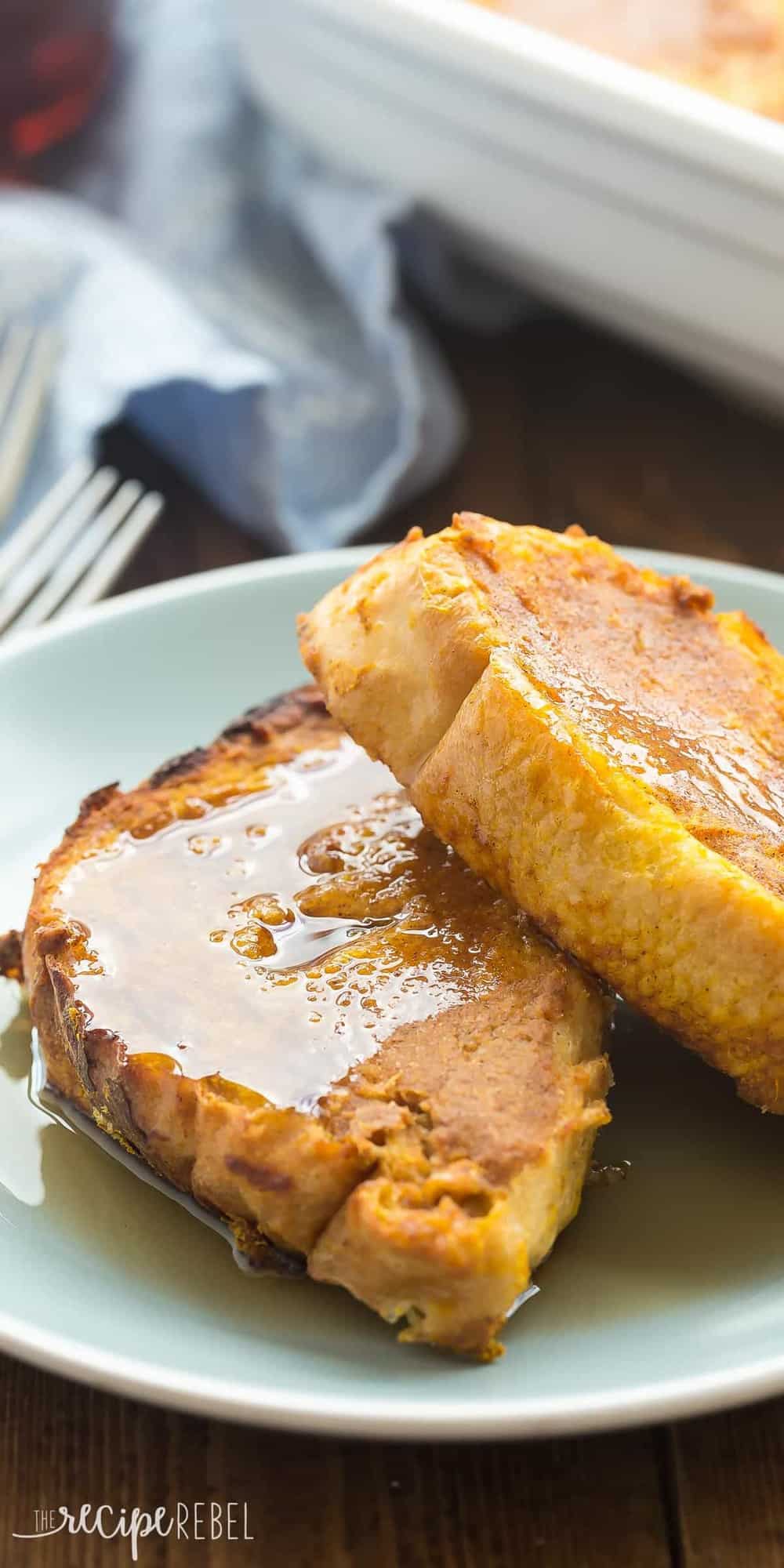 Too soon?
So I shared a pumpkin recipe on my Facebook page in the middle of July, just to test the waters, and you all went positively nuts for it (in a good way), and I was a little flabbergasted.
I thought for sure you would revolt and ask me why I wasn't posted more ice cream or popsicle recipes, but it was the contrary. You claimed that it was never too early for pumpkin and — in fact — you enjoy it year round!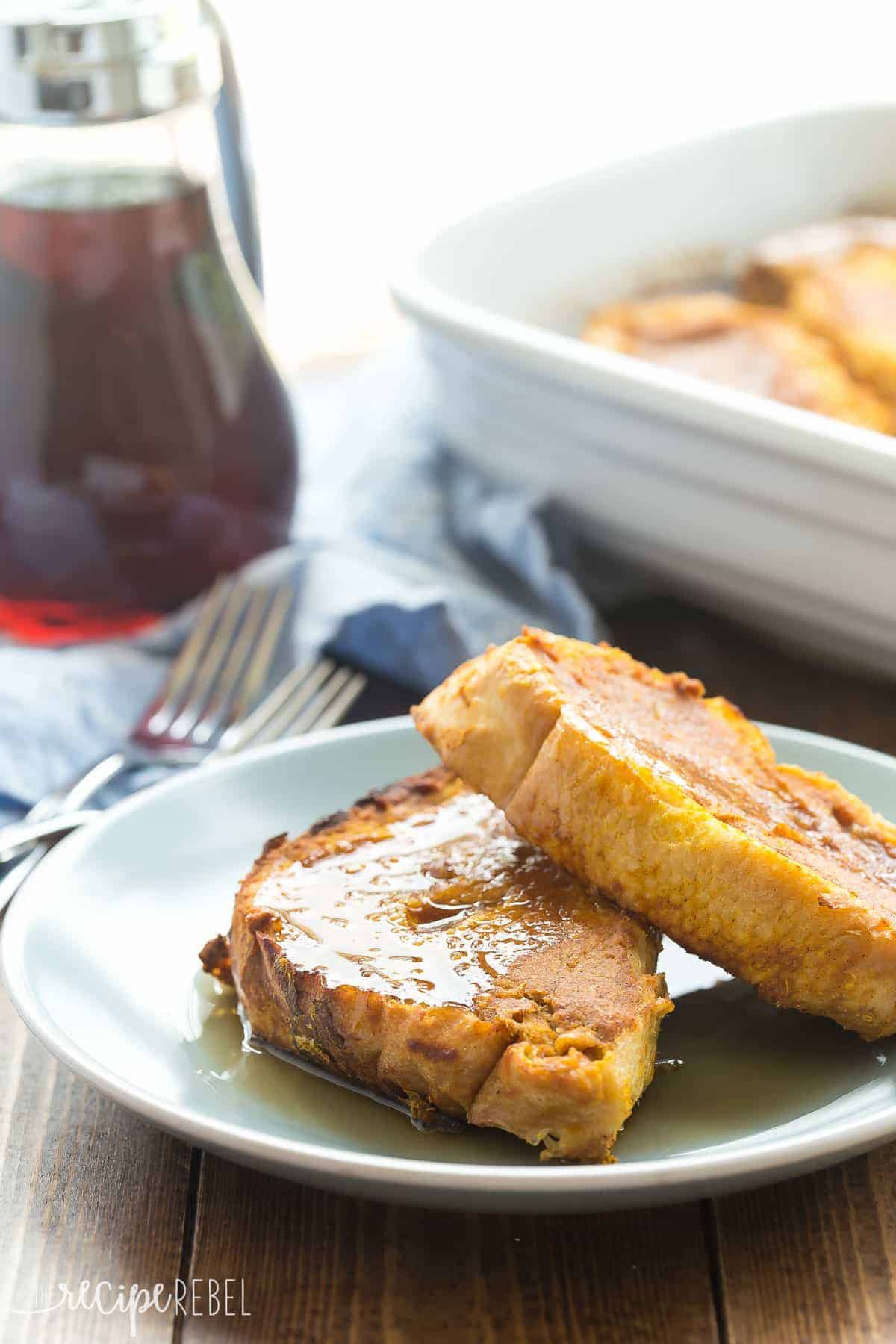 I, on the other hand, do not.
Sure, I do my Food Blogger Duty to bring you some awesome pumpkin treats (Double Chocolate Pumpkin Oreos, Pumpkin Caramel Pecan Naked Cake, Pumpkin Spice Latte Blondies….) in the fall, but I just do not yearn for it like some most people do.
Things I Do Love:
Breakfast foods
Make ahead breakfasts
Easy recipes
And my Panasonic Steam Convection Oven!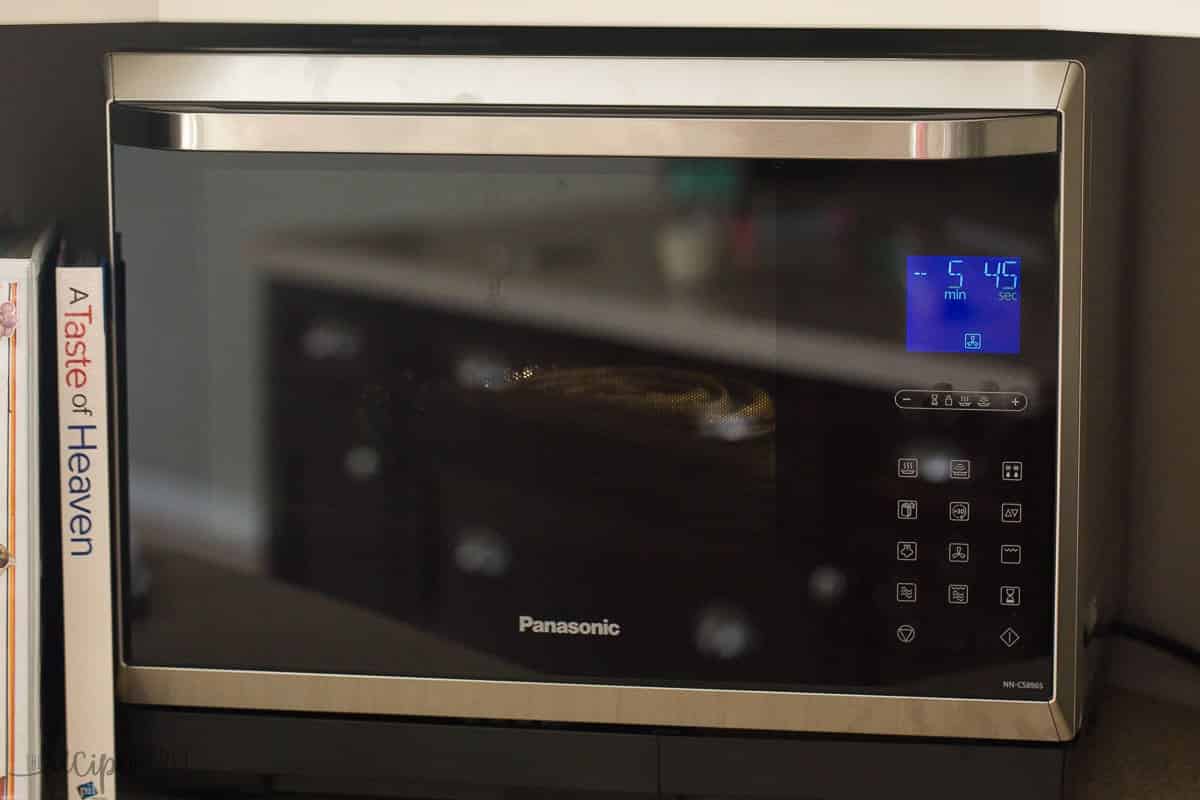 If you guys missed this Healthier Baked Cinnamon Roll Pancake from April, (a) shame on you, and (b) you need to check it out! It is one of my favorite breakfasts of all time, and you can find out more about the Steam Convection Oven from Panasonic if you hop on over.
When I knew I was going to get a chance to share another recipe with you that's made in this beauty, I right away wanted to do another breakfast recipe.
With the holidays coming up (yes, they're coming — and quicker than you think!), make ahead breakfasts that you can bake and serve a lot all at once are essential. I, for one, do not enjoy slaving over a skillet flipping pancakes or french toast while everyone else eats! Tell me I'm not the only one.
If you're cooking for a crowd, you can easily fit 2 9×13″ pans of this French toast in the Steam Convection Oven, or steam some apples on another pan to top it with (see how below!).
Whatever you do, please, do me a favor and smother this Pumpkin French Toast in this Maple Cream Cheese Syrup from my last collaboration with Panasonic. You won't regret it! Unless of course you're looking to lighten things up, then you might want to top with some Greek yogurt instead 😉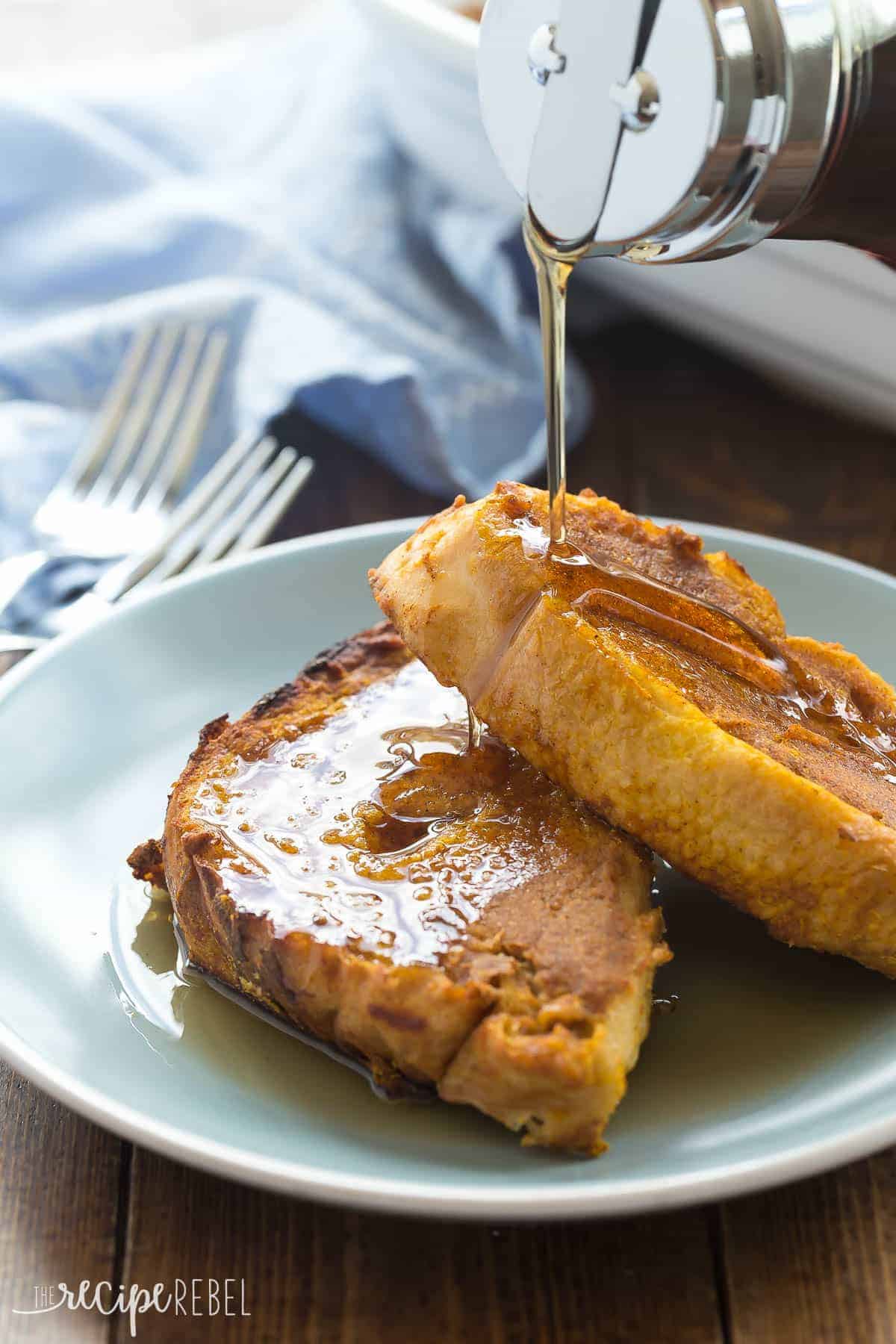 NOTES:
If you're looking to serve more than 6 (or your 6 are very hungry!), feel free to double the recipe and bake in 2 9×13″ pans or a sheet pan.
I like to serve this French toast with some fresh fruit (and coffee…. because, well… coffee) for a well-balanced breakfast!
I don't normally offer nutrition information, but I was curious about this one because I do love my breakfast! Each slice of French Toast comes in (according to my calculations on My Fitness Pal) at 210 calories. So you can have one…. or two…. and still feel good about yourself! Plus, it's naturally sweetened and pumpkin is a vegetable 😉
TO STEAM THE APPLES: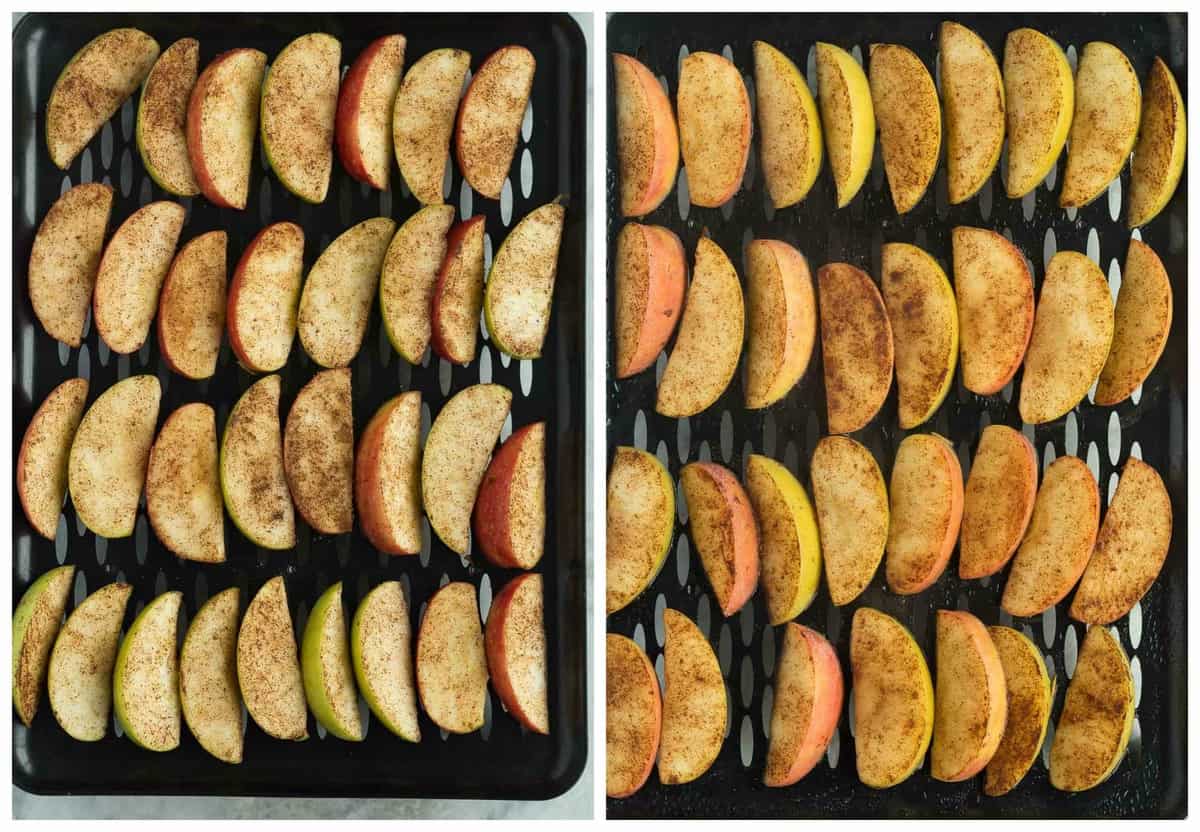 Slice 2 firm, tart apples.
Toss with 1 teaspoon cinnamon and 1 tablespoon brown sugar.
Arrange on rack, place on the glass shelf in the middle position, and cook on the Steam 2 setting for 10 minutes (for firmer apples) to 14 minutes (for softer apples).
Smother your French toast in some fall flavor! Enjoy 🙂
*This post is generously sponsored by Panasonic and I have been compensated for my time, but all opinions are my own. Thank you for supporting brands that make The Recipe Rebel possible!
See how easy it is to make!

*NOTE – September 3, 2016:
We had this again for breakfast this weekend! I wanted to try out a couple new techniques and have updated the recipe to reflect them. I've taken out the flip during the bake time to make things a little easier.

Also worth noting is that when I made this this time, I totally forgot to add the maple syrup in it. We ate it with syrup, so we didn't even notice and I didn't think of it until it was totally gone. If you are looking for ways to cut back and you're going to be topping it with syrup anyways, you can definitely leave it out!

If you are not using thick sliced French bread, you might find you have extra liquid and your French toast is mushy. I really, really recommend thick sliced French bread for this recipe.
6
adjust servings
Baked Overnight Pumpkin French Toast
THIS is the fall breakfast you need! This Overnight Pumpkin French Toast is so easy -- you can make ahead for holiday gatherings and brunches and bake together in one pan!
Ingredients
3

eggs

1

cup milk

1/2

cup canned pumpkin puree (not pie filling)

1/4

cup pure maple syrup

1

teaspoon vanilla

1/2

teaspoon cinnamon

1/8

teaspoon nutmeg

6

thick slices French bread
Instructions
In a medium bowl, whisk together the eggs, milk, pumpkin, syrup, vanilla, cinnamon and nutmeg until smooth.
Place French bread in a single layer in a well-greased 9x13" pan. Pour egg mixture evenly over top. Flip bread and move it around the pan to try to get the egg mixture evenly distributed.
Cover in plastic wrap and refrigerate at least 3-4 hours or overnight.
Preheat Steam Convection oven to 200 degrees C or 400 degrees F. Meanwhile, uncover your pan and flip the bread slices once.
Bake for 30-35 minutes until outside is golden brown and insides are set (as per your preference).
Serve with steamed apples, Greek yogurt, whipped cream, or additional syrup as desired.
Recipe Notes
If you do not have a Steam Convection Oven, you can absolutely bake in your regular oven at the same temperature for about the same amount of time. Just take note of how set the French toast is at the 15 minute mark when you flip, and go from there!