Perfectly rich, dense, fudgy brownies every time. They are so easy and come together with just a bowl and a whisk. This is the only brownie recipe I use!
Follow my BARS & SQUARES board on Pinterest for more recipes like this!
*Post and photos updated March 4, 2016.
It's time I shared this recipe with you.
I have made these brownies countless times. They go back to my University days when I found all my recipes on Allrecipes.com and had no knowledge of food blogging.
On a whim, I decided to try this brownie recipe.
Best decision ever.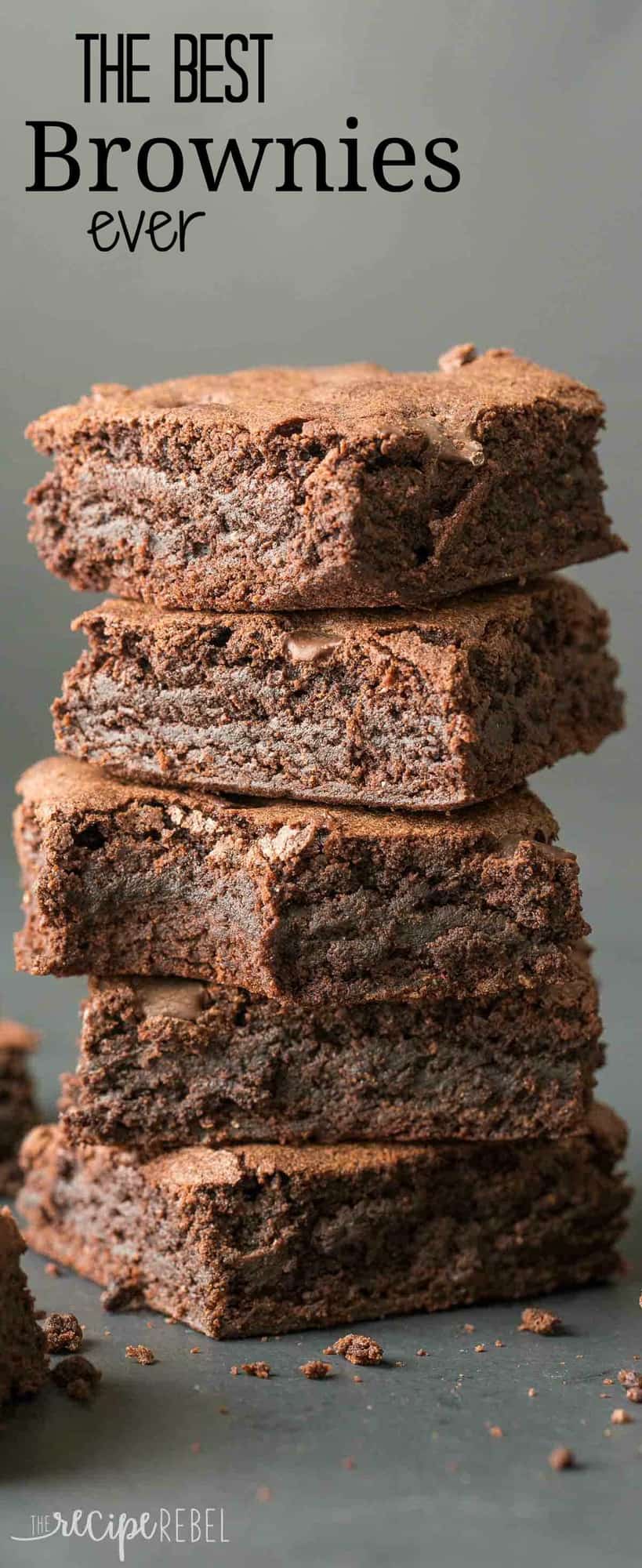 I mean, how do you possibly choose a brownie recipe from 371 recipes on Allrecipes alone?
Back in the day, I had a recipe box on Allrecipes, Better Homes and Gardens, Taste of Home, Kraft, etc., etc., etc.. The day I succumbed to the pressure of Pinterest and asked my sister for an invite was a pretty big turning point in my life. To have just one recipe box — what a genius idea!
Anyway. This is THE brownie recipe you need. (Though since I first made this recipe, I've found other favorites, like these Flourless Pumpkin Cheesecake Brownies and these Cherry Cheesecake Brownies).
Unless you like cakey, fluffy, crumbly brownies. These are definitely not those.
These brownies are dense, fudgy and rich. They are slightly chewy at the edges and incredibly moist and fudgy underneath. How many times can I use 'fudgy' in a brownie description without it becoming redundant?
I reduced the sugar just a bit in these, because the 3 cups of sugar called for in one 9×13″ pan is a lot, in my opinion. If you like things extra, extra sweet, feel free to add it back in.
I also subbed all of the flour for whole wheat flour. In a brownie like this, I honestly think you would have no idea that it's 100% whole wheat flour. Again, if you don't have any or just don't want to use whole wheat flour, feel free to swap it out for all-purpose.
You need these in your life.

Absolutely the Best Brownies Ever
Dense, fudgy brownies that are perfect every time. My go-to recipe! They need no frosting at all.
Ingredients
1 cup butter, melted
2½ cups granulated sugar
1 tbsp vanilla
4 eggs
1½ cups whole wheat flour (or sub all-purpose)
1 cup cocoa
½ tsp salt
chocolate chips for sprinkling on top, or to mix in, optional
Instructions
Preheat oven to 350 degrees F.
In a large bowl, combine butter, sugar and vanilla with a whisk until smooth.
Whisk in eggs, one at a time, beating well after each addition.
Stir in flour, cocoa and salt until combined.
Line a 9x13" pan with tin foil and spray with non-stick spray. Spread batter in prepared pan. Bake for 26-30 minutes or until a toothpick comes out clean.
You might also like these Triple Chocolate Raspberry Cookies!
Or my Grandma's Hot Fudge Sundae Cake!
Try these other great brownie recipes!
S'mores Brownies from Bakerita.
Loaded Popcorn Brownies from Sweet Peas and Saffron.
Peanut Butter Cup Stuffed S'more Brownies from Melanie Makes.