Fudgy flourless brownies topped with pumpkin cheesecake — a naturally gluten free treat that's perfect for Thanksgiving or the holidays!
We went camping once during the summer with my family, and I took it as another great reason to try out some of the recipes from the Flourless cookbook
. My brother in law was diagnosed with Celiac disease some time ago and I've really been trying to add some more gluten free baking to my repertoire.
The brownies from the cookbook caught my eye right away. And I have to say, they are by far the BEST brownies I've ever had.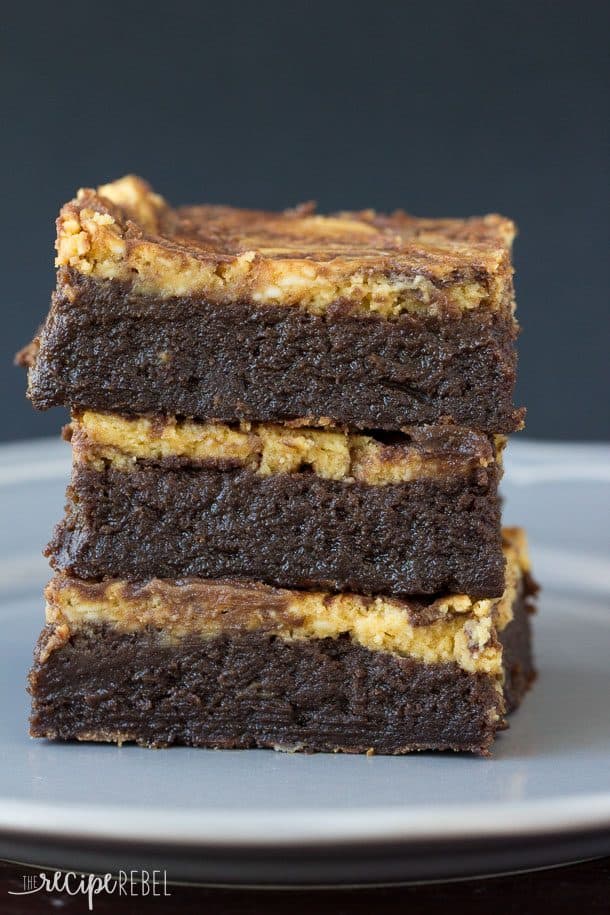 Which is saying a lot because I already have a recipe on the blog for "Absolutely The Best Brownies Ever", and I'm going to go ahead and admit I was wrong. Because the Double Chocolate Brownies from Flourless are THEE best brownies ever. And they just happen to have no flour!
I wanted to make a twist on the brownies that would be perfect for the upcoming holidays, and these Pumpkin Cheesecake Brownies are definitely that!
I have to confess, I'm not actually a big pumpkin lover.
You might notice that many (okay, all) of my pumpkin recipes have chocolate in them. It's because pumpkin is not high on my list of favorite flavors. But the hubs loves pumpkin, and I love chocolate (and he loves chocolate), and when I combine the two, it turns out I actually don't mind pumpkin that much.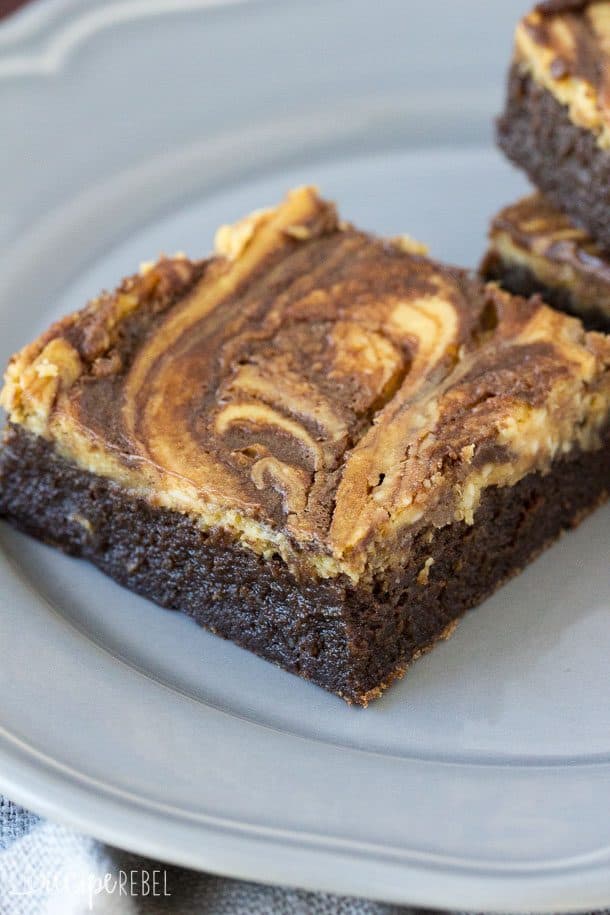 The original brownie recipe is the first part of the recipe, so if you just want to make the best brownies you've ever had, you can omit the pumpkin cheesecake. But if you want the best Pumpkin Cheesecake Brownies you've ever had, then go for the whole deal!
* I actually don't usually weigh my ingredients, but I did this time because the recipe included them. I've included both types of measurements below.
12-15
adjust servings
Flourless Pumpkin Cheesecake Brownies
Flourless Pumpkin Cheesecake Brownies: Fudgy flourless brownies topped with pumpkin cheesecake -- a naturally gluten free treat that's perfect for Thanksgiving or the holidays! www.thereciperebel.com
Ingredients
Brownie Base
280g

or 1 1/3 cup good chocolate, chopped

310g

or 1 cup (2 sticks) unsalted butter

500g

or 3 cups packed brown sugar

6

large eggs

100g

or 1 cup cocoa powder

1/2

tsp salt

2

tsp vanilla
Cheesecake filling
1 8oz

package cream cheese

1

egg

1

tsp vanilla

1/2

cup pumpkin puree (not pie filling)

1/2

tsp cinnamon

1/3

cup sugar
Instructions
Preheat oven to 350 degrees F. Line a 9x13" pan with tin foil and spray with non stick spray. Set aside.
In a large bowl, combine chocolate and butter. Microwave on high in 30 second intervals, stirring each time, until melted and smooth (don't overcook!). Whisk in brown sugar until smooth and let cool slightly (about 10 minutes). Whisk in eggs, one at a time, until combined. Stir in cocoa powder, salt and vanilla until smooth. Pour ½ of batter into prepared pan.
With an electric mixer, beat cream cheese until smooth. Add in egg, vanilla, pumpkin and cinnamon and beat until smooth. Pour over batter in pan. Top with dollops of remaining brownie batter and swirl with a knife.
Bake for 30-40 minutes, until set (they may jiggle slightly, but cheesecake will be set and cooked on top). Cool completely and refrigerate until chilled before slicing and serving.
 More Pumpkin Chocolate Treats!
Pumpkin Chocolate Chip Cookies from Whole and Heavenly Oven
Baked Chocolate Pumpkin Donuts from My Sequined Life
Chocolate Pumpkin Cheesecake from Will Cook For Smiles