These Frosted Texas Brownies are made with a whisk and a bowl — no mixer required! They make a huge sheet pan and are perfect for potlucks! Includes recipe video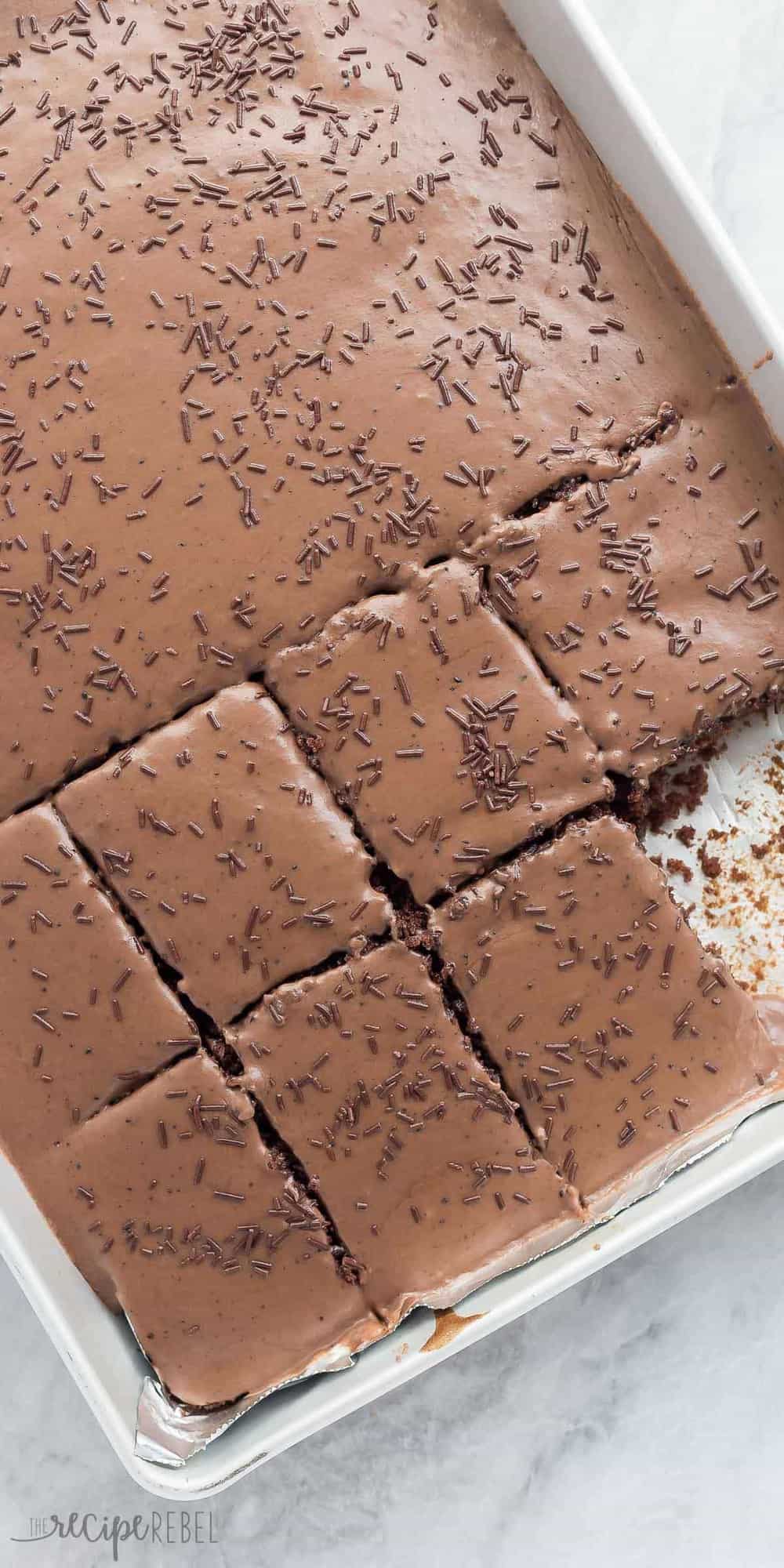 So here we are: Halloween.
I am actually not really into Halloween. (a) I'm not really into overly cutesy things, and don't have much of an interest in making them or eating them. (b) Blood, guts and gore has never really been my thing either.
What I do like about Halloween: dressing the kids up in cute costumes so they can bring me a bucket of mini chocolate bars, and then heading to the store on November 1 to buy up the rest of the half price Halloween chocolates.
Anyone else?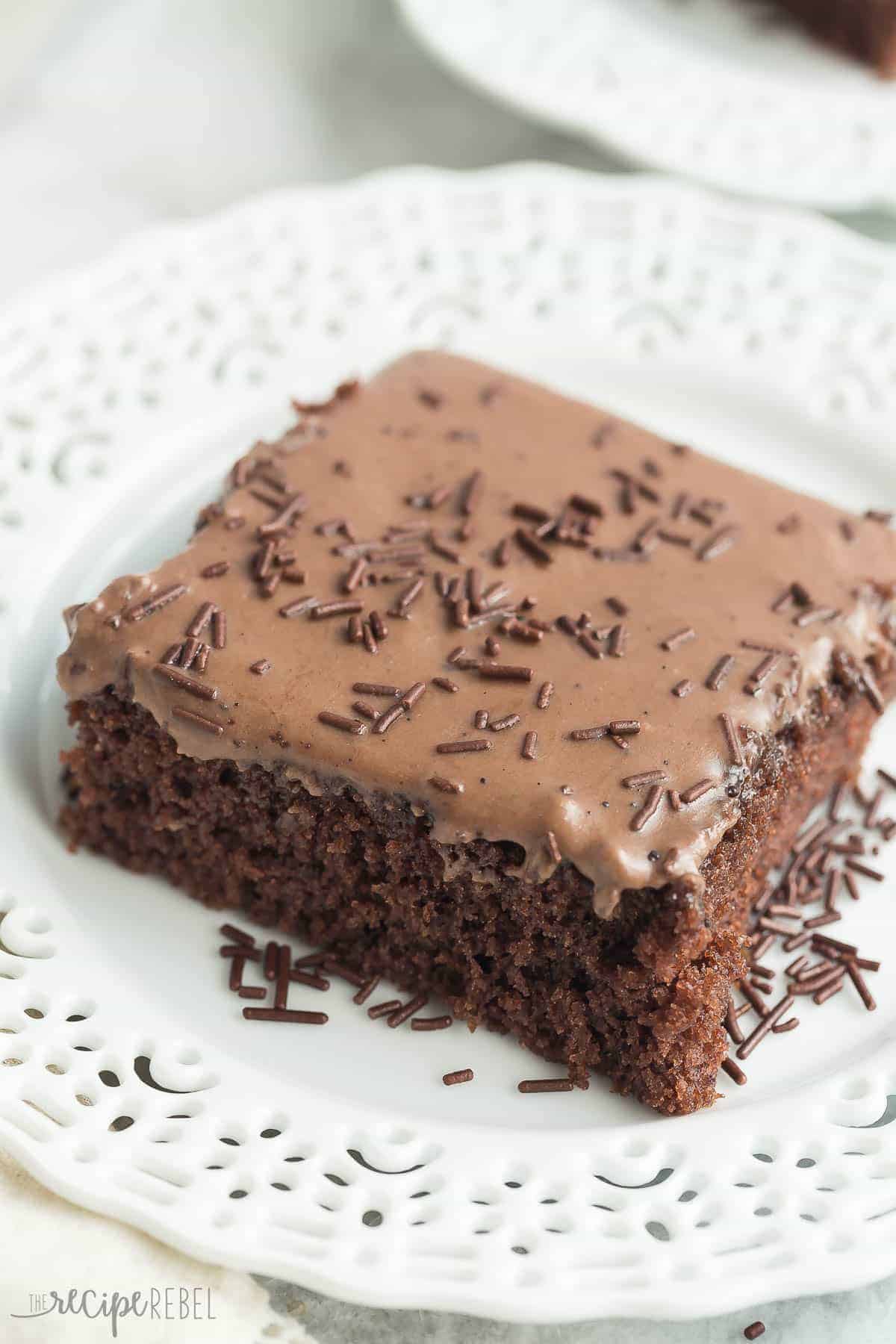 So here I am, and I'll admit, I'm posting today because I usually post on Mondays. And not because I feel like I need to bring you some ridiculous cookie fingers or something of that sort.
BUT I thought it was a good reason to celebrate Halloween the only way I know how: with chocolate.
Lots of it.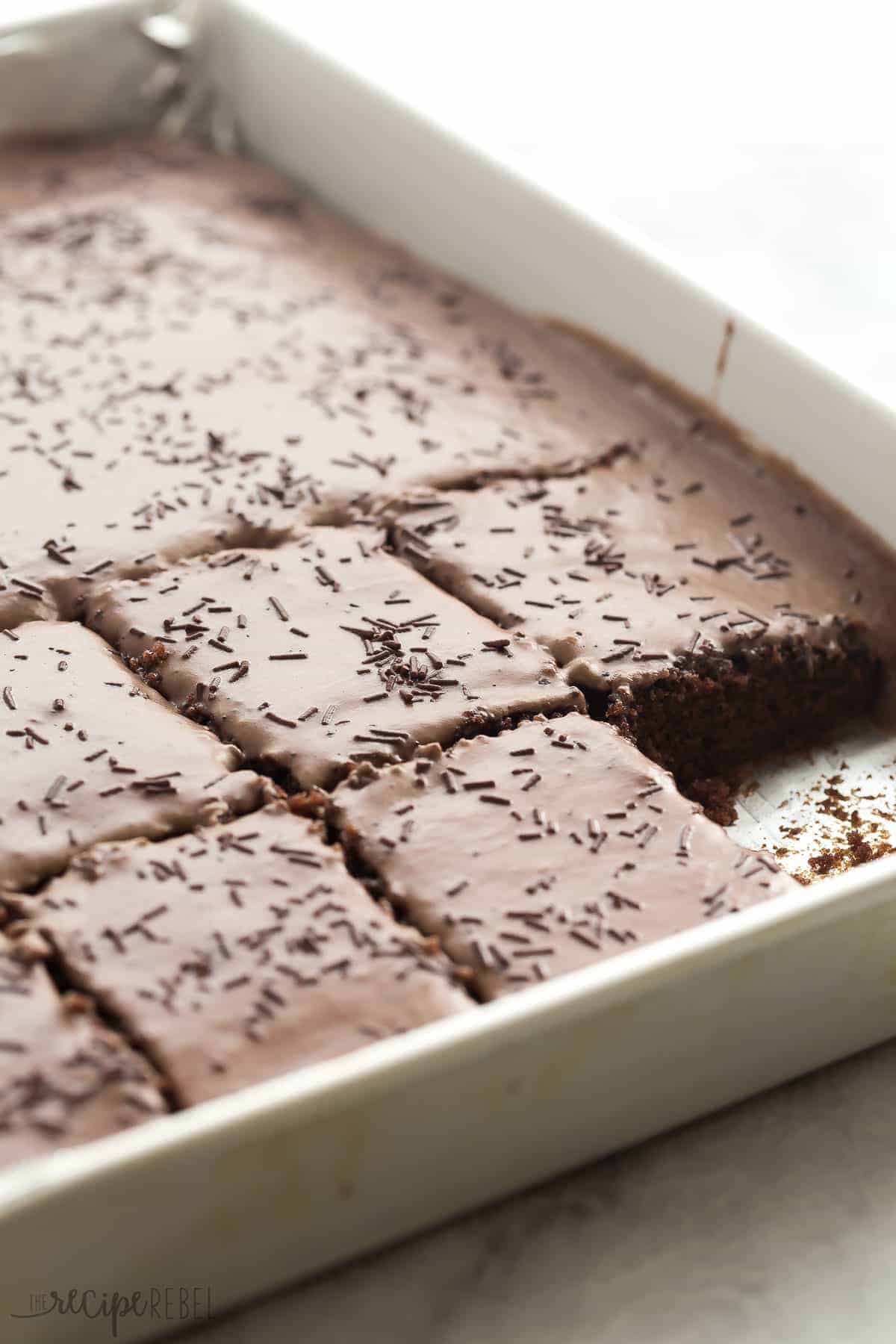 This Texas Brownies recipe is one my mom used to make when we were at home. I'm not sure where the recipe originated, and I see the same recipe on a lot of big sites like AllRecipes, Food.com, etc., and I'm sure it didn't originate there either. It's just one of those recipes that everybody has. And if you don't, you should.
These have been my favorite brownies for a really long time. They are dense, fudgy, not cakey at all and have no need for frosting. They are perfect with ice cream.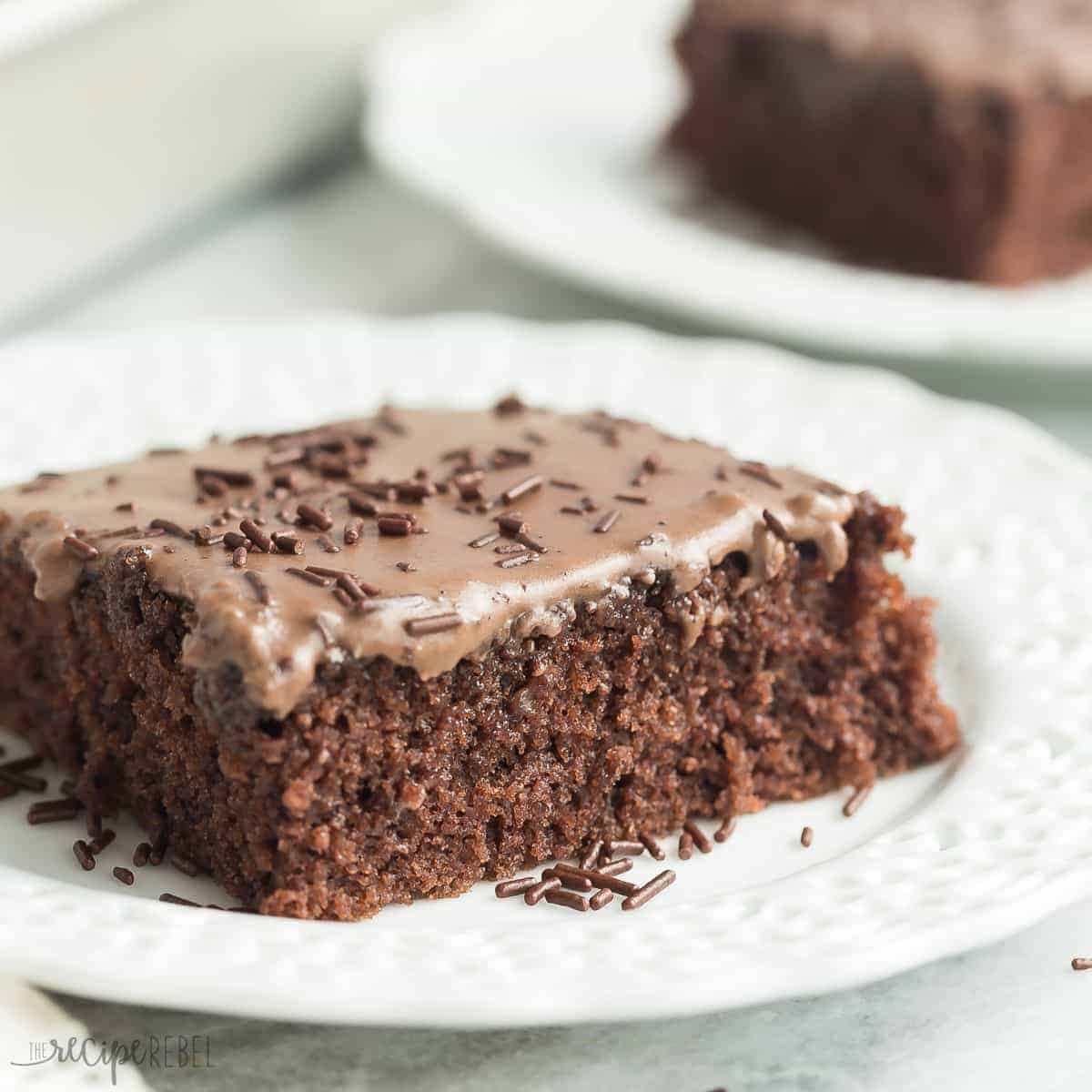 But there are times when you want something different, maybe something slathered in chocolate frosting, or something to take along and serve a great big group of people. They are equally good, but they are complete opposites as far as brownies go. These brownies are moist and cakey, but they pair perfectly with a layer of chocolate frosting!
And I think you need both!
*These brownies freeze beautifully — so you should definitely make a big batch even if you don't have to share!
See how easy they are to make in the recipe video!

20
adjust servings
Frosted Texas Brownies
These Frosted Texas Brownies are made with a whisk and a bowl -- no mixer required! They make a huge sheet pan and are perfect for potlucks!
Ingredients
1

cup butter, melted, room temperature

2

cups sugar

2

eggs

1/4

cup cocoa

3/4

cup milk

1

teaspoon baking soda

1

teaspoon vanilla

2

cups all purpose flour

1

cup coffee, cold (or use water)
Frosting
1/2

cup butter, melted

2

tablespoons cocoa

1/4

cup milk

3 1/2

cups powdered icing sugar

1

teaspoon vanilla
Instructions
Preheat oven to 400 degrees F and grease a 10x15" sheet pan (I like to line mine with tin foil before greasing!).
In a large bowl, combine butter and sugar with a whisk. Add eggs and whisk until smooth.
Add cocoa, milk, baking soda and vanilla and whisk until combined.
Stir in flour. Add coffee and stir until combined.
Spread into prepared baking sheet and and bake for 20 minutes, turning half way. Remove from the oven and cool to room temperature.
Frosting
In a medium bowl, combine butter, cocoa, milk, sugar and vanilla and whisk until combined. Spread over cooled brownies and let set -- or don't! Simply cut yourself a slab and dive right in 😉