These pie recipes will satisfy any sweet tooth! No-bake pies, fruit pies, cream pies, chocolate pies…all packed with delicious, rich flavors!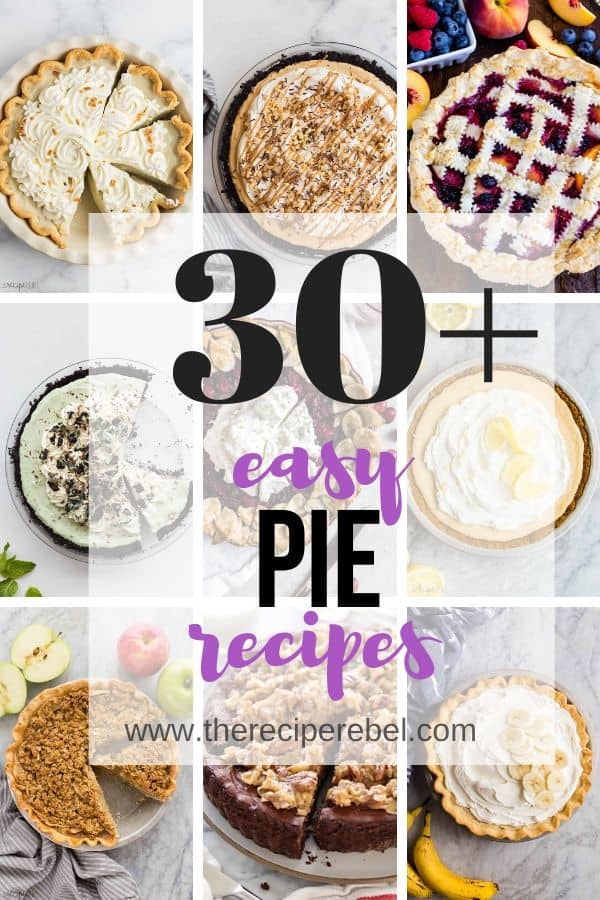 When it comes to desserts, pies are definitely a family favorite. They are such versatile desserts that can be used for multiple holidays, family gatherings and even seasons. 
Even though this year may be a bit different for us, I think it's still important to celebrate the holidays even if we can't gather like we'd like to!
One great thing about pie is it doesn't make a ton of servings (like a baked cheesecake or a giant layer cake), and our family of 5 (which includes two kids and a toddler!) can finish one off pretty quickly, making them the perfect dessert if your Easter celebrations are smaller this year.
I've got a number of pie recipes already on my site, but I thought I would share some from my blogger friends. 
Some of these recipes don't require an oven, which is great for those getting their feet wet with baking. Others can be made ahead of time, frozen or just assembled.
What's the difference between a pie, tart and cobbler?
Pies, tarts and cobblers are basically "cousins" in the dessert world. They have similarities but are different in their own way – mainly with the crust.
Most pies are encased in a top and bottom crust, like a traditional apple pie, with the exception of a few, like a pumpkin pie or a no-bake pie.
Tarts are just like pies but with a shallow bottom crust and no top crust.
Cobblers are more like a deep-dish pie with a thick top and bottom crust. Traditionally southern, they are usually baked in a casserole-style dish and topped with biscuits or batter. 
Add these pie recipes to your baking bucket list!
To get each recipe, simply click on the picture or the title above the picture.
No-Bake Pie Recipes
No Bake S'mores Pie – S'mores are a perfect ingredient for summertime! This recipe is loaded with fluffy marshmallow cream and made with a chocolate pudding for a slice of a campfire treat.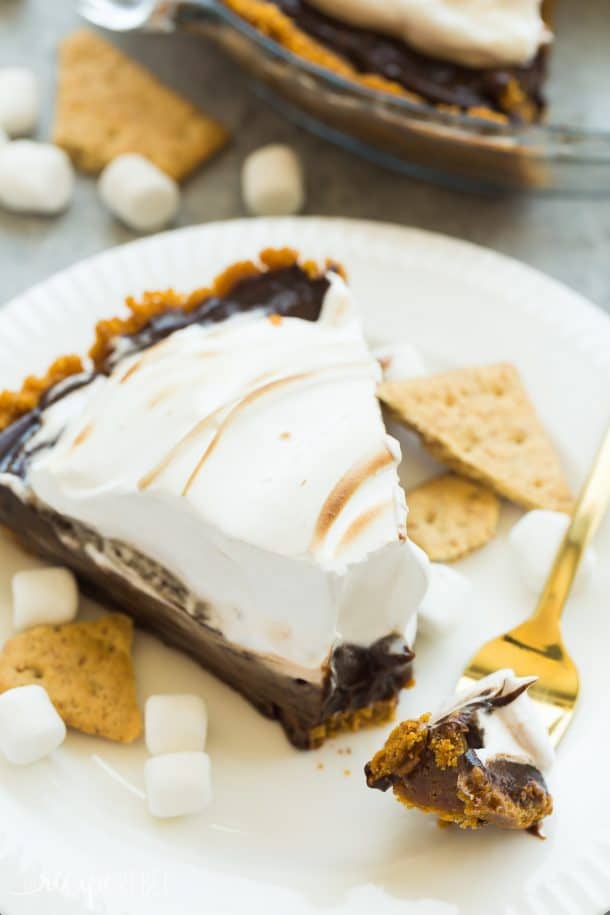 Grasshopper Pie – No bugs were harmed in the making of this recipe…kidding! This no-bake pie is minty-fresh with every bite. Not overly rich, but sweet enough to satisfy any sweet tooth.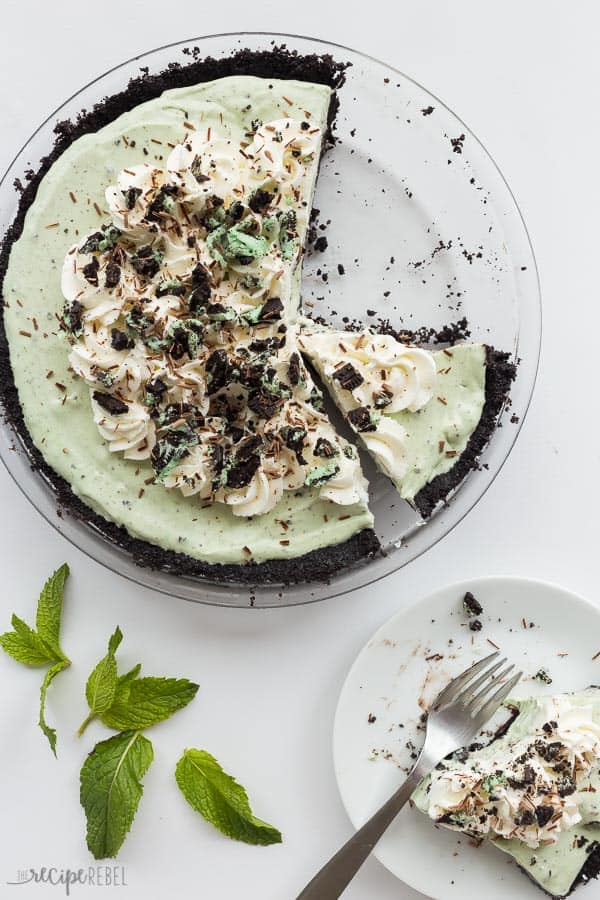 Turtle Pumpkin Pie – If you aren't into a homemade pie crust, use an Oreo or graham cracker crust for a no-bake solution. The pumpkin pie filling is topped with caramel drizzle, pecans and whipped cream.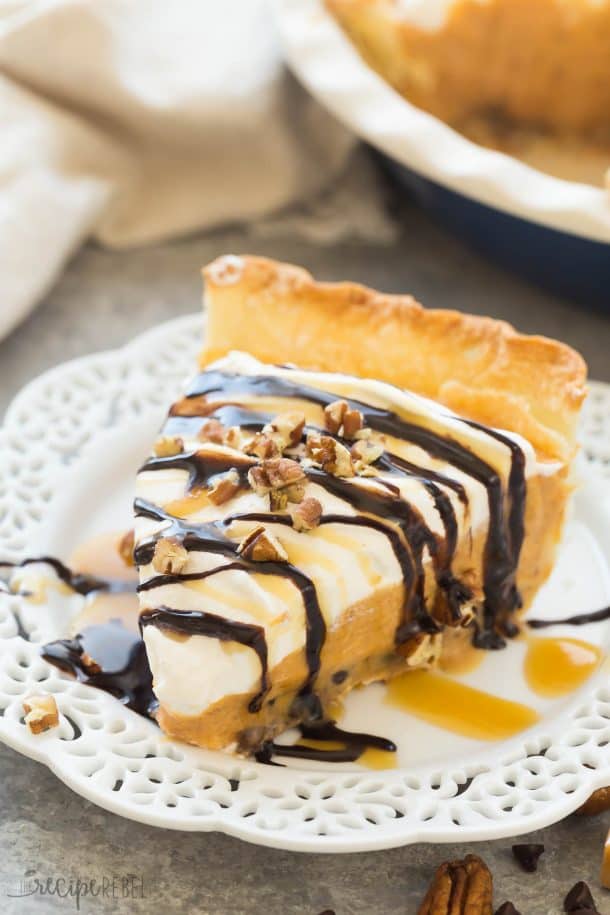 Peanut Butter Pie – We are completely obsessed with this no-bake pie! A light and creamy texture of sweet and salty with plenty of toppings like nuts, whipped cream, and drizzles of peanut butter.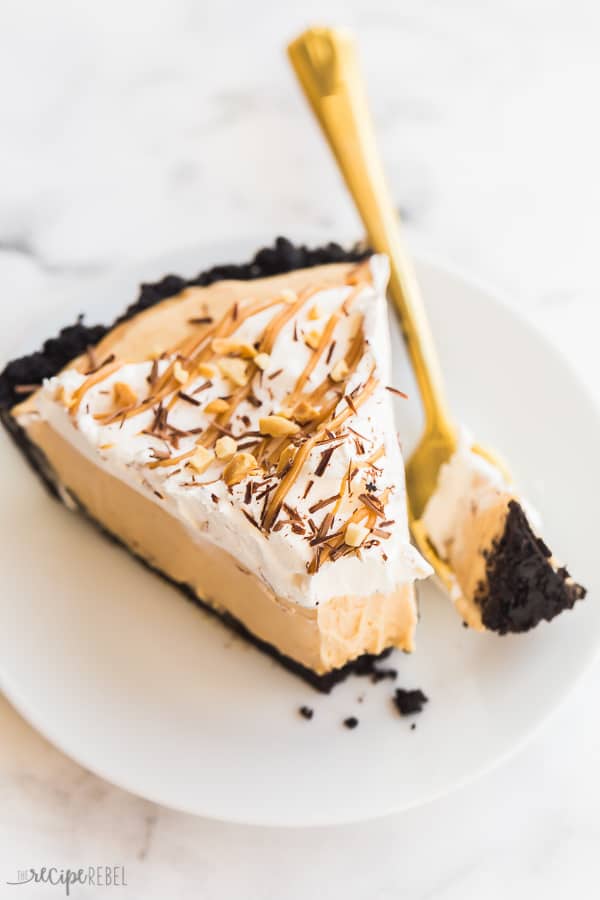 Easy Key Lime Pie – A taste of summer without heating up the kitchen. No-bake with a store-bought crust means a simple treat, perfect for bringing to a party or cookout!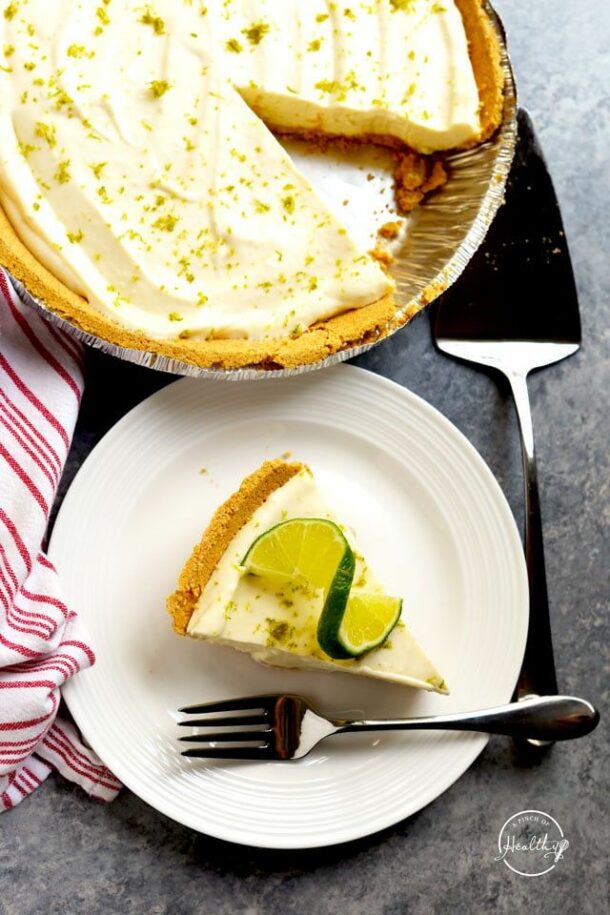 Pretzel Strawberry Ice Cream Pie – for those who enjoy salty and sweet! Made with fresh strawberries and crunchy pretzels, then topped with hot fudge.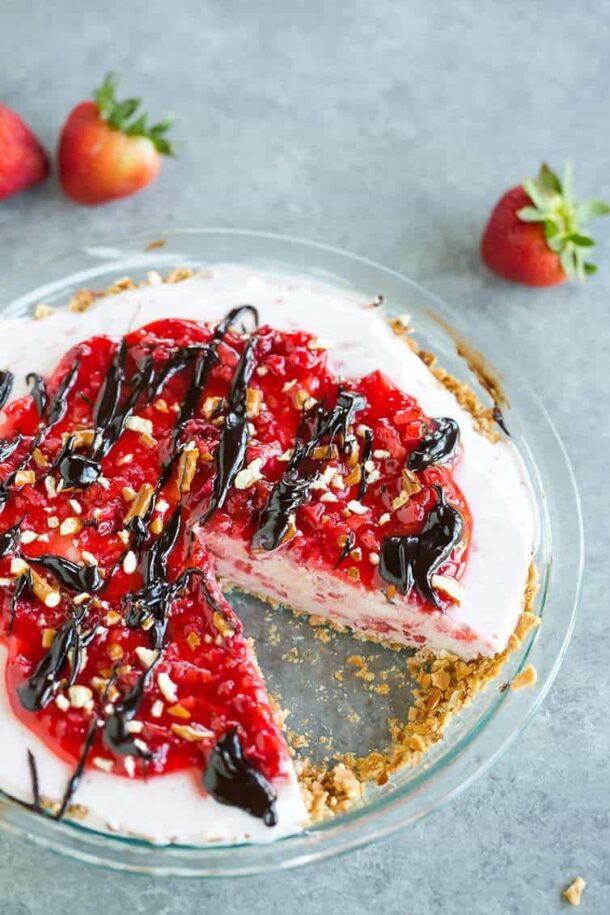 Marshmallow Pie – It's like a S'more in pie form. Fluffy marshmallows, chocolate, and a crispy graham cracker crust make this rich dessert a great one to serve after a long day of summer swims or around a campfire.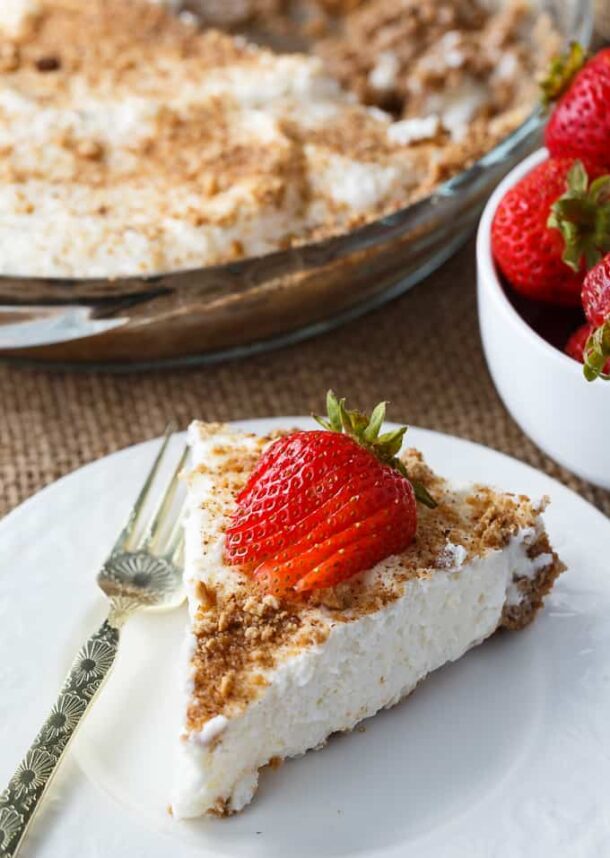 Cream Pie Recipes
Banana Cream Pie – There's a secret ingredient in this creamy, custard pie. I'll give you a hint: they are meant to be together, always.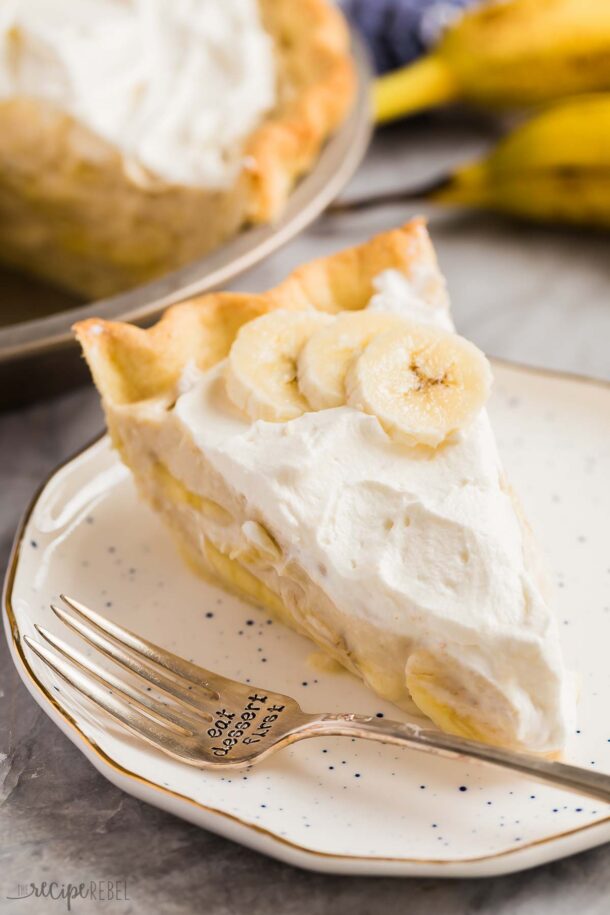 Easy Coconut Cream Pie – After the winter blues, we all crave the fresh, tropical flavors of coconut. This pie is made from scratch all the way down to the crust. It's a beautiful recipe for springtime, especially for Easter.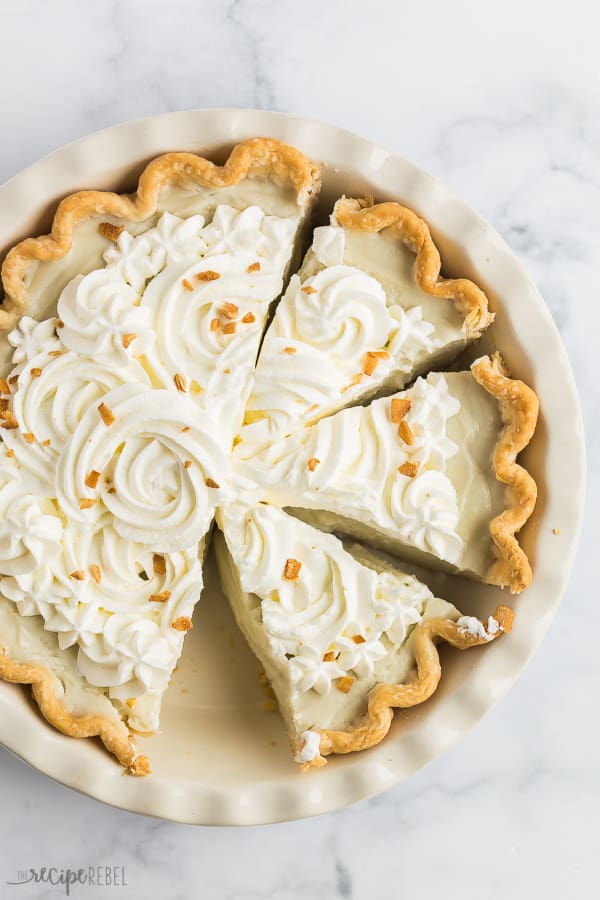 Chocolate Cream Pie  – Topped with beautiful chocolate curls! This pie is freezer friendly and made with an oreo crust and homemade chocolate pudding.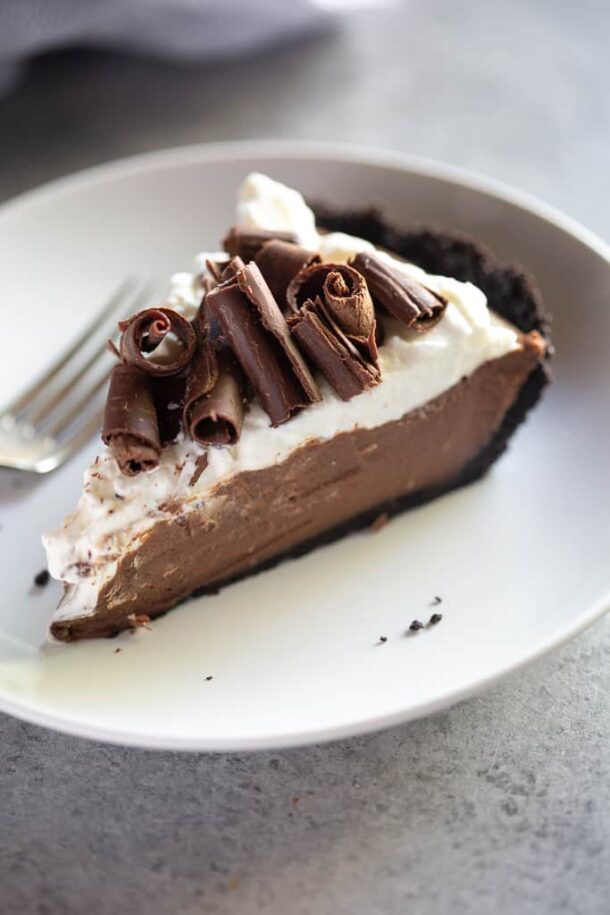 Cake Batter Cream Pie – Cake batter is a super popular flavor for kids and adults. Rich, creamy and with colorful sprinkles, this a great alternative to a birthday cake.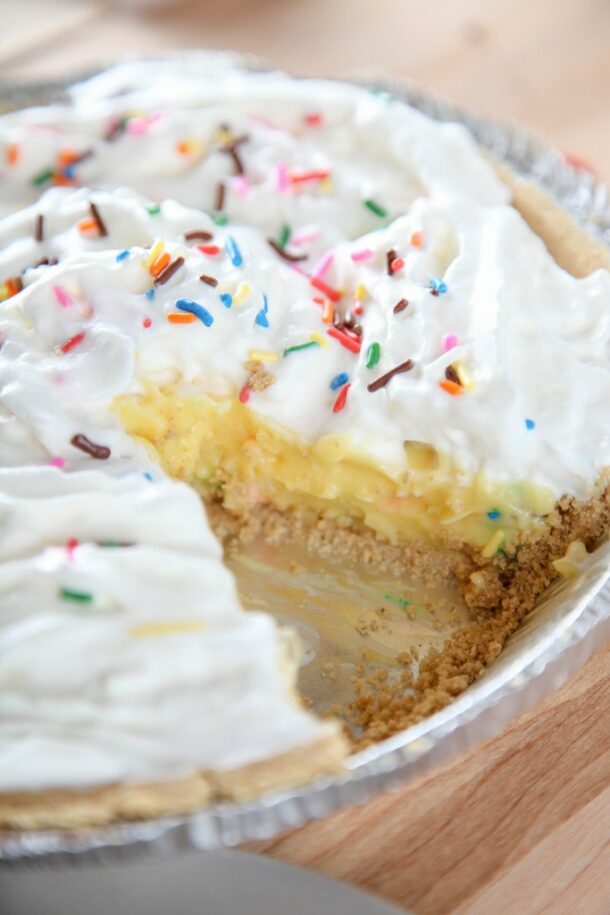 Cream Cheese Pumpkin Pie: This Cream Cheese Pumpkin Pie is made with a no bake cheesecake filling, a homemade pumpkin pudding and topped with whipped cream!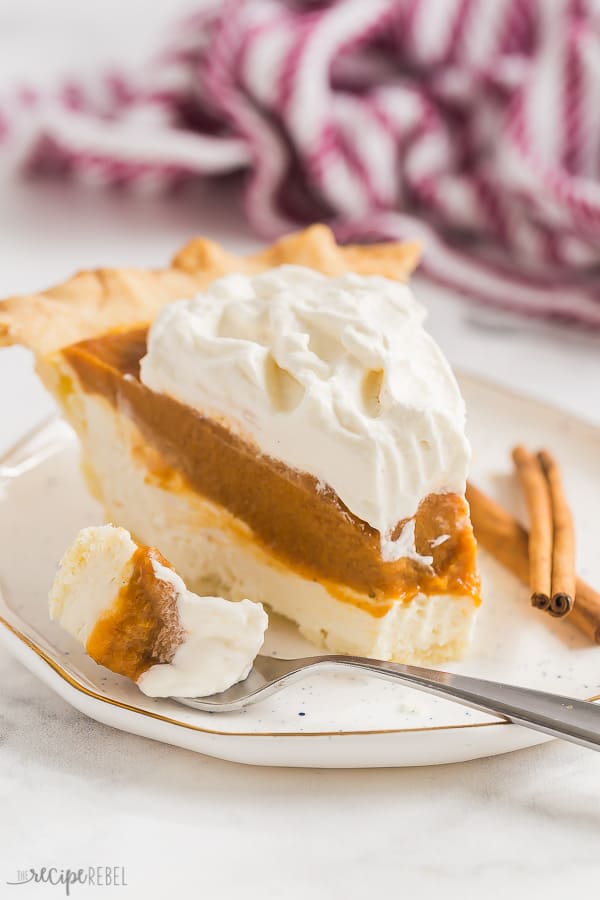 Fruit Pie Recipes
Strawberry Cream Cheese Pie – If you are wishing spring and summer to arrive, make this pie. A creamy homemade filling, topped with fresh strawberries will have you dreaming of warm afternoons with a slice of this pie!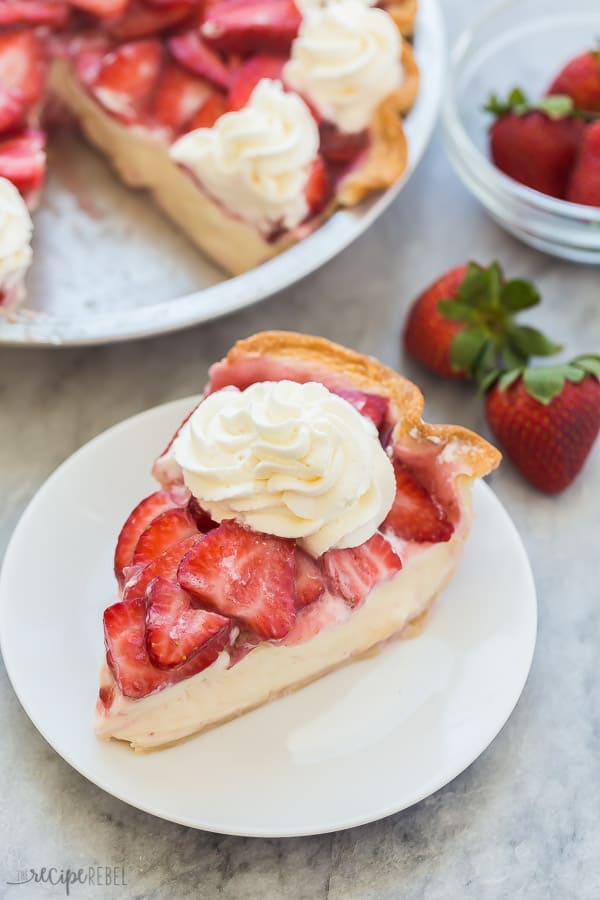 Easy Lemon Meringue Pie – If meringue scares you, I've got some tips for a stand-up meringue without the stress! One of my favorite things about this recipe is that you can enjoy it at any time of the year. Make this is the summertime for a refreshing treat or in winter when lemons are in peak season!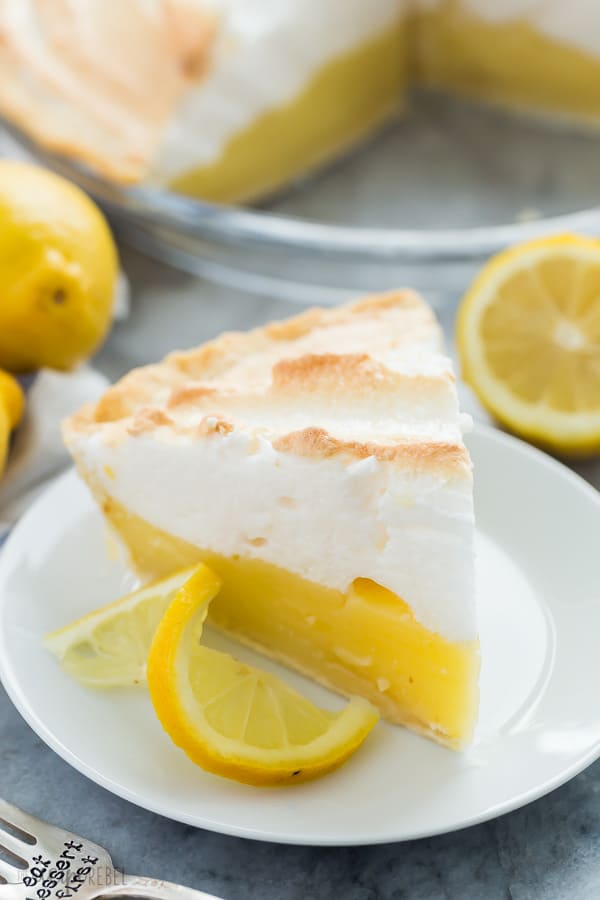 Streusel-Topped Fresh Strawberry Pie – The best way to use up summer berries! Made with fresh strawberries and topped with crunchy streusel, this recipe is the perfect complement to any summer party.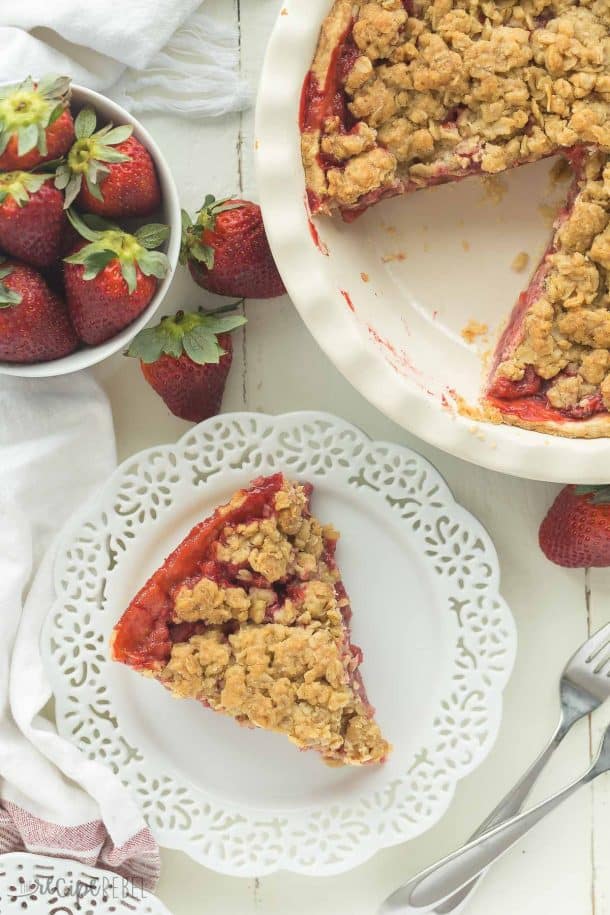 (Almost) No Bake Key Lime Pie – The less finnicky versions of a key lime pie. The only thing baked about this pie is the chocolate crust, which is essential. The no-bake filling is tart, sweet and creamy!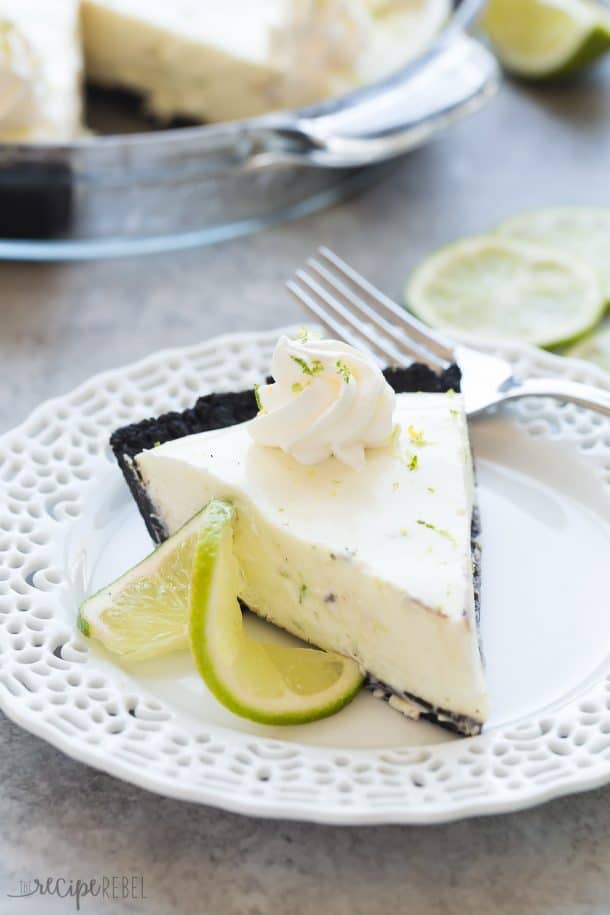 Apple Crumb Pie – Trust me when I say, the crunchy, oatmeal crumble takes it over the top! The filling is perfectly tart with a warm spices and pairs well with a cozy cup of coffee or tea. Top with ice cream for an extra treat!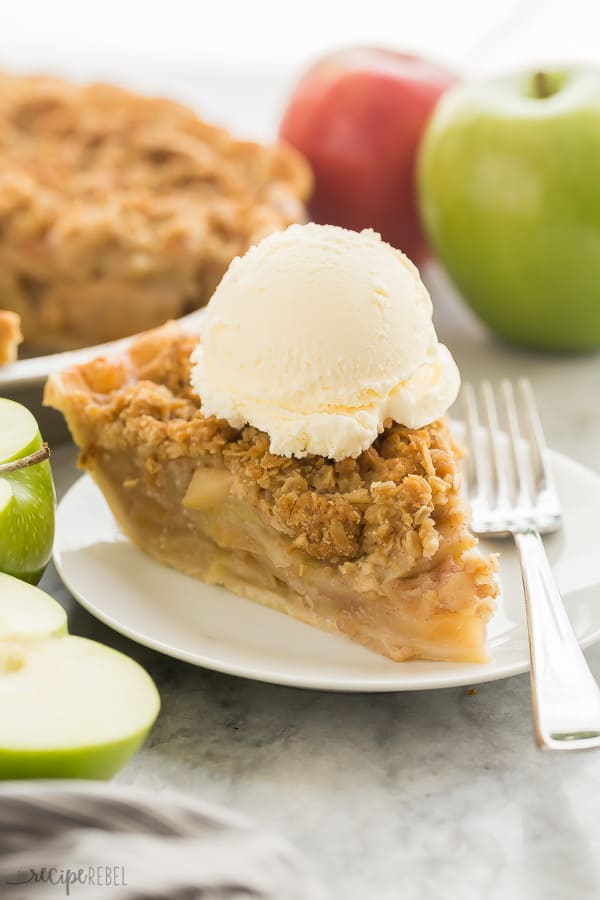 Raspberry Peach Blueberry Pie – this easy fruit pie can be made any time of year with fresh or frozen fruit!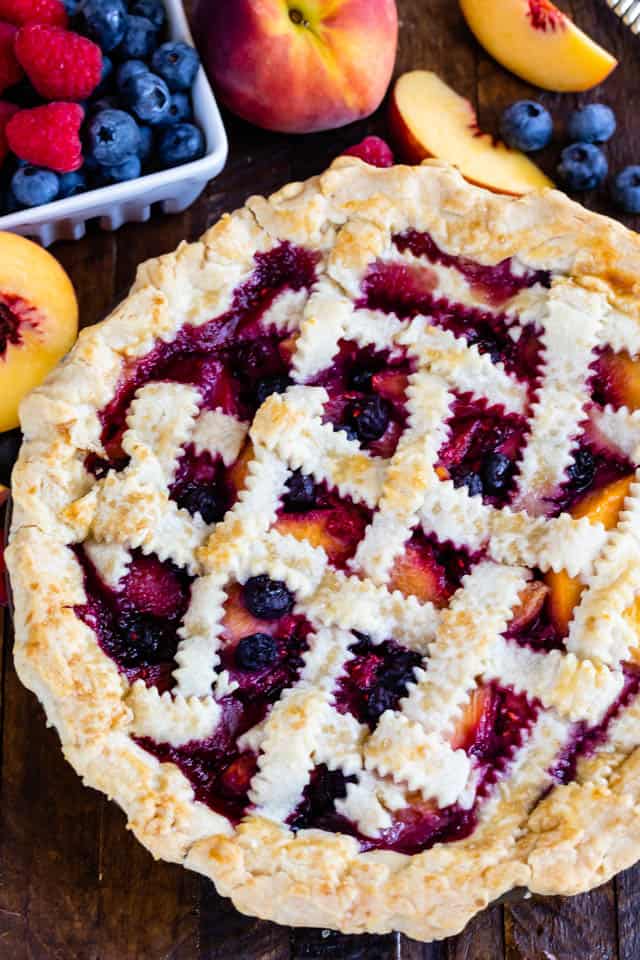 Lemon Ice Box Pie – Refreshing, creamy and simple. What more could you ask from a pie recipe? With easy make-ahead steps, you can take the stress out of entertaining and enjoy a slice of pie with your guests.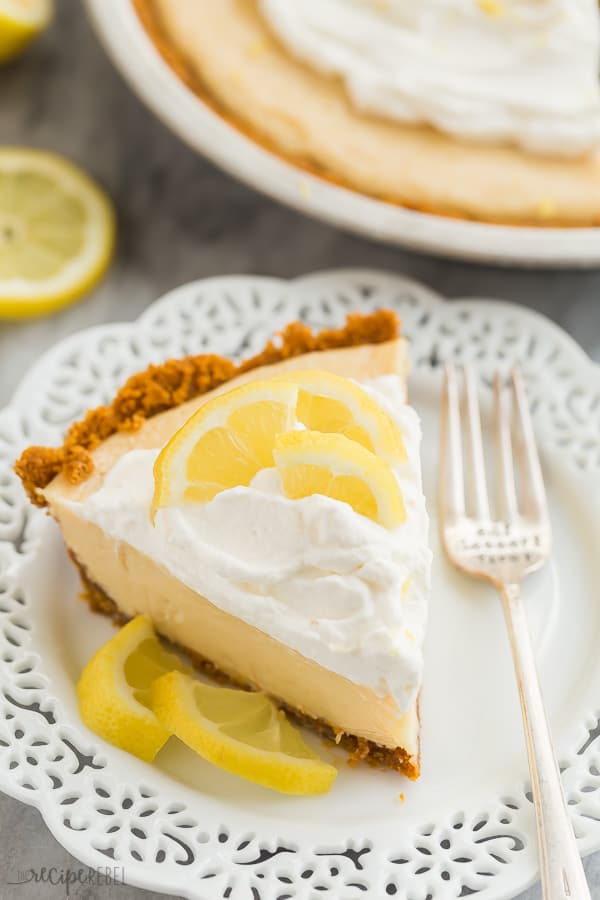 How To Make Homemade Apple Pie – The step-by-step photos make this recipe easy as pie! Made from scratch with granny smith apples and a homemade crust.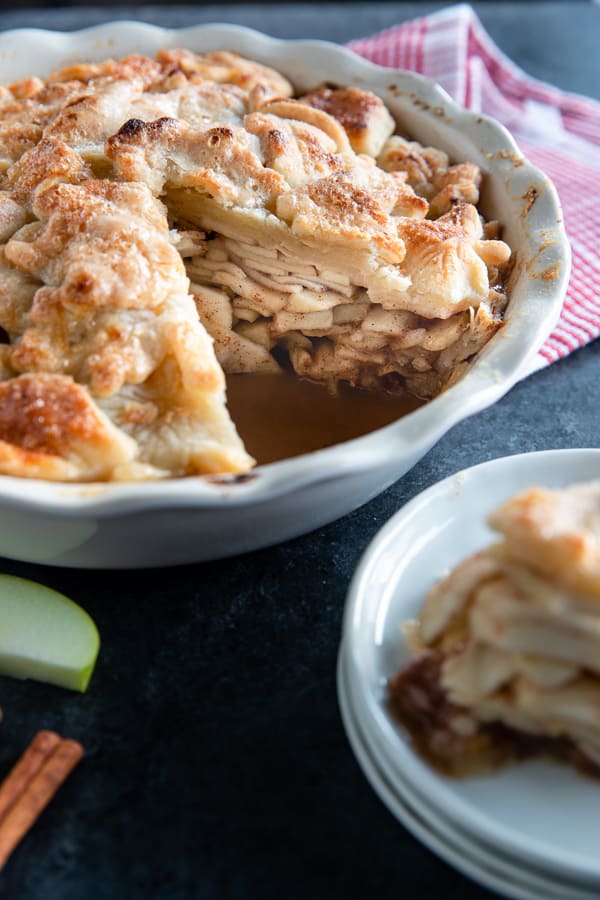 Raspberry Lemonade Icebox Pie – A refreshing summer dessert filling with creamy raspberry lemonade. Perfect served poolside!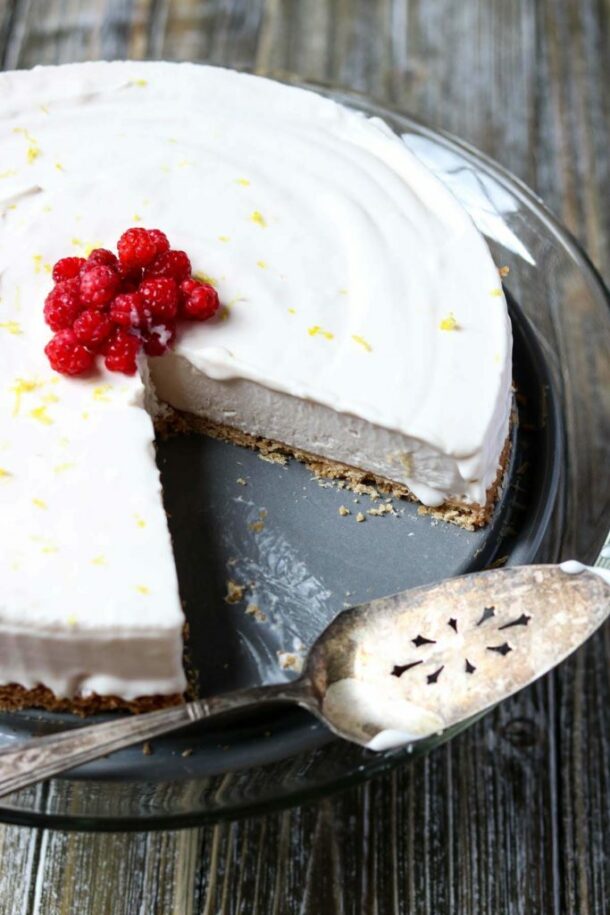 Homemade Pumpkin Pie – The holiday pie we all grew up on! A simple recipe that's a great way to get kids involved in the cooking.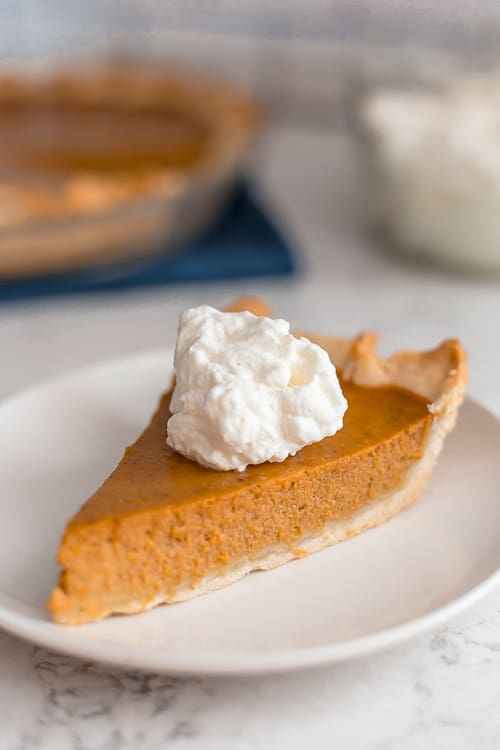 Easy Cranberry Pie – Homemade and a beautiful presentation! The rich color and flavor of the cranberries and orange zest gives a traditional pumpkin pie a run for its money.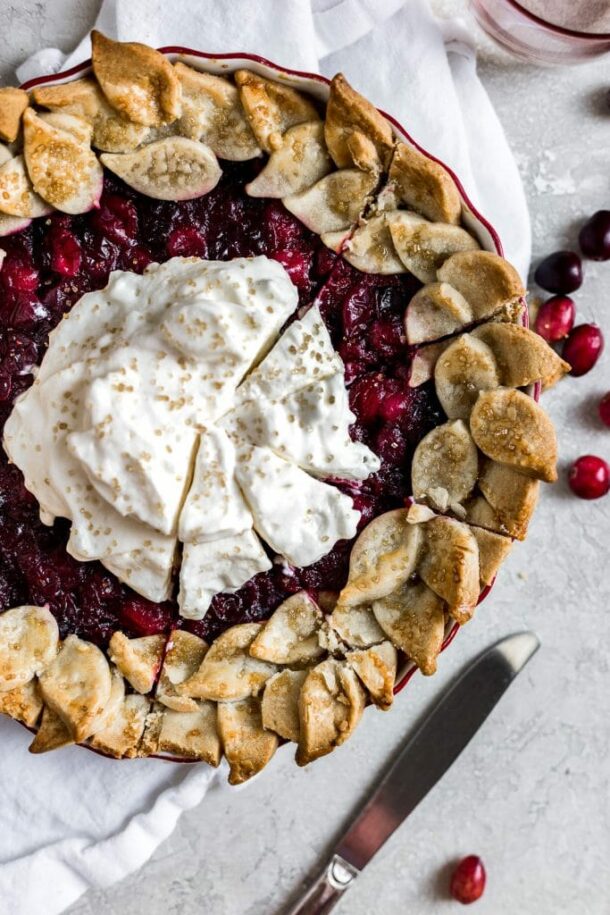 The Best Blueberry Rhubarb Pie – What a way to welcome spring! Plump blueberries and rhubarb give this pie a mix of tart and sweet flavors.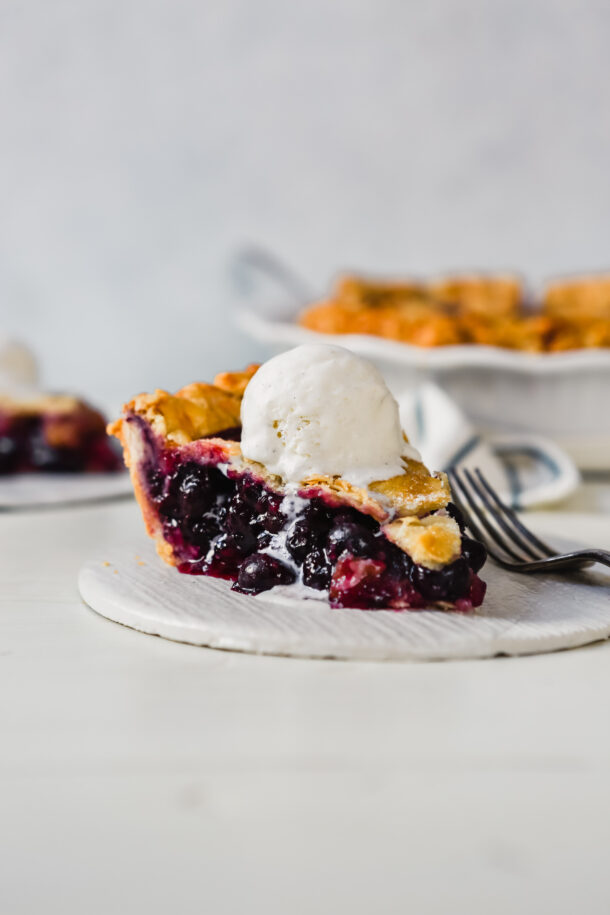 Chocolate Pie Recipes
Homemade Dark Chocolate Pudding Pie – A chocolate lover's dream! Rich and creamy, this dark chocolate dessert will be a decadent addition to your holiday dessert table.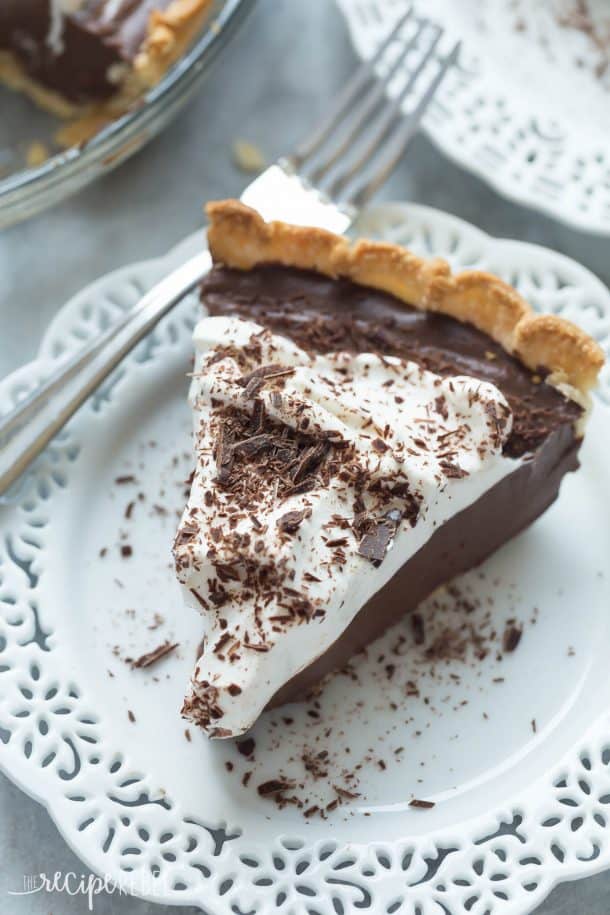 French Silk Pie – This silky chocolate pie involves almost zero cooking and no raw eggs! Smooth, light but sinfully rich, this pie will make a gorgeous presentation for any occasion.
Sky High Chocolate Mousse Pie – A sky-high chocolate mousse pie! The easy tutorial makes the intimidating mousse a piece of cake.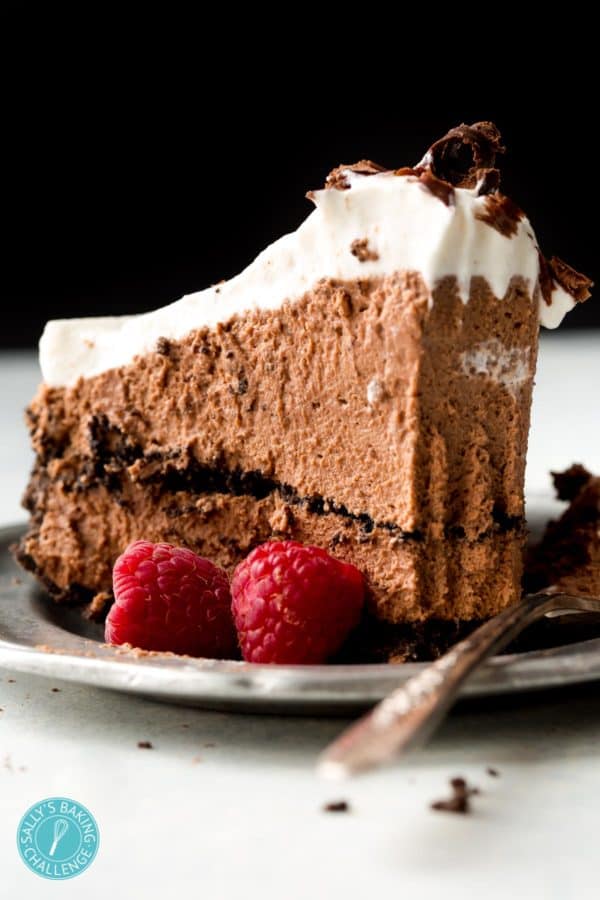 Best Chocolate Chess Pie – Filled with a rich, creamy, chocolatey custard, this pie is every chocolate lover's dream!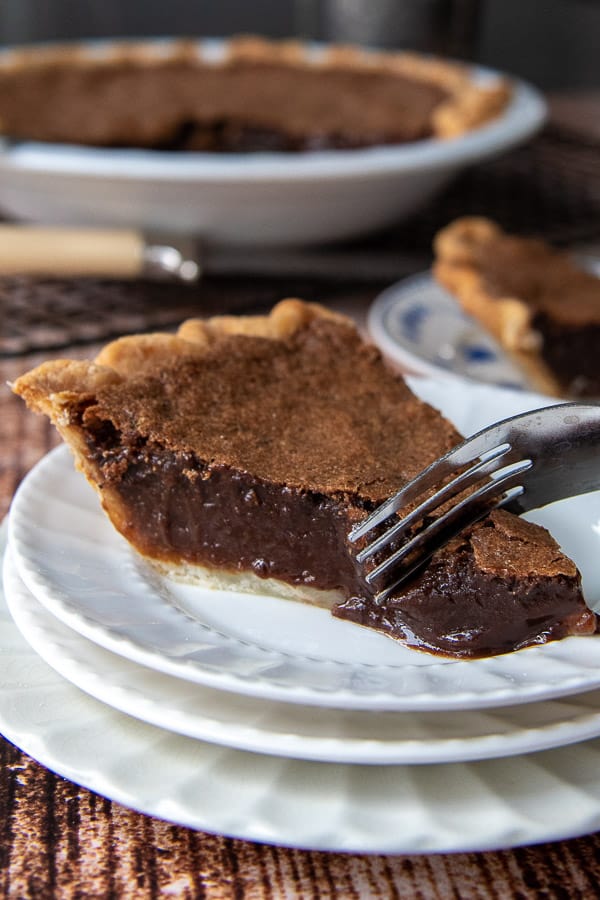 German Chocolate Brownie Pie – The combination of a classic brownie and a traditional German chocolate cake makes this dessert an ultra-rich treat!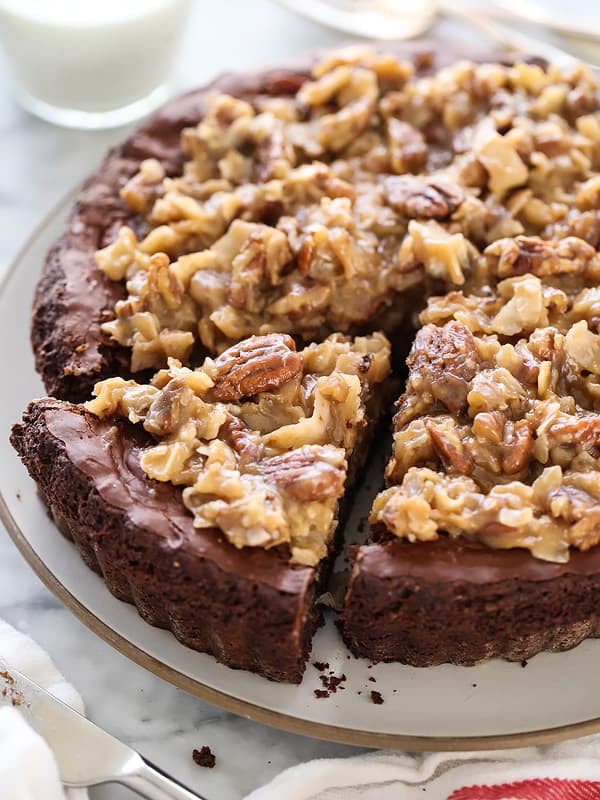 Mini Pie Recipes
Mini Raspberry Pies – Just like an old fashioned latticed pie, these adorable mini versions make a classic dessert easy to grab. A great idea for potlucks and family get-togethers!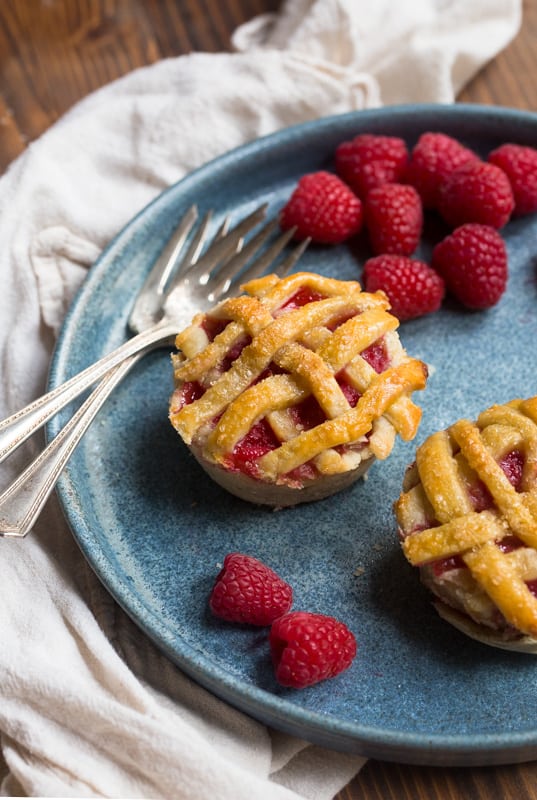 Mini French Silk Pie – Creamy, silky and decadent. These mini pies are the perfect size for serving dessert to dinner party guests!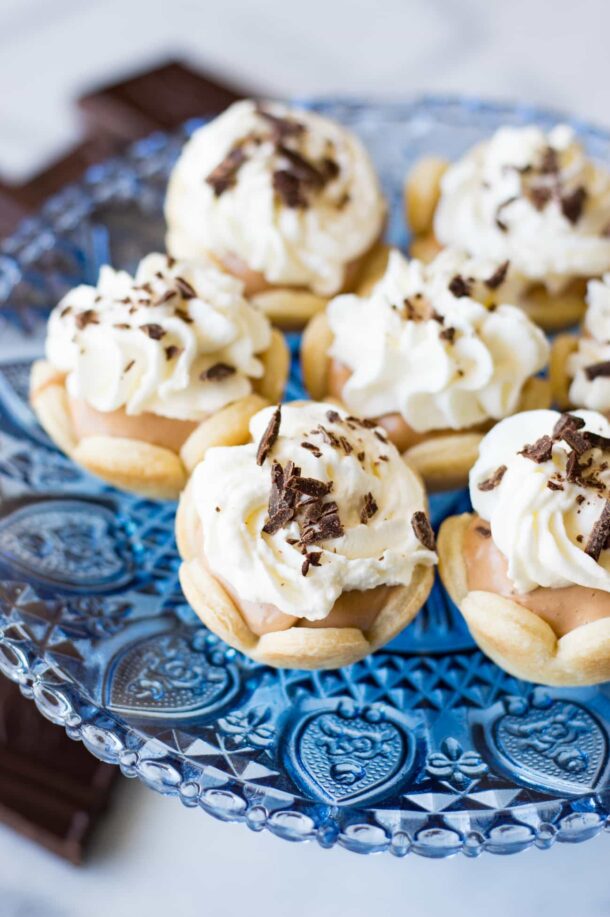 Mini Nutella Pies – A rich little dessert packed with flavor! Our favorite Nutella spread creates a fluffy mousse and is drizzled with chocolate and topped with chocolate curls.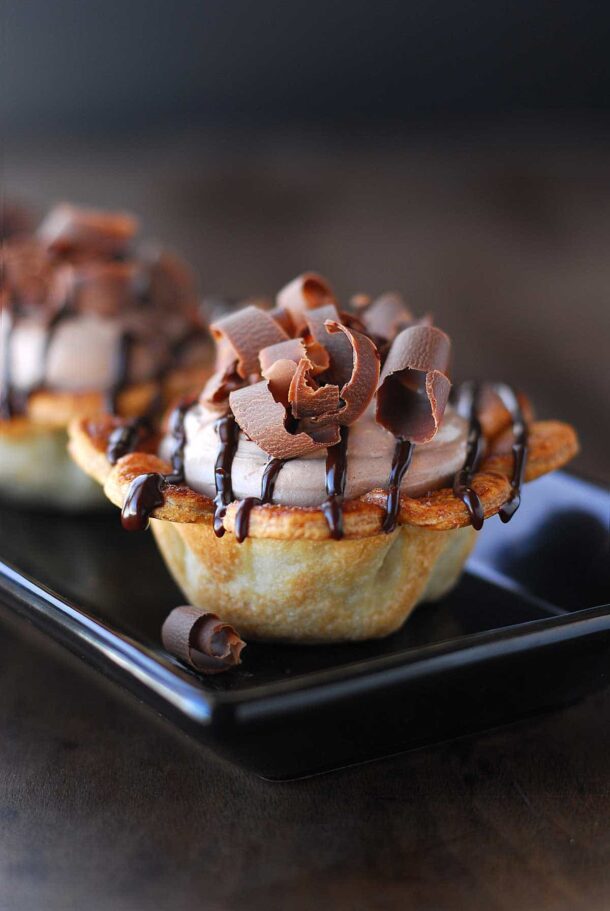 Mini Pecan Pies – A traditional dessert made easy to eat! Place these on your Thanksgiving dessert table for an elegant and convenient way to serve pie.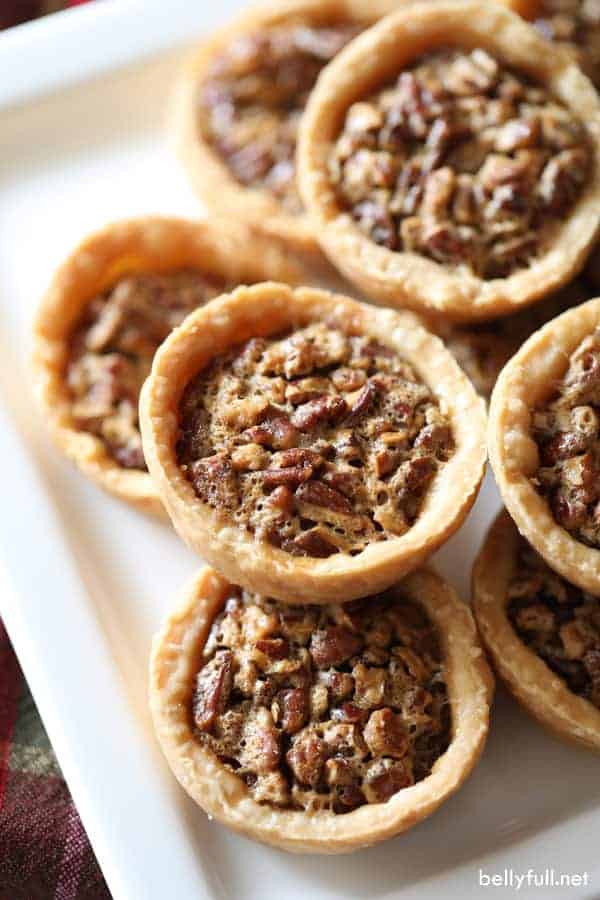 Mini Cider Spiced Cranberry Apple Pies – An individual-sized dessert packed with big fall flavors. Nutmeg, cranberries, apples, cinnamon with a streusel topping!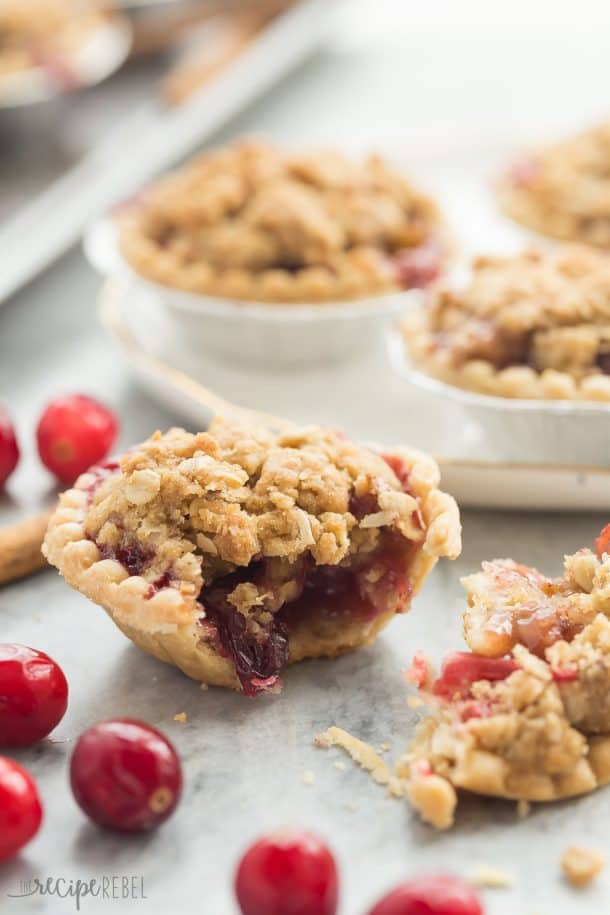 Mini Turtle Pudding Pies – The perfect bite-sized treat for your dinner party guests. Volunteer to bring dessert to the next potluck, office party or holiday.