BBQ chicken, pineapple, red onion, barbecue sauce and cheese, all loaded up in a tender potato shell, and grilled on the barbecue! The perfect summer appetizer or picnic lunch.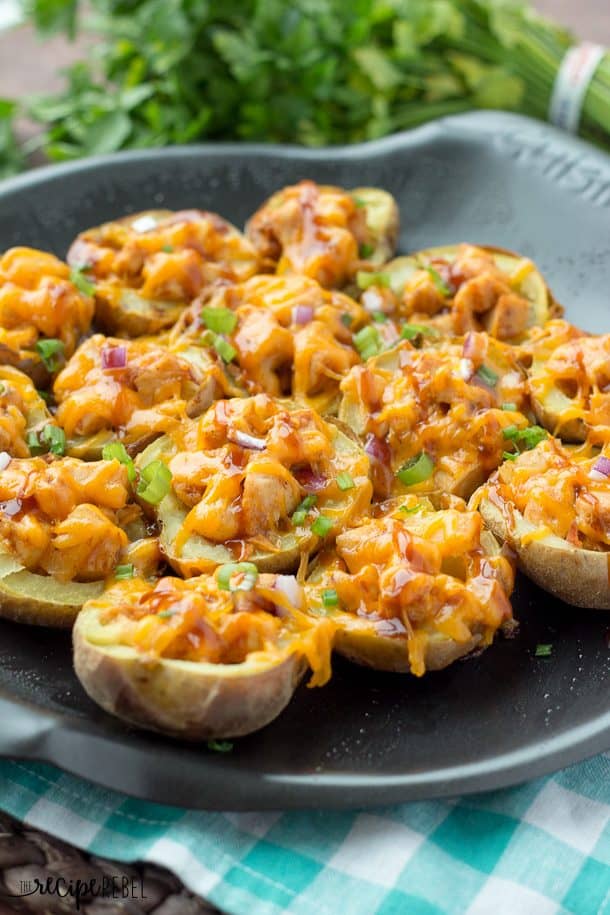 I don't think I've ever been more excited about grilling season than I am this year.
I don't know why, but I suspect it has something to do with being on maternity leave since December last year. I've spent a good deal of time inside the house, caring for one or both kids, and when the weather started getting warmer I started to get a bit of cabin fever.
And though I love my kitchen, I spend a lot of time there, and so I'm excited to get out of the kitchen this summer and bring you more grilling recipes!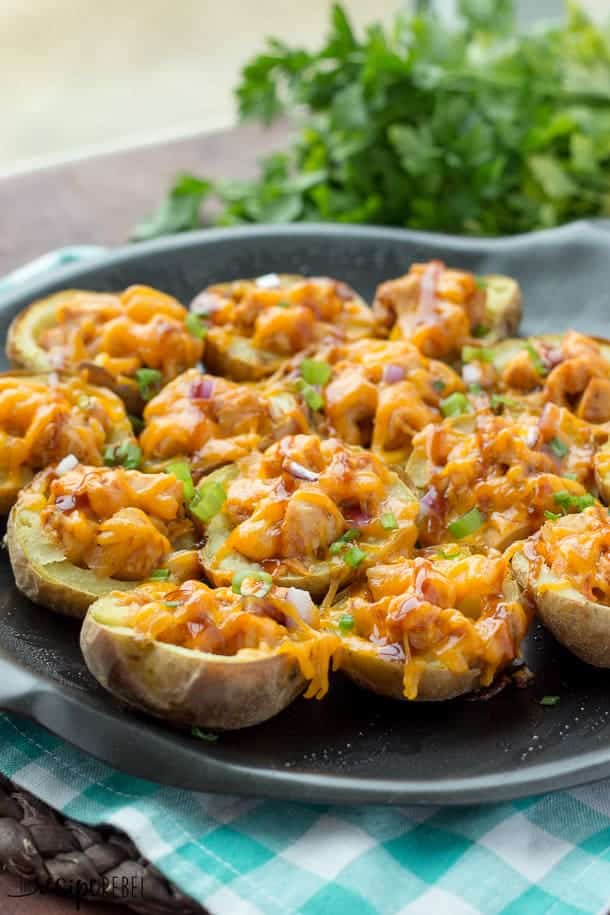 When I got this Nacho Grilling Platter from Cuisinart to review, I knew right away that I wanted to do BBQ Chicken Potato Skins. As much as I love my nachos, I love that these are a meal in one if you need them to be. That, and that they can be made completely ahead of time, or partially ahead of time, which is perfect for entertaining. Check out the notes in the recipe for tips on how to prepare ahead of time!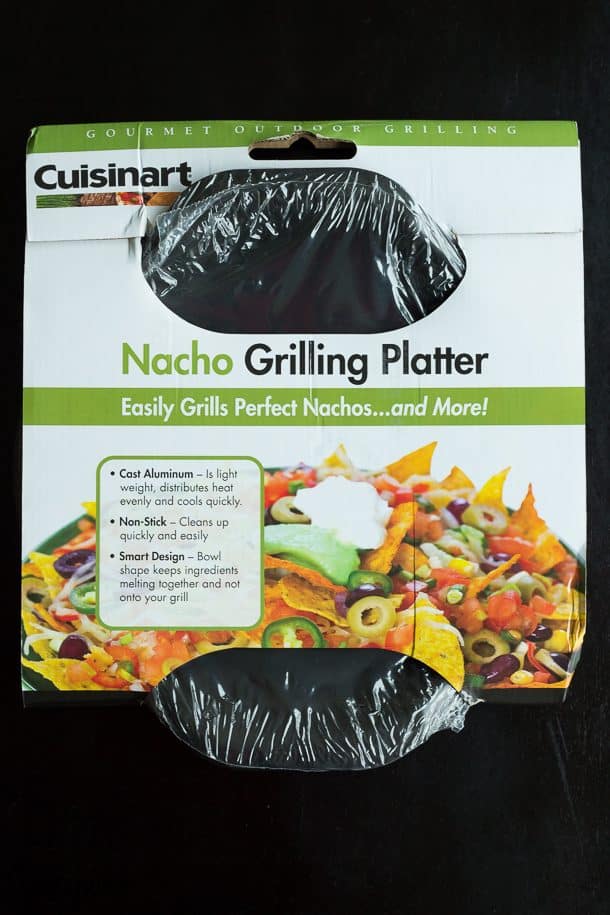 So last summer, I was all about cooking and baking whatever I want, regardless of how hot the house would get. We didn't have A/C, but I didn't even care. I was all like, "I'm gonna make mac & cheese even though it's 300 degrees out."
This year, I'm really excited to not only grill meat, but all kinds of side dishes and complete meals as well. Like these BBQ Chicken Pizza Kebabs? One of my favorite new recipes!
Which is probably part of the reason I was excited to review this Nacho Grilling Platter from Cuisinart.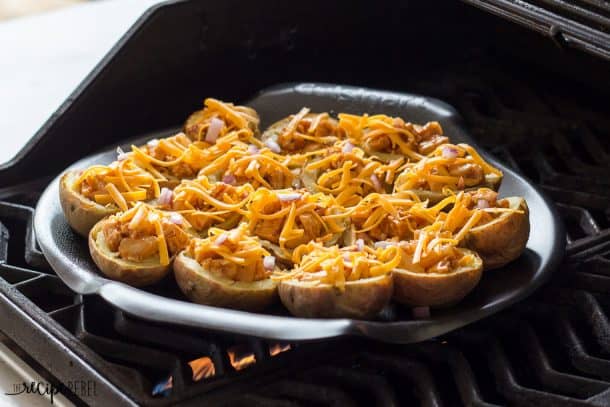 To keep things simple, here are a list of my pros and cons:
PROS
A super simple design: I wasn't exactly sure how the grilling platter would look, if it would be a solid piece or be perforated. But I really like that it's just one solid, smooth piece because it makes it easy to use and easy to clean.
Non-Stick: and I mean non-stick. When I was moving the platter with my potato skins into the house to snap more photos, I actually lost two potato skins because they slid right off! This also makes it super easy to clean.
It's not flat: I really like that it has sloped sides because it means you can make so many more things "grillable" – from scrambled eggs and hashbrowns, veggies and delicate foods, and all kinds of things you might need to stir and don't want sliding over the edge.
It's inexpensive:see it on Amazon here
CONSThough there aren't any really negative things about it, here are some things to consider:

There are other things you could use to do the job: a cast iron skillet perhaps, or even a piece of tin foil (which is actually what I used to grill the few that didn't fit on the platter). I mean, obviously, a piece of tin foil is not going to do the same job. You aren't able to carry the potato skins around on a piece of tin foil, and tin foil wouldn't work well at all for nachos. You wouldn't be able to make them on it in advance.
I haven't checked out any similar products so I'm not sure how they would compare in price or quality.

OVERALL

Overall I think it's a good product for the price. I know I will use it plenty this summer to cook a variety of things and keep the house cooler, especially since it's easy to clean and doesn't take up a lot of storage space.

Recipe notes:

This recipe would be perfect for leftover grilled chicken! I used chicken that I cooked in a pan on the stove, just because I needed to be inside while my kids were up. You'll need about 1-2 chicken breasts depending on the size.
This Pineapple Brown Sugar Barbecue Sauce is what I use – it's one of our favorites!
I'm the kind of person who hates having pieces of food leftover in the fridge that I don't know how to use up. The extra cooked potato from these potato skins would be great for these Perogy-Stuffed Shells or Potato Salad!
If you don't like pineapple or red onion, just leave it out. If you want to add some diced red pepper or some cooked bacon? Go for it! You can really use any amounts of filling ingredients that you like, and customize to your tastes.
Have leftover filling? Make a BBQ Chicken Grilled Cheese or Quesadilla!

16 potato skins

adjust servings

Grilled BBQ Chicken Potato Skins and a Cuisinart Nacho Grilling Platter Review

Grilled BBQ Chicken Potato Skins: BBQ chicken, pineapple, red onion, barbecue sauce and cheese, all loaded up in a tender potato shell, and grilled on the barbecue! The perfect summer appetizer or picnic lunch. www.thereciperebel.com

Ingredients

8

medium potatoes

1-2

chicken breasts, cooked, chopped (or about 1 1/2 - 2 cups cooked, diced chicken)

2

tbsp finely chopped red onion

1/2

cup finely chopped pineapple

1/2

cup barbecue sauce (see notes above for my favorite!)

1

cup + 1/2 cup shredded cheddar cheese

Green onion or parsley for garnish, optional

Instructions

Preheat the oven to 350 degrees F and line a baking sheet with tin foil. Bake potatoes whole for 40-60 minutes until tender (this will depend on the size – they are done when a sharp knife goes in and out easily). You could also boil or grill the potatoes until cooked through. Set aside until cool enough to handle.
In a medium bowl, combine chicken, red onion, pineapple, barbecue sauce, and 1 cup cheddar cheese.
Slice each potato in half and scoop out the inside, leaving enough around the edge so that they are still sturdy enough to hold the filling (see picture). Spoon filling mixture into each potato half.
Place on lightly grease nacho grilling platter (or suitable substitute).
Preheat barbecue to 400 degrees F. Place grilling platter on the barbecue and grill for 10-12 minutes, until cheese is melted and potato skins are heated through.
Serve with green onion or parsley as garnish, or drizzle with additional barbecue sauce if desired.

Recipe Notes

*To make ahead, you can prepare the potato skins completely, wrap in plastic wrap and refrigerate for up to 8 hours before grilling.
If you want to make them further ahead, you can bake your potatoes and leave them whole, in an airtight container or tin foil, and mix your filling and store in an airtight container, up to 24 hours in advance. Then simply half and hollow out your potatoes and fill them before grilling.
*I was sent this product free to give my honest review — this post is not sponsored by Cuisinart.