A grilled BBQ Chicken Pizza on a stick! Red pepper, pineapple, red onion, chicken and pizza dough all covered in pineapple brown sugar barbecue sauce, skewered and barbecued to smoky, grilled pizza perfection.
I am a genius.
You're welcome.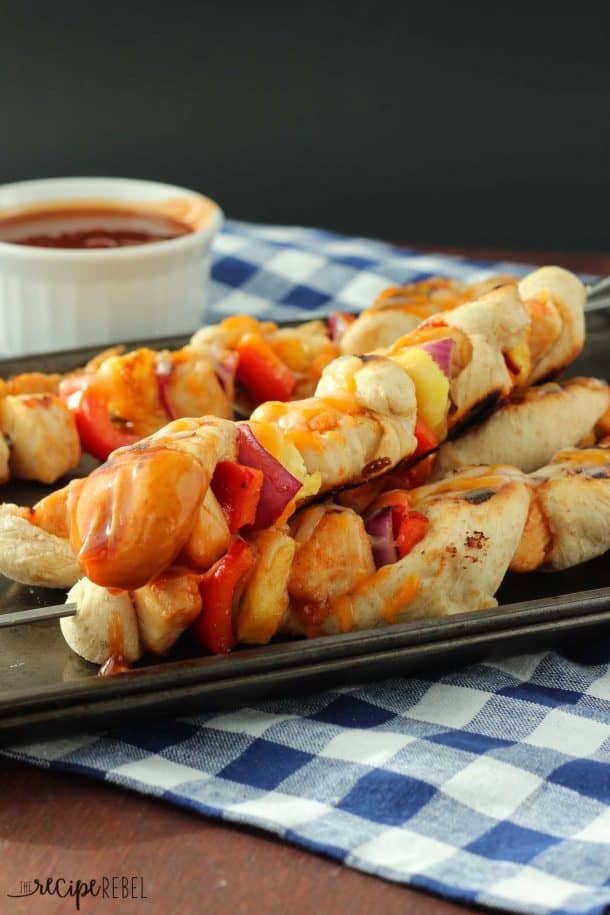 Sometimes, you just can't deny it.
I got the idea of these from this meatball sub on a stick idea that you've seen – yep – pretty much everywhere.
Sometimes my mind works in mysterious, wonderful ways, and I was just thinking about things to grill this summer, and skewers, and meatball subs on sticks, and –hey – why couldn't I take that idea and make a grilled pizza kebab?!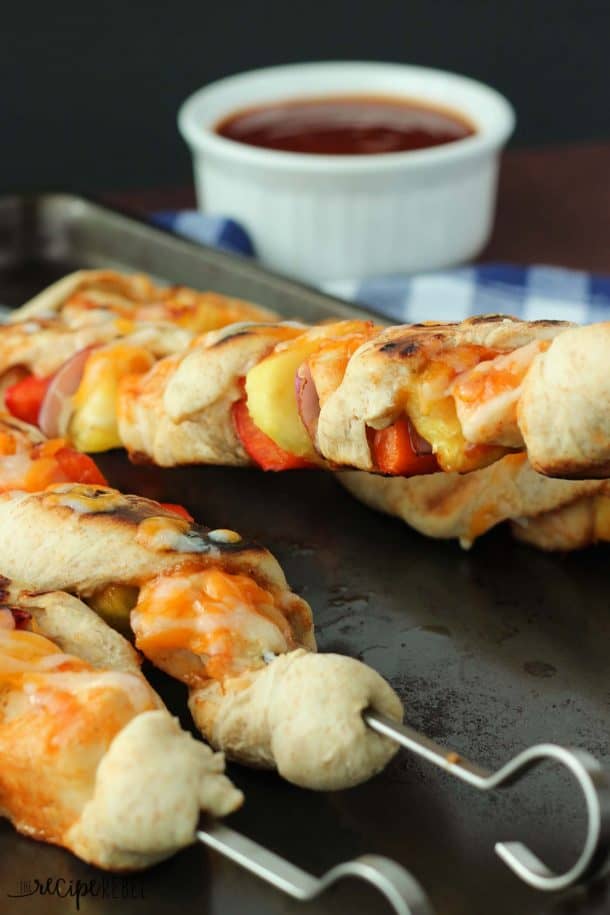 I could.
I did.
It rocked my world.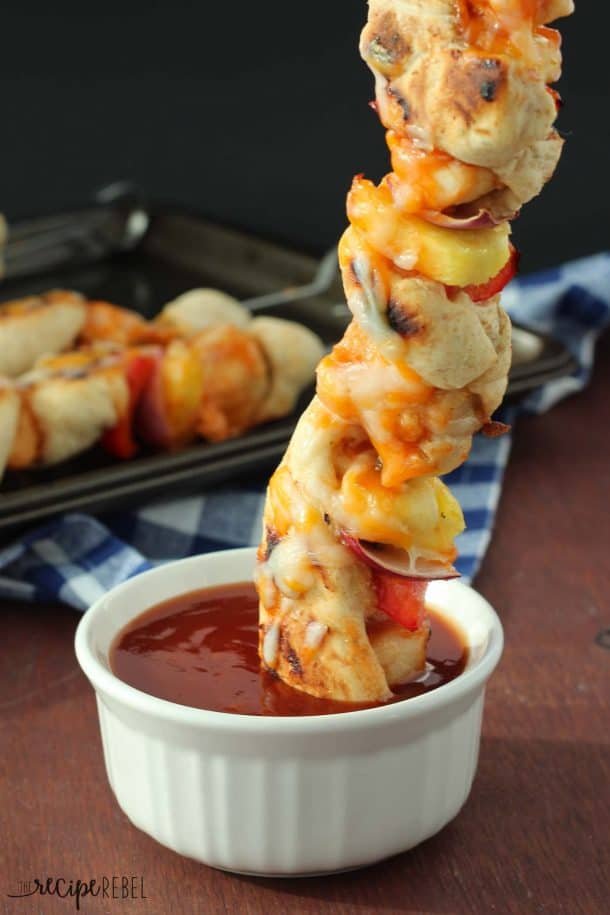 At first, I wasn't quite sure how to go about this. Usually, we'd use those cheap wooden skewers that you soak in water, and then they get totally burnt once you grill them anyway. But I decided that blackened wooden skewers weren't on the menu so I splurged and bought a couple packs of these metal skewers for $2 each.
And let me tell you, they are so totally worth it. I will never go back! There's no wood splinters in your food, there's no soaking, there's no burning, they're sturdy – and the pizza slides easily down the metal skewer so you can dunk every inch in that glorious sauce. If you use the wooden skewers, your dunking experience might not be quite the same.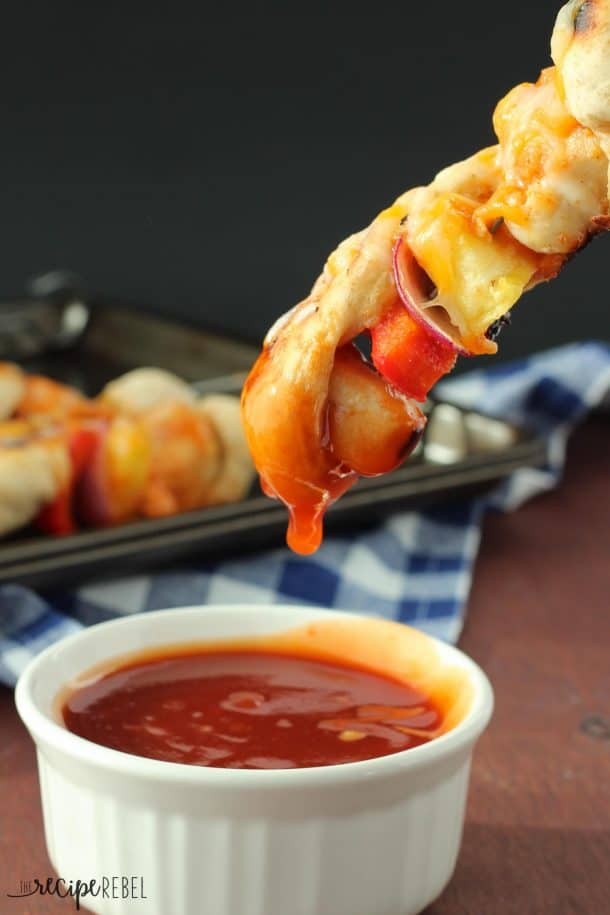 Do you cook the chicken? Leave it uncooked? Normally, you would skewer uncooked chicken and grill it, but that didn't seem right. So I cooked the chicken in a pan before adding it to my pizza kebabs.
I really recommend getting everything lined up before you start. I made my barbecue sauce the night before (you could use bought, but this stuff is kind of amazing, and so easy!) and stuck it in the fridge. I cut up my pineapple, red pepper and red onion in quite large pieces. I had my chicken cooked and ready to go. I had a pan to put the kebabs on to take them to the barbecue.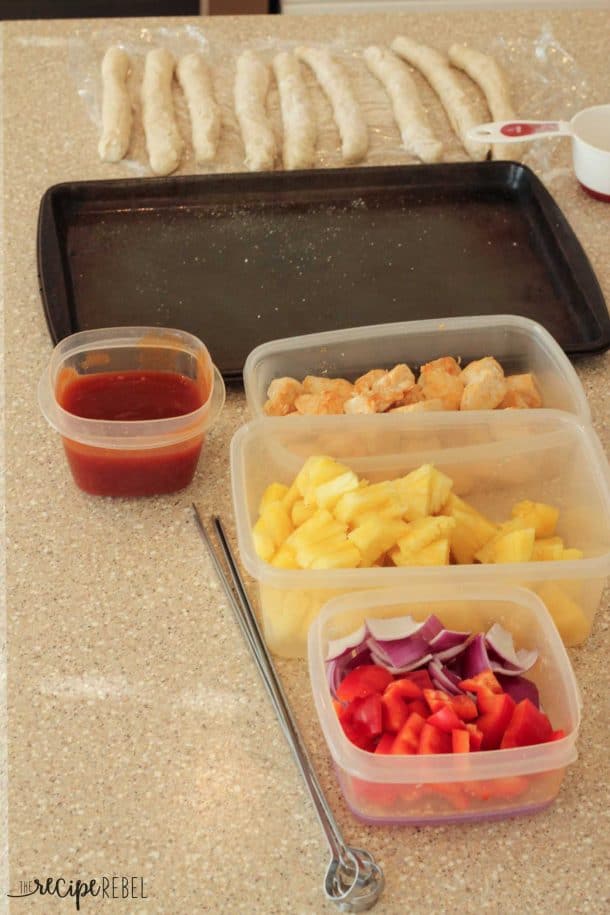 I used a half recipe of this pizza dough, but you could easily make the whole thing and have more skewers (remember to cook more chicken and cut up more veggies then), or you could make a pizza with the other half, or you could stick it in the freezer and use it later on.
I also recommend using a piece of tin foil, sprayed with cooking spray on both sides, to cook these on the grill. It will be easier to lift them and flip them, and it will keep them from getting too dark. It will also make sure that not too much of your cheese falls through the cracks – we wouldn't want that!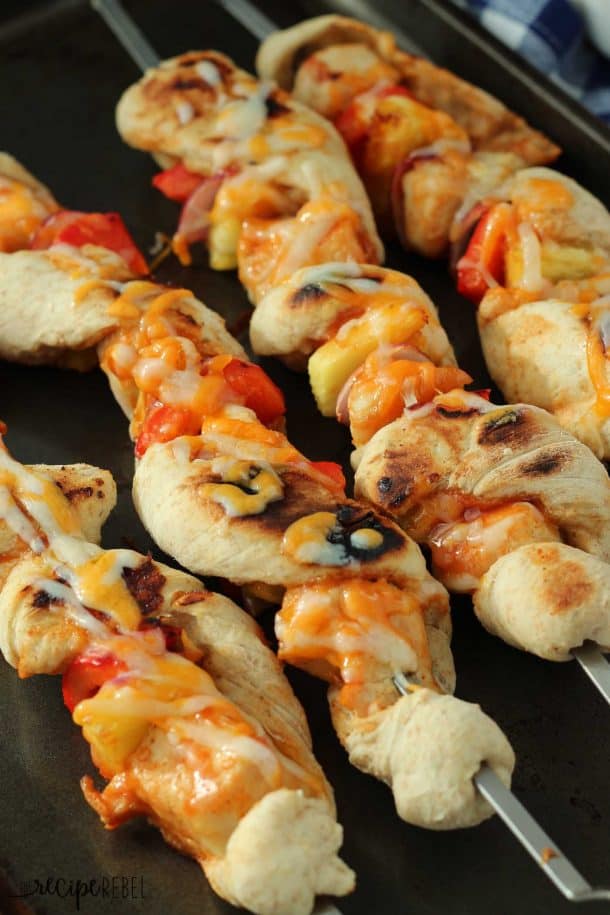 You can definitely mix up for "toppings" however you want. This is such a fun idea for the grill, or you could even bake them in the oven for a kid's birthday party when it's a little cooler out!
Ingredients
One full recipe of Pineapple Brown Sugar Barbecue Sauce

Half of a recipe of pizza dough (enough for 1 pizza)

1

tbsp canola oil

2

large chicken breasts

1

tbsp seasoning salt (or salt and pepper)

1

red pepper, cut into 1" pieces

1/2

red onion, cut into 1" pieces

1/2

small pineapple, cut into 1" pieces

1

cup shredded cheese
Instructions
*If you're making your own barbecue sauce, it's a good idea to make it the night before (or the week before!) and set it in the fridge so the flavours come together.
Roll your pizza dough into 8 equal, somewhat thin ropes (keeping in mind that they will expand as they cook). Set aside.
Cut chicken breasts into large pieces (about 1" in diameter). Heat a large pan over medium-high heat and add the oil. Add the chicken pieces and sprinkle with seasoning salt. Let cook 4-5 minutes, flip, and cook another 4-5 minutes until browned on both sides and juices run clear. Set aside.
Add chicken, pepper, onion and pineapple to your skewers, alternating until your skewer is almost full. Brush with barbecue sauce.
Take the end of one of your pizza dough ropes, and stick it on the end of your skewer. Carefully wrap the dough around the skewer until you reach the end, stretching slightly if need be. Pinch the dough around the bottom of the skewer so that it stays put. Repeat until all skewers are finished.
Preheat the grill to 425-450 degrees F. Turn the heat off of one side of the grill. Spray a piece of tin foil with non-stick spray on both sides and lay it on the side of the grill that you turned off. Lay your skewers on the tin foil.
Cook about 7-10 minutes, until bottom is browned. Flip and cook another 7-10 minutes until dough is all browned and cooked through. Sprinkled with cheese 2-3 minutes before your skewers are ready to come off.
Serve with remaining barbecue sauce.
Looking for other food-on-a-stick ideas? Try these ideas from friends!
Orange Sesame Chicken Skewers from Maebells
Miso Sesame Grilled Chicken Kebabs from Sweet Peas and Saffron
Chicken Skewers with Satay Style Peanut Sauce from Savory Nothings