*Updated April 23, 2015
I'm all about making my own condiments.
I'm not all about making my own condiments all the time. I just don't have time for that.
Sometimes, it's just nice to have something with a little more personality! There are tons of great ketchups and barbecue sauces out there, but sometimes I like to spice things up a bit.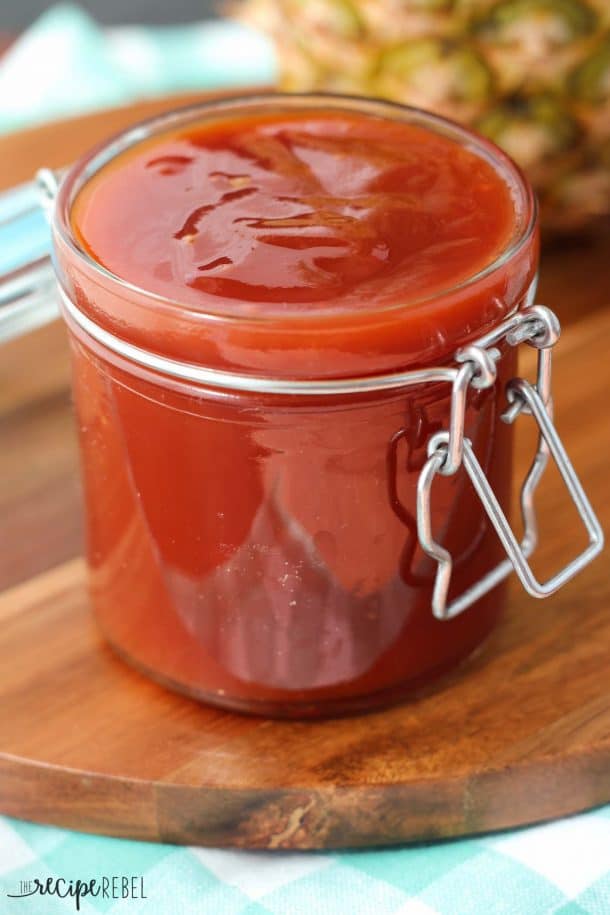 Often I'll make my own sauce when I make pulled pork in the slow cooker, because I have pretty much zero other prep. The same goes with burgers. They are so simple, and I rarely even make a side dish, so it's nice to be able to spice things up with homemade barbecue sauce.
I feel like this is kind of a new obsession of mine. I think it has a lot to do with how easy it is.
Meat and sauce. Maybe a jar of pickles. Some iced tea. The perfect summer meal!
So this time I wanted to try something with pineapple. I am also a big fan of sweet on meat. That kind of has a ring to it, doesn't it?
I love all things sweet and sour.
Maple, apple, pineapple, cranberry, brown sugar, tomato, apricot, honey, saskatoons — I love it all in my dinner.
I'm actually a little embarrassed about my sugar consumption at this point. I feel like a normal person should be able to make dinner without adding fruit or sugar or fruit and sugar.
Apparently, I am not.
But this sauce.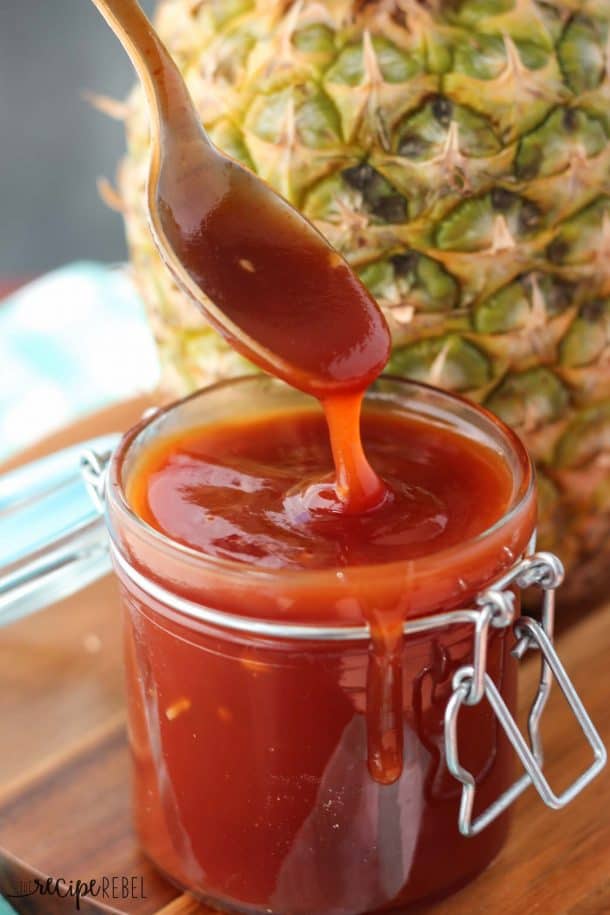 So I added a bunch of random stuff to a pot and simmered it with my pineapple juice. It is so good. It's sweet and tangy with just a hint of spice. It pairs perfectly with pulled pork, but it would also be fantastic on chicken or beef!
Pineapple Brown Sugar BBQ Sauce
Sweet and sour barbecue sauce with a bit of spice! Delicious on any kind of meat.
Ingredients
200ml

pineapple juice (1 regular-sized juice box)

3/4

cup brown sugar, packed

1/2

tsp garlic

2

tbsp Worcestershire sauce

3/4

cup ketchup

1

pinch red pepper flakes (or more if you like it spicy!)

1/2

tsp onion powder

1

pinch salt (to taste)

1-2

tbsp corn starch

1-2

tbsp water
Instructions
Add all ingredients except for corn starch and water to a medium pot.
Bring to a boil and reduce to medium-low, simmering for 10-15 minutes until flavours come together.
Mix equal parts corn starch and water. Slowly add to the sauce and stir, until you reach your desired consistency.
Serve with pork, chicken or beef.