A super easy holiday side dish made from scratch! Easy to make ahead and keep warm in a slow cooker or crockpot.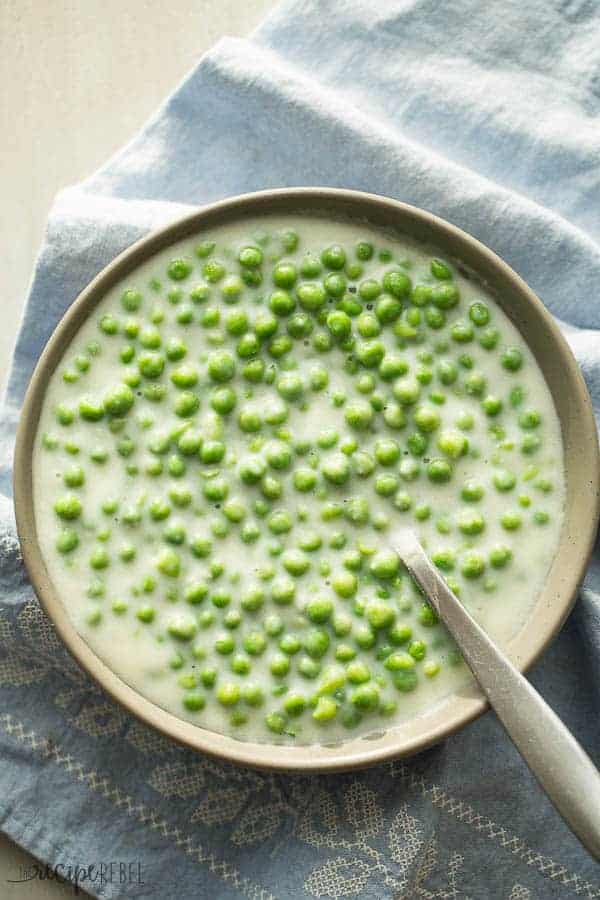 What is your favorite holiday side dish?
Many of you know I'm not actually that adventurous when it comes to my veggies. You know that I can be a picky eater at times. But if it's smothered in soemthing creamy and delicious, there's a much better chance I'll dig in.
I actually don't have any problem eating cooked peas (or carrots or corn or potatoes). I like peppers, usually, as long as they're not too spicy. I will eat almost any vegetable in soup (as long as it's not broccoli, or something unidentifiable) or hidden in a variety of sauces.
So, the majority of the time I'm finding ways to make the foods I love healthier and heavier on the vegetable content. But these peas? Delicious and nutritious!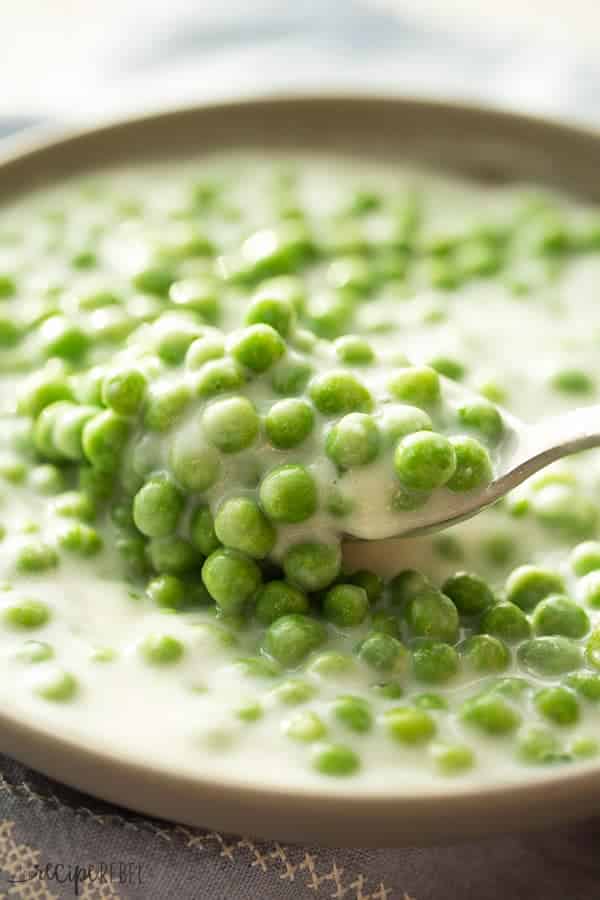 I had never actually made creamed peas before, but I love creamed corn (are there people who don't?!), and I figured it couldn't be that hard to create.
I didn't actually do any research into traditional creamed peas recipes, and I didn't actually use any cream, so you can tell me that I've done the whole thing completely wrong, but I can't promise you that I'll care.
I figured I'd start with a roux (melted butter and flour), add in some milk to make my sauce and throw in some frozen peas. This recipe is so easy and totally delicious! It's also better for you because I use low fat milk and just a little bit of butter and flour. If you want a smaller recipe, you can easily adjust it to make less, and if you want a little less sauce and more veg, you can easily add in extra peas. And if you're making it for a holiday potluck or gathering, you can easily make it ahead, and throw the sauce and the peas into a slow cooker or crockpot, and you're good to go.
Today I'm sharing the recipe over on Julie's Eats and Treats — you can find it here!