This No Bake Black Forest Icebox Cake super simple, 3 ingredient dessert that's perfect for Valentine's Day or any occasion — it comes together in no time and you can make ahead!
Want more no-bake desserts? Follow my No Bake Treats board on Pinterest!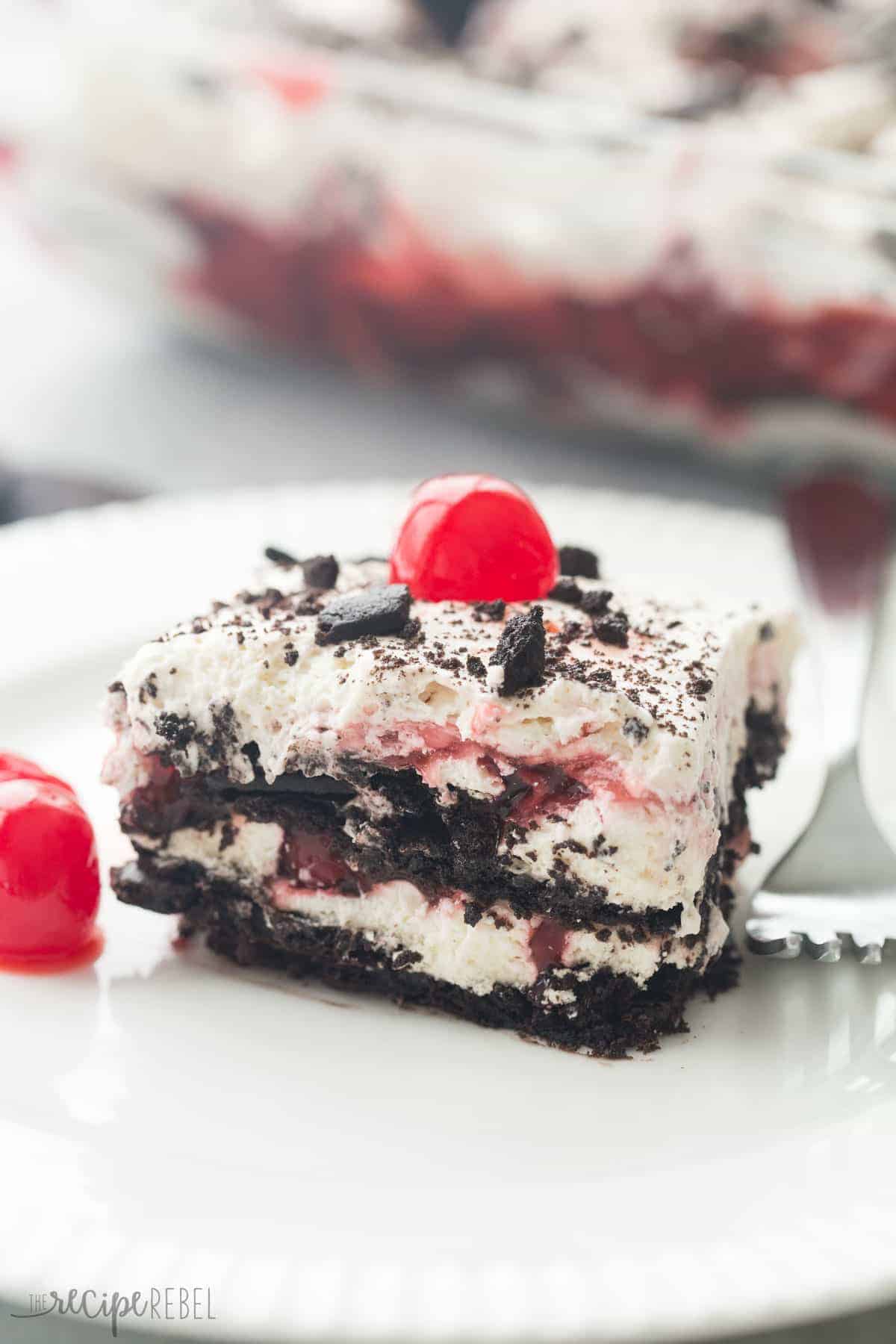 When I made this icebox cake, and was trying to cut a piece to photograph, I told myself it was never going on this blog. It was SO ugly, and the layers weren't perfect, and everything was kind of smushed.
It's also kind of not a recipe at all.
There are only 3 ingredients, and you can likely figure them out just by looking at it.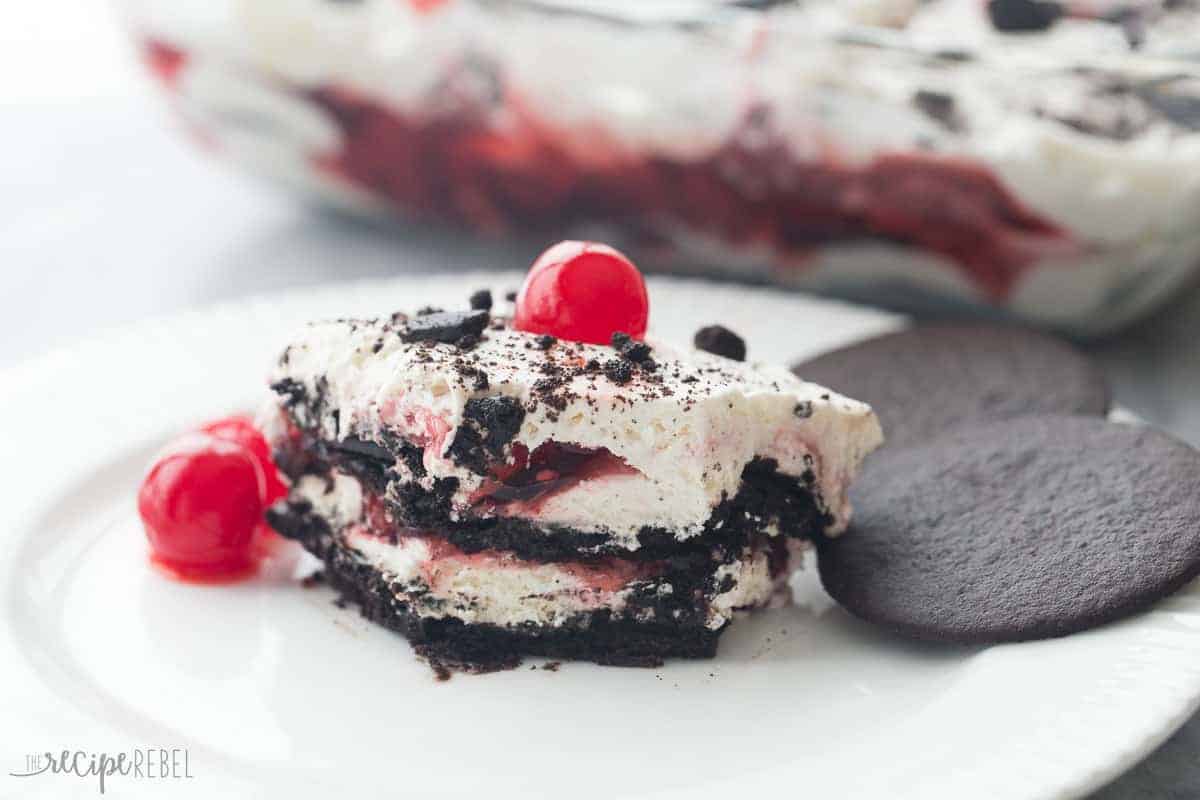 But I have a number of not-really-recipes that you guys seem to really like (like these No Bake Chocolate Peanut Butter Pinwheels that went crazy at Christmas!), so I figured maybe you would like this one just as much.
I mean, you could add cream cheese, or vanilla pudding, or use fresh cherries, or dress it up in a number of different ways (chocolate pudding? Now there's an idea!), but I didn't.
This Black Forest Icebox Cake came about after the fail of these dreamy Black Forest Crepes I'd envisioned in my mind. I wanted something Valentinesy, and Black Forest always says Valentine's Day to me. Chocolate and cherries?!? Always a good idea.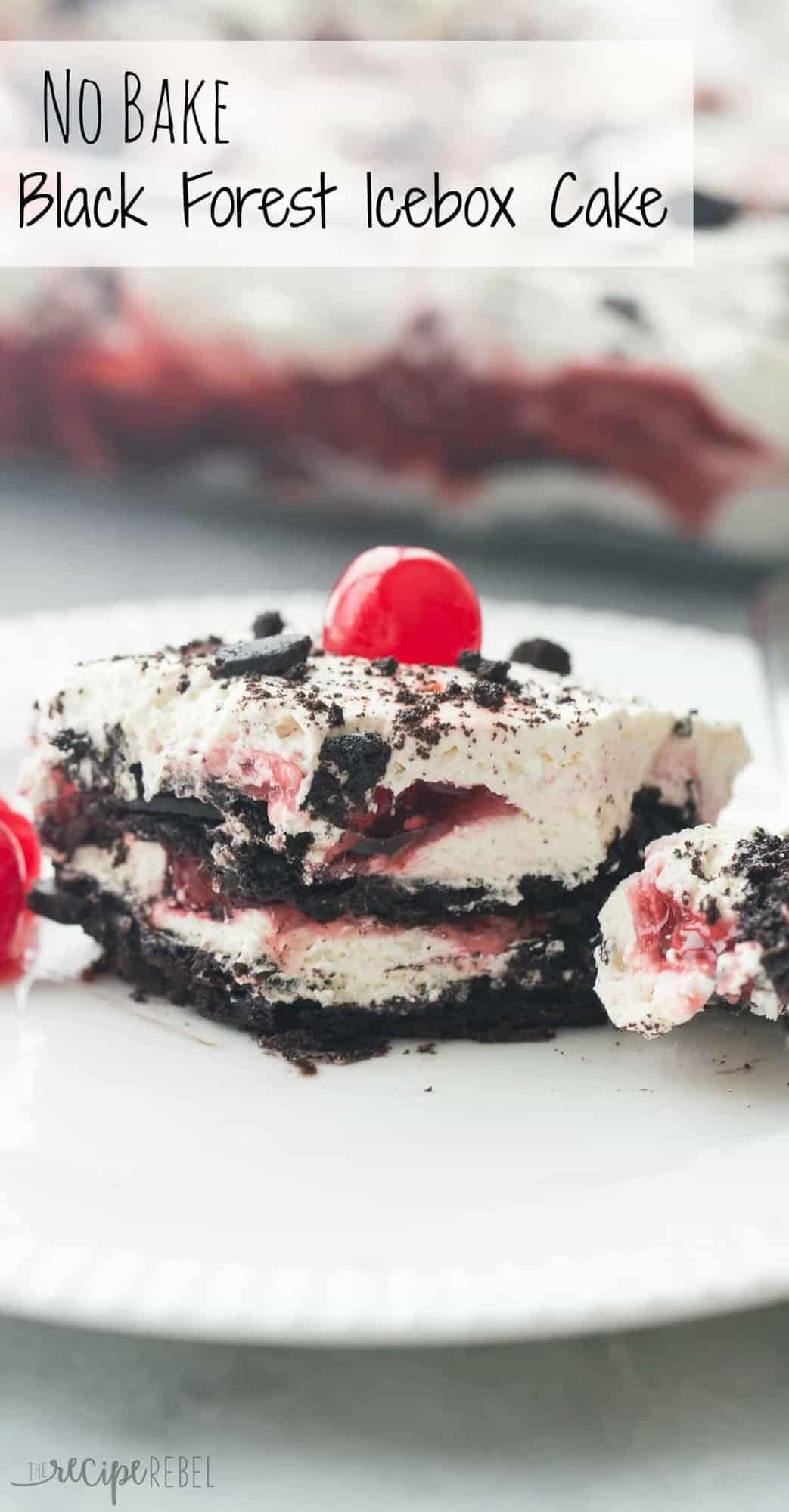 My Black Forest Crepes tasted great, but I just had the hardest time styling them and making them look good. Plus, making crepes? Kind of the most painful thing you can undertake with a 3 year old and a 1 year old in the house. A 3 ingredient icebox cake? That's more my speed.
So then I was left with half a can of cherry pie filling (and if you're not into the canned stuff, you can make your own or use fresh!) and a whole lot of whipped cream that needed to be used up. I had some grand ideas, but I find right after I fail one of my grand ideas I tend to go for "quick and easy" instead.
I had 2 boxes of chocolate wafers left over from another recipe. I thought to myself, "that is so not worth posting! It's not even a real recipe." But it actually tasted pretty great. And maybe you need something that's 3 ingredients and no bake and tastes great but you don't really care if it's all that pretty!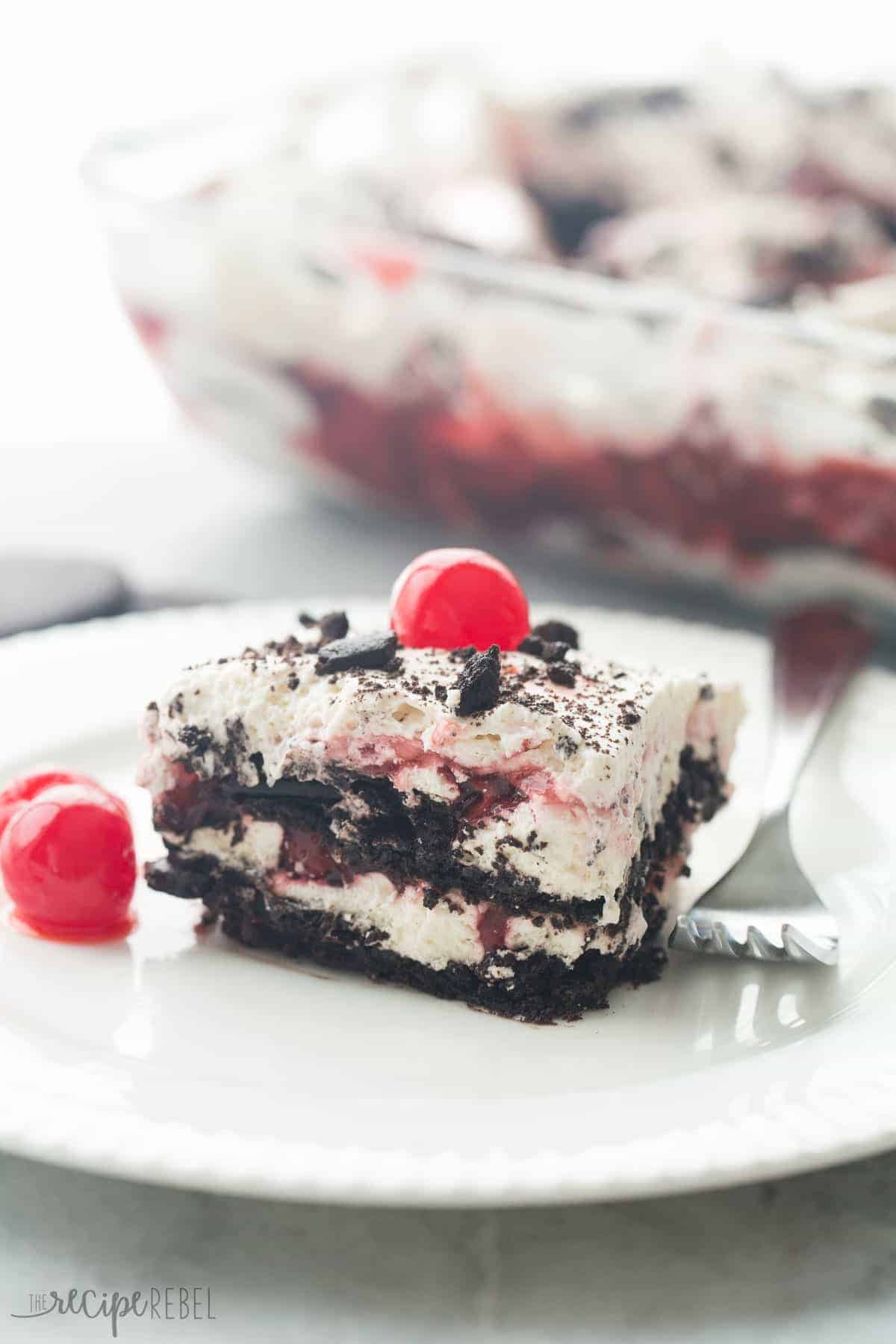 *Notes:
When I made this, I doubled up on my chocolate wafers because we don't have chocolate graham crackers here and the wafers are pretty thin. I wanted a good amount of "cake" for substance. My very bottom layer of wafers stayed somewhat firm, which is okay, but next time I would brush 1-2 tablespoons of milk or cold coffee in the bottom of the pan, just to soften up that very bottom layer.
I used half a can of cherry pie filling because that's what I had left. Feel free to use more or less of whatever you have!
I like using a bag to pipe the whipped cream — I find it's the easiest way to get a thin even layer without moving the cookies all over the place. You can do it this way or simply spread it with a spatula or spoon.
See how easy it comes together and don't forget to subscribe on YouTube!
9 servings
adjust servings
(3 Ingredient) No Bake Black Forest Icebox Cake
This Black Forest Icebox Cake super simple, 3 ingredient dessert that's perfect for Valentine's Day or any occasion -- it comes together in no time and you can make ahead!
Ingredients
1

box chocolate wafer cookies or chocolate graham crackers

1/2-1

can cherry pie filling

3

cups whipped cream
Instructions
*Please see note above recipe for doubling wafer cookie layers.
Lay one layer of chocolate wafer cookies in an 8x8" pan. Top with about 1 cup of whipped cream and 3-4 tablespoons cherry pie filling.
Repeat layers one more time. Top with remaining whipped cream and crushed chocolate wafer cookies if desired.
Refrigerate at least 4-6 hours or until cookies are soft and cake-like. Store leftovers in the refrigerator for up 5-6 days.
 More Icebox Cakes!
Caramel Apple Golden Oreo Icebox Cake
Strawberry Cheesecake Icebox Cake from Life Made Sweeter
Death by Chocolate Icebox Cake from Life, Love and Sugar
Butterfinger Icebox Cake from Beyond Frosting