25 Air Fryer Chicken Recipes that come together in no time! Loaded with flavorful ingredients and seasonings that let the chicken shine. Air frying is a healthier, easier and quicker method to cook up some of my favorite chicken recipes!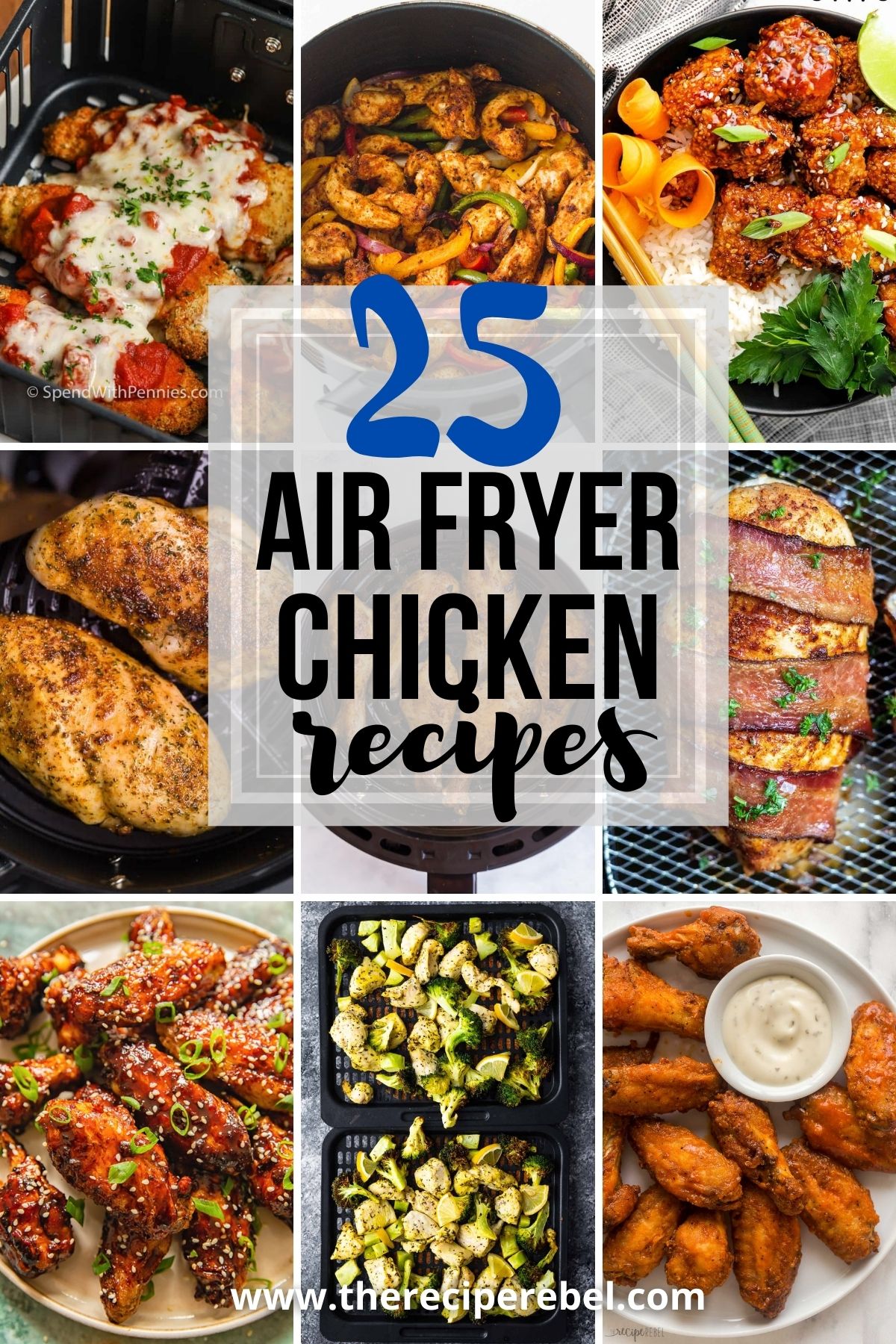 My Favorite Air Fryer Chicken Recipes
Oh, air fryer. Let's count the ways I love you!
First, you cook everything easily and quickly to perfection. Second, cooking with you calls for minimal clean up! And third, you've made my favorite chicken recipes that much better because of both of these things.
I'm so excited to share this delicious round up of easy recipes featuring the most versatile of meats: chicken!
Everything from BBQ chicken and Asian-inspired chicken wings, to crispy chicken tenders and homemade empanadas. These are some of the best air fryer chicken recipes to ever bless your screen, and hopefully your table very soon!
Is Air Fried Food Healthier?
Since the ingredients aren't submerged and cooked in oil, air frying is a healthier alternative to deep frying! Air fryers cut out a lot of the excess grease and fat that goes along with deep fried foods.
This makes recipes like air fryer chicken that much lighter and easier on the calories, while still packing all the great protein and nutrients of a healthy chicken dinner.
General Tips for Using an Air Fryer
Air fryers are by far the easiest way to prepare meals in a short amount of time. Requiring less mess than a deep fryer, and less finesse than a pressure cooker, air fryers are where it's at when it comes to effortless dinners! Here are some basic air frying tips:
Keep Your Air Fryer Clean. Give your air fryer a quick clean after each time you use it. Use sudsy, soapy water and a non-abrasive cleaning cloth or sponge to clean the basket (this will help preserve the non-stick coating. If you're battling particularly stuck-on foods, try using a paste made of baking soda and water). Leave the basket to dry before reinstalling, and be sure to empty out any crumbs left in the air fryer.
Use the Right Oil. Avoid using aerosol non-stick spray with your air fryer, as cooking sprays can contain chemicals that can damage the non-stick coating. Regular oil or an oil mister are the first choices to get the food crispy and keep it from sticking to the basket.
Make It Extra Crispy. For the ultimate crispiness, use layers of oil when air frying foods (such as chicken nuggets): oil the food once before placing it in the air fryer, and again about halfway through/after flipping. Preheating your air fryer is also best practice for getting food nice and crispy.
Give the Food Room to Breathe (and Fry!). Overcrowding the basket will result in steaming rather than frying. Work in batches if needed and leave the food well spaced to allow for the air to move around as it cooks.
Adapt the Temperature and Cooking Times As Needed. Air fryers have a tendency to dry out foods pretty quickly if they're set too hot. For best results, you can adapt the cooking time and heat requirements of most recipes to be slightly lower than what they'd be with a standard oven. Usually, adjusting the temperature 30 degrees less, and cutting the cooking time by 20% is a good place to start.
25 Easy Ways to Make Chicken in the Air Fryer
There are so many ways to enjoy chicken cooked in an air fryer! These are some of my favorite easy Air Fryer Chicken Recipes, from savory BBQ chicken, to teriyaki chicken wings, to crispy chicken tenders and tasty chicken empanadas.