These Easy Freezer Meal Ideas are the best meal prep recipes featuring fresh and healthy ingredients, quick cooking times, and freezer-friendly storing. Master the art of meal prepping and enjoy delicious home cooked meals all year round!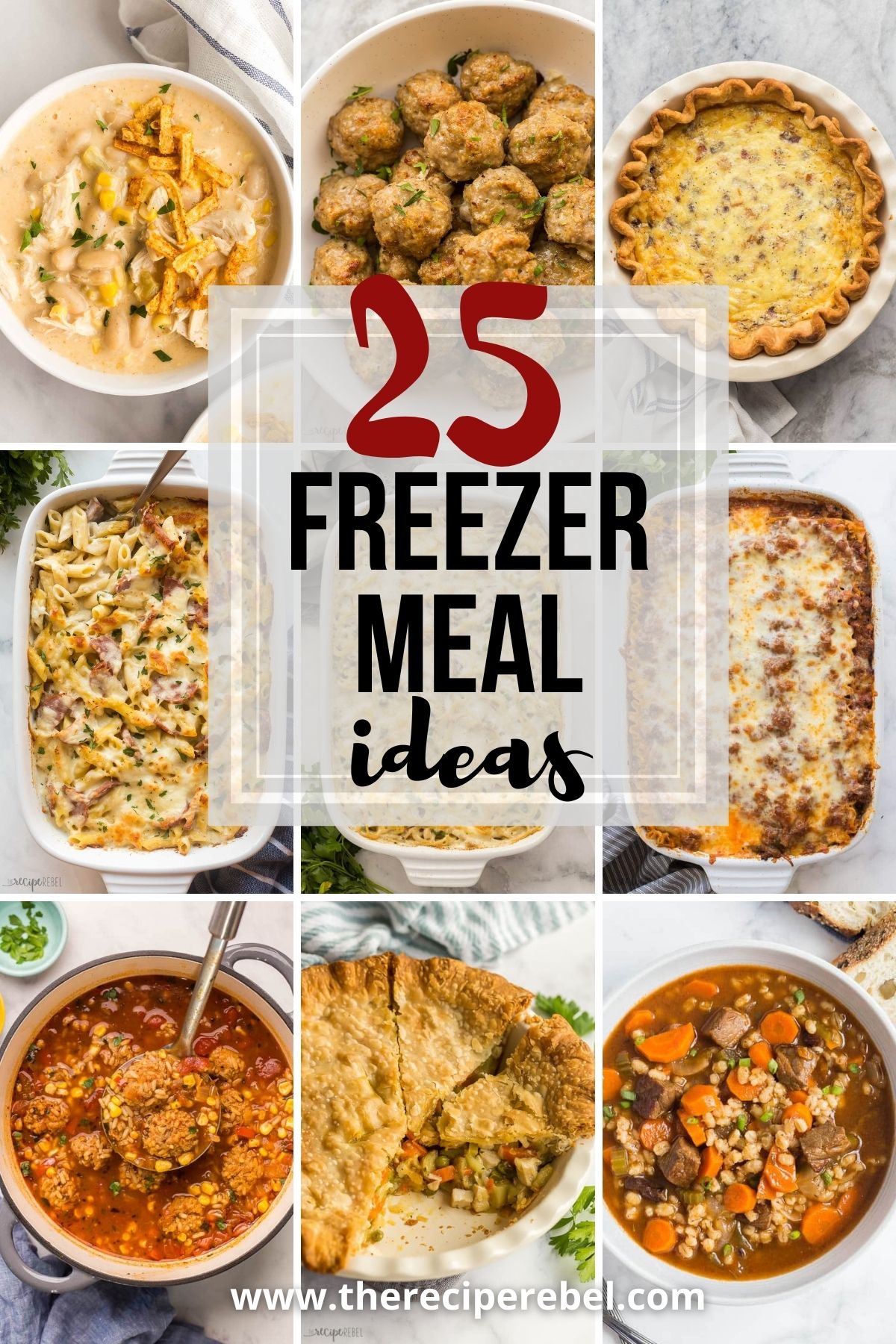 Meal prepping doesn't have to mean boring! Here are tips, guidance, and bold and delicious recipes to kick your meal planning into high gear.
What is a Freezer Meal?
Freezer meals are just what the name suggests! These meals are made ahead and stored in the freezer for reheating at a later time.
The ingredients in freezer meals are often fresh and hearty, and hold up well when frozen: meats like beef and chicken, cruciferous veggies like broccoli and brussels sprouts, and robust carbs like rice, pasta, and beans.
Many freezer meals involve preparing recipes in batches, or doubling recipes to freeze leftovers for easy weeknight dinners, lunches, and meal plans. They're a great way to save money, and to have delicious meals organized well ahead of time!
What Are the Characteristics of a Good Meal Prep Recipe?
What makes a good meal prep meal? Here are three keys to successful meal prepping and freezer meals:
Big Batches: Recipes made in large batches are ideal for meal prep, whether you're prepping for one or four. Think lasagnas, casseroles, or sheet pan dinners that involve scaled-up recipes that are easy to portion, store and/or freeze.
Seasonal Ingredients: Meal prepping is so much easier if you can plan for the kinds of ingredients you'll have available. Not only will your meals be fresher and healthier, but fruits and veg that are in season are often less expensive!
Customizable: One common misconception about meal prepping is that you'll end up eating the same meal every day! This doesn't have to be the case. You can prep full meals, but also individual ingredients to mix-and-match to create well-rounded meals throughout the week.
Reasons to Make Meals Ahead
There are a ton of reasons why these freezer meal ideas are so worth it! To name a few:
Save time. Freezer meals are a godsend during life's busy moments. Sometimes it's a particularly crazy week or upcoming medical procedure. With so much else to think about, meals don't have to mean added stress! Ready-made meals are also a thoughtful gesture for couples with new babies, or for friends who need a helping hand.
Save money. Making meals ahead means you can budget for whole batches of easy recipes, and not just individual meals on the fly.
Get organized. Meal prepping is great for getting a handle on your weekly meal plans. Have an idea of the recipes you'd like to make, prepare a grocery list, and then set out the time for cooking. There's something so satisfying about knowing your meals for the week are sorted!
Manage portion size. Preparing and and portioning ahead of time is especially helpful when it comes to diets, healthier eating, and making smart food choices!
Hone your skills. Become a wiz in the kitchen thanks to recipes that take the stress out of cooking. You can get creative with ingredients and techniques while you have the time and the pressure is off!
Easy Freezer Meal Recipes
These freezer meals are SO quick to prep, and perfect to tuck away into the deep freeze until it comes time to enjoy them. From easy breakfast ideas, to big batch chilis and soups, to freezer-friendly pastas. Simply thaw, heat, and serve! Here are some tips for freezing meals ahead of time:
As a general rule of thumb when making freezer meals, avoid recipes that contain excessive amounts of dairy or cream, fried foods, and veggies with high water content (think cucumbers, celery, cabbage). These ingredients tend to separate or turn mushy once they've been frozen and reheated.
Reheating times will vary depending on the meals. Pay attention to whether you're reheating food directly from frozen, thawed in the fridge, or otherwise, as the cooking times may increase.
Not all heating methods work the same for all meals. Some freezer meal recipes are great for reheating in the oven, while others may be better suited to the microwave or stovetop. Check recipe notes for the best ways to store, thaw, and warm up your freezer meals!