These are our FAVORITE Breakfast Burritos! They are loaded with homemade hashbrowns, peppers, bacon, eggs, salsa and cheese! They are make ahead and freezer friendly — perfect for busy weeknights.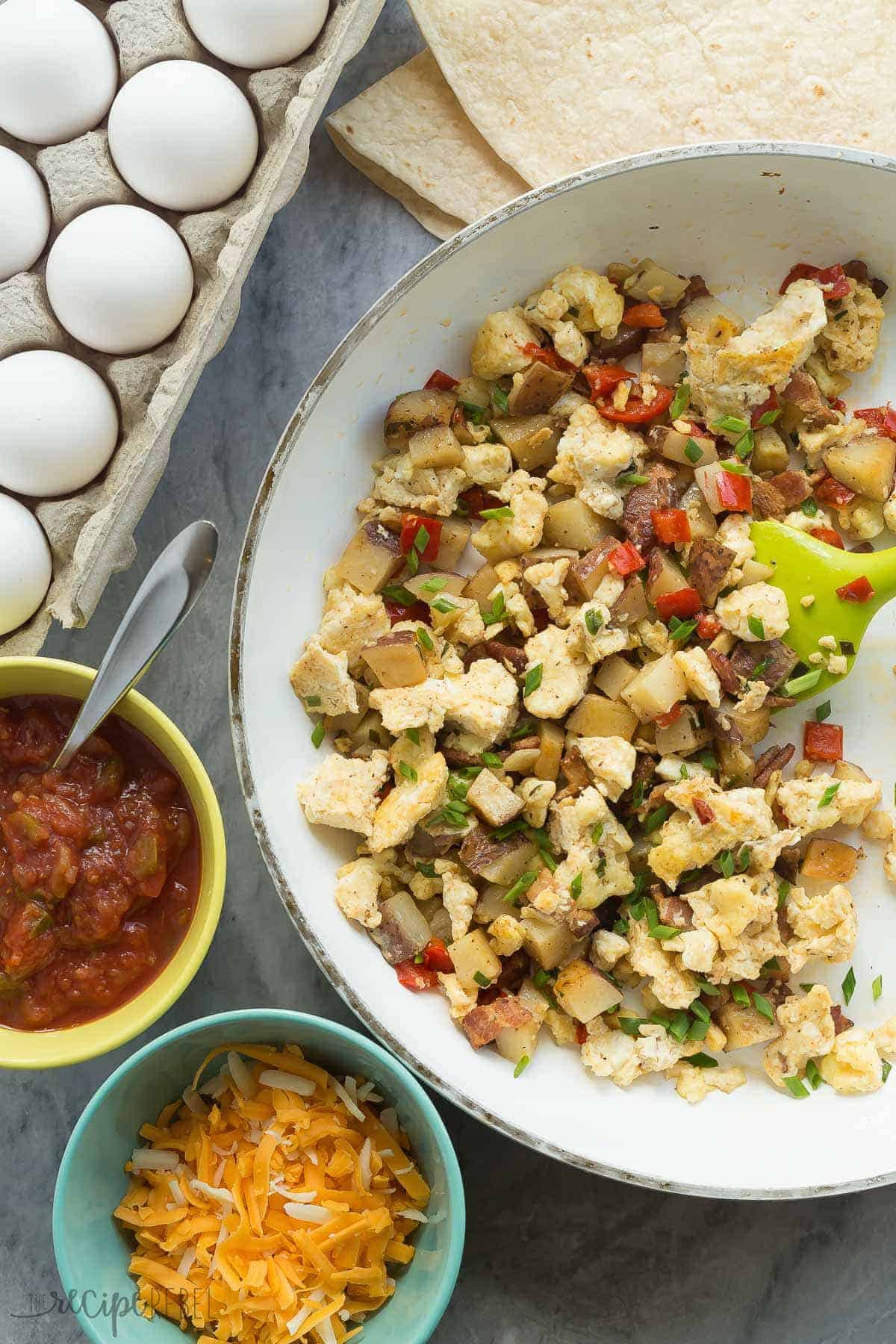 I'm going to be completely honest — sometimes I feel a little strange calling these Breakfast Burritos.
Not because they aren't a perfectly healthy breakfast, or because they're not filled with all of your typical breakfast essentials, but because we pretty much never have them for breakfast.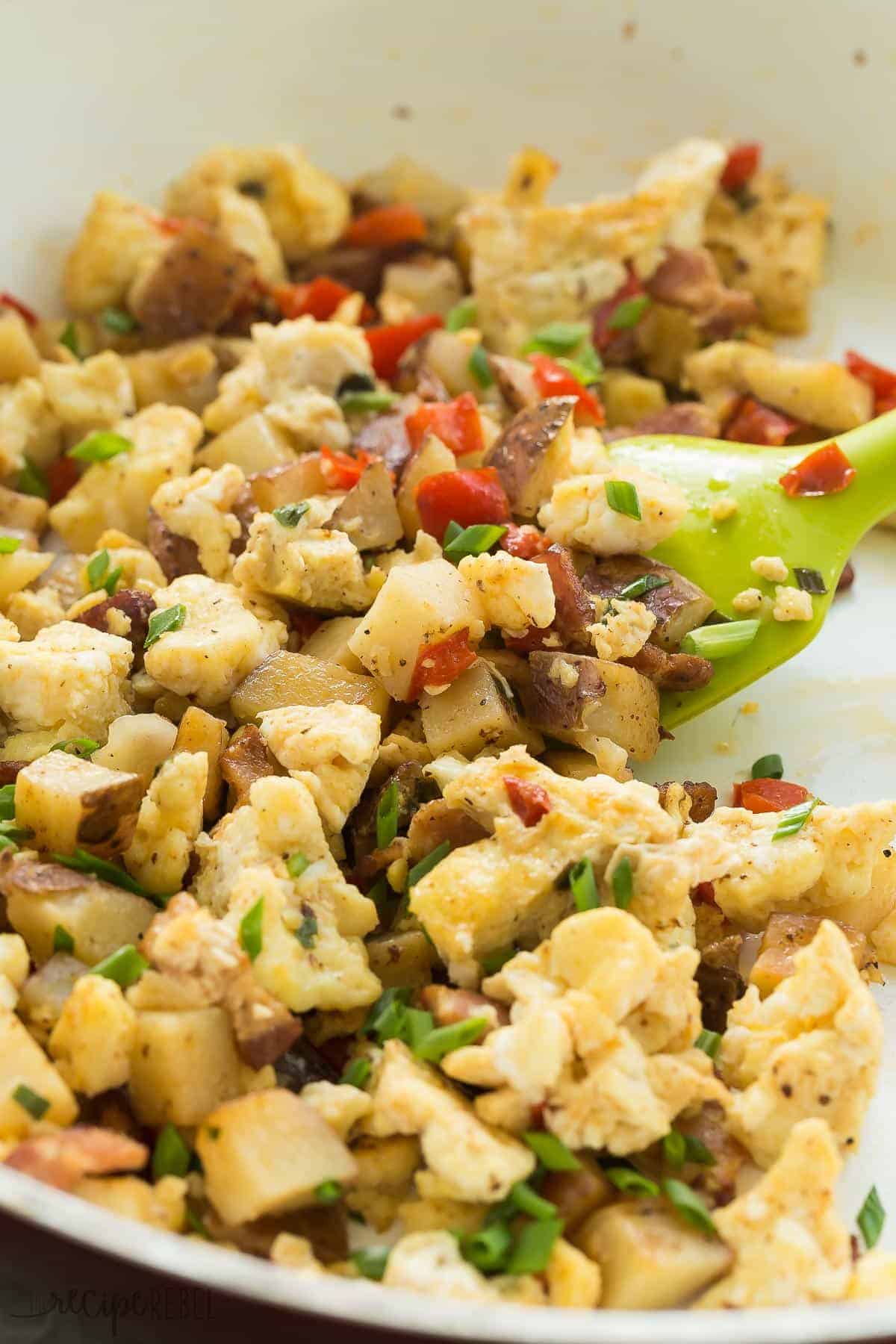 Breakfast burritos are one of our favorite dinners! We make a big batch of filling and either keep it in the fridge for easy lunches and dinners for the week, or we fill the tortillas, wrap them in tin foil and throw in a freezer bag for an easy dinner when there's no time to cook.
Eggs are the complete package. They're nutritious (with 6 grams of protein and 14 important nutrients in a single egg!), last a long time in the fridge (so we buy dozens at a time), and cook quickly and easily.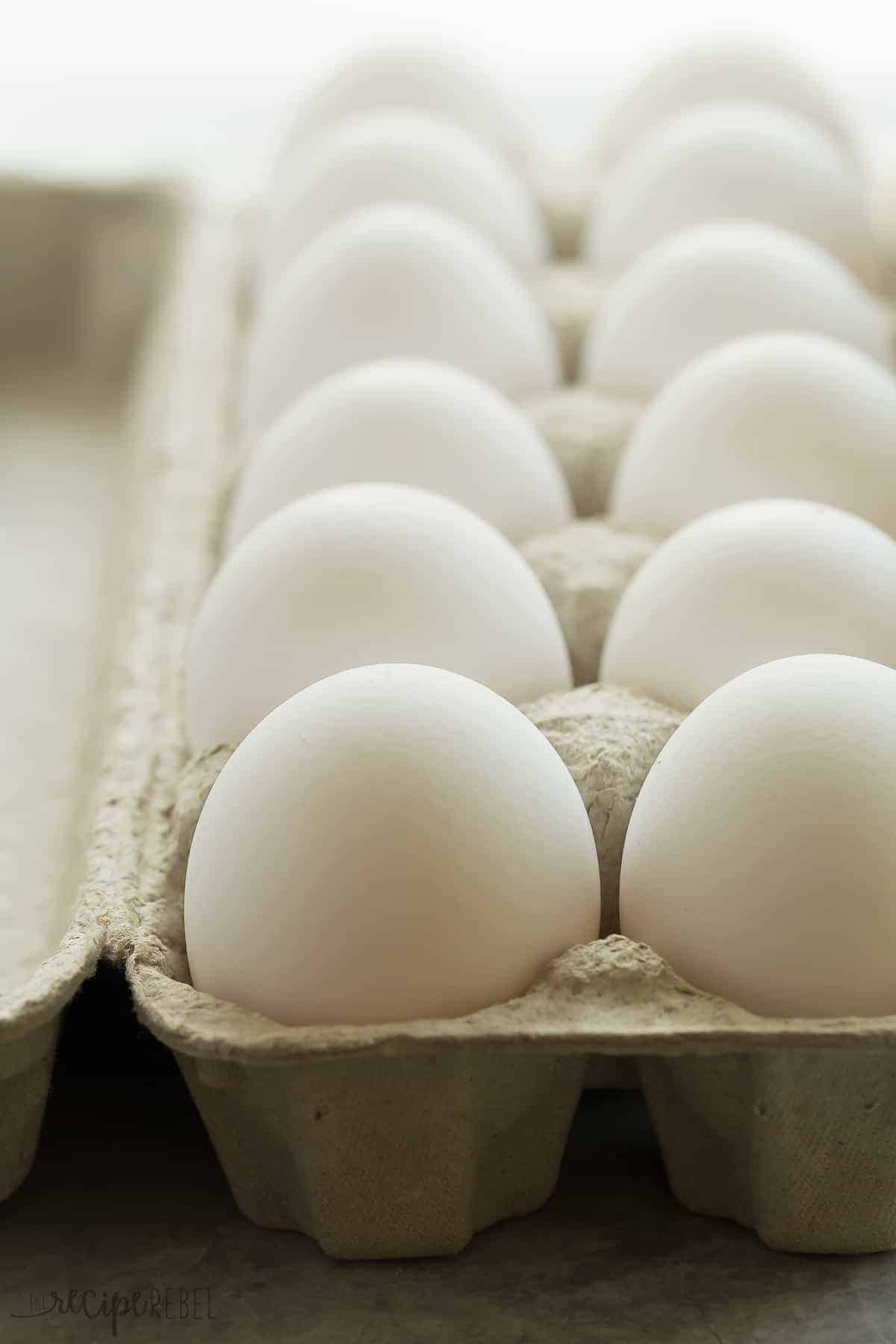 And since today happens to be World Egg Day, I thought it was the perfect time to share one of our family's favorites! I'm joining Canada's Egg Farmers and other egg lovers to celebrate this simple and perfect food.
Eggs aren't the only thing we're celebrating here today, though. Canadian egg farmers (and egg farmers around the world!) work hard every day to bring us the best quality eggs, and they donate more than three million eggs each year to community food banks, school breakfast programs and charitable organizations. What an incredible gift!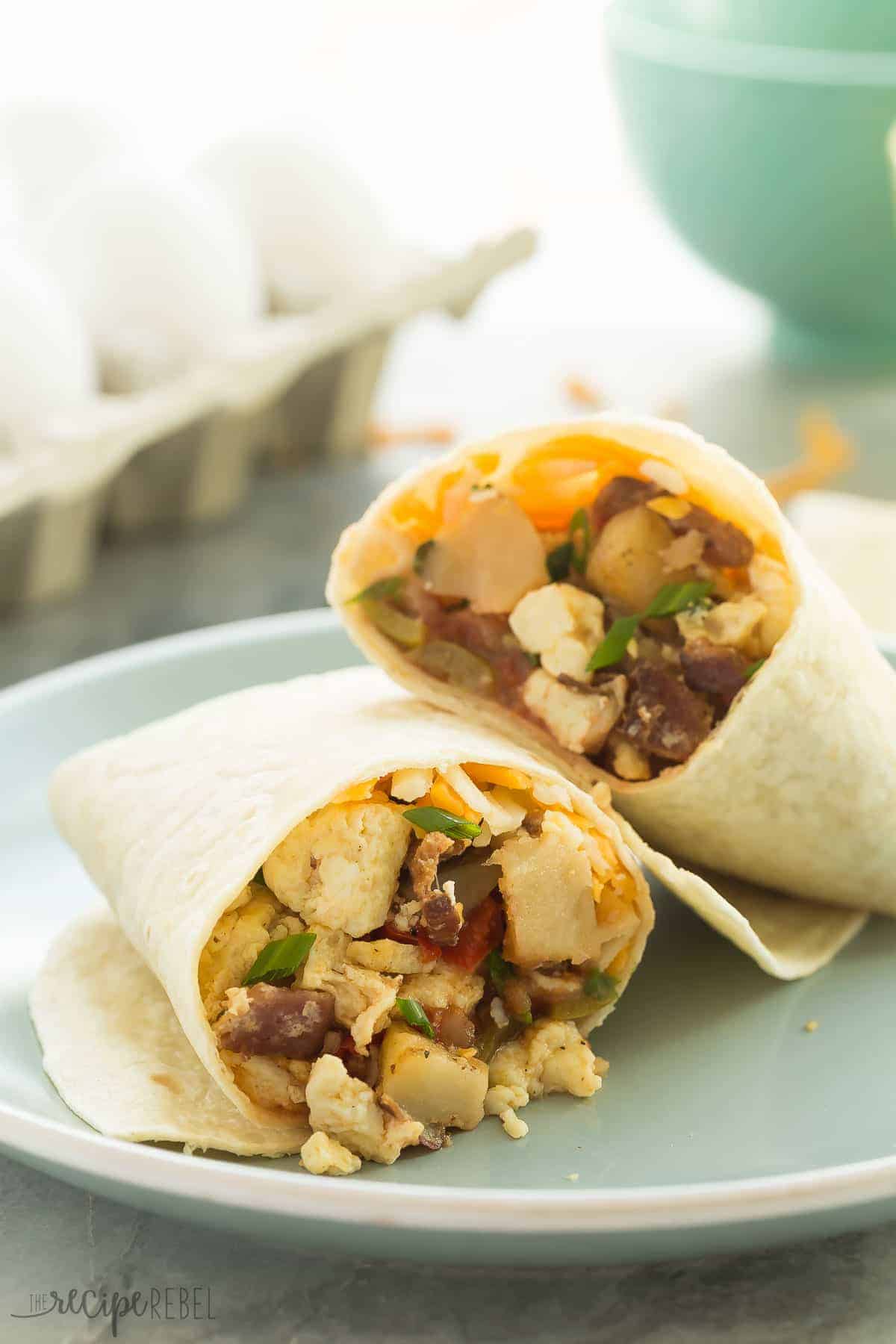 I could eat these breakfast burritos every day and never tire of them. I love that you can load them up with whatever your family enjoys: breakfast sausage, ham, turkey, mushrooms, spinach, kale, swap the potatoes for sweet potatoes, or any number of other things you've got kicking around!
*This post is generously sponsored by the Egg Farmers of Canada and I have been compensated for my time preparing it — thank you for supporting the brands that make The Recipe Rebel possible!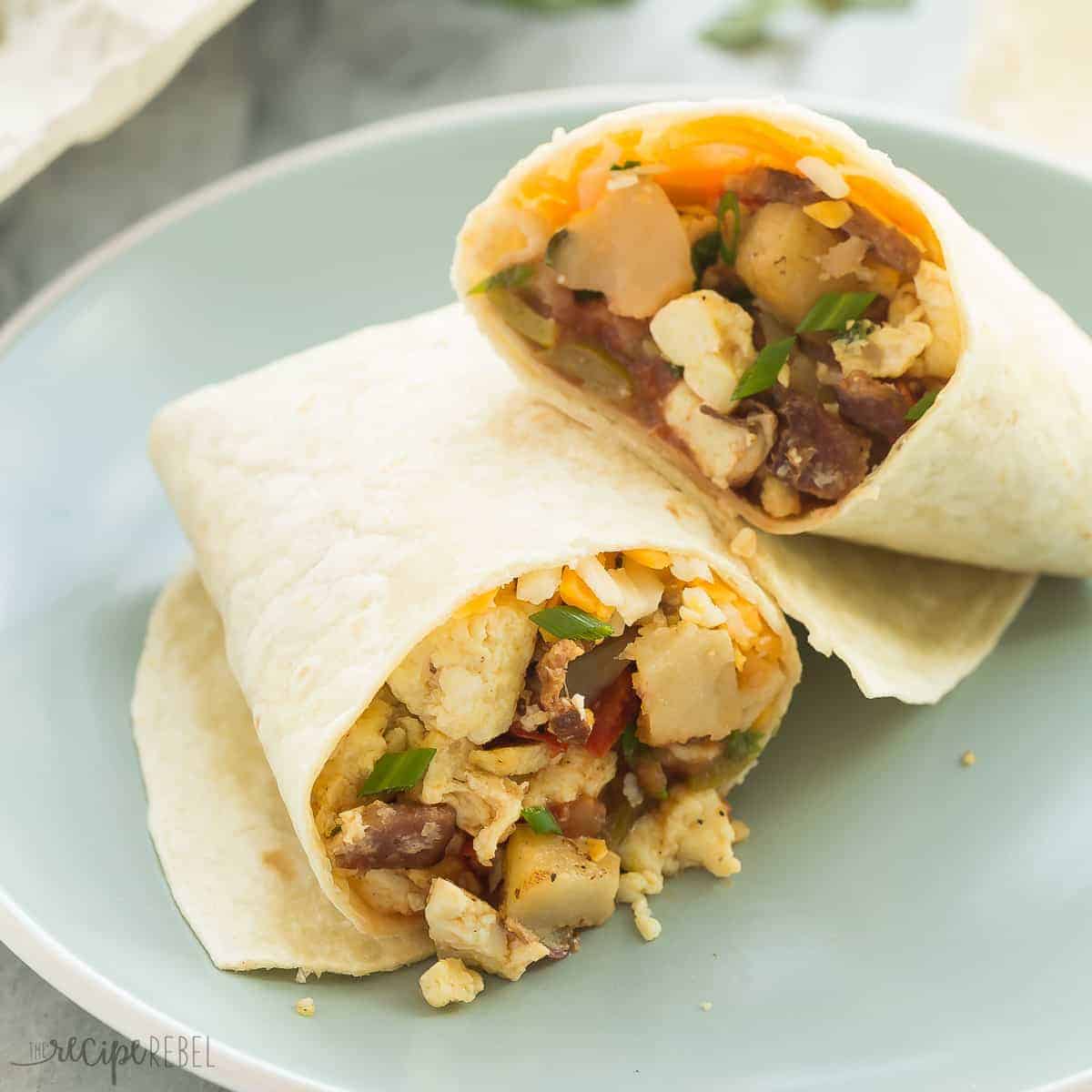 Celebrate #WorldEggDay with Egg Farmers of Canada and people around the world by sharing what you love most about eggs. Follow @eggsoeufs on Twitter and Instagram, 'like' Get Cracking on Facebook or visit eggs.ca for recipes and more information on World Egg Day.
Our Favorite Breakfast Burritos
These are our FAVORITE Breakfast Burritos! They are loaded with homemade hashbrowns, peppers, bacon, eggs, salsa and cheese! They are make ahead and freezer friendly -- perfect for busy weeknights.
Ingredients
6 links turkey breakfast sausage
3 medium potatoes, cut into a 1cm cubes
1 teaspoon seasoning salt
1 red bell pepper, chopped
10 large eggs
3/4 cup milk
1 teaspoon salt
pinch of black pepper
3 tablespoons fresh chives, chopped
10 whole wheat tortillas
1 cup salsa
1 cup shredded cheddar cheese
Directions
In a large skillet, cook bacon until crispy. Remove bacon from pan with a slotted spoon and place in a bowl lined with paper towel. Drain all bacon fat from pan except for 2-3 tablespoons.
Add potatoes and sprinkle with seasoning salt. Cook over medium-high heat, stirring regularly, until nearly tender, about 10 minutes. Add red pepper and cook for 2-3 minutes until potatoes are tender and peppers are softened slightly.
Meanwhile, in a separate medium pan, whisk together eggs and milk. Cook over medium heat, stirring regularly, until eggs are nearly cooked through. Add to the potatoes and red pepper once potatoes are tender.
Season to your tastes with salt and pepper, and stir in fresh chives. Serve on tortillas with cheese, salsa, and anything else you like on your burritos!
Recipe Notes
*Nutrition information is estimated and will depend on exact serving size, brands and products used.
Loading nutrition data...