An easy, one pot version of Chicken Chow Mein — you'll never have to settle for takeout again! 
 Follow me on Pinterest for more family-friendly, one pot meals!
This is the fourth sample recipe that uses my Ultimate Mix and Match One Pot Pasta Guide! We love Asian food (or CanadiAsian as I like to call it), but especially Chow Mein. I just love the thin, skinny noodles!
It is also the first in the best series on the web: 30 Minute Thursday! Some friends and I have gathered some super quick and easy meals for you this Thursday, and the first Thursday of every month you will find more great dinner recipes to get you through the busiest time of the year.
Now, traditionally Chow Mein is not likely made with Spaghettini (the skinny spaghetti), but it's what I use every time because it's so easy to find, and we love it. I always buy the kind with extra fiber, because why not?
So one more time I'm going to break down the recipe according to the guide I gave you last week:
Pasta:
I used white Spaghettini (skinny spaghetti) with extra fiber. It gets overcooked quickly because it's so thin, so keep an eye on it!
Liquids:
I used mostly chicken broth with a bit of soy sauce. I don't like Chow Mein creamy at all (does anybody??), so I stuck with clear liquids and added the soy sauce for some extra flavor. I love the way it turned out!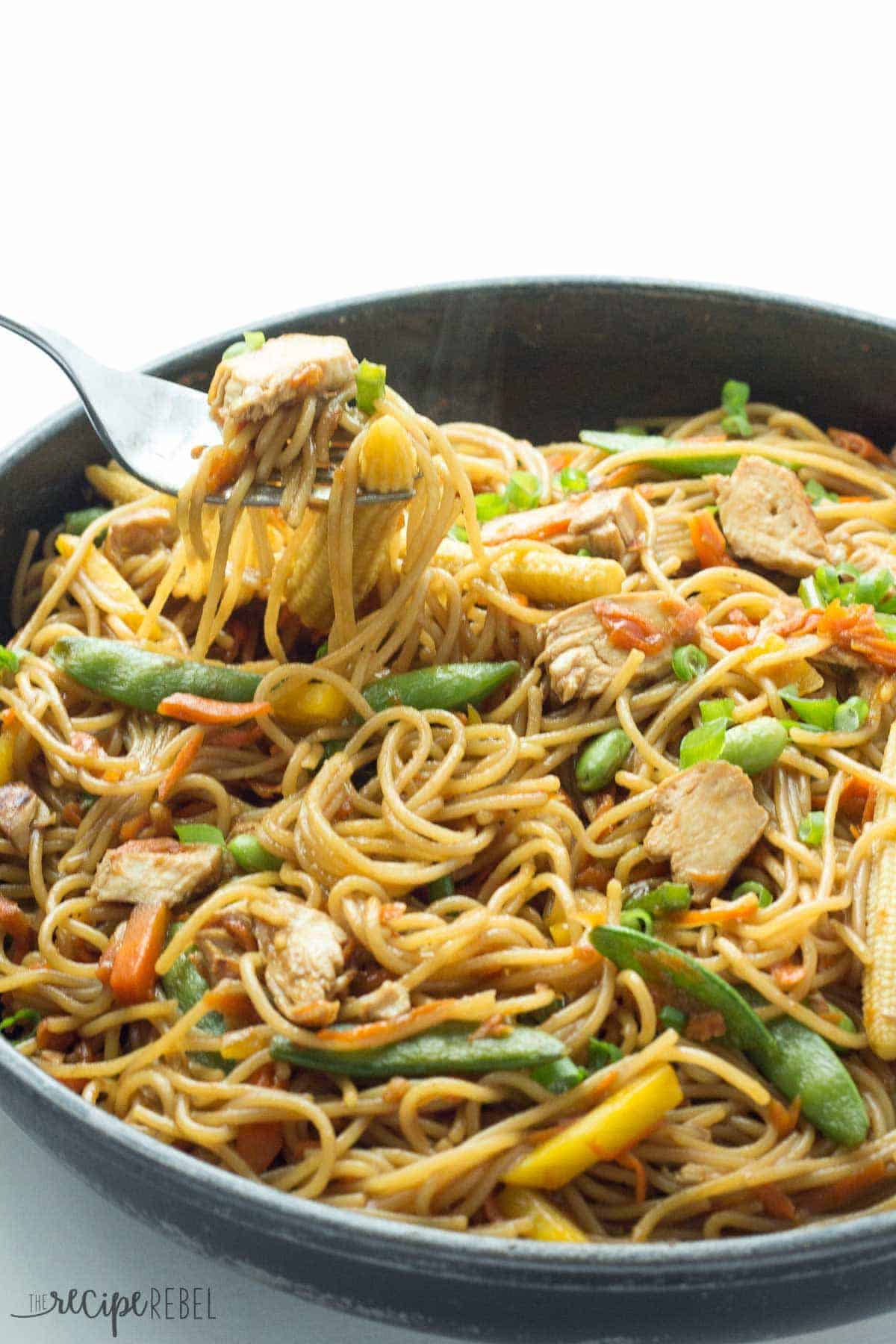 Meat:
I used 2 cooked, chopped chicken breasts, but you can easily follow the directions in the guide to start with raw meat — super, super simple! Feel free to mix things up and use pork or beef instead.
Veggies:
I used a shredded carrot and some mixed frozen Asian vegetables. The frozen mix makes things even easier and you get a great combination without having to pick them all up from the store separately. I like to add larger frozen veggies at the beginning of the cook time because it takes them a little longer to heat through.
Cheese:
I didn't add any cheese. 
Extras:
I added a bit of red pepper flakes for some heat and a bit of apricot jam — I like a little bit of sweetness in my Chow Mein and I find it adds a fun punch of flavor! 
Some other things that would be great? I love adding sliced cabbage or cole slaw mix to my Chow Mein, but I didn't have any on hand. 
Also try this Lightened Up Slow Cooker Cheeseburger Soup!
One Pot Chicken Chow Mein
Ingredients
2 chicken breasts, cooked, chopped *see notes
325g Spaghettini pasta (I used white with fiber)
3½ cups chicken broth
½ cup soy sauce
½ tsp minced garlic
½ tsp salt
1-2 pinches red pepper flakes (more if you like it spicy!)
3 cups frozen Asian vegetable mix
⅓ cup apricot jam
green onions for garnish
Instructions
In a large pot, combine chicken, Spaghettini, broth, soy sauce garlic, salt, red pepper flakes and frozen vegetables.
Bring to a simmer over medium high heat, stirring often. Reduce heat to medium and continue cooking for 10-12 minutes, until pasta is cooked and most of the liquid is absorbed (sauce will thicken as it cooks -- it's okay to have some liquid left in the pan). Stir in apricot jam until combined. Garnish with chopped green onions if desired.
Notes
You can easily start with raw chicken! Just chop up your chicken breasts, and brown them completely in the pan (use a non stick pan or spray with a little non stick spray) before adding the rest of your ingredients.
**NOTE: Nutrition information is estimated and will vary depending on exact serving size, types and brands of products used.
Nutrition Information
Serving size:
⅙
Calories:
316
Fat:
3g
Carbohydrates:
50g
Sugar:
6g
Fiber:
5g
Protein:
22g
 See my Ultimate Mix and Match One Pot Pasta Guide here!
This month, we've gathered up more than 15 30 minute meals to take you through all the September craziness! Be sure to stop by and find some new recipe to add to your meal plan this week.
One Pot Chicken Chow Mein from The Recipe Rebel
Honey Garlic Shrimp and Cilantro Lime Rice Bowl from Pumpkin 'N Spice
Easy Skinny Skillet Lasagna from Life Made Sweeter
Kale Caesar Salad with Lemon Parmesan Chicken Strips from Sweet Peas and Saffron
30-Minute Summer Vegetable Tostadas from She Likes Food
Stovetop Broccoli Chicken Mac 'n' Cheese from Whole and Heavenly Oven
Spicy Chili Garlic Grilled Trout from Bake.Eat.Repeat
30-Minute Creamy Pesto Tortellini Skillet from Flavor the Moments
Crunchy Couscous Sweet Potato Salad from Sweet and Delish
30-Minute Chicken Cacciatore from A Latte Food
Pumpkin Penne with Sausage and Sage from Flying on Jess Fuel
30 Minute Smoked Turkey Sausage Tortellini from Mariah's Pleasing Plates 
Baked Corn, Mushroom and Sausage Risotto from Floating Kitchen
BBQ Chicken Sliders with Cheddar and Spinach from Kristine's Kitchen
Roasted Cauliflower and Hazelnut Spaghetti from Savory Nothings
Italian Sausage Quesadillas from My Sequined Life