An easy, one pot version of Chicken Chow Mein  – loaded with peppers, cabbage, peas and carrot it's an easy, healthy meal the whole family loves! Say no to takeout 😉  
This is the fourth sample recipe that uses my Ultimate Mix and Match One Pot Pasta Guide! We love Asian food (or CanadiAsian as I like to call it), but especially Chow Mein. I just love the thin, skinny noodles!
It is also the first in the best series on the web: 30 Minute Thursday! Some friends and I have gathered some super quick and easy meals for you this Thursday, and the first Thursday of every month you will find more great dinner recipes to get you through the busiest time of the year.
Now, traditionally Chow Mein is not likely made with Spaghettini (the skinny spaghetti), but it's what I use every time because it's so easy to find, and we love it. I always buy the kind with extra fiber, because why not?
I will never profess to know anything about cooking authentic Asian food, but I do my best and this is one recipe we all love. I load it up with veggies and there are no fights at dinner time. My kids especially love getting to twirl their noodles! 😉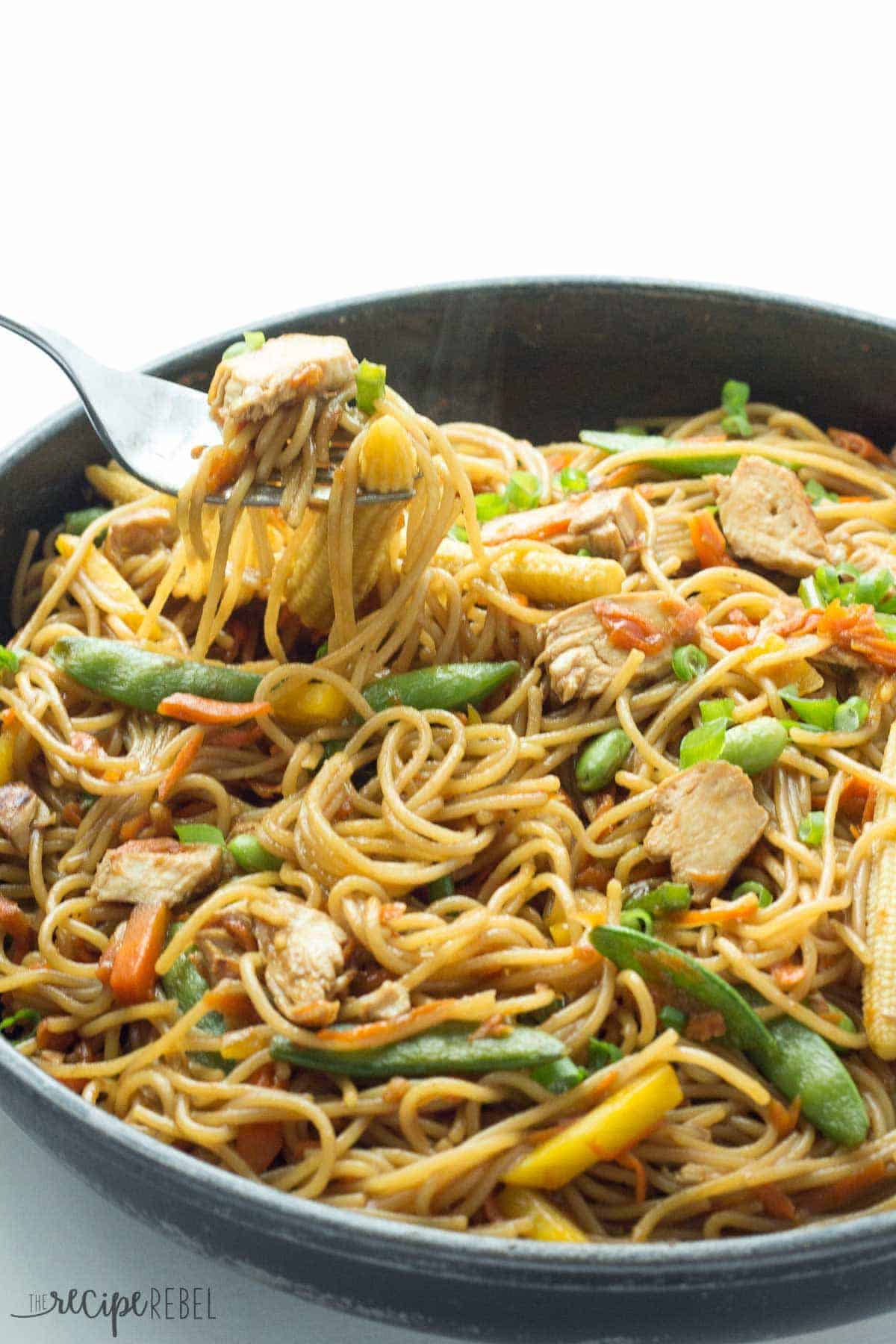 One Pot Chicken Chow Mein
Ingredients
1 tablespoon canola oil
2 boneless, skinless chicken breasts, cubed
1 red pepper, diced
1 cup stringless snap peas
1½ cups shredded cabbage or coleslaw mix
1 large carrot, peeled and shredded
1 teaspoon minced garlic
½ teaspoon minced ginger
1-2 pinches red pepper flakes
4 cups chicken broth
½ cup soy sauce
¼ cup hoisin sauce
1 375g box whole grain spaghettini pasta
Instructions
Add oil to a large pot and cook chicken over medium-high heat, just until mostly browned.
Add pepper, peas, cabbage and carrot and cook for 2-3 minutes, until veggies are softened slightly.
Add garlic, ginger, and pepper flakes and cook 1 minute.
Stir in broth, soy sauce and hoisin sauce and bring to a boil over medium-high heat. Add pasta and reduce heat to medium.
Cook the pasta, stirring frequently, for 5 minutes until pasta is separated (we don't want no clumps!) most of the liquid has been absorbed. Cover and cook for 3-4 more minutes until pasta is al dente or cooked to your preference. Serve.
Notes
You can easily start with raw chicken! Just chop up your chicken breasts, and brown them completely in the pan (use a non stick pan or spray with a little non stick spray) before adding the rest of your ingredients.
**NOTE: Nutrition information is estimated and will vary depending on exact serving size, types and brands of products used.
Nutrition Information
Serving size:
⅙
Calories:
435
Fat:
3g
Carbohydrates:
50g
Sugar:
6g
Fiber:
5g
Protein:
22g
 See my Ultimate Mix and Match One Pot Pasta Guide here!
This month, we've gathered up more than 15 30 minute meals to take you through all the September craziness! Be sure to stop by and find some new recipe to add to your meal plan this week.
One Pot Chicken Chow Mein from The Recipe Rebel
Honey Garlic Shrimp and Cilantro Lime Rice Bowl from Pumpkin 'N Spice
Easy Skinny Skillet Lasagna from Life Made Sweeter
Kale Caesar Salad with Lemon Parmesan Chicken Strips from Sweet Peas and Saffron
30-Minute Summer Vegetable Tostadas from She Likes Food
Stovetop Broccoli Chicken Mac 'n' Cheese from Whole and Heavenly Oven
Spicy Chili Garlic Grilled Trout from Bake.Eat.Repeat
30-Minute Creamy Pesto Tortellini Skillet from Flavor the Moments
Crunchy Couscous Sweet Potato Salad from Sweet and Delish
30-Minute Chicken Cacciatore from A Latte Food
Pumpkin Penne with Sausage and Sage from Flying on Jess Fuel
30 Minute Smoked Turkey Sausage Tortellini from Mariah's Pleasing Plates 
Baked Corn, Mushroom and Sausage Risotto from Floating Kitchen
BBQ Chicken Sliders with Cheddar and Spinach from Kristine's Kitchen
Roasted Cauliflower and Hazelnut Spaghetti from Savory Nothings
Italian Sausage Quesadillas from My Sequined Life