Here are 25 Romantic Dinner Ideas (plus Desserts!) to tuck into with your special someone! Bring date night home to you with delicious, effortless meals that set the stage for a cozy night in.
Whether you're preparing for Valentine's Day, an anniversary, or if food is your love language — date night doesn't have to mean going out!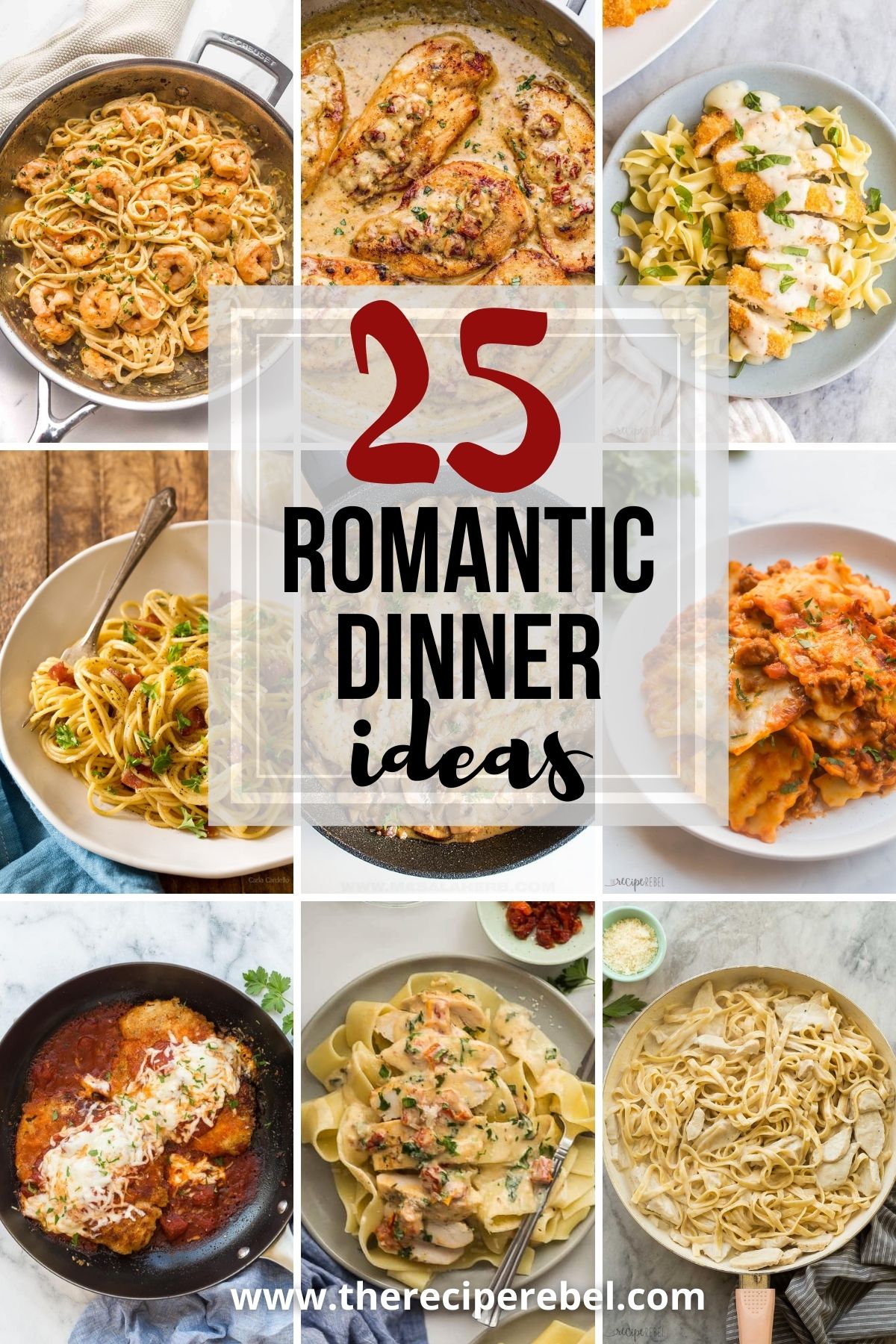 What Makes These Recipes Romantic?
A little romance goes a long way in showing you care! These date night recipes will have you feeling like you're dining in the best restaurant in town, without leaving the house. You and your date will love these romantic recipes, because they're:
Cozy and comforting. Nothing says "romance" like a candlelit dinner and a warm, homemade meal.
Easy to make. While still looking as though they pulled out all the stops. So you can focus on what (and who!) really matters.
Perfect for special occasions. These recipes are all the inspo you need for elegant Valentine's Day dinners, anniversary dinners, date nights in, or just because!
Setting the Scene
Luckily, this collection of easy romantic dinner ideas is here to save on cooking time, so that you can put a little extra effort into the ambiance! Turn your cozy dinner into something really special by setting the scene:
Flowers on the table are a simple yet winning gesture. It doesn't have to be roses!
Get creative with candles and use different heights and styles.
Go the extra mile with a proper table setting, with cutlery and dinnerware in all the right places.
Leave a love note. Because who wouldn't love to sit down to a thoughtful little message.
Dim the lights and put on your favorite romantic playlist.
If you're really going all out, sprinkle the table with flower petals.
Making a Game Plan
You don't want to be fussing with last minute prep and kitchen duties come date night, so plan ahead where you can!
Make the meal, or components of the meal ahead where possible.
Prep all the ingredients you can in advance and store them until you need them.
Budget extra time, ahead of time, to banish Murphy's Law from your kitchen.
Read through recipes and check your shopping lists to make sure you haven't overlooked anything. (Nothing offsets the mood like a last minute rush to the store!)
Enjoy yourself! Food cooked with love and attention is the best kind of food.
Romantic Recipes for Dinner
From decadent risottos and creamy pastas, to effortless and tender meats, these recipes spell out romance!