These Cherry Cheesecake Brownies start with fudgy homemade brownies, and are filled with cheesecake and cherry pie filling. They are the BEST brownies! Includes step by step recipe video
When I came up with these brownies, I thought I was a complete genius.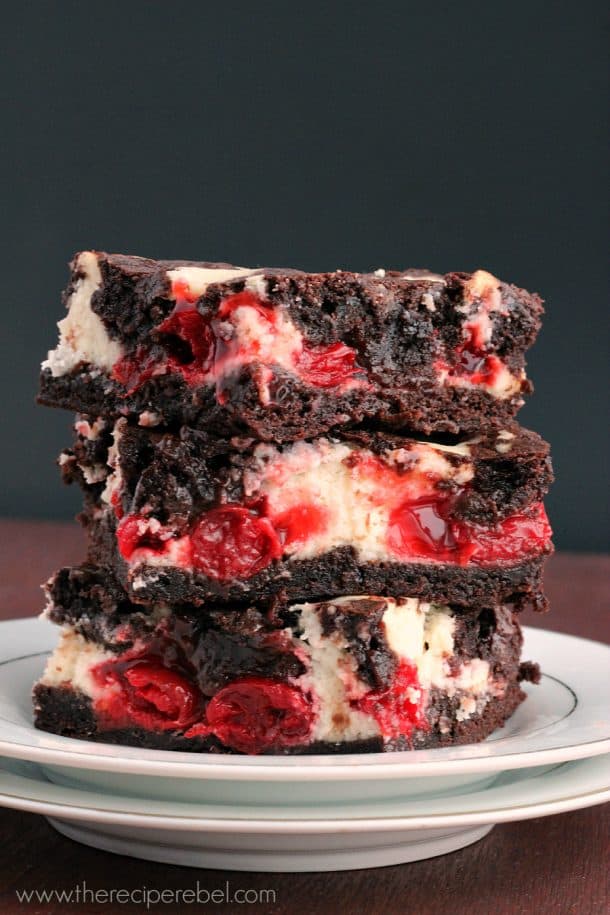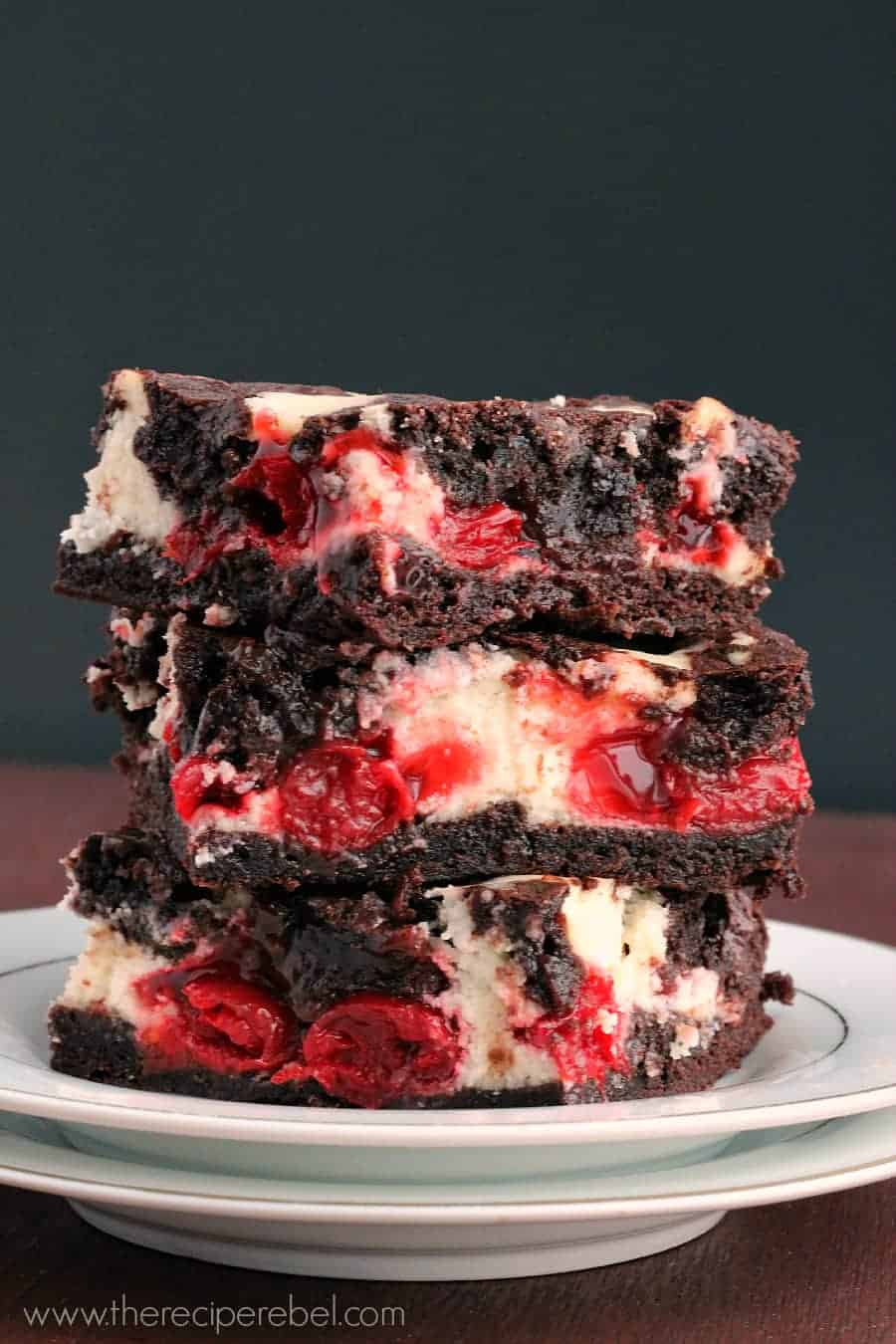 I ate a lot of cheesecake in my University days.
When we lived in the city while I attended, we had a weekly "tradition", if you will, with friends of ours: the guys went for wings and the girls went for cheesecake.
Kind of the best tradition ever, right?!?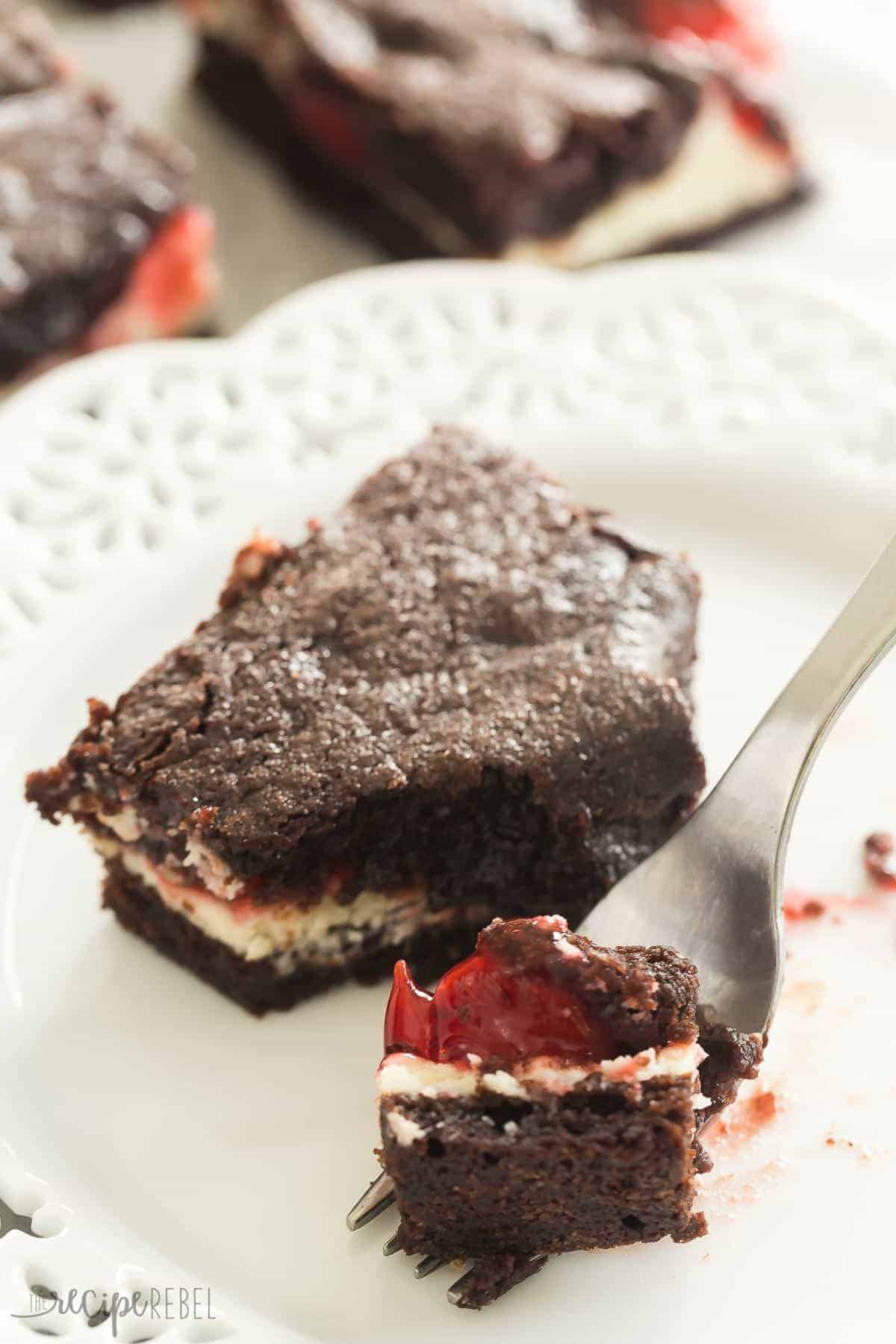 Now that we have kids and don't live in the city anymore, we don't eat nearly as much cheesecake. It's pretty sad, but luckily there are quite a few treats that are coming out of this kitchen these days.
These Cherry Cheesecake Brownies are one of my favorites (and I don't make them nearly enough!), but this No Bake Cookie Dough Cheesecake and this Chocolate Cheesecake will also do the trick just fine. 😉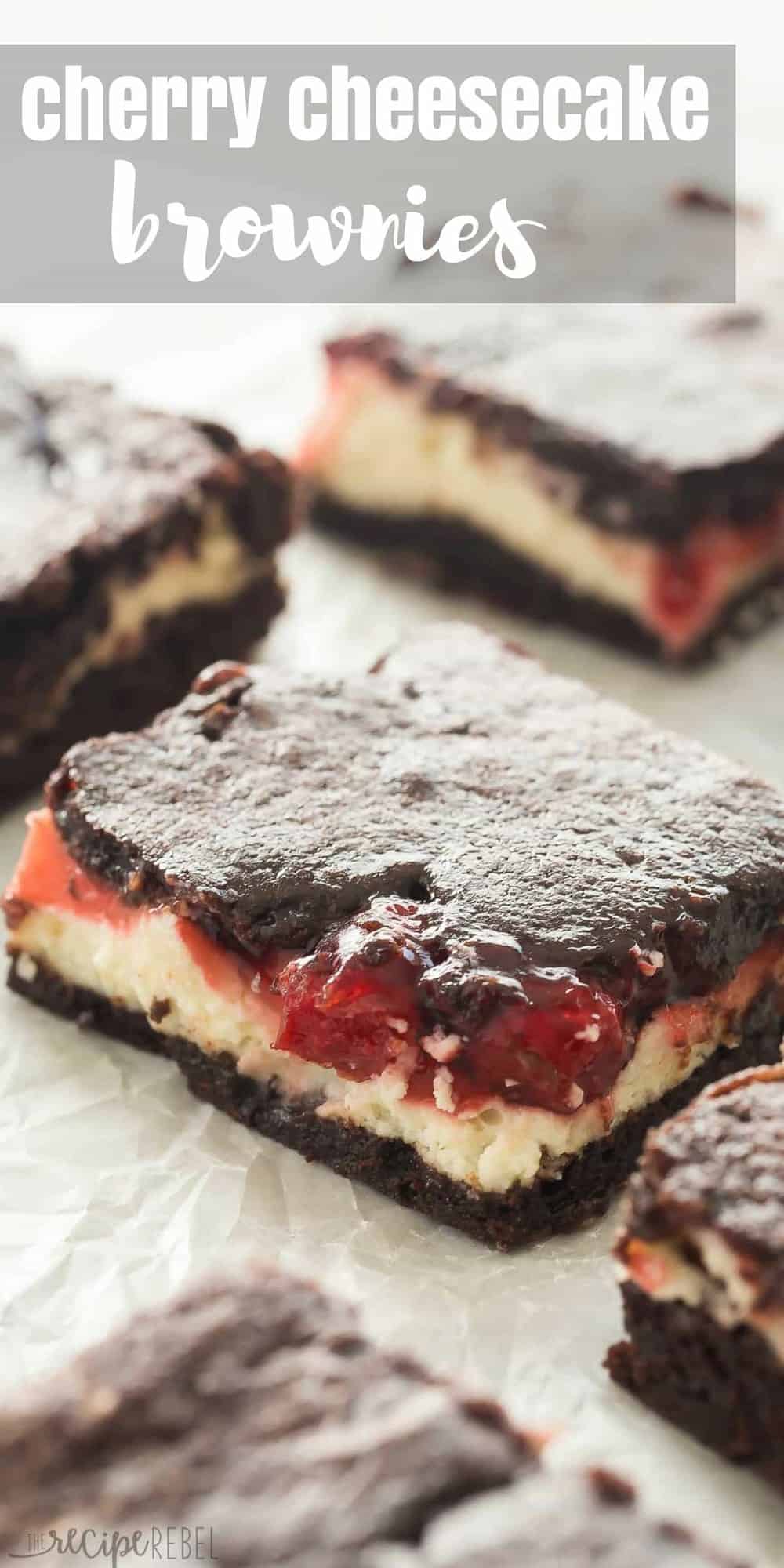 Luckily though, my good friend and cheesecake-eating partner was out for a visit the day that I made these the first time, so I had someone to share them with. She approved, and so here we are today!
Watch the recipe video to see how they're made!

Tips and Tricks for Making the Cherry Cheesecake Brownies:
The batter will be thick, so you won't be able to spread the top layer well. That's okay! It will just give you a peek of what's inside.
I use whole wheat flour because in this recipe you really can't tell the difference. All purpose works perfectly as well!
You can healthify the recipe slightly by using light cream cheese (which I usually do) and reduced sugar pie filling or making your own.
16
adjust servings
Cherry Cheesecake Brownies
Cherry Cheesecake Brownies: moist fudgy brownie, creamy cheesecake and cherry pie filling come together to create pretty much the best brownies ever. Perfect for your sweetheart! www.thereciperebel.com
Ingredients
Brownies
1

cup butter, melted, cooled slightly

2 1/2

cups (500g) granulated sugar

1

tbsp vanilla

4

eggs

1 1/2

cups (190g) whole wheat flour (or sub all-purpose)

1

cup cocoa (95g)

1/2

tsp salt
Cherry Cheesecake filling
1 8oz

package cream cheese

1

egg

1

tsp vanilla

1/3

cup sugar

1/2

can cherry pie filling
Instructions
Line a 9x13" pan with tin foil and spray with cooking spray -- this makes for easy clean up. Preheat the oven to 350 degrees F.
Brownies
In a large bowl, whisk together melted butter and sugar until smooth. Add vanilla and eggs and whisk until combined.
Add flour, cocoa and salt and stir until combined. Batter will be thick.
Spread half (or just over half) of the batter into the bottom of the pan.
Cherry Cheesecake filling:
With an electric mixer, beat cream cheese, egg, vanilla and sugar until smooth.
Spread the cream cheese mixture over the brownie batter. Top with spoonfuls of cherry pie filling and spread slightly.
Drop spoonfuls of remaining brownie batter on top of the pie filling. You won't be able to spread the brownie batter easily, you will just try to cover a good amount (but certainly all) of the filling with the batter. Smooth out the batter the best that you can.
Bake at 350 degrees F for 30-35 minutes, until center appears set. Note that your brownies might still have a little jiggle to them -- this is because of all of that gooey deliciousness below. I baked mine for 35 minutes in a dark non-stick pan.
Let cool to room temperature before cutting. They will cut more easily if refrigerated for a few hours, but I couldn't wait, so I didn't!
Post and recipe updated from February 3, 2015