An easy, healthy lunch or dinner idea that the whole family will love! A new take on pizza night 🙂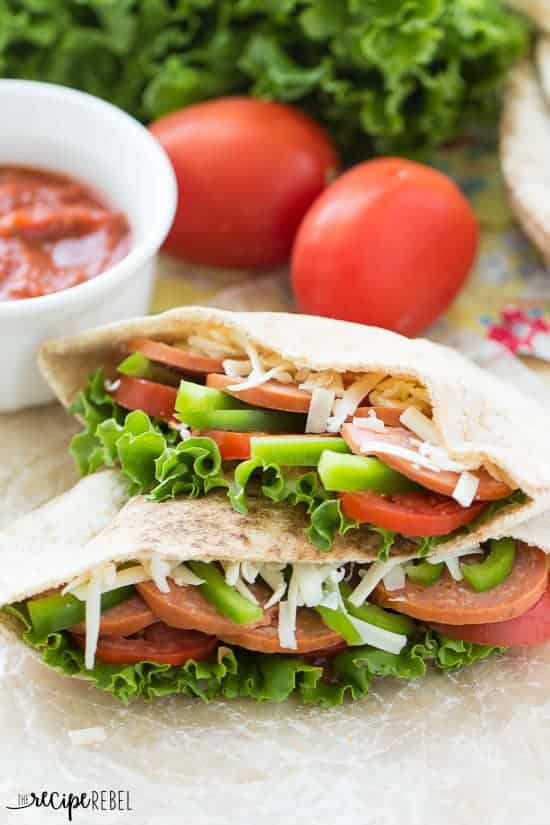 This recipe is part of my efforts to bring you more Real Food recipes here to The Recipe Rebel. You know, recipes to actually make and eat, and recipes that I actually want to make and eat.
We love pizza anything.
You name it, I've pizza-ed it. And if I haven't yet, then I'm thinking about pizza-ing it.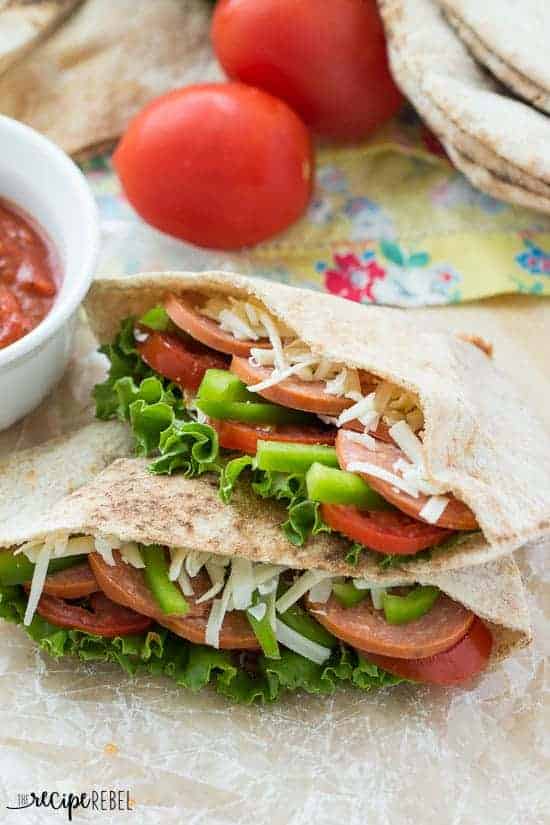 Some of my favorite recipes are those that are this close to not even being called recipes. The ones that take the boring things you might be eating on a busy weeknight, and making them extra special.
Maybe on some particularly busy weeknight you'd be reaching for some bread and making sandwiches for the fam. But we all know that the fam likes pizza better, and a pizza sandwich is better than any mayo-laden sandwich anyday.
Then again, pitas > bread when it comes to 3 year olds and sandwiches.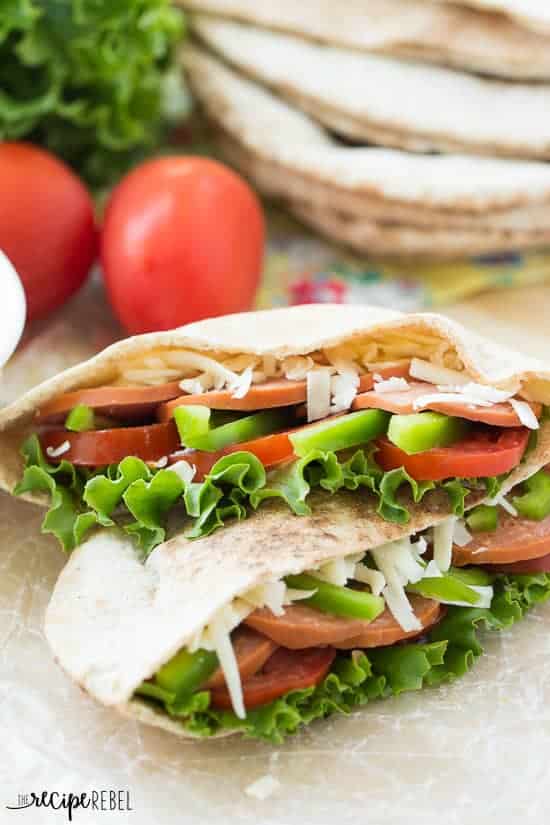 Think about it — there's no open bottom! Do you know how many times I have to encourage my 3 year old to hold a sandwich with two hands, hold it level, take nice bites, don't open it up and pick out the pieces you like…… I think there are a whole lot more pitas in our near future.
Plus, they're fun, and you can load them up way more than 2 pieces of bread.
I'm going to give you some rough measurements, but let's not stress this too much, okay? You put what you want in it, and how much you want, and I'll tell you what I put in mine. 🙂
And since this is our third 30 Minute Thursday here on The Recipe Rebel, you can find a bunch of other easy, 30 Minute Meals from friends down below the recipe!
2 filled pitas
adjust servings
Pizza Pitas
An easy, healthy lunch or dinner idea that the whole family will love! A new take on pizza night 🙂 www.thereciperebel.com
Ingredients
1

whole wheat pita, cut in half and split open

2

leaves lettuce

4-5

tbsp pizza sauce, plus extra for dipping

2

Roma tomatos, sliced

8-10

slices pepperoni

1/2

cup thinly sliced green peppers

1/2

cup shredded mozzarella cheese
Instructions
Lay a slice of lettuce in the bottom of each half of your pita pocket. Spread with about 2 tbsp pizza sauce (I recommend not placing the sauce next to the bread to keep it from getting soggy).
Top with tomatoes, pepperoni, green peppers and cheese (or toppings of your choice).
Devour, dunking in extra pizza sauce if desired.
Recipe Notes
Feel free to mix up the fillings as you like! I just try to keep the things with the most moisture away from the pita bread (sauce, tomatoes, etc.) because I don't want soggy bread.
If you're packing the pitas and taking for lunch, you can always skip the sauce in the pita and just bring sauce to dip it in.
 How to Make Your Own Pita Bread from The Kitchn
More 30 Minute Meals from friends!
Honey Garlic Salmon and Vegetables Sheet Pan Dinner by Kristine's Kitchen
African Peanut Stew with Chicken and Sweet Potatoes by Floating Kitchen
Easy Cream of Mushroom Soup by Pumpkin 'N Spice
30 Minute Lighter Stovetop Turkey Tetrazzini by Savory Nothings
Maple Ginger Cashew Stir Fry by Sweet Peas & Saffron
Pizza Polenta Bowls by She Likes Food
Gnocchi with Turkey and White Beans by My Kitchen Craze
Pumpkin Sausage Alfredo Penne by Whole and Heavenly Oven
Easy Chicken Lo Mein by Life Made Sweeter
Easy Beef and Broccoli by Bake. Eat. Repeat.
Pork Chops with Creamy Bourbon Mushroom Sauce from Flavor the Moments