These Pepperoni Pizza Cupcakes are made up of pepperoni, cheese, and pizza sauce baked inside of crisp wonton wrappers — Only 4 main ingredients and 20 minutes! Perfect as an appetizer or a quick lunch. Includes step by step recipe video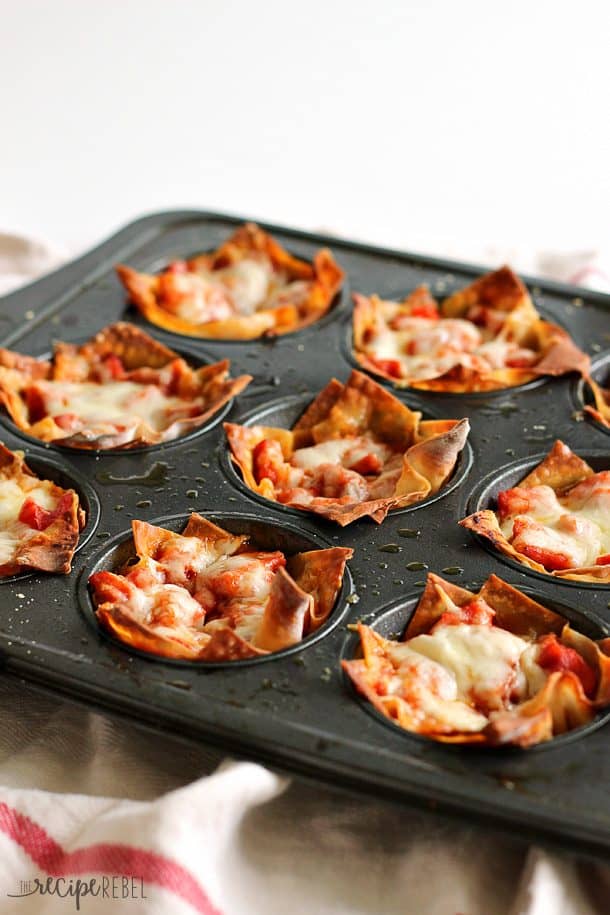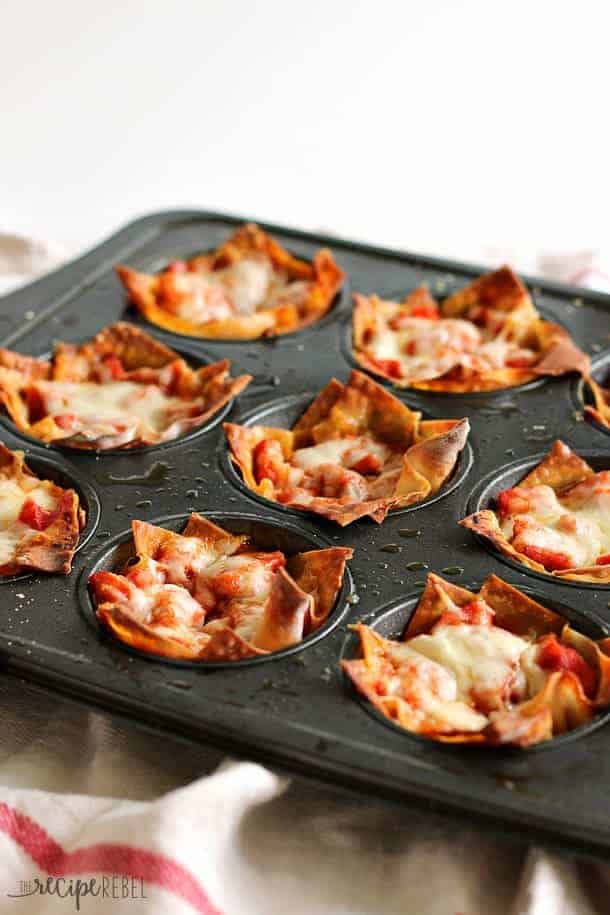 You guys, I am just not at a point in my life where I have the time or energy to cook a meal that involves 17 ingredients and 3 different pots. (Please pass me all the one pot meals and slow cooker recipes)
And besides, sometimes simple is insanely delicious.
These Pepperoni Pizza Cupcakes are so good. And if you want to make them good for you, you can always increase the veggie content. Mushrooms, chopped spinach or kale, grated carrot, grated zucchini — whatever you want to hide under all of that spicy pepperoni and oozing sauce and cheese. You could even go all out and use turkey pepperoni and low fat cheese, if you really wanted.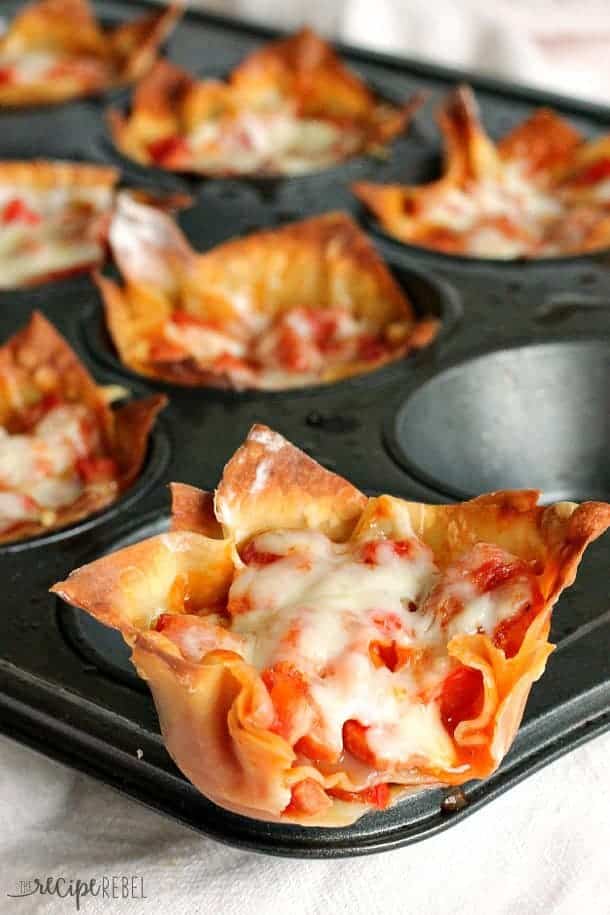 I might even like these more than pizza itself.
Both are good in their own ways, but with these there's no yeast dough to deal with. You also get a soft, noodle like texture from the wonton that inside the muffin pan, and then those crispy, crunchy edges that get all golden on top. It's win-win.
One of the only reasons pizza is still way up there is because real pizza is great for making ahead, freezing, or packing in lunches and reheating quickly in the microwave. I try not to make too many leftovers of these wonton cupcakes because, though they are still just as flavorful, those beautiful golden edges just don't have the same crunch after sitting in the fridge (though if you want to make them ahead, be sure to reheat them in the oven so they crisp up and don't get soggy!)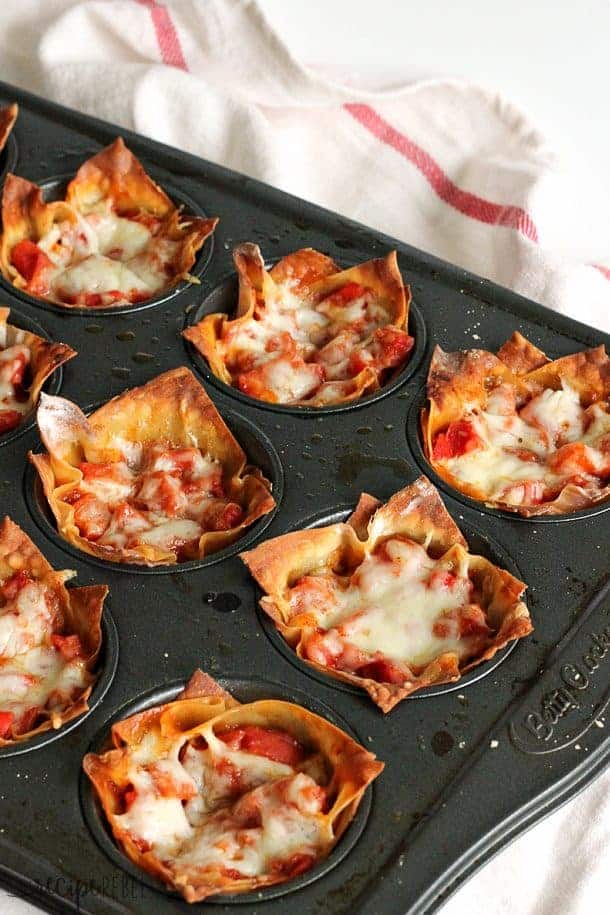 So grab all five — yes, FIVE — ingredients and give these a try. You'll be on your way to oozy cheesy crunchy bliss in no time.
Watch the recipe video and see how they're made!
9 cupcakes
adjust servings
Pepperoni Pizza Cupcakes
You're only 5 simple ingredients away from these delicious and hearty pepperoni pizza cupcakes -- the perfect snack, lunch or quick weeknight dinner!
Ingredients
18

small wonton wrappers (about 3-4" in width)

1 1/2

cups finely diced pepperoni

1

cup finely diced red pepper

3/4

cup pizza sauce

1

cup shredded mozzarella cheese
Instructions
Spray a muffin pan with non-stick spray and preheat the oven to 350 degrees F.
Combine pepperoni, pepper and pizza sauce in a bowl.
Lay one wonton wrapper in the bottom of 9 holes (but really, what do you call those things??). Press the wrapper in right to the edges so that it sticks to the non-stick spray.
Place about 1 tbsp of filling in the bottom of each wrapper, spreading filling to cover the bottom. You want to use half of your filling this time around.
Place another wonton wrapper on top of your filling (on all 9 cupcakes), staggering the edges so that they don't overlap your first wonton (this is not a big deal, but I like to put the second wonton in slightly different direction to get more crunchy edges). Press the second wonton wrapper down onto the filling gently and up the sides of the pan.
Place about 1 tbsp filling on top of your second wonton wrapper, spreading evenly across the top. Divide all of your filling among the remaining cupcakes.
Top with cheese and bake about 15 minutes until edges are golden and cheese is bubbly. Let cool slightly before eating.
Recipe Notes
*Note: I made a small batch, just enough for my family of 3. The ingredients are easily reduced or increased to make more to suit your own needs. If you are going to add more veggies, just reduce the amount of pepperoni and red pepper.
**As shown in the video, I have tried placing both wrappers right in the bottom and then filling. It cuts out an extra step and works just as well! You do what you prefer.
Looking for more quick and easy meals?
Check out this One-Pot Homemade Hamburger Helper.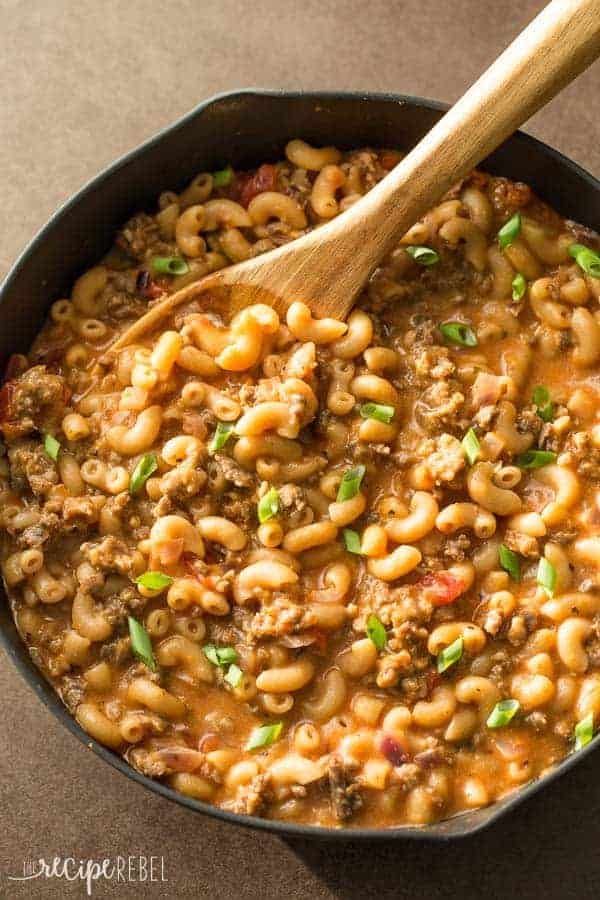 Or this recipe for the Best Oven-Fried Chicken!