This No Bake Brownie Batter Cheesecake is the cheesecake for chocolate lovers! It's rich and fudgy with no oven required! Includes step by step recipe video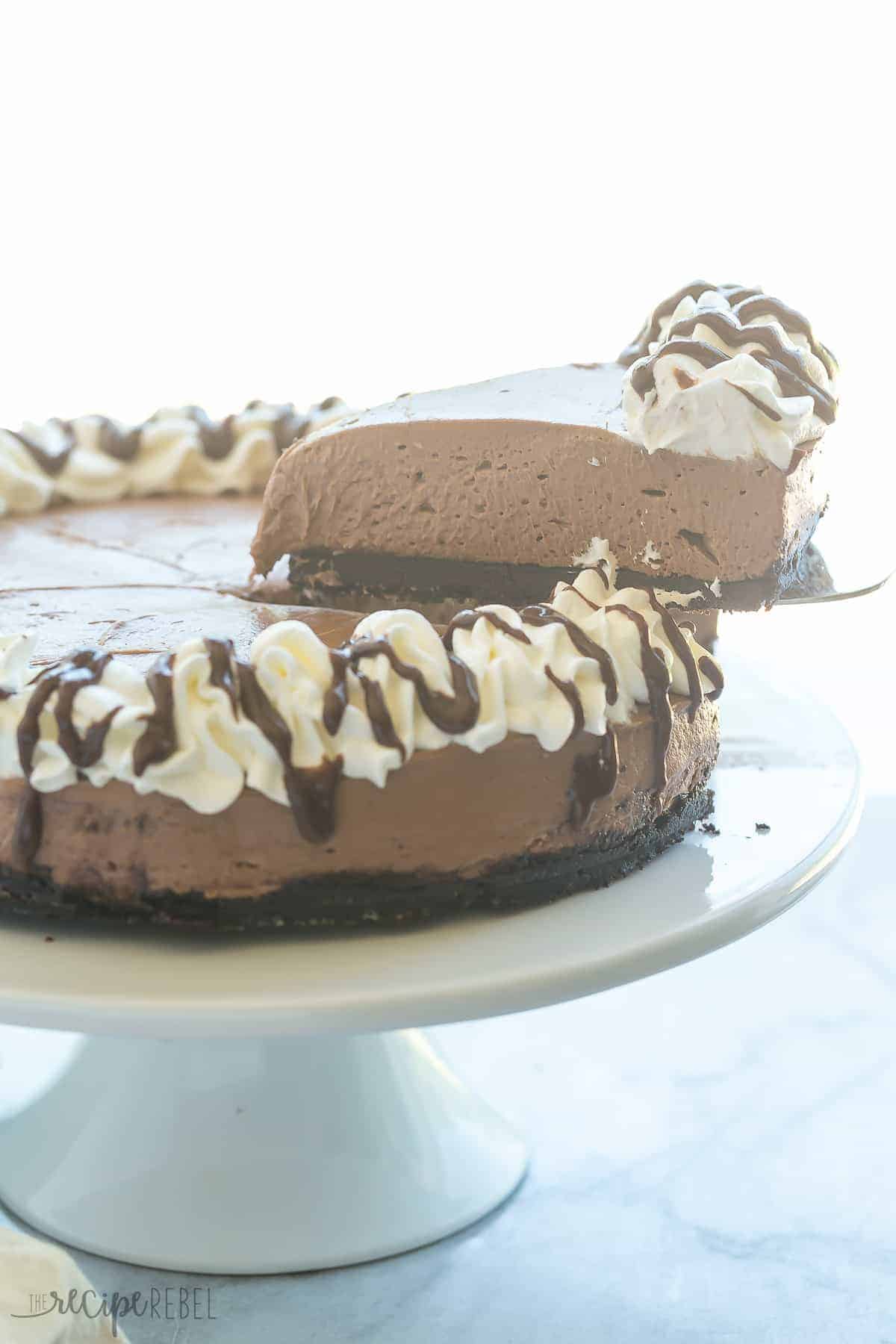 Friends, I am so excited to share this with you! This incredible no bake cheesecake is from my friend Julianne's new cookbook No Bake Treats!
Julianne is the no bake dessert queen and shares her delicious treats on her site Beyond Frosting. If you've never heard of her, you need to check her out (link above!) — some seriously amazing desserts!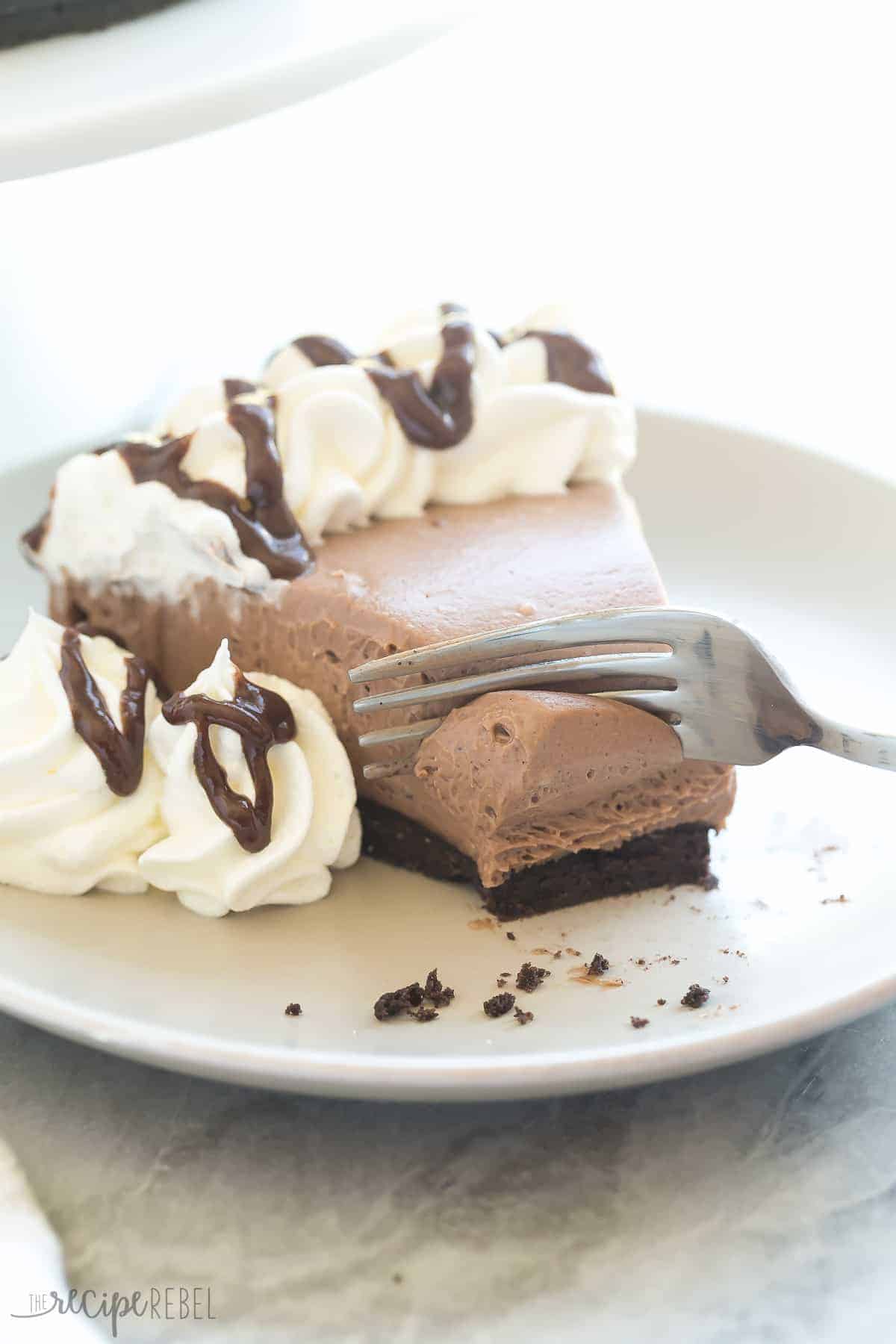 You know I love a no bake dessert and cheesecake is one of the best, am I right? I couldn't resist adding another one to the collection (along with my No Bake Lemon Cheesecake, No Bake Mint Chocolate Cheesecake and these No Bake Chocolate Nutella Cheesecake Bars!) from Julianne's book.
I can't say that adding brownie mix to a cheesecake would have ever crossed my mind, but I'm glad it crossed Julianne's because the flavor in this cheesecake is incredible! It's so rich and chocolatey without being as heavy as a baked cheesecake.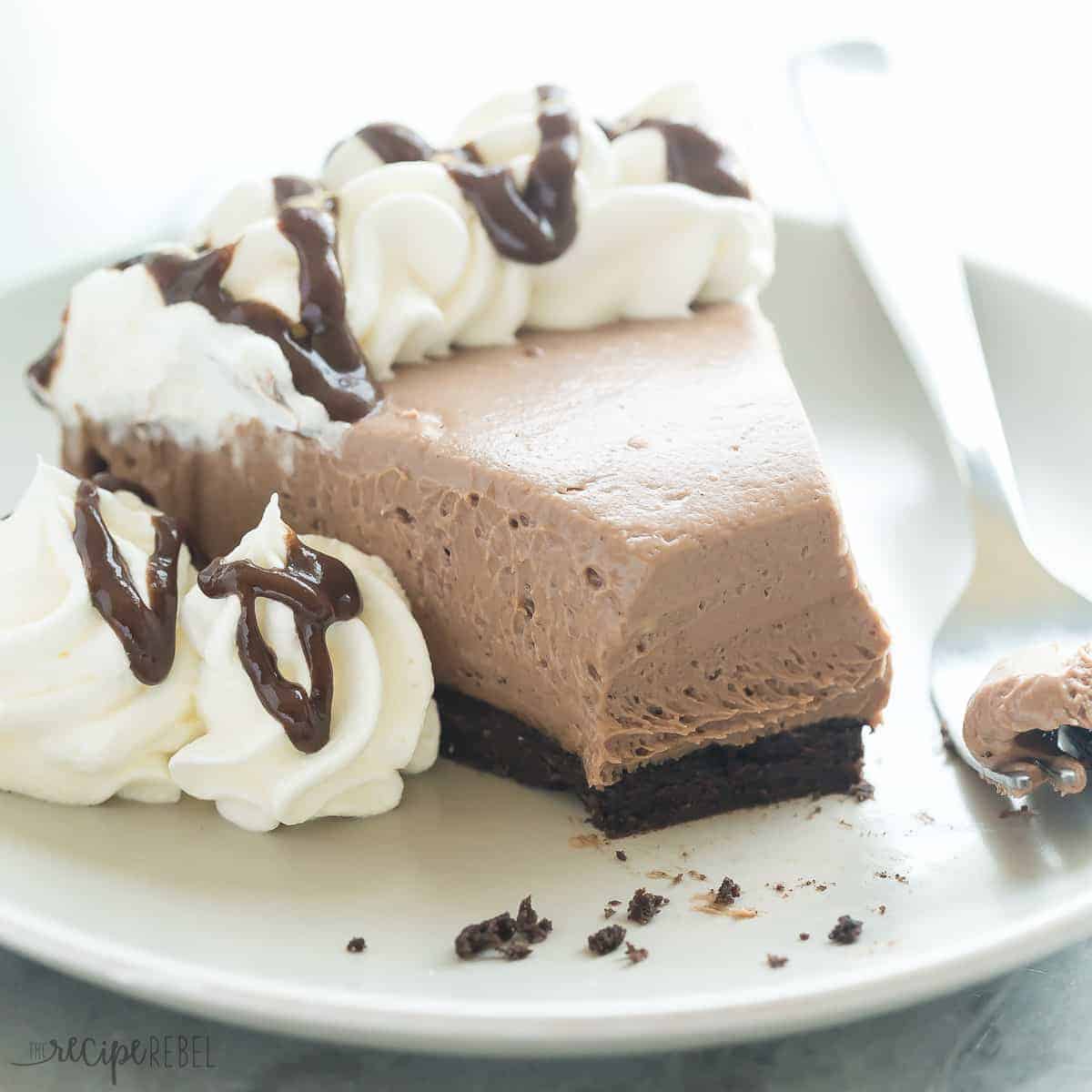 Now you need to know, this cheesecake is quite rich! I would definitely recommend making it when you have a few friends to share with (or, hey — slice it up and freeze individually for when the craving hits!). It's quite sweet and soooo chocolatey, but it is truly the ultimate cheesecake for chocolate lovers. Not that I know any of those 😉
Some people have asked about using regular cake mix instead of brownie mix. I haven't tried it, but I don't think you would get quite the same intense chocolate flavor. If that's okay with you, then give it a try! I will also add that for the recipe, one box of brownie mix should be just right.
NOTES:
You're going to want a really great Springform pan if you don't already have one — cheap ones can start to leak and that's not something you want!
I've included the recipe as it is in the cookbook, but I couldn't get my hands on any whipping cream before I made it (I tried!) so I substituted 1% milk and it worked just fine!
Here's a look at the cookbook! No Bake Treats from Julianne Bayer 🙂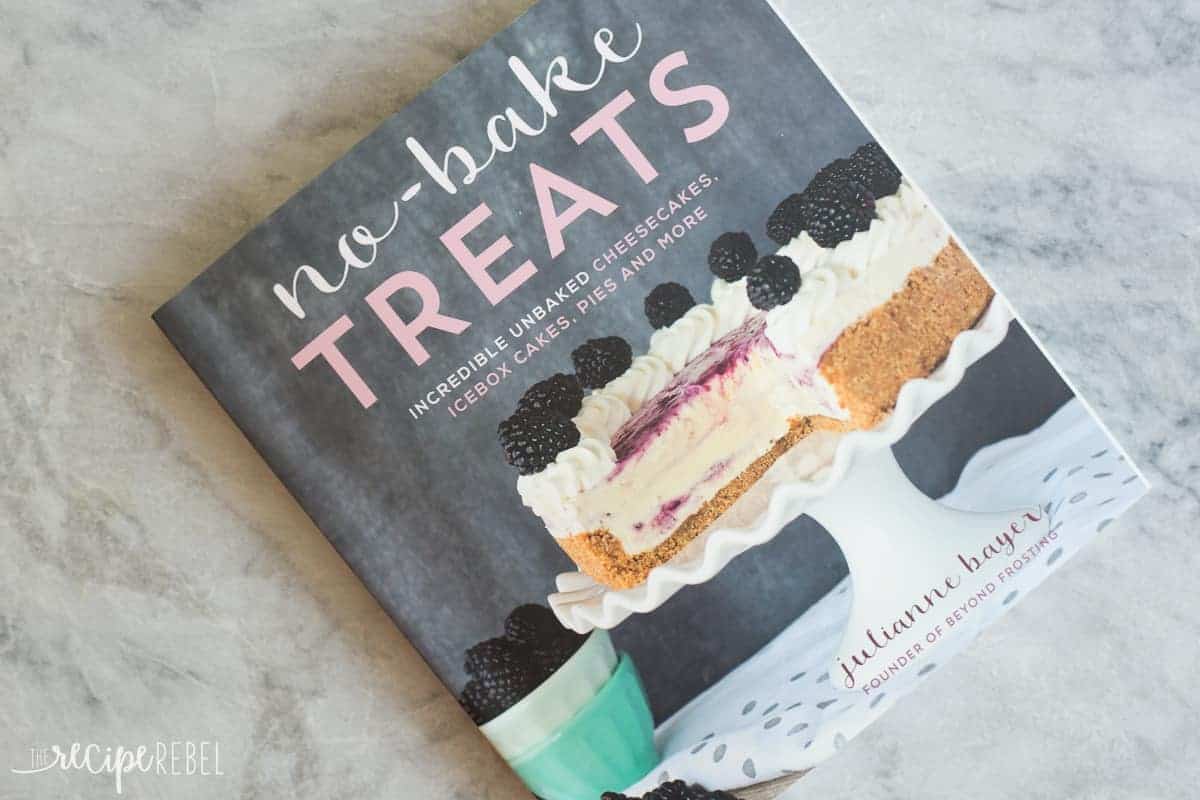 Watch the recipe video and see how easy it is to make!


*If you are concerned about the fact that the brownie mix contains raw flour, feel free to heat treat your brownie mix. Otherwise, you may want to make one of the no-bake cheesecakes listed above or this Chocolate Cheesecake.
No Bake Brownie Batter Cheesecake
This No Bake Brownie Batter Cheesecake is the cheesecake for chocolate lovers! It's rich and fudgy with no oven required!
Ingredients
FOR THE CRUST
2 1/2 cups (225 g) chocolate sandwich
cookie crumbs (I use Oreo)
6 tbsp (86 g) unsalted butter
FOR THE FILLING
24 oz (680 g) cream cheese, softened (I use light)
1/2 cup (96 g) granulated sugar
3 tbsp (44 ml) heavy whipping cream
2 tsp (10 ml) vanilla extract
3 cups (375 g) brownie mix (dry) (I use a Low Fat mix)
FOR THE GLAZE
3 tbsp (23 g) brownie mix (dry)
3 tsp (15 ml) vegetable oil
4 tbsp (59 ml) heavy whipping cream
(or milk)
FOR THE TOPPING
1 cup (237 ml) heavy whipping cream
1/2 cup (65 g) powdered sugar
Directions
FOR THE CRUST
Prepare a 9-inch (23-cm) springform pan by lightly greasing the edges of the pan with cooking spray, and then wiping gently with a paper towel. Before measuring, grind the cookies into fine crumbs using a food processor or blender. In a microwave-safe bowl, microwave the butter for 45 to 60 seconds until the butter is melted.
In a separate medium-size bowl, pour the melted butter into the cookie crumbs and stir until there are no dry crumbs left. Pour the crumbs into your springform pan and press firmly into the bottom and up the sides of your springform pan to create a thick crust.
FOR THE FILLING
Beat the cream cheese on medium-high speed for 2 to 3 minutes until it's light and fluffy.
Slowly add the sugar into the cream cheese while beating the mixture. Next, add the heavy whipping cream and vanilla extract. Beat until the filling is smooth and creamy, scraping down the bowl as needed.
Slowly add the dry brownie mix, beating on medium speed until the dry mix is completely blended into the cream cheese.
Pour the filling into the prepared crust and spread evenly. Cover and refrigerate for 4 hours until the filling is firm.
FOR THE GLAZE
In a small bowl, combine dry brownie mix, vegetable oil and heavy whipping cream or milk. Whisk until the mixture is smooth. For a thinner mixture, you can add additional heavy whipping cream. Drizzle over the cheesecake.
FOR THE TOPPING
Place the mixing bowl and whisk attachment in the freezer for 5 to 10 minutes to chill.
Pour the heavy whipping cream into the chilled bowl and use an electric mixer to beat the heavy cream on medium-high speed until the cream gets bubbly. Slowly add the powdered sugar and continue beating on high speed until stiff peaks form.
Remove the springform pan edge and use a large star tip to pipe the whipped cream on the outside edges of the cheesecake.