You guys, I had a total breakthrough.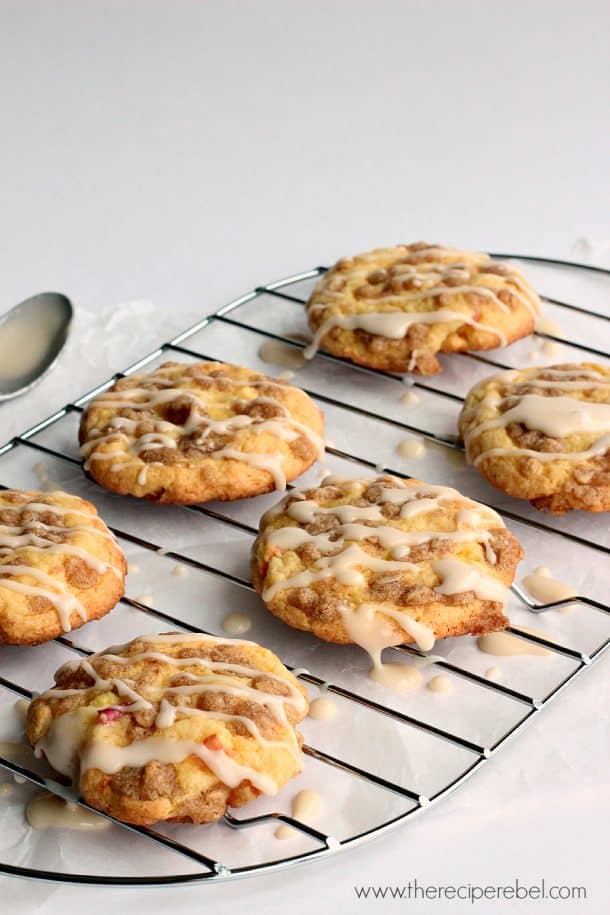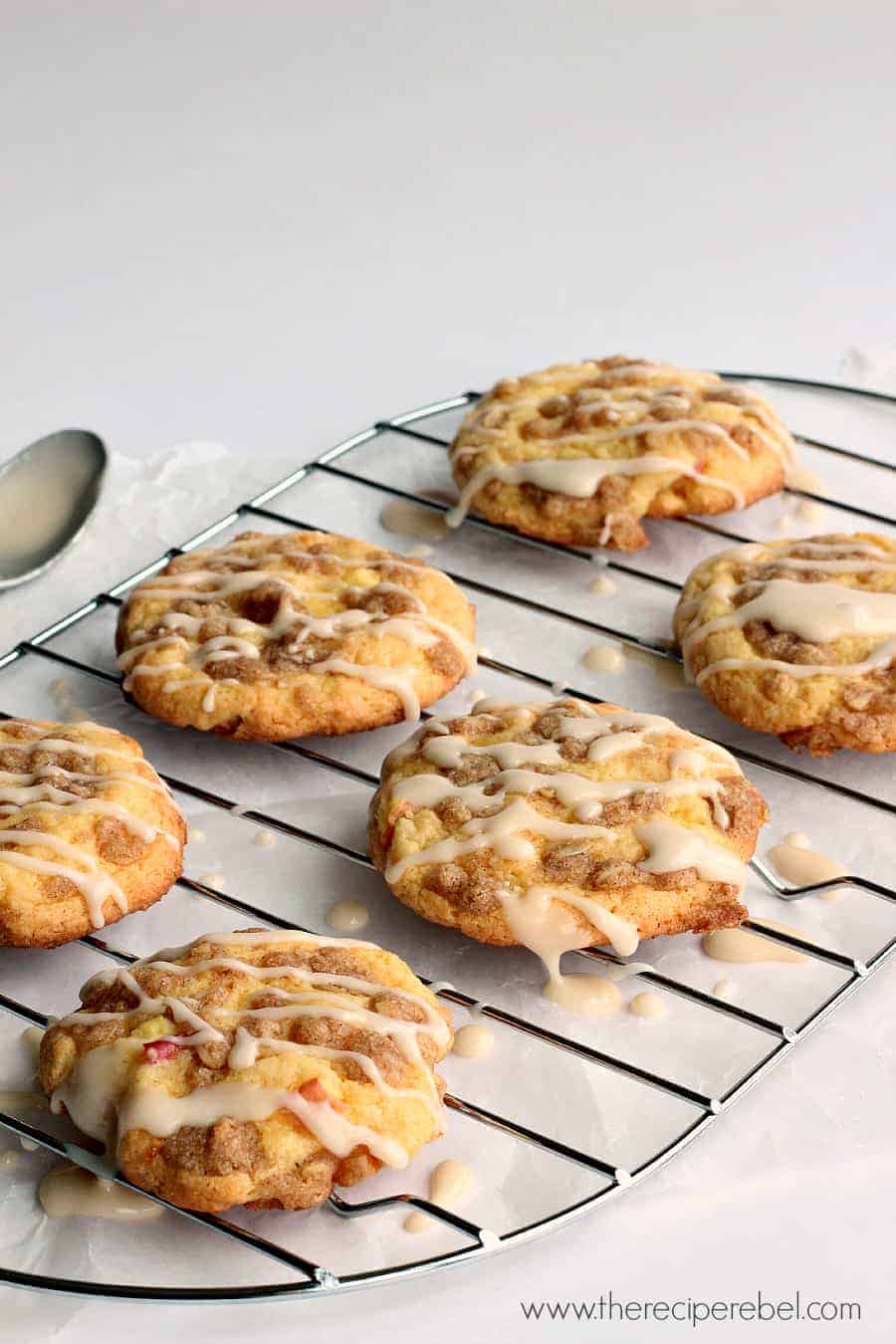 So I was telling my husband how I had not much to do on a particular Saturday, besides a few things on the blog and maybe bake some buns. So he says to me, "you should make cookies."
Now normally, I'd be all like, "make your own cookies!"
Except he was right. I did want to make cookies.
So I was thinking about what kind of cookies to make… maybe something new and exciting to try for the blog? Or an old favorite and skip the photographing, writing, editing, etc., etc..
I was thinking about how I made these Cinnamon Roll Cookies once and totally raved about them, and then my sister made them and was totally disappointed because they were so much work and didn't turn out that well. So I thought maybe I should try taking my cake mix cookie recipe from my Grandma's oreo cookies (that also inspired these cookies), and turn them into an easy cinnamon roll cookie.
And then I started thinking about other holiday flavours and Christmas baking. And I started thinking about streusel, because that's totally a normal direction for my brain to go on a Saturday morning.
And it came to me: Apple Crisp Cookies.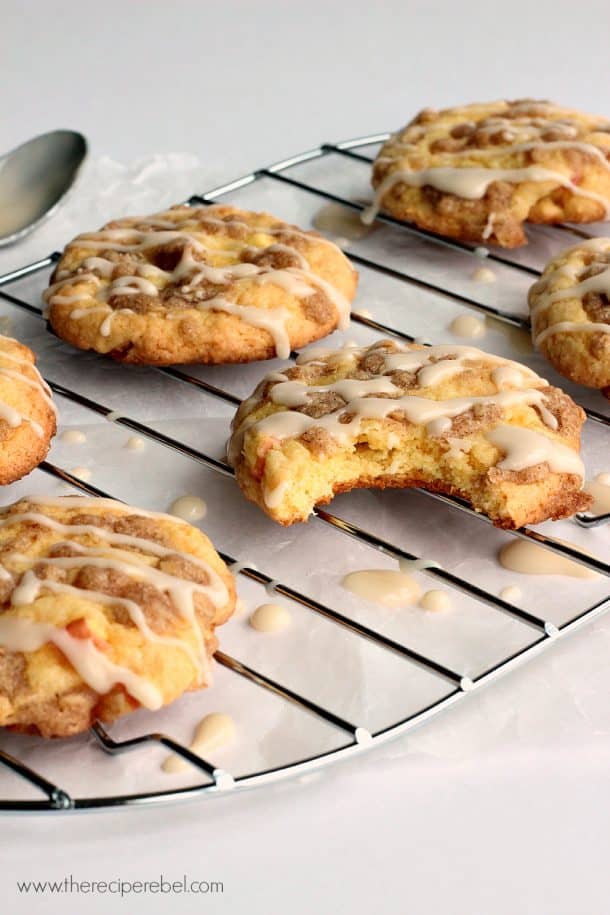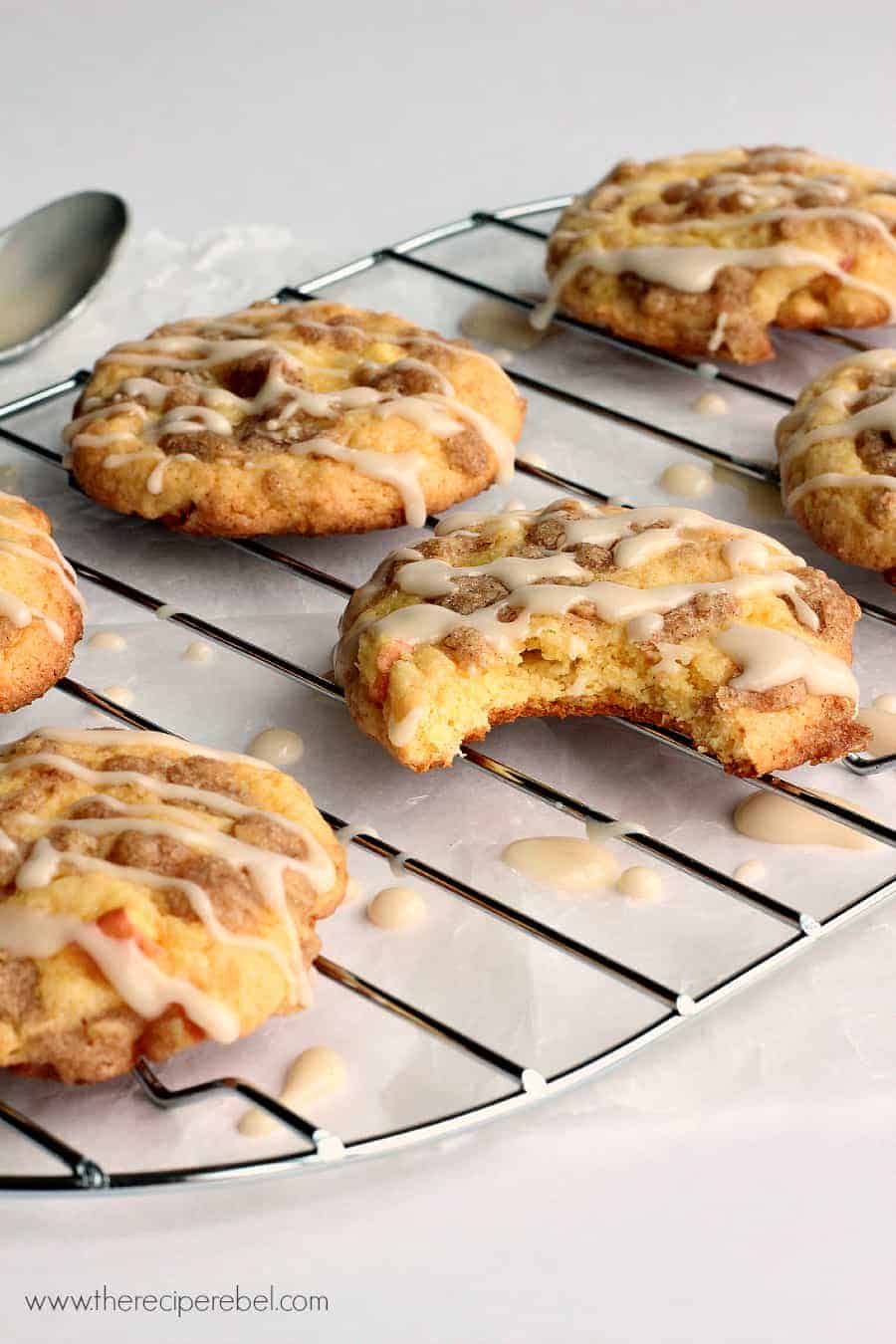 I could start with my Grandma's cake mix cookie recipe as a base, add chunks of apple, and a brown sugar oat streusel on top. And it would be amazing.
I was a little nervous though, that something wouldn't work and they would bake too flat or the apples would be crunchy, and on and on.
Except they were perfect.
I mean, they are totally, insanely delicious.
You don't even need the maple glaze…. but if you're feeling like you need a little extra indulgence? Do it. Maple + apples + streusel + cookies rocks my world.

*Update March 21, 2015: Because this is one of my favorite cookie recipes, and cake mixes can be somewhat fickle (with different weights, ingredients, etc.) I wanted to create a scratch version. I. LOVE. THEM. You'll find the scratch recipe just below.
Maple-Glazed Apple Crisp Cookies
Maple Glazed Apple Crisp Cookies: the perfect combination of flavours and textures, in an easy cake mix cookie! Perfect for holiday baking! www.thereciperebel.com
Ingredients
Cookies
2 468g golden cake mixes (about 16.5 ounces each)
4 eggs
1/4 cup oil
1 medium apple, diced very finely
Streusel
1/4 cup butter, cold
1/4 cup brown sugar
1/4 cup granulated sugar
1/2 tsp cinnamon
1/4 cup flour
1/3 cup large oats
Glaze
1 tbsp icing sugar
1 tsp maple syrup
Directions
For the cookies:
Combine all ingredients until well mixed. Set in the refrigerator for 15-30 minutes while you make your streusel.
Preheat oven to 350 degrees F and make your streusel.
Combine all streusel ingredients until crumbly -- if you squeeze some between your fingers, it should be moist enough to hold together.
Using a 1" cookie scoop or spoon, drop cookie dough about 1.5-2" apart on a baking sheet (I do 12 to a sheet). Using your fingers, press some of the streusel into the top of the cookie.
Bake for 9-10 minutes, until just slightly golden at the edges and slightly puffed and dry in the center. They will sink down a bit as they cool, as long as they aren't overbaked.
Combine glaze ingredients if desired -- the 1tbsp to 1 tsp ratio will do about 3-4 cookies. I've given you a small enough ratio to work with so that you can double, triple or quadruple as desired if you wish! Drizzle over cooled cookies and let set (or stuff in your face immediately).
Maple-Glazed Apple Crisp Cookies
A scratch-made cookie filled with fresh apple chunks and topped with brown sugar cinnamon streusel, drizzle with maple glaze. All the flavors of apple crisp in a chewy cookie!
Ingredients
Cookies
1 1/4 cups butter, room temperature
1 cup brown sugar
1 cup granulated sugar
1 tsp vanilla
2 large eggs
3 1/4 cups flour
1 tsp salt
1 tsp baking soda
1 medium apple, finely chopped (I used a Macintosh and got about 1 3/4 cups of apple)
Streusel
1/4 cup butter, cold
1/4 cup brown sugar
1/4 cup granulated sugar
1/2 tsp cinnamon
1/4 cup flour
1/3 cup large oats
Glaze
1/2 cup powdered icing sugar
2-3 tbsp maple syrup
Directions
In the bowl of a stand mixer (or you can use a handheld), cream together butter and sugar until light and fluffy. Add the eggs and vanilla and beat until smooth.
Add the flour, salt, and baking soda and beat just until combined. Add apples and mix until just combined. Cover with plastic wrap and refrigerate 1 hour (I find the juices from the apples makes the dough a bit stickier than normal -- the chilling helps with this).
While your cookie dough is chilling, make the streusel. Combine butter, brown sugar, granulated sugar, cinnamon, flour and oats with a pastry cutter (or your fingers!) until crumbly. Set aside until needed. (Can be stored in the fridge if needed)
Preheat the oven to 350 degrees and lightly grease baking sheets.
Roll cookie dough into 1" balls and dip in streusel, pressing the streusel into the top of the cookie with your fingers if needed (you only want the streusel on the top half). Place on a baking sheet 2" apart and bake for 8-9 minutes, until edges are just golden and centers are just barely set (if you overbake, they will puff up and be dry). Cookies will be slightly puffed but will sink down as they cool.
Combine powdered icing sugar and enough maple syrup to make a smooth glaze. Drizzle over cookies and allow to cool until set (the glaze will firm up nicely so the cookies can be stacked).
 You might also like these 4-Ingredient Double Chocolate Cookies!