This may just be the perfect fall dessert.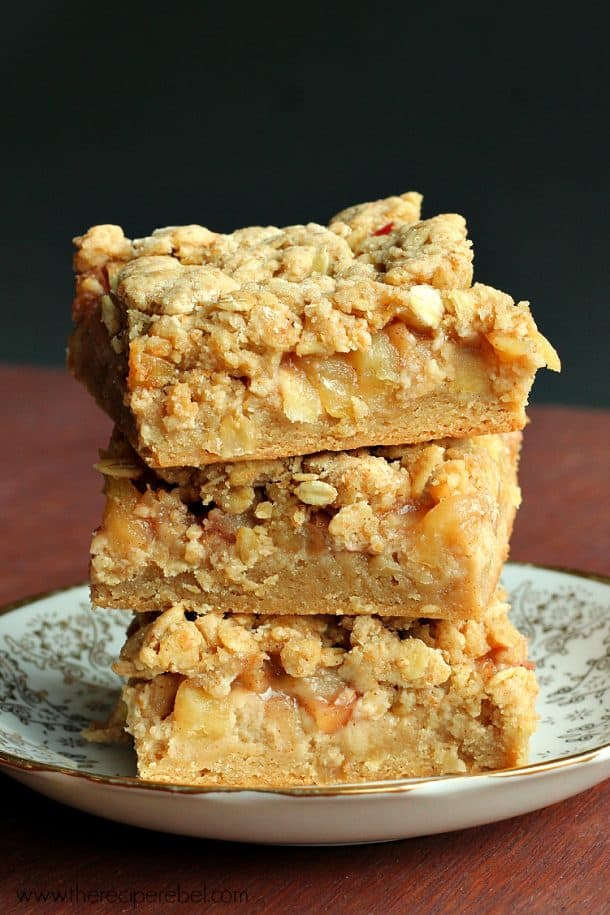 I'll be the first to admit that I can resist apple crisp no better in the spring than I can in the fall, but I guess there are people who cook and bake seasonally. I try really hard to be to fake being one of those people, especially now as a food blogger.
However, since it's officially fall. I can bake up as many apple desserts as I want and no one will judge, right?
So I'd seen tons of recipes all over Pinterest for apple pie bars and apple crisp bars, and I was totally going to try some of them. But then I thought, "why not a blondie?"
In my mind, fudgier is always better.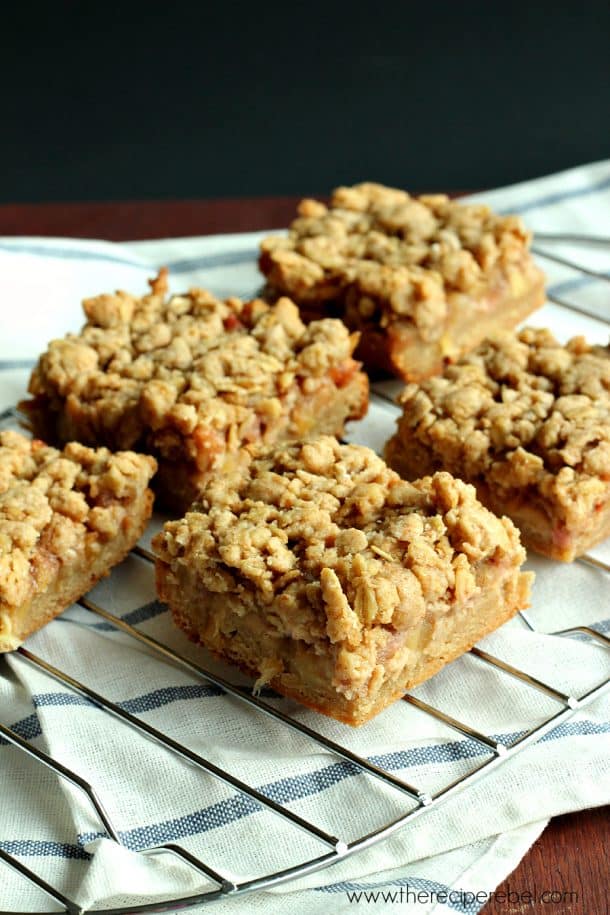 Now, I'm sure those other apple crisp bars are super amazing. But, I really like blondies. And I really wanted to see if I could bake an apple crisp on top of them.
It took me 2 tries, but I did it.
Now you know I'm all about minimal effort and dishes. I thought about cooking down the apples on the stove first, before topping the blondie, but that seemed like too much work. I tried putting the apples right on top of the blondie batter and baking together, but the blondie just didn't set up enough.
So I compromised. I baked the blondie part way while I microwaved the apples slightly to give them a head start and made my streusel.
It was a total win.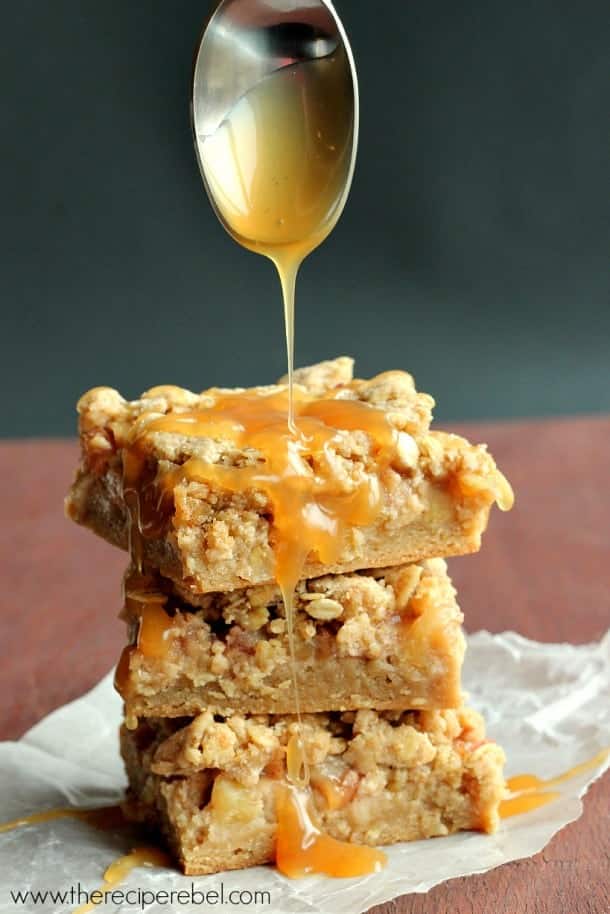 I'm kind of embarrassed that I didn't go all out and mound these with ice cream while I was photographing them. Because what goes better with apple crisp than vanilla ice cream?
Exactly.
This time, you'll just have to forgive me. But make sure you add a big scoop of ice cream to your own when you make these. Because you need to make these.
9-12 servings
adjust servings
Apple Crisp Blondies
Apple Crisp Blondies: dense, fudgy blondies topped with soft apples and crunchy brown sugar streusel. Perfect for your fall and winter baking!
Ingredients
Blondies
1/2

cup butter (1 stick)

1

cup brown sugar

1

egg

1

tsp vanilla

pinch of salt

1/2

tsp cinnamon

1

cup flour (I've used both all-purpose and whole wheat)
Apples
2-3

medium apples, diced small (I don't peel them)

1/3

cup brown sugar

1

tbsp flour

1/2

tsp cinnamon
Streusel
1/4

cup butter

1/2

cup brown sugar

1

cup large oats

2/3

cup flour

1/2

tsp cinnamon
Instructions
Line an 8x8" pan with tin foil and spray with non stick spray. Preheat oven to 350 degrees F.
For the blondies:
In a large bowl, melt the butter. Stir in sugar. Stir in remaining ingredients (through flour). Spread into prepared pan.
Bake 15 minutes while you preparing the topping.
For the topping:
Combine apples, brown sugar, flour, and cinnamon in the same bowl you used to make the blondies. Microwave for 5 minutes on high. Stir and set aside.
In a separate bowl, combine butter, brown sugar, oats, flour and cinnamon until crumbly (I use my fingers, but you could use a fork or pastry cutter).
When blondies have baked 15 minutes, spread with apples, and top the apples with the streusel. Press down gently. Bake another 18-20 minutes.
Place on a wire rack and cool to room temperature, then chill in the fridge for at least 2-3 hours before removing from the pan and slicing.
Blondie recipe adapted from Inspired Taste.