Discussing the different ways I make money from my food blog, and how things might be a little different across the border (whichever one that may be!).
*I updated this post on October 3, 2016 to reflect the changes since I started!
This is #4 in my Blogger Resource Series. See the rest here: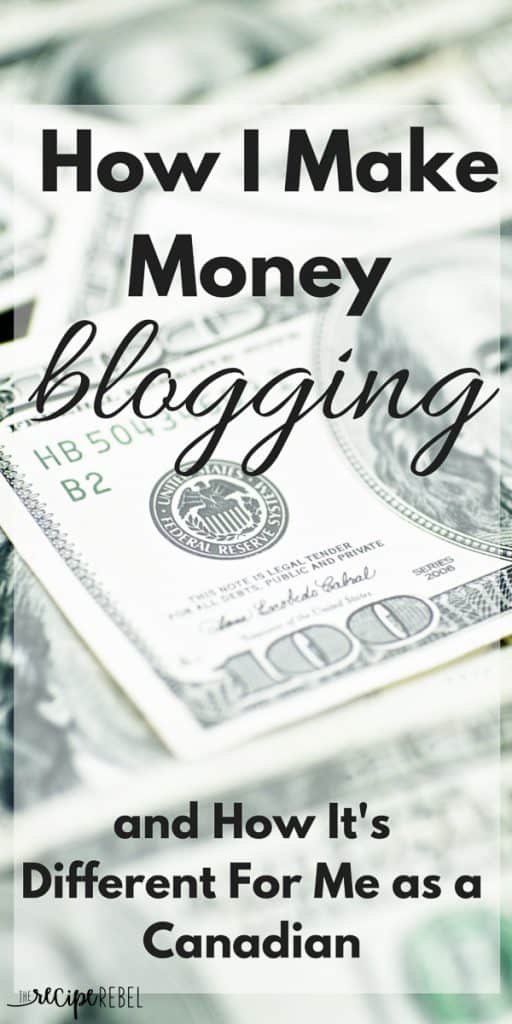 I'd never really considered writing a post like this before, for a couple reasons.
(A) I don't want you to feel, those of you who are not bloggers, that I am taking advantage of you by trying to make money off of the blog. And I don't believe I am. That's just like saying someone who loves and designs clothing is taking advantage of people who like to wear clothing by offering to make clothing for them at a cost.
Except the difference here, is that I give you everything I've made for free, so far (and I don't plan on changing that in the future, but that doesn't mean I don't have dreams of writing a cookbook someday!). I am simply someone who loves cooking and baking, and I love creating new recipes. I offer them here for you, for no cost, but I pay for web hosting, schedulers and apps, photography and camera equipment, editing programs, food (yes, above and beyond what we would normally eat!), and I don't think it's wrong to at least want to break even.
(B) I figured there were enough posts on making money blogging, and the world certainly didn't need another. Except I get asked all the time, mostly by family and friends… and acquaintances… in real life how this happens. And I figured that at least maybe a couple people reading this might not actually know this works, and they would be interested in how I, personally, make money blogging, where my money comes from and how I feel this is different being Canadian. Because it is.
So, here we go.
There are 2 main ways I make money from my blog: (1) Ads and (2) Sponsors
(1) ADVERTISING
I have used a variety of ad networks in the past, including:
There might even be others I'm forgetting, but seriously — there are a lot of ad networks out there!
The Blogger Network, AdThrive and Mediavine are more like ad management companies — they may use the other ad networks, but are supposed to bid them against each other to get you a higher price than you could get on your own. They should give you a really high fill rate because they have a variety of ad networks that are (hopefully!) bidding for that spot.
Other ad networks may give you a poor fill rate, and you might just be stuck with whatever they have and however much that pays. If you can figure out how to set up a waterfall (I'm useless with this — I used an ad management company from early on), you can have one ad network pass back to another if they are unable to fill the ad spot, and so on and so on, so you can maintain a 100% fill rate or as close as possible.
And now, let me just say that I hate dealing with ads. I just want someone to give me my cheque every month without having to figure out how to get the most bang for my buck.
Currently I use:
Mediavine: I have switched everything over to Mediavine and I couldn't be happier. The fill rate is great, the pay is great, and they are just nice people to deal with. This means a lot to me and I know it means a lot to the other bloggers they work with!
As a Canadian:
So far I haven't found any that won't work with Canadians. This is a plus!
International payments can be tricky. I've only had one ad network who could pay me by direct deposit, and the rest by Paypal. There are sometimes Paypal fees that deduct from your earnings, and it can be a little annoying.
Percentage:
Usually, at least 50% of my blog income comes from advertising. Sometimes probably up to 70%. This is because, as we'll get into later, there are few networks for sponsored posts that will take Canadians (or non Americans). More about that later 🙂
(2) Sponsors
Sponsors are brands or companies who will pay me to create a recipe using their product.
I have been really, really lucky to work with some fabulous brands and companies. When I started blogging, I dreamed of the day I could develop recipes for companies. I absolutely love taking a product and finding a new, creative way to use it. It is one of my favorite things about food blogging!
I've worked with a variety of brands in the past, and have a number of exciting partnerships coming up! Please know that I don't accept any work with brands or products that I don't love, and everything you see here I share because I love it.
There are millions of blogs out there — it's important to understand that companies get lots, and lots, and lots of emails from bloggers. But I also think it's important to reach out to brands that you truly love with the hope of someday collaborating.
Here are the "blogger networks" or social media influencer programs that I've used in the past:
Socialstars accepts Canadians but there don't seem to be many offers through them. I'm not sure if this is because I'm Canadian or if they just don't have a lot to offer.
Izea, but I have only done a social media post with them.
Here are other networks that work with primarily American bloggers:
There are many, many, many others, but these are the ones that I come across and hear about most from friends.
In the past year or so, I've really enjoyed developing relationships with different PR reps and a lot of my work comes through these relationships. If a PR rep reaches out to partner with you, and it's a collaboration that works for you, I think it's so important to do your best work. Showing a good work ethic and building positive relationships might bring you more collaborations in the future.
As a Canadian
It can be difficult to find sponsored opportunities in the beginning. Some networks don't accept Canadians at all, and some will accept you but not have any opportunities for you. And I get it, I mean, we see a lot of American brands in the stores (and probably in our pantries) and they're based in the U.S. and even though a lot of my readers are in the U.S., there are also a lot of other bloggers based out of the U.S. and it's easier for a company to deal with people in the same country without having to worry about shipping food across borders.
Percentage
This is the flip side of the coin: about 30-50% of my blog income comes from sponsors.
Looking Forward
Here are some ways I hope to branch out in the future:
eBook sales: I hope to put out 2 eBooks in the next year, one a resource and one a cookbook.
Freelance food photography, recipe development, writing and editing: I've been lucky to take on 2-3 freelance photography and videography clients in the past year and I just love it. It lets me focus on the creative side of food blogging and not the rest.
If you have any questions about this or any of my other Blogger Resource posts, feel free to send me an email or comment below!
See the rest in this series: