A behind-the-scenes look at how I got the idea to start a food blog, how I made it happen and how it grew to over 2 million views in the first year!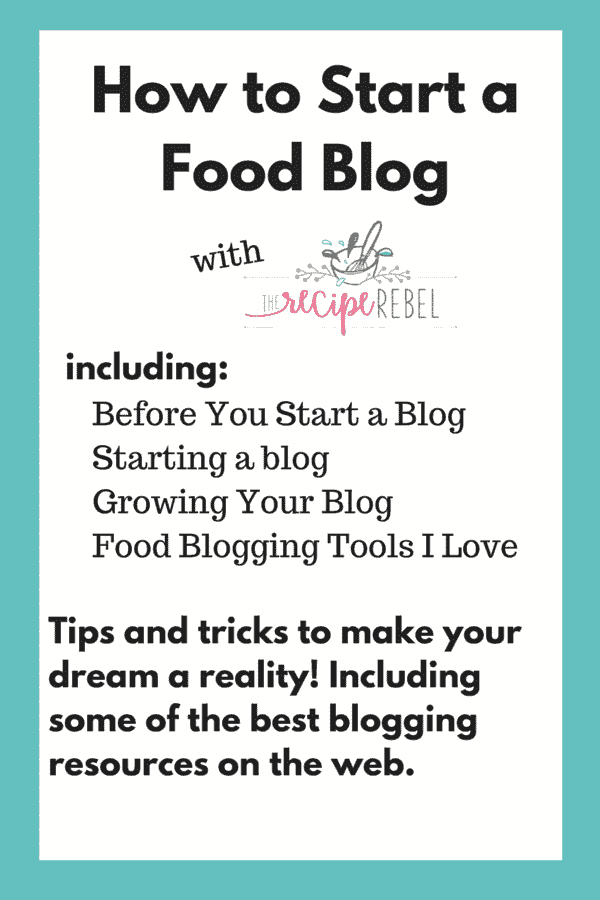 For a long time I felt like there were so many posts about how to start a food blog, or why to start a food blog, that there was really no point in telling you "my story". But the more people that ask, the more I wonder if maybe I have some valuable insights to offer you, in spite of the fact that I've only been at this about 16 months.
That and I actually just really like to blab on and on and on about myself. 😉
But really, there are a few things I'd really like to share with you, with new bloggers or soon-to-be bloggers, in this post and subsequent Blogger Resources posts, and I feel like this is the best place to start.
I find it so interesting to hear how other bloggers started, because everyone's story is different. So here is mine, and here is why I think I had a relatively successful first year of blogging.
I'm writing this post with new food bloggers or soon-to-be food bloggers in mind: if you're a more experienced blogger, I'd love for you to add your tips in the comments below!
Before Starting:
I started tossing around the idea of starting a food blog in the late summer/early fall of 2013. I confessed my dream to a few people, and started reading articles and blog posts on starting a blog.
We were living in a tiny, old little house with poor natural light and no internet connection, so there was absolutely no way I was going to be able to start a web site until we moved into our new house. But since I had unlimited data on my smartphone, I sought out information like crazy.
I would sit and read these articles and blog posts for hours while my toddler slept in her bed and my husband was away working on our new house. I had lists of sharing sites and ad networks and places to go for sponsored posts before I even had a web site or any content.
I tossed around domain names: something about baking or cakes, something about cooking with kids, having kids in the kitchen, some more generic cooking names…. but everything I looked at had been done in a slightly different way about 20 other times.
And then it came to me with no googling: The Recipe Rebel. I was thinking about how I find it impossible to follow a recipe, or just keep things the way they are. I love to improvise and make some of my favorite recipes new again by adding new twists. And it just fit so well.
There was one other recipe rebel, but her blog had been inactive for quite a while, and thereciperebel.com was available. I went for it. I bought it months before I even knew what the back end of a web site looked like!
I bought it months before I knew what the back end of a web site was.
But it made my goal more real, though my motivation faded somewhat as time went on.
I bought my domain through GoDaddy on the recommendation of a friend who knows stuff about the internet (okay, so he knows quite a lot of stuff) — I was never disappointed! My domain is the only service I use GoDaddy for, though they offer many others such as web hosting and email.
Some tips overall?
Do some research in advance! Dive into some of the incredible resources there are available.
Dream about what you would call yourself and buy a domain name, even if you're not sure you'd use it! Domain names are cheap, and it's okay to buy a few if you're not sure which direction you'd go.
Hear it From Other Bloggers:
Starting a Blog:
Other than reading a lot of articles and blog posts, I never made a move to start once we moved to our new house. In all fairness, we were still finishing up all kinds of projects on the house and I didn't really have time to think about it.
My best friend is an incredibly talented musician. Katherine had been running her own web site on WordPress on for a long time and she came to crash our new house a couple months after we moved in. She showed me around the back end of her web site (which is the area where all the work is done, and looks nothing like what you actually see when you visit a site!), and had me browsing web site themes.
Note: I had read about all the different ways to build a web site, and in the end it seemed like "everyone" was on WordPress. I knew what I hoped my blog would be with time (i.e., a business, earning an income), and so I didn't want to limit myself by going with any of the free options (Blogger, Weebly, etc). Before I had this web site, the only other web site I had was on Weebly. You can build a web site even if you don't know anything about it!
She promised me that her husband (that guy who knows stuff I mentioned earlier?) could set me up on WordPress, and he did. I was super lucky to have people who could fill in some of the gaps for me and get me started.
I was running a horrible WordPress theme that I had decked out myself (note: graphic design is not my strong point), I was taking horrible pictures of food and sharing them with the few hundred visitors I had.
But as my numbers started growing, I was continually encouraged. I worked harder than I've ever worked at anything and it paid off.
Another note: Although I started a blog to see if I could make it a business, you need to know that I'm totally, wonderfully passionate about food. The thought that I could make some extra income for my family without leaving the house, while cooking them incredible food?? I couldn't not take a chance. There are people out there who will start a web site, not knowing or caring about their topic. They'll hire writers. And it can be done, but that's not what this is.
Some tips overall?
Don't be afraid to ask for help! Know someone with a web site? A blogger you admire? Most people are more than willing to help you out if you ask.
Know what you want out of your blog in the long run. I always knew what I wanted it to be, what I was working toward. If you want to do it as a hobby and not stress it, then do that! Know yourself and what it means to you.
Hear it From Other Bloggers:
Growing a Blog:
I started writing posts in February 2014. I wanted to have 10 posts on the blog before I told anyone about it. On March 8, 2014, I started telling people I had started a food blog. I started a Facebook page, I renamed my social media accounts.
I had very little traffic for the first couple months. Actually, when someone found my web site I was always so surprised! "Like, how did they even find me?!"
But 3 months after launching I had 60,000 page views. Two months later it doubled. Within 6 months of starting I'd made my first $1000 (before any taxes or expenses).
I remember reading a post on different bloggers and when they made their first $1000. I remember one blogger said 9 months, some said a couple years, and I think one even said 5 years? I thought to myself, "this will never happen for me. ONE THOUSAND dollars?!? Never in my life. From a web site??"
Here are some things that I think made it a success (and there are definitely people with even more success — I am by no means an expert!):
Do it because you love food. If you hate it, it's really going to suck. And though there are parts of blogging that I really dislike (the paper work, the accounting, the web site maintenance…), it all comes down to food. And I love food.
Work harder than you've ever worked before. And I'm not exaggerating. I faintly remember days when I wasn't on my computer or behind a camera every spare second I had. I remember when I used to get to watch T.V.! I am a high school teacher in Real Life, and I started my blog when our first daughter was not even 2. I still spent 25-30 hours on my blog every week. I worked every evening. I worked every weekend.
Talk to other bloggers. I honestly didn't get this at first. Bloggers I recognized would comment on my site and I'd be all like, "that is so cool! I must be so cool!" But I wasn't necessarily that cool. They were reaching out, trying to establish some connection. Which would have been really cool, if I had caught on. If another bloggers leaves you a comment somewhere, leave them a comment back. Now, I have to admit I've gotten worse at this one. It got to the point where I could no longer respond to every comment that says, "these look amazing!!!" But I try, and when you're starting out, it's a great way to make connections with other bloggers.
Join Facebook groups. This is actually part of my previous point, but see how rambly that paragraph was getting? I need to start a new point. There are SO MANY Facebook groups you can join to network with bloggers! Just do a search in Facebook and see what turns up, then request to join some of them. Introduce yourself. Leave valuable input, and soak up all the knowledge that is there.
Be consistent. Decide what you want from your blog and then stick with that. Set a goal for how many posts you'll write per week or per month. Decide what types of recipes you'll post. What will your brand be?
Figure out what you suck at and work to improve it! We are not all good at everything right away, and that's OKAY. The best thing you can do for yourself, in any area of your life, is to figure out where your weaknesses are and go and find resources to help you improve. Do you look at your photos and feel they'll never look like so-and-so's? Study up on food styling and food photography! Figure out how other bloggers are doing it. Ask a blogger whose style you really admire. There are so many ways to improve if you are really determined!
Hear it From Other Bloggers:
Practical Stuff:
These are the services I use and love — I would never recommend anything that I don't love myself:
Domain Registration: GoDaddy — I've used them since I started and love them!
Web Hosting: Orange Geek — they have great customer service and are so helpful! They really go above and beyond. Use the code reciprebl and get 10% off your purchase at Orange Geek!
Web Site Theme: I currently have a custom design, but I used Foodie Pro Theme for a long time and love how easy it is! You can customize and rearrange things all you want, even if you don't know any HTML coding. It is great bang for your buck!
*Foodie Pro runs off of the Genesis Framework (which is awesome), so you'll need both. You can buy them as a package on StudioPress.com.
Pinterest Scheduling: Pinterest is a huge source of traffic! I use Tailwind and loooooove it. They have great support and are constantly making improvements.
Social Media Scheduling (other than Pinterest): I use Buffer, and I actually use the free version. You can schedule 10 posts per platform for free!
OptinMonster: I use OptinMonster for an email subscriber pop up — it's a great way to gather some subscribers when you're just starting out, and you can set a time period for it to now show again after someone has closed it out. It's really easy to customize!
Food Blogger Pro is a great community of bloggers with some really great resources! Perfect for bloggers just starting out and looking to learn a lot! Sign up for Food Blogger Pro
Those are the things I can't live without, and really, all you need are the first 3 to get started: a domain name, a hosting solution, and a web site theme. If you're going with a free platform like Blogger or Weebly, you don't even necessarily need those!
If you have any questions about anything, I'd love to hear from you!
More resources:
Want more? Read about What Food Bloggers Really Do and How It's Changed From What I Used to Think!
How to Double Your Blog Traffic Month Over Month from Think Creative
9 Smart Facebook Groups for Women Entrepreneurs, Freelancers, and Bloggers from Olyvia
5 Reasons Why No One's Ready Your Blog (and How to Fix Them) from The Nectar Collective
Now I know this is a huge amount of information! I'm going to be breaking down some of this information into more posts on resources for bloggers in the coming weeks. Don't miss a post! Sign up below to have these posts emailed to your inbox (this is a separate email list just for blogger resources — you won't receive these if you are already signed up to receive new recipe notifications!)
*This post contains affiliate links, which means I may get a small incentive if you sign up. I never recommend products or services that I do not love.