Living with a food blogger? People think you're living the dream! Here's a sneak peek at the reality and an ode to those of you — husbands, wives, family — that put up with us on a daily basis!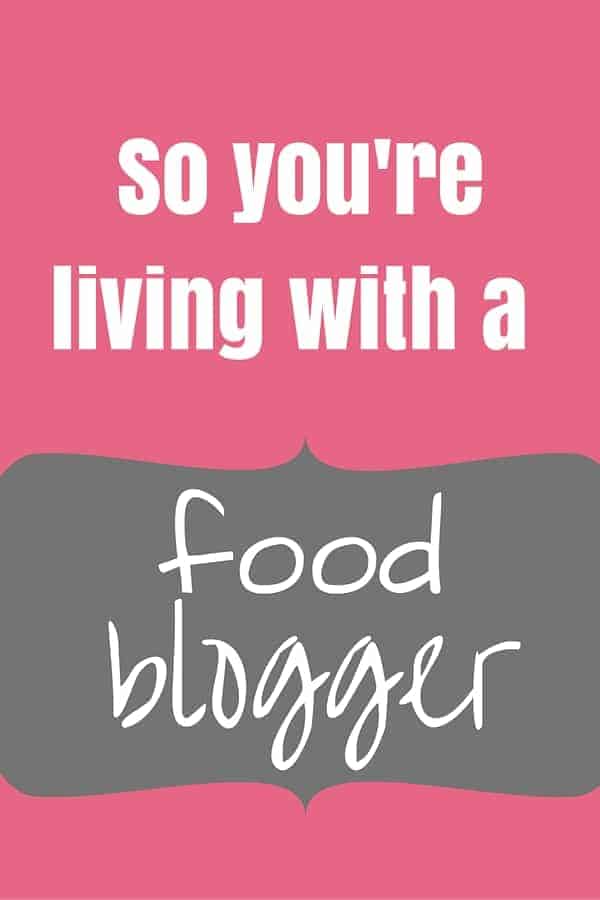 This post is just one in my Blogger Resource Series! Check out my other posts:
No doubt, when people hear your spouse or family member is a food blogger, they immediately think (a) "a what?!" and (b) "lucky!".
But because I know you know what life is really like, I want to take some time to express my appreciation for YOU — those who put up with us on a daily basis!
Because you know that work never stops: we're always pinning, tweeting, Facebooking, stumbling, yumming, Instagramming, Periscoping, Snapchatting, emailing… and repeat.
Because you know not to touch anything in the fridge without prior permission.
Because you will never take a hot meal for granted again, though you are prepared to sit down to dinner at 10 in the morning or 3 in the afternoon if it means you might get one.
Because you'll celebrate Easter on Valentine's Day, Thanksgiving on Labor Day and Christmas at Halloween, and not even comment about the Christmas cookies sitting in your freezer in September.
Because when you walk in the house and see me straddling a plate of food on the dining room table you're not startled or confused.
Because you don't find it strange to have cupboards full of dishes you can never use.
Because, every once in a while you might get brave enough to do the grocery shopping, and when I ask for the "prettiest, curliest head of lettuce", you will actually find it, even though you know we're not going to eat it.
Because you understand that certain things on that grocery list are Not Optional, and will drive all over town looking for an ingredient I need.
Because there are times you come home from work after I've been cooking all day and make supper because there is nothing to eat.
Because you understand that there will be days I'm pushing you out the door piled high with containers of food, and days when there's nothing but a half empty pot of Kraft Dinner, and you take them all in stride.
Because you're kind enough to drag me away from the computer at 9pm, so I can sit on the couch with you and pretend not to be on my phone the rest of the night.
Because in a life that can mean a lot of time spent alone in front of a computer, your presence keeps me from looking like I'm talking to myself.
And because you understand that I do more than just get free stuff, cook food, and take pictures,
Thank you!