So we survived our first weekend away with 2 kids.
Barely.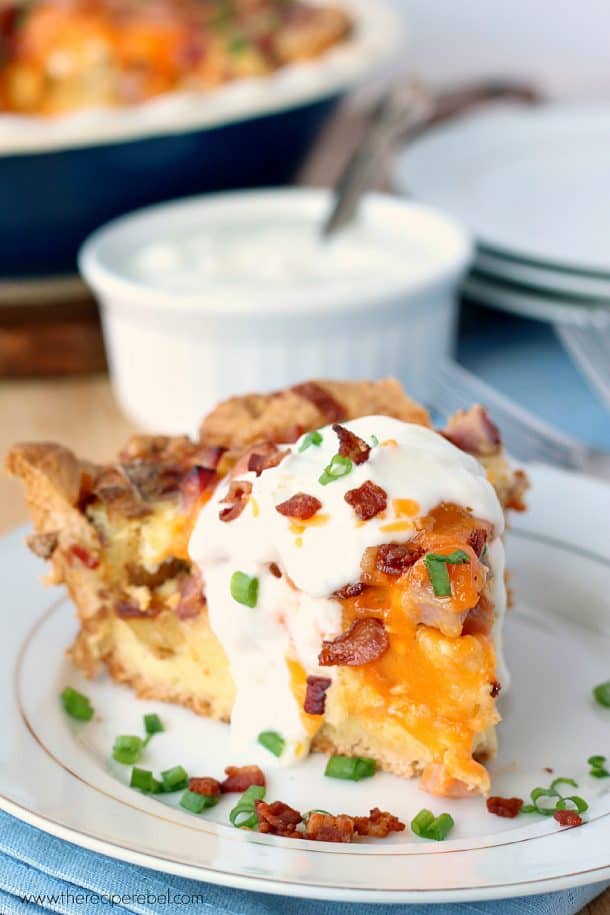 My parents bought the 4 oldest grandchildren (our oldest girl and my sister's 3 kids) tickets to Disney on Ice as part of their Christmas gift, and they took us all to the city that weekend. They got hotel rooms and took all 4 kids and left the rest of us adults (plus 3 month old) to do whatever we wanted.
The kids had such a great time swimming, and seeing their favorite Disney characters, eating pizza and cookies and staying up late.
But with no nap and a long, eventful day, our oldest was so tired that night that she had a hard time sleeping. She would be up crying in the night, and she even fell out of the bed once (her first time sleeping in a hotel bed all by herself!).
Also, there's the 3 month old.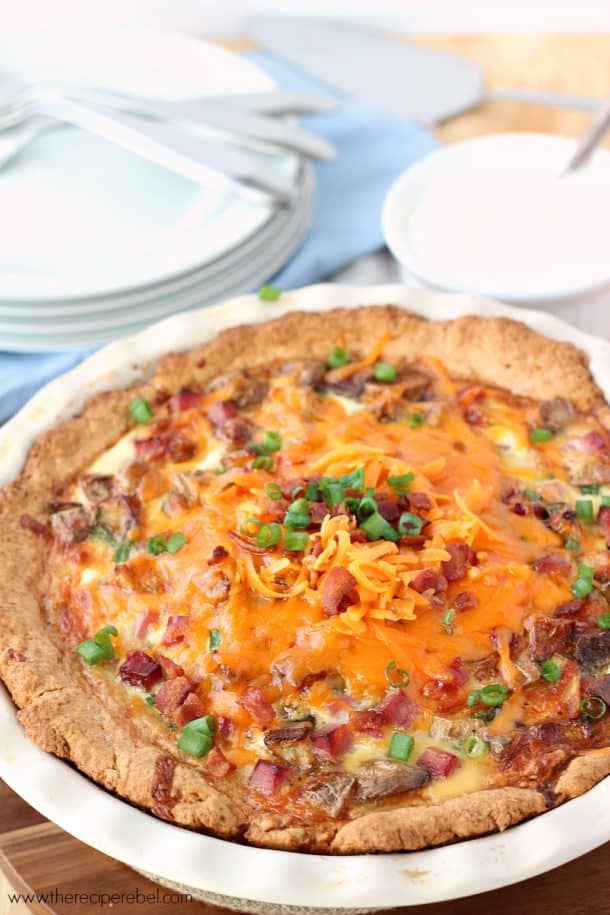 Even when both girls were asleep, breathing heavily, I found it impossible to sleep. I am just one of those people who cannot sleep with kids in the room.
So as Easter approaches, I'm enjoying finding some quick, easy brunch recipes that anyone can master – regardless of how much sleep you may or may not have gotten the night before!
Even if it was just one hour.
Okay, okay. I'm done complaining! The kids had a great time, and the shopping, mall pretzels and cinnamon buns almost make up for the fact that I was awake pretty much all night with one crying child or the other.
I was perusing the Easter egg dishes on the Betty Crocker site, getting some inspiration, and this one jumped out at me right away. There's nothing we don't like about loaded baked potatoes. Potatoes, cheese, bacon, green onions. And we love breakfast dishes, especially eggs.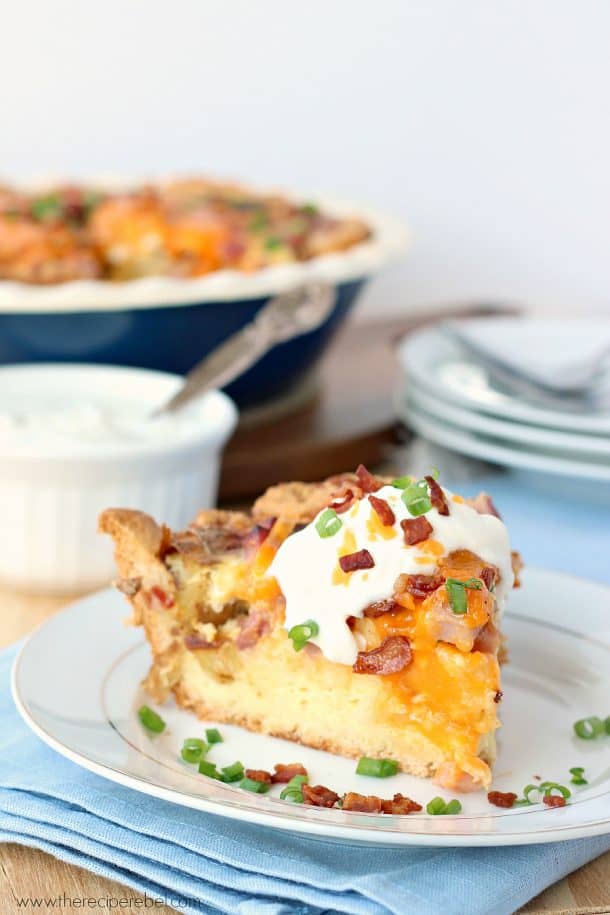 I haven't made a lot of quiche in my day, mostly because I am way too lazy to make pastry. What I love about this recipe is that the crust is made with Bisquick, and it comes together so easily. It is seriously the easiest dough to work with! It's super soft and you can stir it together with just a spoon, and then pat it into the pan.
And it leaves you no reason not to have quiche for Easter brunch, or for any quick weeknight meal.
I have a problem with just assuming I have something for a recipe, and then going to make it and not actually having half of the ingredients. So when I went to make this recipe I realized I did not have a full bag of frozen hashbrowns like I thought I did. I didn't have any.
So I made my own by cutting potatoes into small pieces the same size as the frozen cube hashbrowns you buy. I measured out 1 ½ cups of cubed potatoes, preheated the oven to 400 degrees, tossed them with ½ tbsp. canola oil and some seasoning salt and roasted them for 15-20 minutes until they were cooked through and golden brown. It worked perfectly!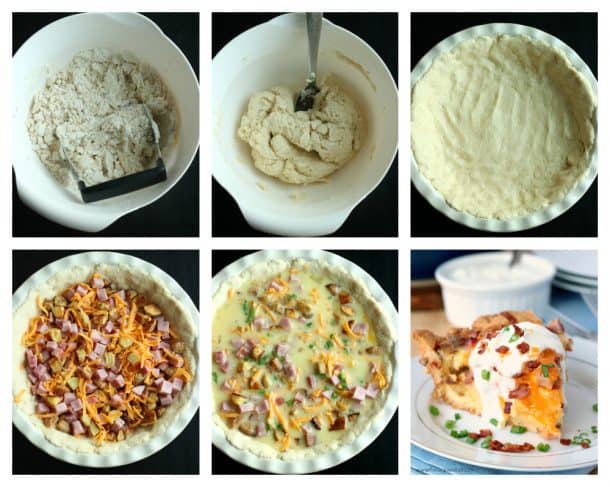 I would caution you to check how your crust is browning about half way through – I happened to check on mine and it was quite brown already, so I quickly covered it with some greased tin foil to prevent it from browning even further. I find this also helps the eggs to cook as it keeps the heat in.
If you're hoping to make this but you don't have a lot of time for meal prep, you can totally do some prep in advance! I would place your hashbrowns, chopped meat, shredded cheese and green onions all in a container in the fridge, ready to go. And then all you have to do is quickly stir together the crust and the eggs before you bake!
Either way, it is a super easy brunch idea that's perfect for Easter, Mother's Day or it can be a quick supper for rushed weeknights.
And, plus, there's bacon.
And cheese.
8
adjust servings
Easy Loaded Baked Potato Quiche
Easy Loaded Baked Potato Quiche: loaded with hashbrowns, ham, cheese, and bacon, this quiche is made in an easy Bisquick crust, making it perfect for Easter brunch, Mother's Day, or a quick weeknight dinner!
Ingredients
Crust
2

1/2 cups Original Bisquick™ mix

6

tbsp cold butter or margarine

1/4

cup boiling water
Filling
1 1/2

cups chopped cooked ham

1 1/2

cups frozen diced hash brown potatoes, thawed (*see post above for making own hashbrowns)

1 1/2

cups shredded Cheddar cheese

3

green onions, sliced (about 3 tbsp)

5

eggs

3/4

cup milk

1/2

tsp salt

1/4

tsp pepper

3

slices bacon, crisply cooked, crumbled

Sour cream, if desired

Additional sliced green onions, if desired
Instructions
Heat oven to 350 degrees F and spray a 9.5" deep dish pie plate with non stick spray.
In a medium bowl, cut butter into Bisquick with a pastry cutter (or use a fork, or two knives) until crumbly. Add boiling water and stir until a dough forms. Press into the pie plate and up the sides, coating fingers in Bisquick to avoid sticking if necessary.
Sprinkle ham, hashbrowns, cheese, and green onions in the crust. In a medium bowl (I used the same one that I mixed the dough in), whisk eggs, milk, salt, and pepper until combined. Pour over the ingredients in the crust.
Bake about 1 hour and 5 minutes until a knife inserted in the center comes out clean. Let rest 10-15 minutes before serving with bacon, sour cream and additional onions and cheese if desired.
Recipe Notes
See post above for more recipe notes
Find more great egg bake recipes here! Or follow Bisquick and Betty Crocker on Facebook, Twitter, and Pinterest for more meal ideas.
Comments submitted may be displayed on other websites owned by the sponsoring brand.
This is a sponsored conversation written by me on behalf of Betty Crocker via Burst Media. The opinions and text are all mine.