These 30+ Rhubarb Recipes are perfect for baking, brunches, and entertaining! Discover new ways to use this springtime vegetable in cakes, pies, cocktails, muffins, and more.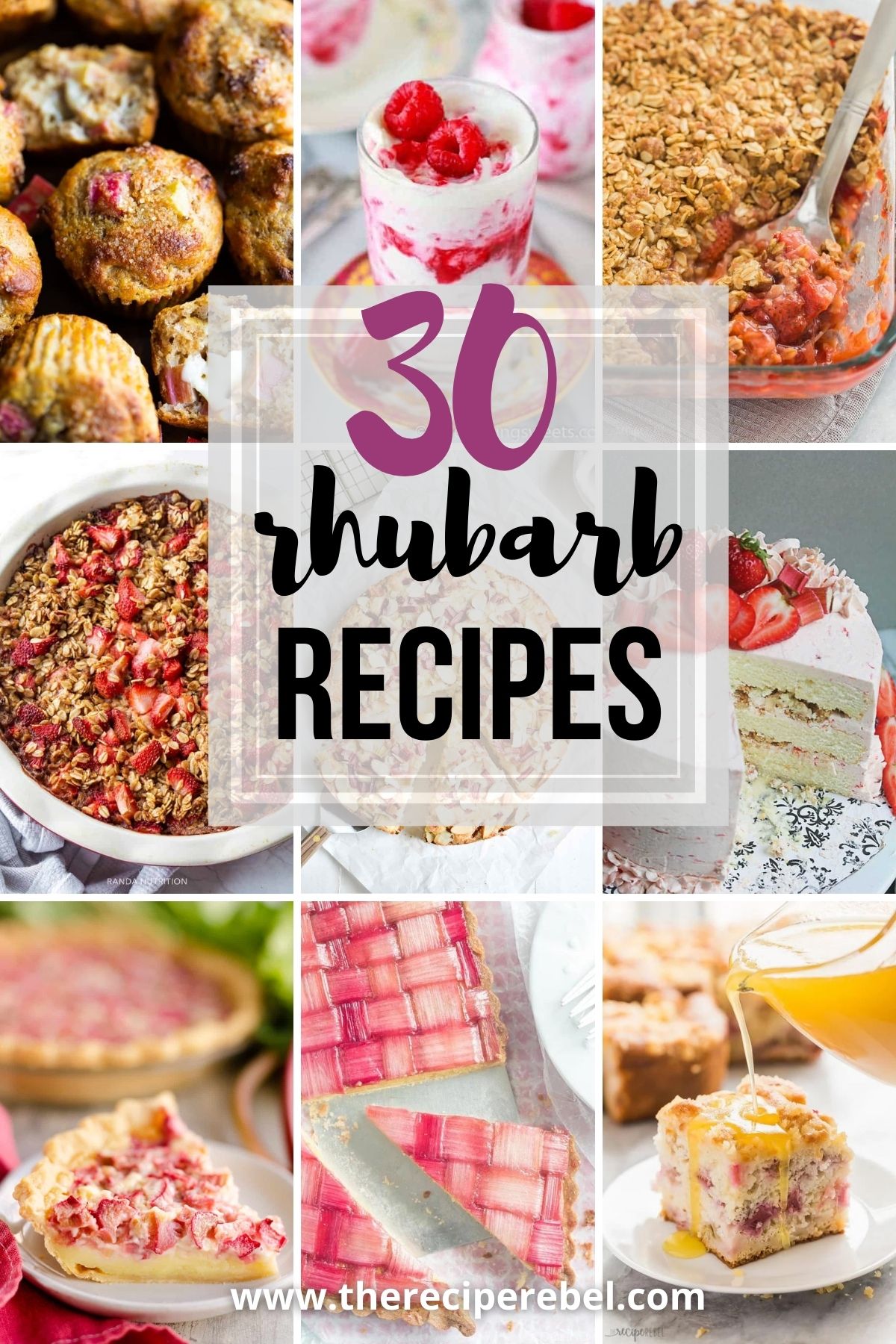 Table of Contents
I'll come right out and say it: Rhubarb is a go-to when it comes to spring desserts.
Everyone has some idea of what rhubarb is (consensus says: vegetable! More on this later). But for many, it's still a bit of a mysterious ingredient and flavor when it comes to using it in recipes.
I will admit, I wasn't even sure what rhubarb was until much later in life. Did anyone else have a slice of rhubarb pie as a kid and think it was the weirdest dessert ever? Because, same. But what I know now is that I'd 100% live off of rhubarb desserts if I could!
Whether you're lucky enough to have a big, beautiful rhubarb plant in your backyard, or if you're picking it up in the seasonal produce aisle, there are so many delicious recipes to make with this peculiar plant. I've rounded up some of my favorites below!
But first, let's take care of some business. What exactly is rhubarb? Is it sweet or sour? Or even poisonous?! These were questions posed by readers and myself. So I dug in and did some research on this deliciously odd ingredient.
What is Rhubarb?
As it turns out, Rhubarb is considered a spring vegetable.
Rhubarb stalks are sold in grocery stores and farmer's markets across the U.S. – generally from April to June when the stalks have the sweetest flavors. Rhubarb stalks are green, pink, or red in color, like celery but prettier. The redder the stalk the sweeter the flavor!
Rhubarb is often confused with fruit since it's sometimes used in sweet recipes like pies, cobblers, tarts, and other dessert treats. But there is boundless potential for this tart vegetable stalk!
What Does Rhubarb Taste Like?
Rhubarb is a fibrous vegetable similar to celery but without the crispness. The texture of rhubarb is more like a bite into a walnut: smooth with a slight crunch. Typically, the stalks are sliced into bite-sized pieces for baking. When properly cooked, rhubarb gives recipes like pies and cobblers a delicious and gentle tartness.
However, eaten raw, rhubarb is extremely bitter and sour. This is why many rhubarb desserts will include other ingredients to soften, sweeten, or balance the flavors (strawberries and sugar are common go-tos).
Is it Poisonous?
Rest assured, you won't find any recipes for poison pie on here! To clear up a common misconception: rhubarb stalks are not poisonous. It's the leaves at the top of the stalks, however, that are extremely toxic to humans and should never be consumed.
Before preparing your rhubarb, cut and discard the leaves. Only use the stalks for eating. The leaves are not edible – at all – and should not be used for garnish or in any way touch the food.
How to Freeze Fresh Rhubarb
Rhubarb freezes like a dream! This is especially handy if, like me, you're on a mission to try any and all fruit and rhubarb combinations, all year-round. Your freezer is your friend!
I recommend cutting the stalks into pieces to store airtight in the freezer. Here's how to freeze fresh rhubarb:
Slice the rhubarb and place it in a single layer on a parchment paper-lined baking sheet.
Place the whole sheet in the freezer until the rhubarb pieces are frozen solid.
Transfer the frozen rhubarb to resealable bags or containers labeled with contents, amount, and recipe details as needed (ie. "2 cups rhubarb, muffins/scones").
While it's easy to freeze, rhubarb does tend to turn mushy after defrosting. This makes frozen rhubarb best to use in recipes where it can be added in and then cooked or baked from frozen, such as baking and sauces.
Without further adieu, here are some of my favorite rhubarb recipes that I just know you'll love! Plus, a few from my favorite bloggers!
30+ Ways to Use Rhubarb
If you're wondering what to do with a plentiful bunch of rhubarb, we've got you covered with over 30 ways to use it! Here are easy rhubarb recipes for lush springtime desserts, rhubarb drinks, breakfast ideas, and more!