Hello friends!
I had this crazy idea when I was sitting on the couch a couple days ago, so I decided we're going to run with it! I'm hoping it's fun and I can get some good feedback from you and see which recipes are your favorites.
If it goes over well, I'm hoping to do a new theme and prize every month!
Sometimes I'll give out one smaller prize on each Facebook and Instagram, and sometimes I'll do one giveaway for a larger prize.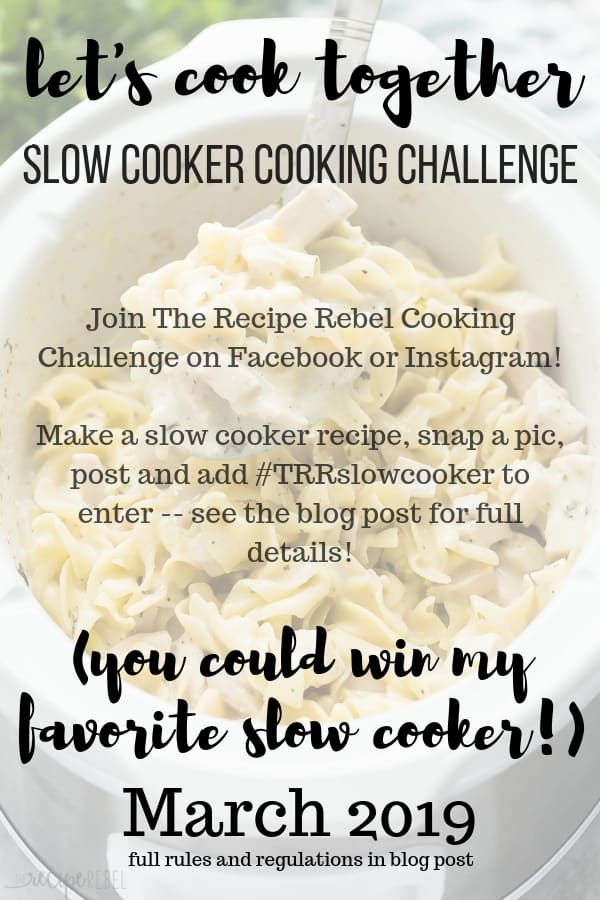 If it's horrible and you hate it, I'll trash this post after we finish the first one and go back to the drawing board 😉
What is The Recipe Rebel Cooking Challenge?
It's a chance for you to test drive one of my recipes, take a picture (it doesn't have to be pretty!), post a picture in my Facebook group or on Instagram, and enter to win a prize!
Each month will have a different theme and prize, I will choose a winner either on both Instagram and Facebook, or one winner from both, depending on the size of the prize (I will let you know the exact details each month).
What is the theme this month?
For March 2019 we are taking things slow 😉 The theme this month is slow cooker.
Check out my collection of slow cooker recipes, make one of them — feel free to put your own spin on it as you like! — and don't forget to snap a picture.
Here are 5 of my favorite slow cooker recipes to get you started:
And if you want to go sweet? Try one of these slow cooker desserts:
What is the prize? How do I enter?
For March 2019, I figured it only made sense to give you my favorite slow cooker. When I bought my 2.5 quart casserole crockpot, I almost returned it because I thought it would be an awkward size and I wouldn't get any use out of it. I now have two, and I use them all the time! You probably see them in every slow cooker recipe and video that I have here.
I'm giving away two 2.5 quart casserole crockpots: one to a winner on Instagram and one winner in my Facebook group.
To enter, simply make a slow cooker recipe from The Recipe Rebel (or your own interpretation of it!), take a picture, and upload it to either your (public!) Instagram feed or the Facebook group with the hashtag #TRRslowcooker and tag @thereciperebel on Instagram.
Rules and regulations:
Giveaway is open to American and Canadian residents over the age of majority, excluding Quebec. Giveaway is open from the time of posting until March 31, 2019 at 11:59 pm CST.
Winners will be selected at random and notified within 48 hours of the contest ending. Winner from Instagram will be notified by a comment on their winning post. Facebook winner will be notified by a comment and tag on their winning post. Winners must correctly answer a skill testing question and respond within 48 hours of initial comment by direct message or a new winner will be chosen.
Giveaway is sponsored by myself and is in no way associated with Instagram, Facebook or Crock-Pot and you release Instagram, Facebook and Crock-Pot of all responsibility.
*Please note that if you don't have a public Instagram profile, I can't see your image so it won't be entered. If you don't want to make your profile public I recommend uploading your picture in the Facebook group!
The prize will be purchase on Amazon.ca or Amazon.com and shipped and delivered via Amazon. The Recipe Rebel is not responsible for defective products or missed delivery.
Have fun!
If you have any questions about how this is going down, shoot me an email or leave me a comment on this post and I will respond as quickly as possible!