A healthier, homemade version of Hamburger Helper made completely in the slow cooker — yes, even the pasta! (And no, it's not mushy and overcooked!)
Thank you to Reynolds® and Socialstars for sponsoring this post — I'm proud to partner with some awesome brands to keep bringing you new recipes! All opinions are my own #ReynoldsCrowd™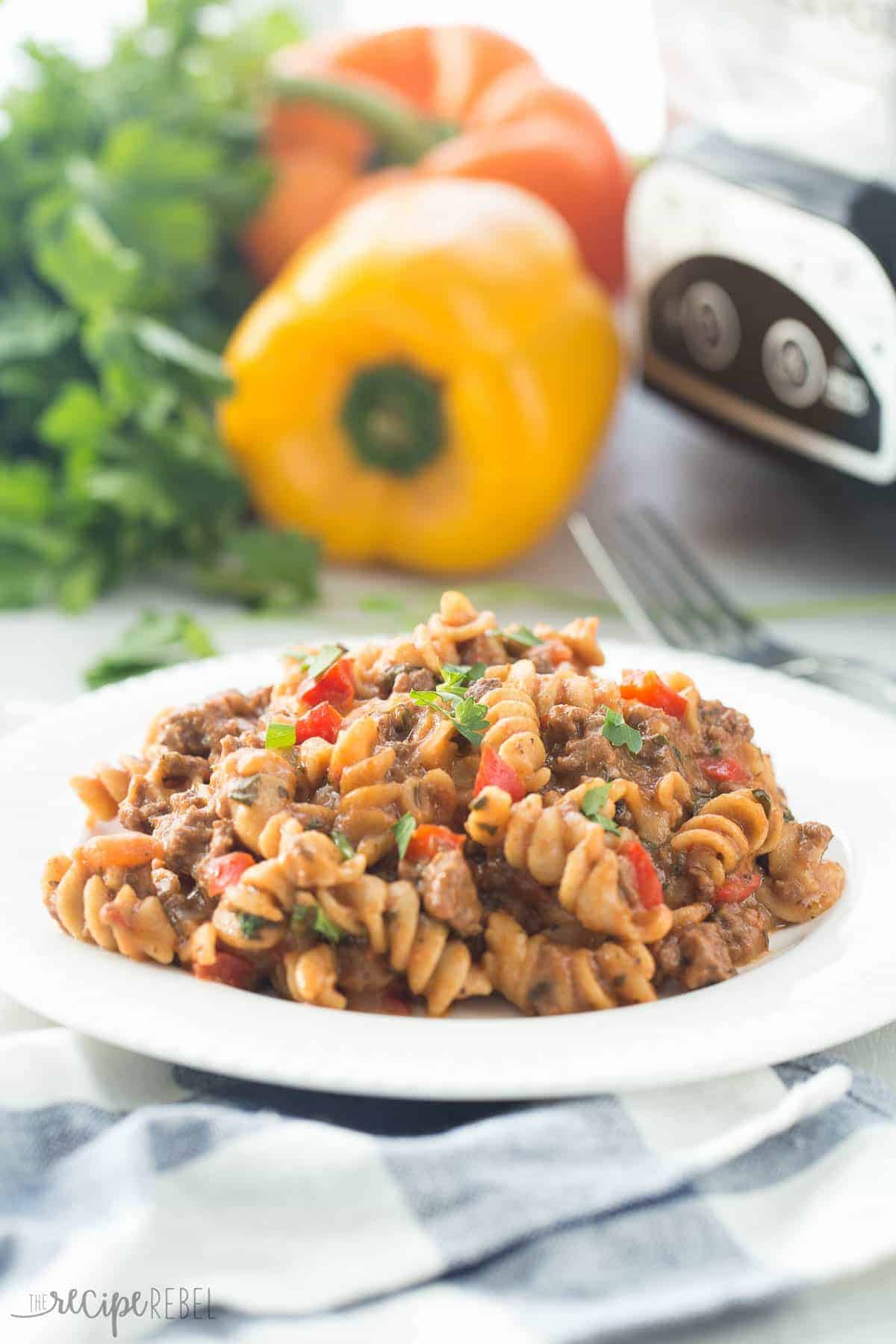 Something I always find interesting is the recipes that are popular on The Recipe Rebel a certain day, week or month, because my goal is to give you more of what you want. Lately, my Healthier Homemade Hamburger Helper has been going a little crazy as people have gotten back to routine and are eating something other than chocolate and cookies. I (surprise!) have also been craving something other than chocolate and cookies.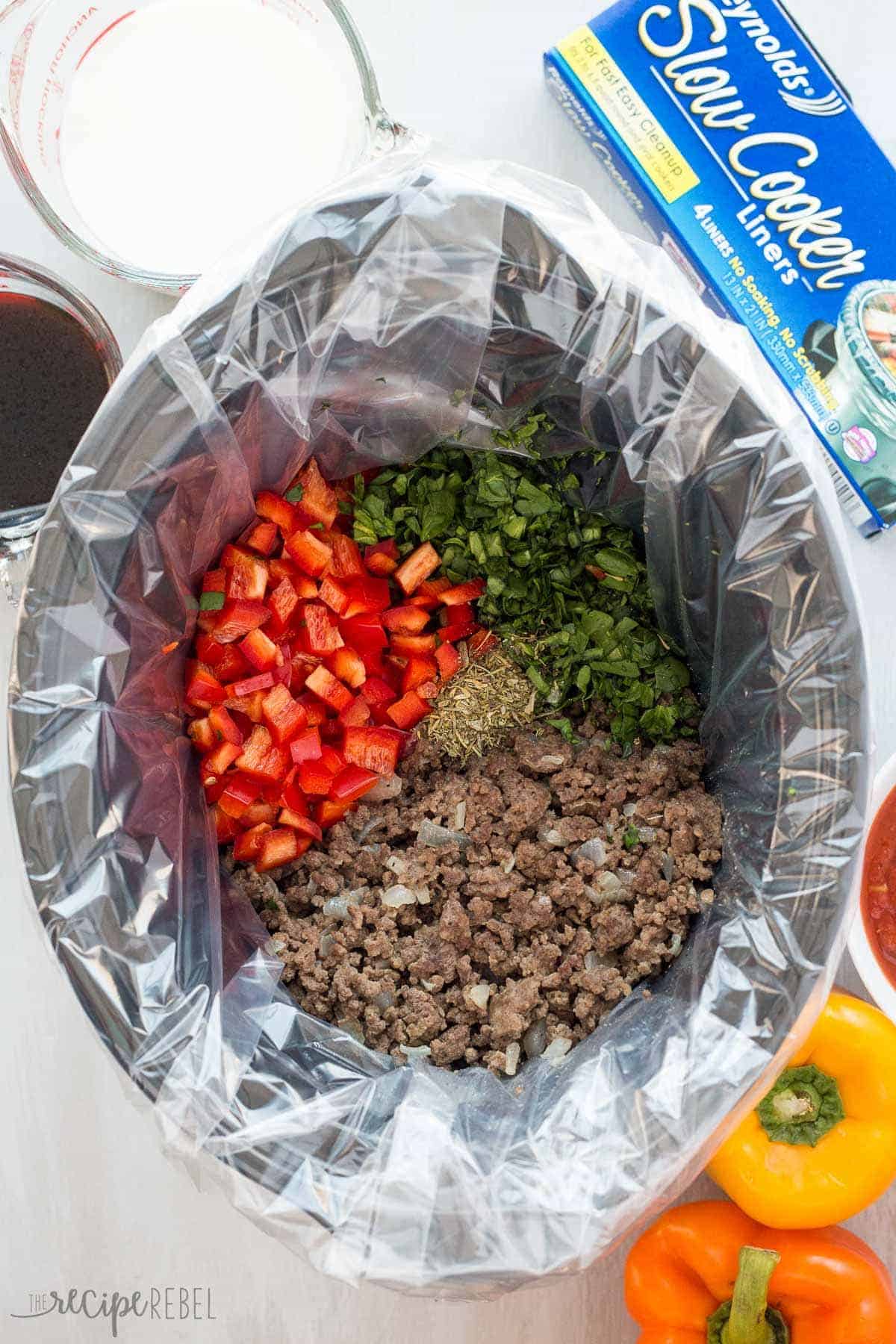 We use our slow cooker all the time. Probably at least 3 times per week! I love these Slow Cooker Liners from Reynolds® because it means I don't actually have to wash my slow cooker. (And seriously, have you seen my this no dishes recipe or this no dishes recipe? I'm a big fan of no pots or pans to wash).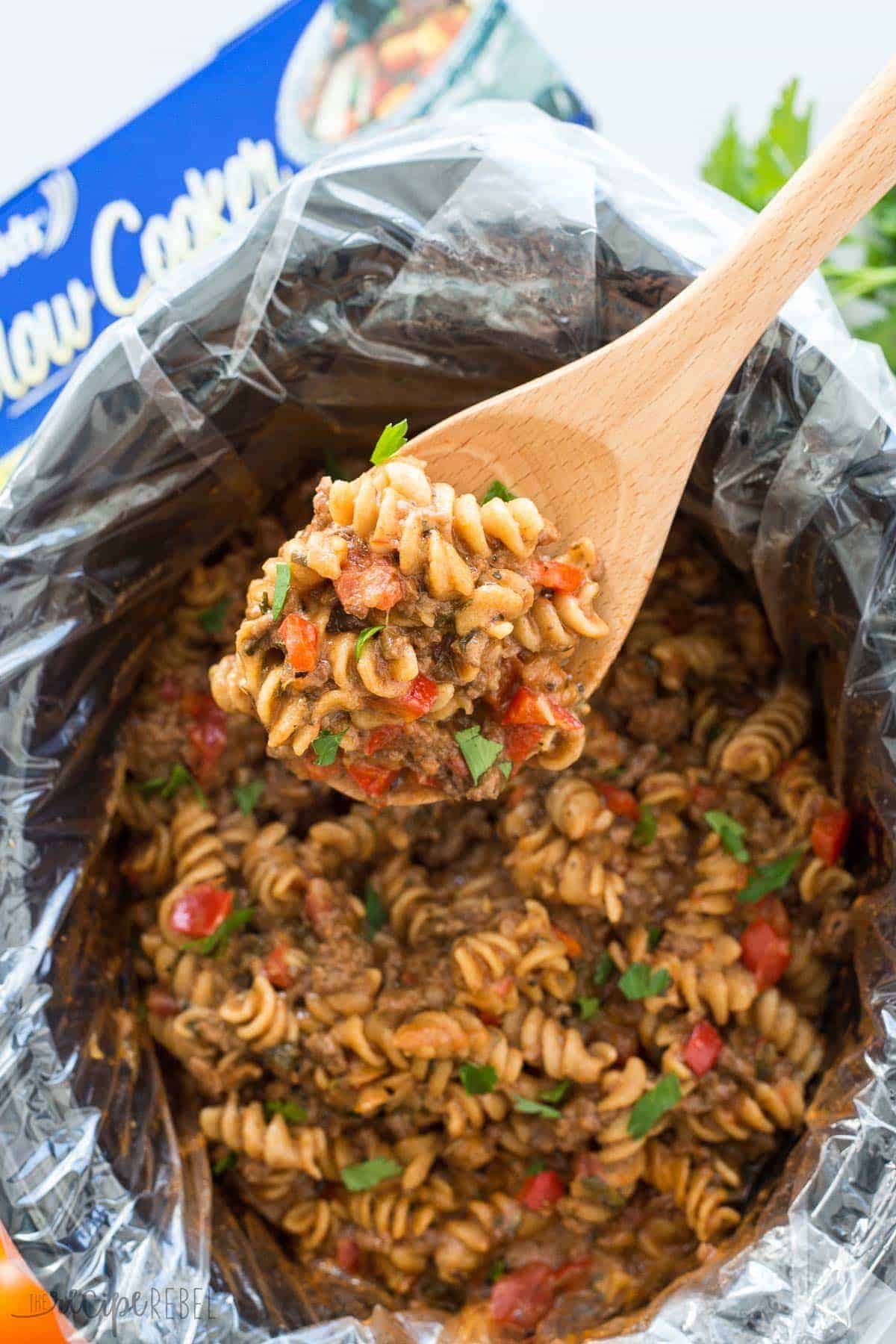 Learning to properly cook pasta in a slow cooker so that it wasn't some gross overcooked mush was seriously life changing for me. It takes a little reworking because you need to have just the perfect amount of liquid at the end of the cook time to cook the pasta for the last 30 minutes, but my original Hamburger Helper recipe translated perfectly into a slow cooker recipe, and it is the perfect solution to the dinner time rush!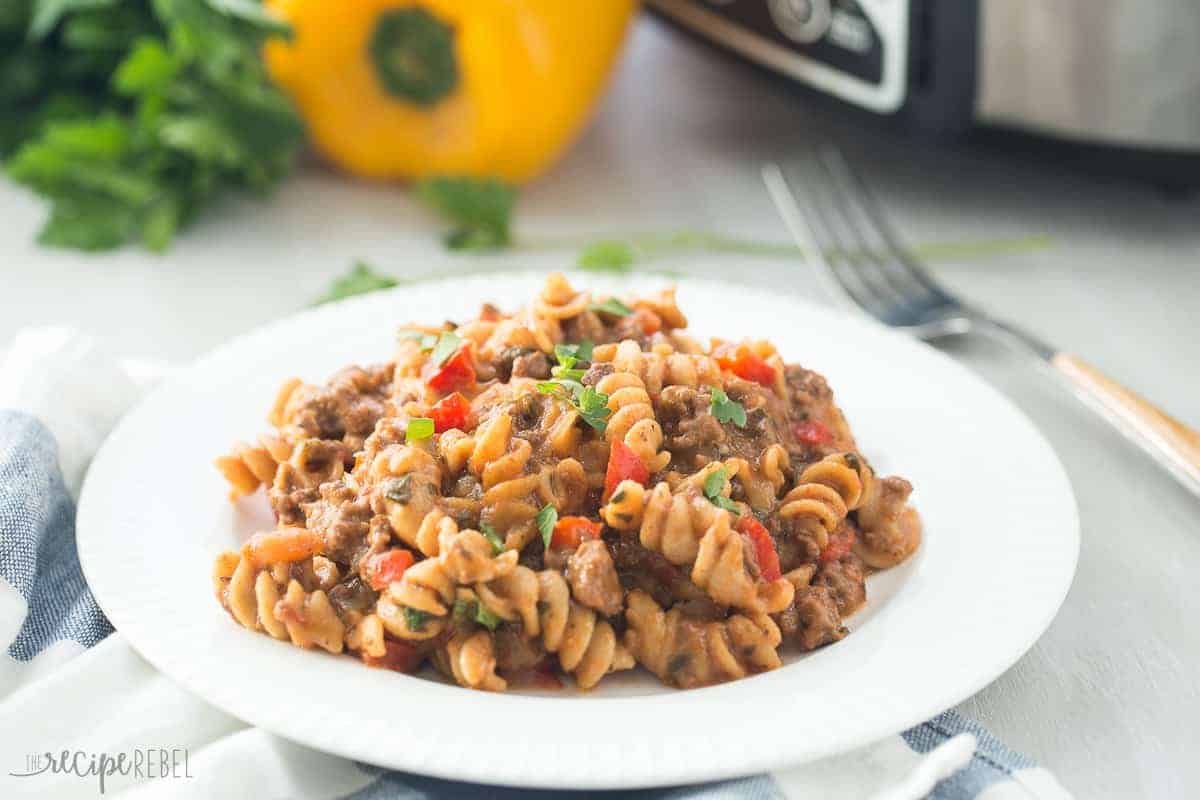 No stirring,  no keeping an eye on things — just let the sauce cook away for a good part of the day and add the pasta in the last 30 minutes and you're good to go. So easy! And what the picky eaters will never realize is all of the healthy stuff that's crammed in there — I use spinach, tomatoes and bell peppers, but you could also add mushrooms or a shredded carrots and once everything is slow cooked together, no one will ever know. The vegetables add incredible flavor but are hardly noticeable in the finished dish!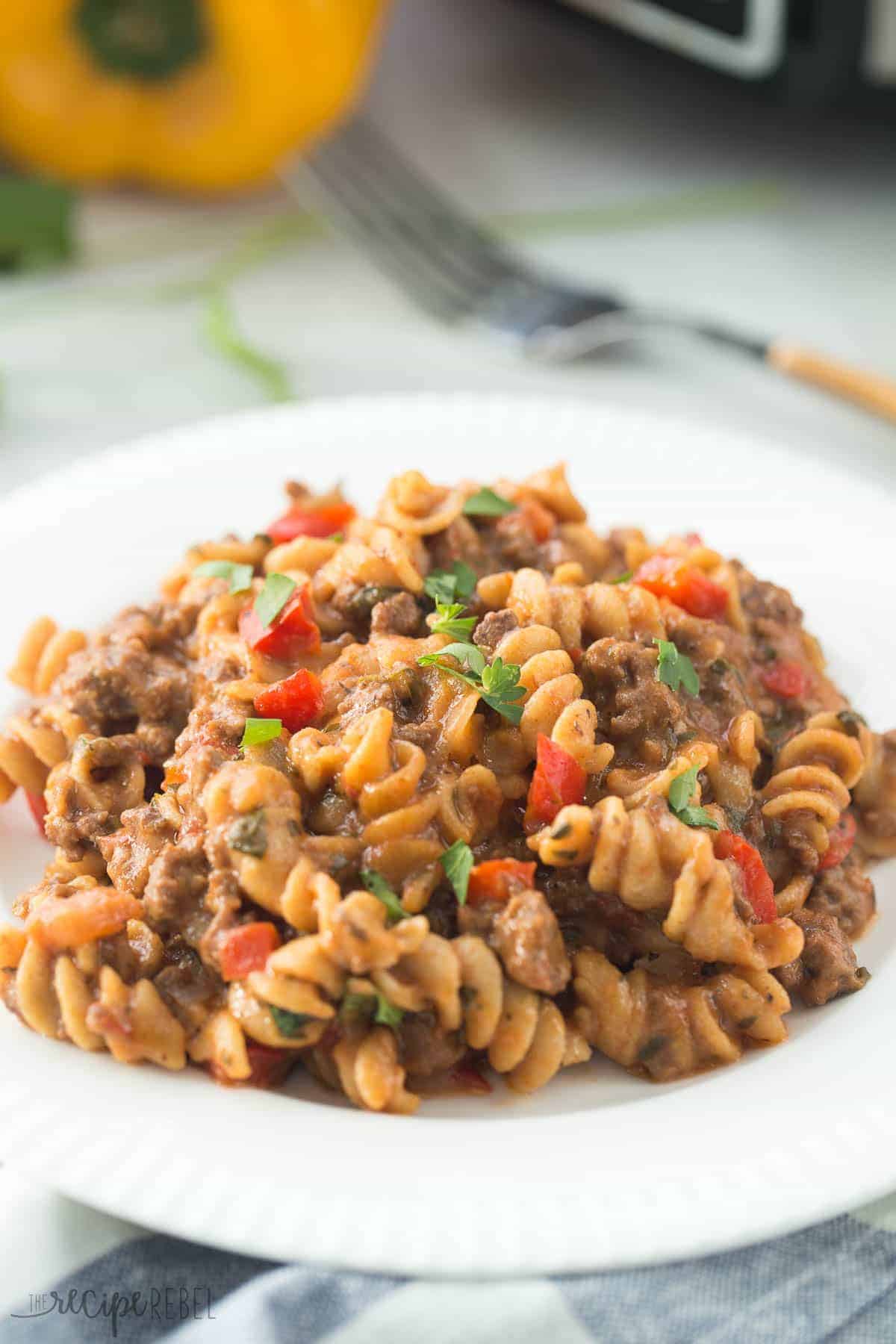 This is the perfect hearty meal to get you through the rest of the chilly days, but it's also perfect for the warmer days when you just don't want to turn your oven on!
Find more recipes from Reynolds® here and follow them on Pinterest.
Healthier Slow Cooker Hamburger Helper
A healthier, homemade version of Hamburger Helper made completely in the slow cooker -- yes, even the pasta! (And no, it's not mushy and overcooked!)
Ingredients
1 lb lean ground beef
1/2 medium onion, diced
1 bell pepper, diced (I used red)
1 pinch red pepper flakes (or more, if you like it spicy!)
1/2 tsp minced garlic
1 tsp salt
1 tsp Italian seasoning
1 cup finely chopped fresh spinach
1 1/2 cup 1% milk
1 cup beef broth, low sodium
1 1/2 cups seasoned tomato or pasta sauce
3 cups dry, uncooked macaroni or other short pasta (I used Rotini this time)
1 1/2 cups shredded cheese
Directions
In a medium skillet, cook ground beef and onion until beef is browned and onion is translucent. Add to a 4-6 quart slow cooker (I recommend lining with a Reynolds Slow Cooker Liner!).
Add in bell pepper, red pepper flakes, garlic, salt, Italian seasoning, spinach, milk, beef broth and tomato sauce and stir. Cover and cook on low for 5-8 hours or high for 3-4 hours.
minutes before serving, stir in pasta. Cover and let cook for 20-30 minutes. Stir in cheese (covering for 2-3 minutes if necessary to melt the cheese) and serve.
Recipe Notes
*Nutrition information is estimated and will vary depending on exact serving size, types and brands of products used.
Loading nutrition data...
 Other slow cooker recipes you might enjoy!
Slow Cooker Pineapple Brown Sugar Meatballs
Slow Cooker Lasagna from Kristine's Kitchen
Slow Cooker Italian Beef Bolognese Fettucine from Whole and Heavenly Oven