It's confession time again.
I need to tell you guys that I've failed at nachos.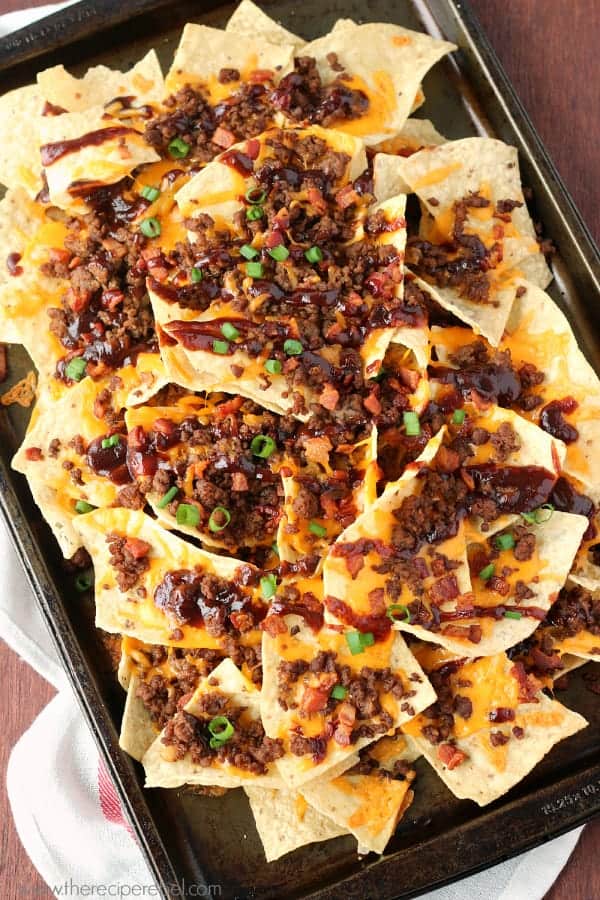 I know, it's a little embarrassing. But I figure it's important for you to know that I would go to the ends of the earth to bring you a fantastic nacho recipe.
Or I would at least make them 3 times.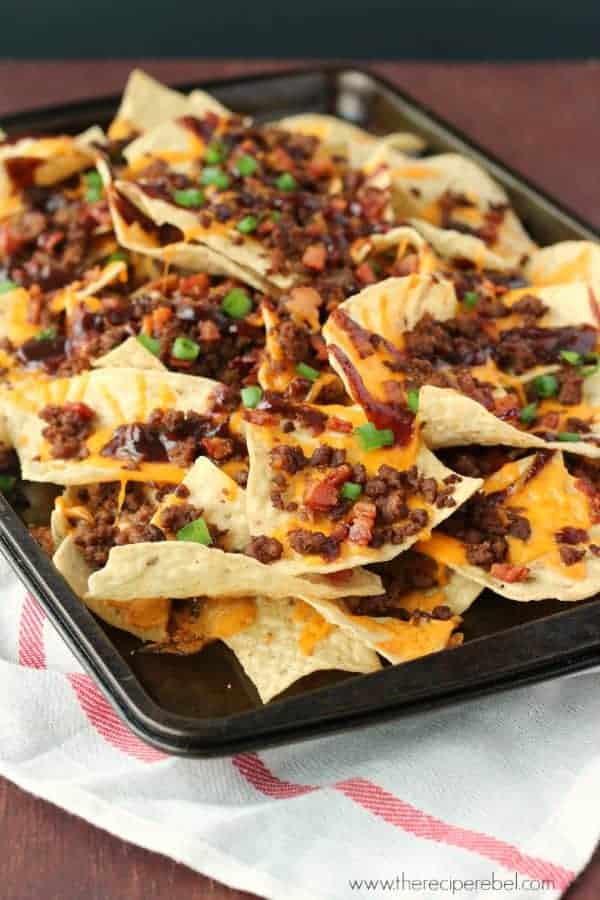 And, you know, it's funny. The husband didn't complain at all when we had nachos for lunch 3 times.
So as someone who can make bad nachos, let me give you a few pointers:
You want good chip coverage on the bottom of the pan. Choose nice large chips for your bottom layer. You don't want any of those delicious toppings falling through!
Hold the sauce. Even though I like sauce, a lot, I kept the meat fairly dry. I added just enough barbecue sauce to keep the meat moist and give it a nice barbecue flavor. Too saucy meat = soggy chips. Drizzle extra sauce on top for big flavor that's not going to make your chips mushy!
Cheese first. Probably 99.9% of you know this already, but if you put the cheese on the chips and then the toppings, they will all stick together!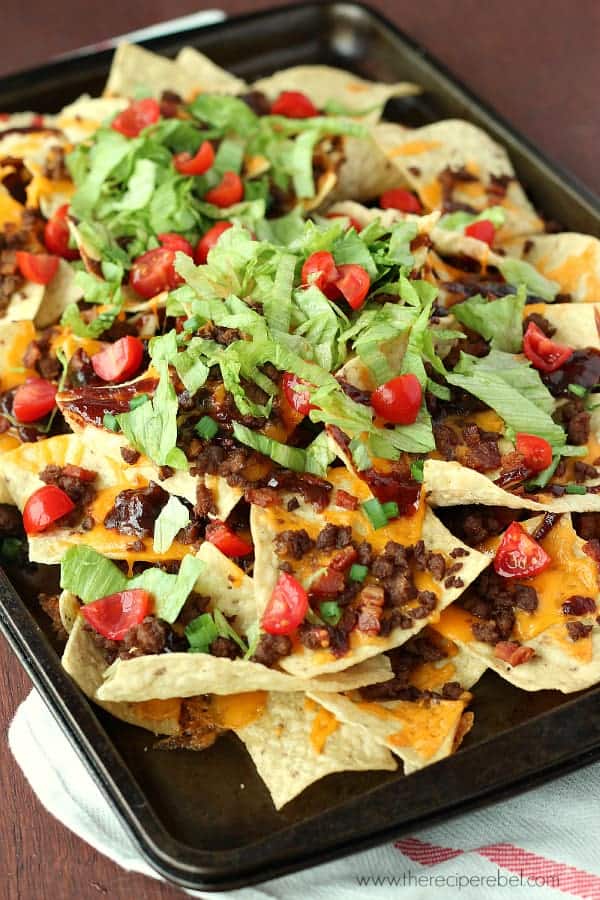 So maybe you're like me and you haven't actually made nachos a bazillion times in your life and you might have thought about putting the cheese on top, or maybe you're already a nacho connoisseur and you just want to laugh at my inexperience, there you have it.
Perfect nachos.
But is anything perfect without bacon? I think not.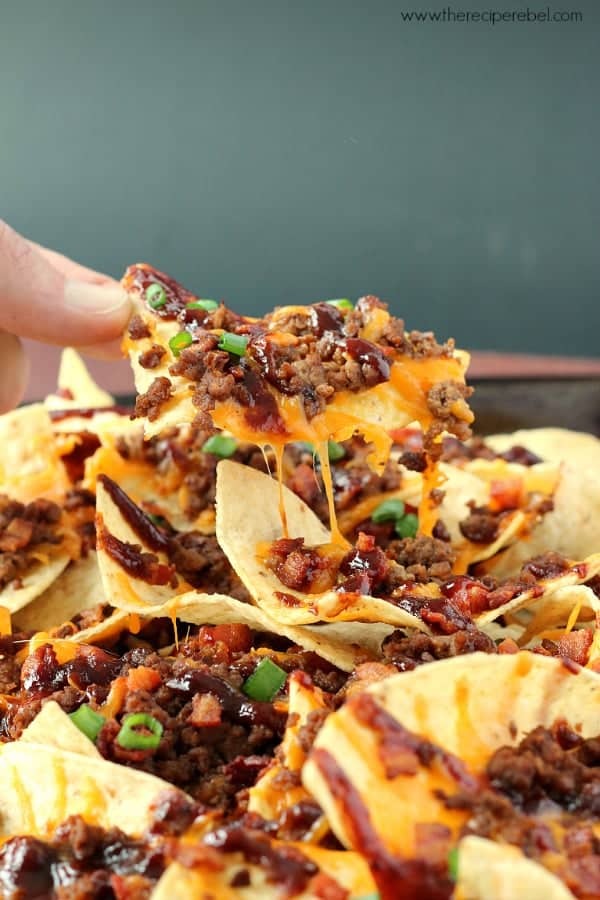 Guys, these are just totally amazing. I mean, cheeseburger NACHOS. And with all that protein, I think they count as a totally balanced meal. Am I right?
You might also like these Mini Twice Baked Potatoes!
BBQ Bacon Cheeseburger Nachos
BBQ Bacon Cheeseburger Nachos: the best nachos you've ever had! Barbecue sauce, ground beef, bacon, cheddar cheese, green onions and all the burger toppings you want. Perfect for movie night or game day! www.thereciperebel.com
Ingredients
Large tortilla chips, about 1/2 large bag

4

slices bacon, chopped and cooked until crisp

1/2

lb ground beef

1/2

small onion, chopped

Salt and pepper, to taste

1/8

cup and 1/3 cup barbecue sauce

3

cups shredded cheddar cheese

Green onion, lettuce and tomato as garnish if desired
Instructions
Preheat the oven to 375 degrees F.
In a medium pan, combine ground beef, onion, salt, and pepper and cook, stirring, over medium-high heat until browned (drain off any excess grease). Stir in ⅛ cup barbecue sauce. Set aside.
Pour ⅓ cup barbecue sauce into a small sandwich bag and set aside.
Line baking sheet with a single layer tortilla chips, careful not to leave too much space between chips. Sprinkle with half of cheese, half of the beef mixture, and half of the bacon. Snip a small corner off of the bag with the barbecue sauce and drizzle half over the first layer of nachos.
Top with another single layer of chips, and sprinkle with remaining cheese, beef, and bacon. Drizzle with remaining sauce.
Bake for 8-10 minutes until toppings are warm and cheese is melted.
Garnish with green onion, lettuce and tomato as desired.