An easier version of Zuppa Toscana made in the slow cooker or crock pot. Full of Italian sausage, kale, and Creamer potatoes, it's hearty, creamy, and perfect for fall! 
*To enter the giveaway, find my giveaway question below and leave a comment to enter!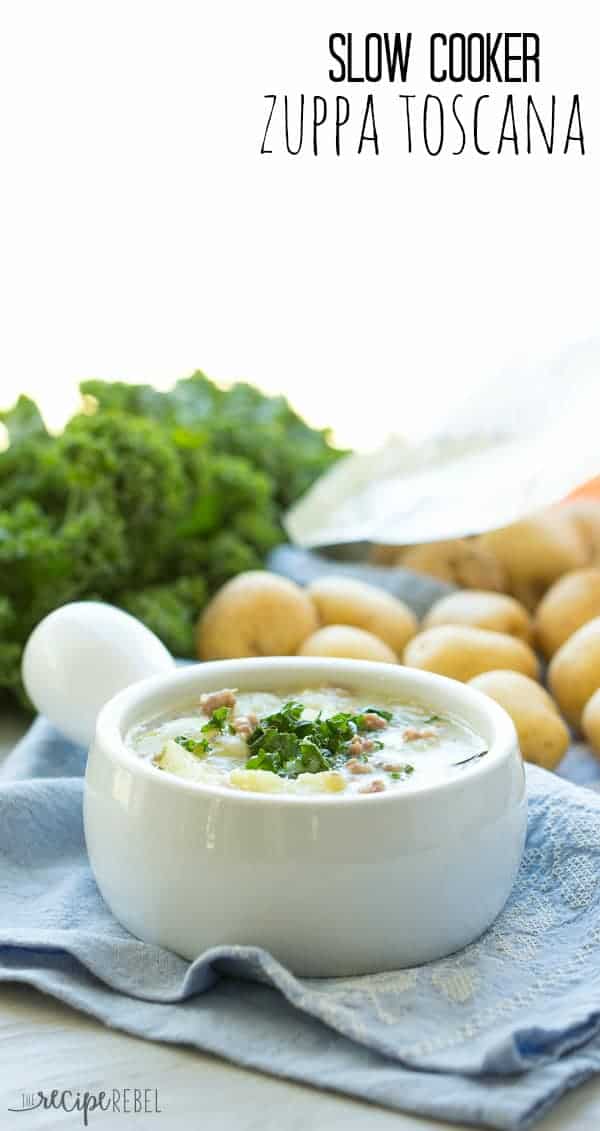 I faintly remember those days when I used to go to Olive Garden.
And we've always lived at least an hour and a half away from an Olive Garden, so it's not like it was a once a week thing, but still — every once in a while I think back to the days before Real Responsibilities (let's call them "Kids" for short) and how we could go into a restaurant and just eat a relaxed meal.
But now I have two of the sweetest, cutest, funniest girls and I wouldn't even trade them for a trip to Olive Garden (promise).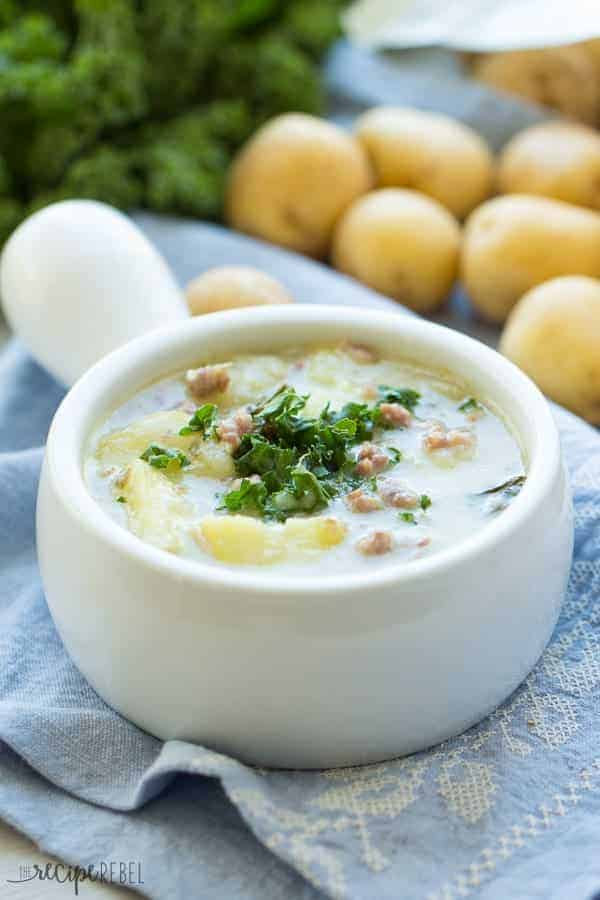 This means that I've learned to make more of our favorite restaurant meals at home, and any kind of potato soup is one of our favorite things to dip large chunks of bread into in the fall. I love how simple this recipe is because so much of the flavor comes from the Italian sausage. You could add some red pepper flakes for even more spice, but since I'm feeding those two sweet girls, I go easy on the spice.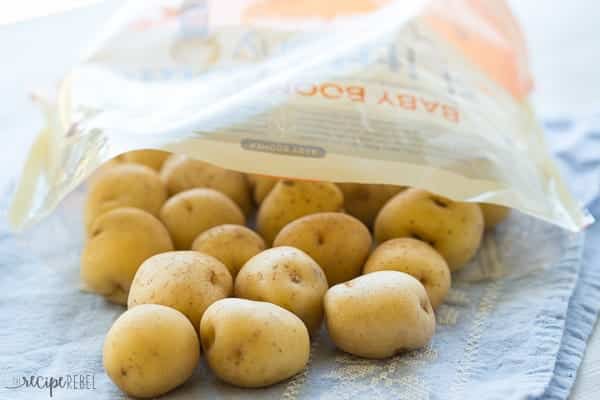 I used a full 1.5lb bag of Baby Boomers from The Little Potato Company, but I think you could use any of the varietals and you would be extremely happy with the results! The potatoes are small to begin with, so I just quartered them and added them to the slow cooker. I really never peel potatoes to begin with, and the skin on these Creamer potatoes is so thin and delicate, there really is no reason.
I skipped the heavy cream and mixed together some flour and milk and stirred it into the soup 45 minutes before it was done. The milk mixture thickens the broth and gives it great richness without all the fat. We like our soups thick and creamy, but if you want a thinner, more traditional Zuppa Toscana, feel free to omit and simply stir in some heavy cream at the end or directly into your bowl.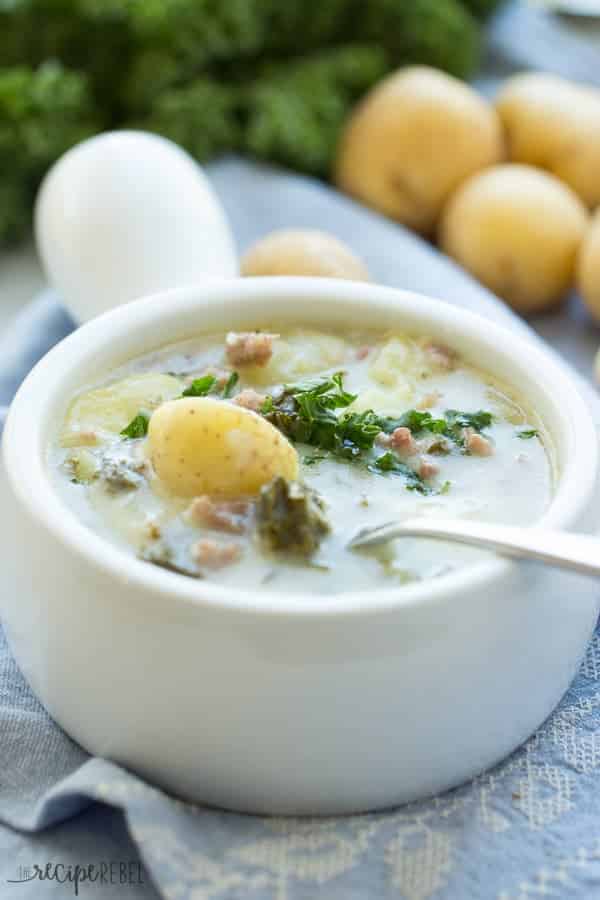 *I created this recipe as part of my ambassadorship with The Little Potato Company and was compensated for my time. As always, all opinions are my own. Thank you to The Little Potato Company for helping to make The Recipe Rebel possible!
Slow Cooker Zuppa Toscana
Ingredients
375g Italian sausage meat (without casings)
1 small onion, finely diced
1/2 teaspoon minced garlic
4 cups chicken broth
1.5lbs potatoes (I used Baby Boomers from The Little Potato Company, quartered)
2 cups chopped kale
1/2 teaspoon salt
1/4 cup all purpose flour
2 cups 1% milk
Directions
In a large frying pan, brown the Italian sausage with the onion over medium-high heat (4-5 minutes). Add minced garlic and cook 1 minute.
Add sausage mixture, broth, potatoes, kale and salt to the Slow Cooker (4-6 quarts) and cook on low for 4-5 hours or high for about 2 hours (cooking times vary by slow cooker).
-45 minutes before serving, combine flour and milk with a whisk until smooth. Stir into the slow cooker with the rest of the soup ingredients. Cover and continue cooking until potatoes are cooked and soup has thickened slightly.
The Little Potato Company Giveaway!
This giveaway is now over. Thank you to all who entered!