This Slow Cooker Honey Glazed Ham is so easy and perfect for Easter or holiday gatherings! There's one secret ingredient that really makes the glaze extra special 😉
This post is sponsored by Reynolds and Socialstars; all opinions are my own #ReynoldsCrowd™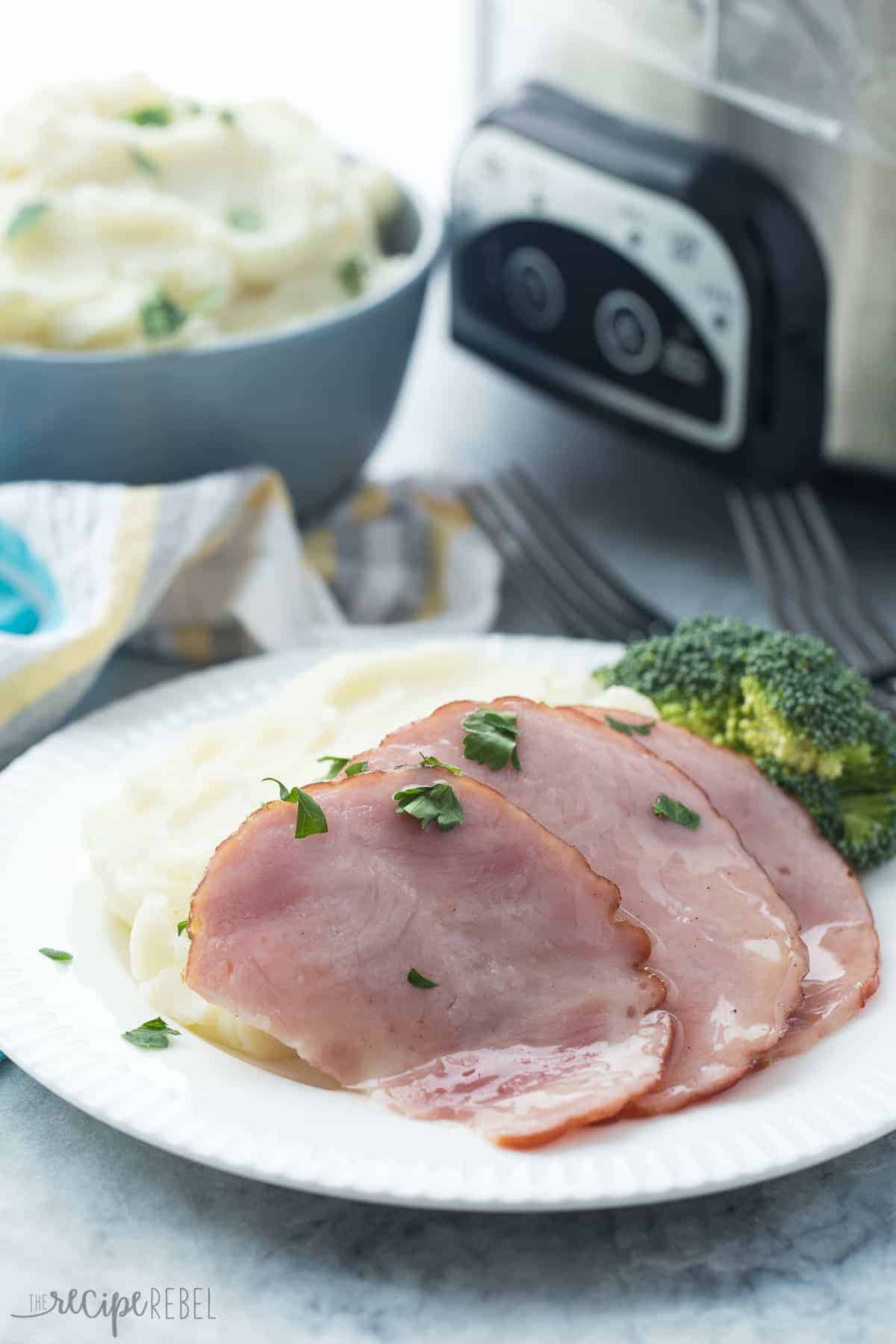 So I hope by now you understand my undying love for my slow cooker, as well as my unwavering commitment to bring you incredible recipes with minimal dishes.
This Honey Glazed Ham is right up there.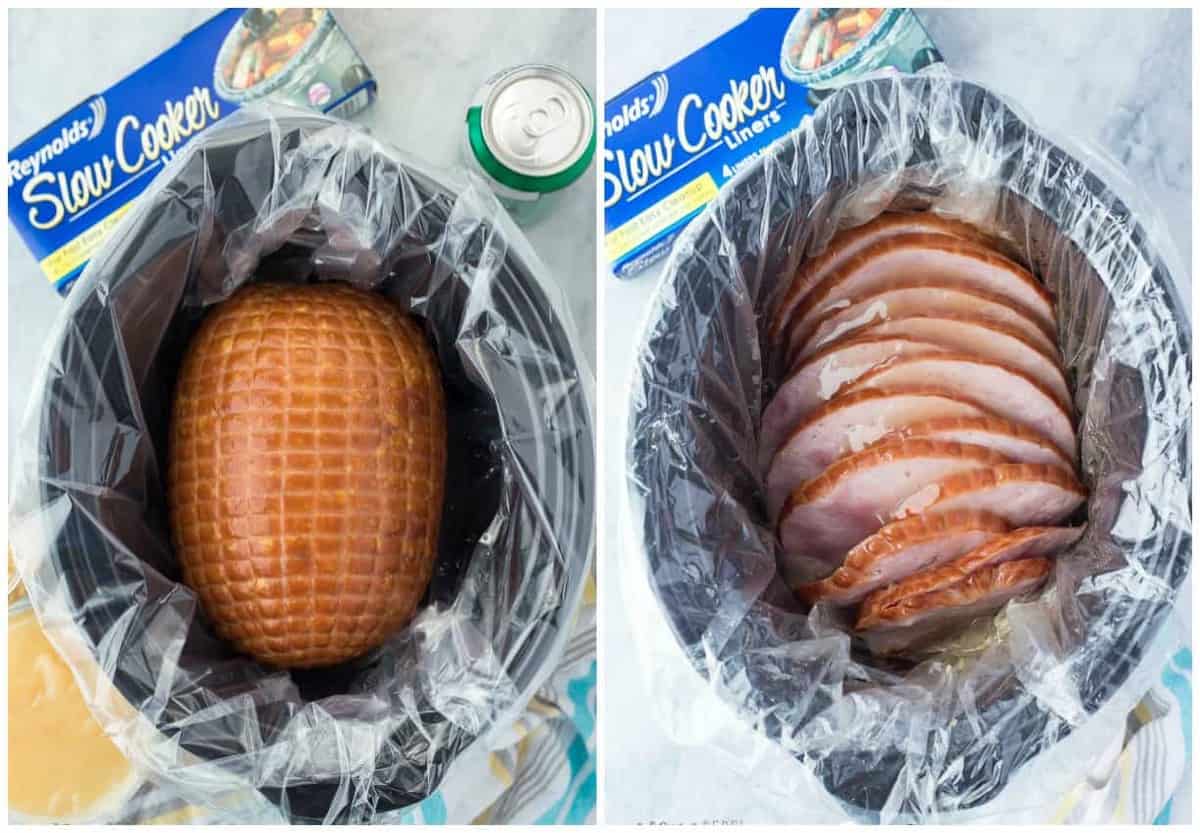 It really does not get easier than this around the holidays! But what I love about this ham is that it's not so fancy or so difficult that it can't be just an easy weeknight dinner or Sunday supper — you can dress it up or dress it down. Serve it with some Skillet Scalloped Potatoes and Slow Cooker Honey Orange Glazed Carrots for the perfect Easter meal — but don't forget these Lemon Berry Cheesecake Trifles for dessert!
Since our parents are both close, I don't usually end up with the task of hosting holiday dinners. But I can spot the mounds of dirty pots and pans from a mile away — and though I'd like to stay a mile away, I do usually try to get in and help! I love using the Slow Cooker Liners from Reynolds so there's no scrubbing the slow cooker after dinner.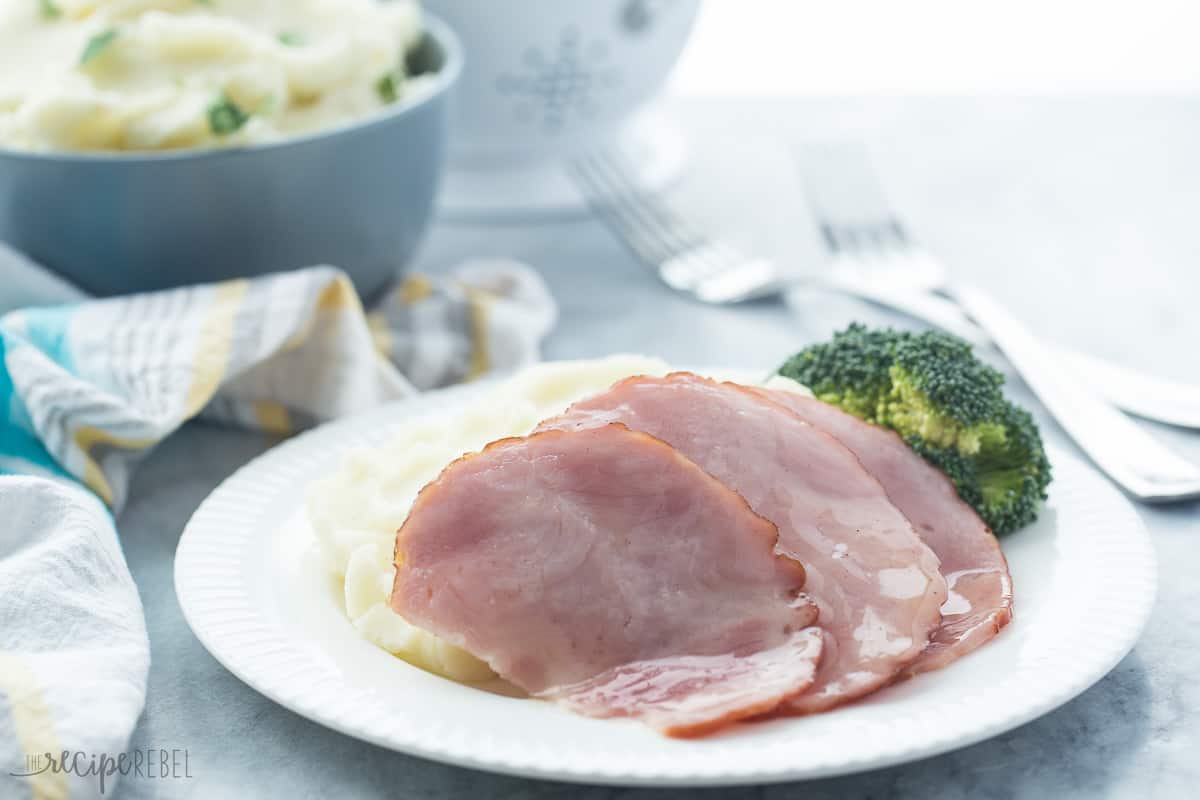 I am not usually a big fan of mustard or ground cloves, but they pair so well with ham, and I added just enough to give it that extra layer of flavor without overpowering the ham! Feel free to adjust the seasonings to your tastes.
Follow Reynolds on Pinterest for more slow cooker ideas!
Slow Cooker Honey Glazed Ham
This Slow Cooker Honey Glazed Ham is so easy and perfect for Easter or holiday gatherings! There's one secret ingredient that really makes the glaze extra special 😉
Ingredients
1 1.7kg (about 3.75 pounds) fully cooked ham*
1 355ml can Ginger Ale soda (about 1.5 cups)
1/4 cup honey
1 teaspoon minced garlic
3 tablespoons apple cider vinegar
1/2 teaspoon ground mustard
1/8 teaspoon ground cloves
2 tablespoons corn starch
2 tablespoons water
salt, to taste
Directions
Place ham in 4-6 quart slow cooker (I recommend lining with a slow cooker liner from Reynolds first!).
In a medium bowl, combine soda, honey, garlic, vinegar, mustard and cloves and whisk until smooth. Pour over the ham in the slow cooker.
Cover and cook on high for 4-5 hours or low for 8 hours (or until heated through).
minutes before serving, turn slow cooker to high if not already on high. Combine corn starch and water and slowly stir into the sauce, adding only as much as necessary to reach desired thickness. Salt sauce if desired, to taste.
Slice and serve with extra glaze from the slow cooker.
Recipe Notes
* This glaze would be awesome with an unbaked ham as well -- you will just need to adjust your cooking time and test the ham's temperature to ensure it is completely done!
** Optional: You can slice the ham before adding to the slow cooker so that it's all ready for guests to dig in!
Recipe adapted from Taste of Home Slow Cooker cookbook.
Other slow cooker recipes you might enjoy!
Slow Cooker Apricot Balsamic Glazed Turkey Breast
Slow Cooker Pineapple Brown Sugar Meatballs
Easy Sriracha Ham (Slow Cooker) from The Food Charlatan
Apple Ginger Slow Cooker Ham from Lemons for Lulu
Brown Sugar Pineapple Ham from Julie's Eats and Treats