This Slow Cooker Caramel Apple Pudding Cake is SO simple, loaded with apples and makes its own hot caramel sauce as it cooks. Our new favorite dessert!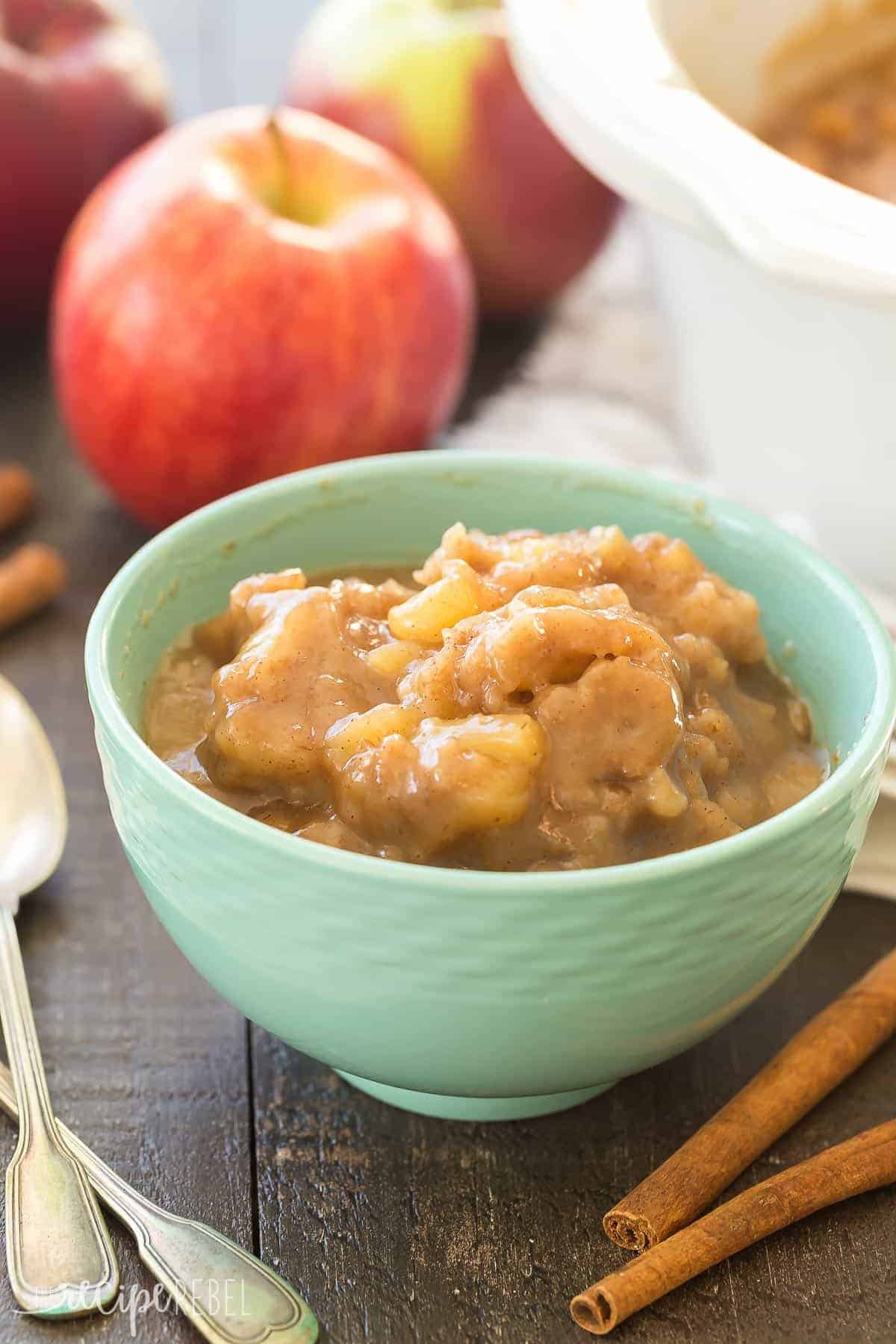 It wasn't supposed to work. At all.
When I spread the cake batter in the slow cooker, I was still optimistic. I sprinkled the brown sugar over, just like I do in my Grandma's Hot Fudge Sundae Cake, and poured on the hot water.
I put the lid on, turned it to high, and crossed my fingers. Still pretty optimistic. It would work, wouldn't it? (I made that Slow Cooker Gingerbread Pudding Cake, after all, and it turned out just fine!)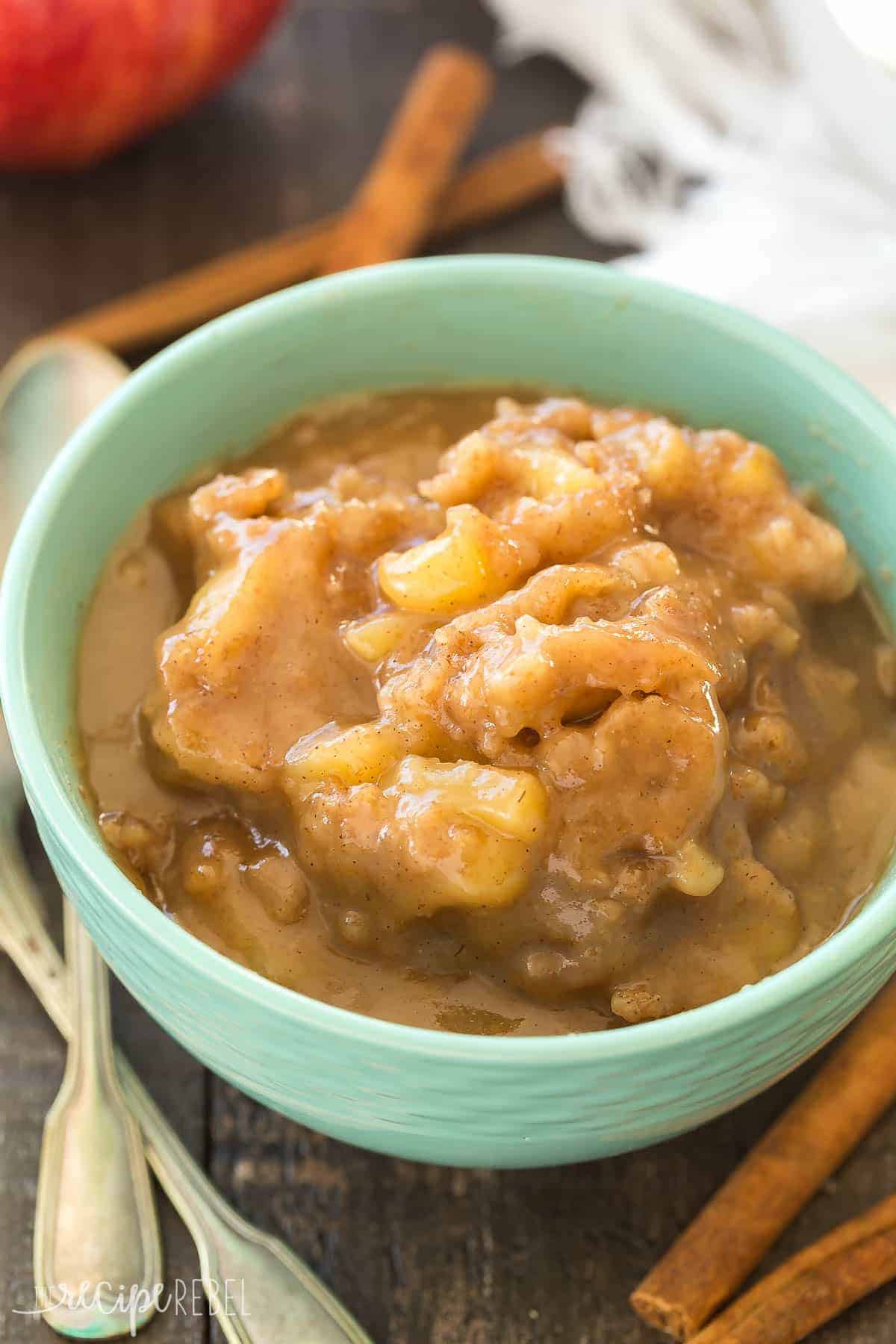 We were having company for dinner on a Sunday when I decided to test this recipe out. I figured it was just dessert, so what if it flopped and we had to have s'mores by the fireplace instead?
A few minutes later I peered in the slow cooker and it looked like a great big soupy mess. I lost all hope then and there.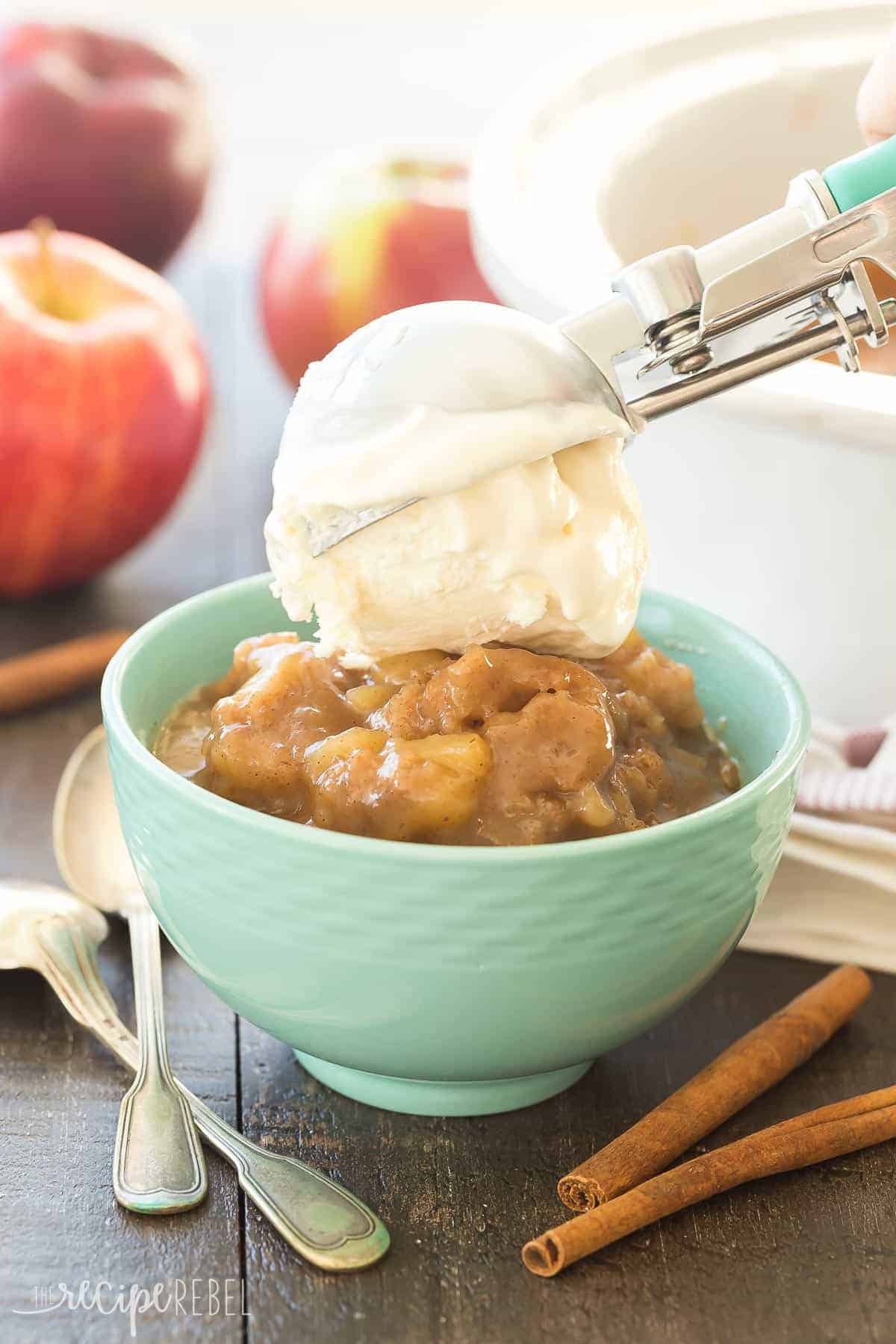 But by some miracle, in a couple of hours a cake layer formed on top, the apples cooked perfectly, and when I dug in I saw the most glorious puddle of caramel sauce underneath.
Let me tell you — I never get it this right on the first try.
But this pudding cake is so, so right, and so incredibly delicious. I know I've said it before and I say it again — nothing gets me like a warm, gooey dessert with a scoop of vanilla ice cream!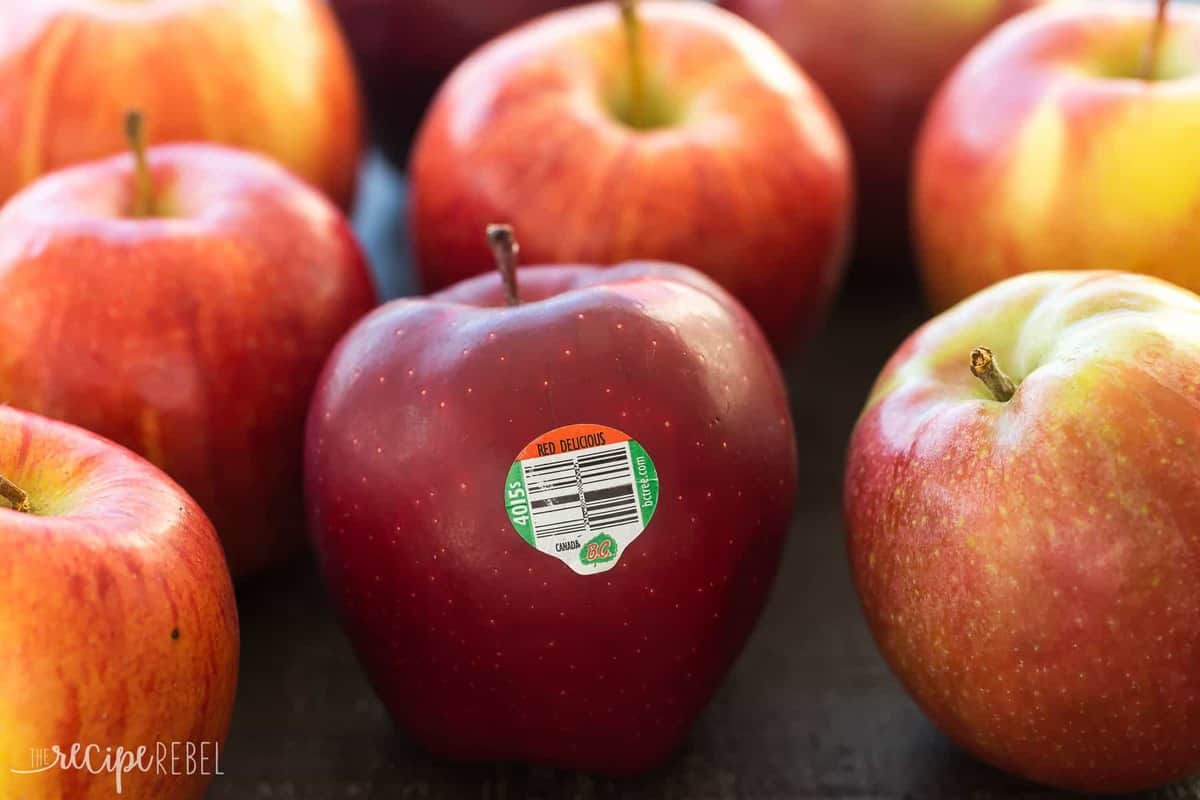 February is Apple Month — a month where we can celebrate that fresh B.C. apples are available year round and support local growers. There's nothing I love more than getting my hands on fresh Canadian produce in the dead of winter!
And since it's Apple Month and we're celebrating with BC Tree Fruits all month long, I strongly recommend indulging in this pudding cake again, and again, and again. I know I'm going to!
I love that we can get perfect BC apples in the dead of winter — so sweet, crunchy and juicy. They make the perfect healthy snack, a sweet contrast in a savory dish (I've got one coming for you soon!), and pack a punch of fresh, juicy flavour in any dessert. They are one of our favorite fruits and we always have a pile on hand, year round!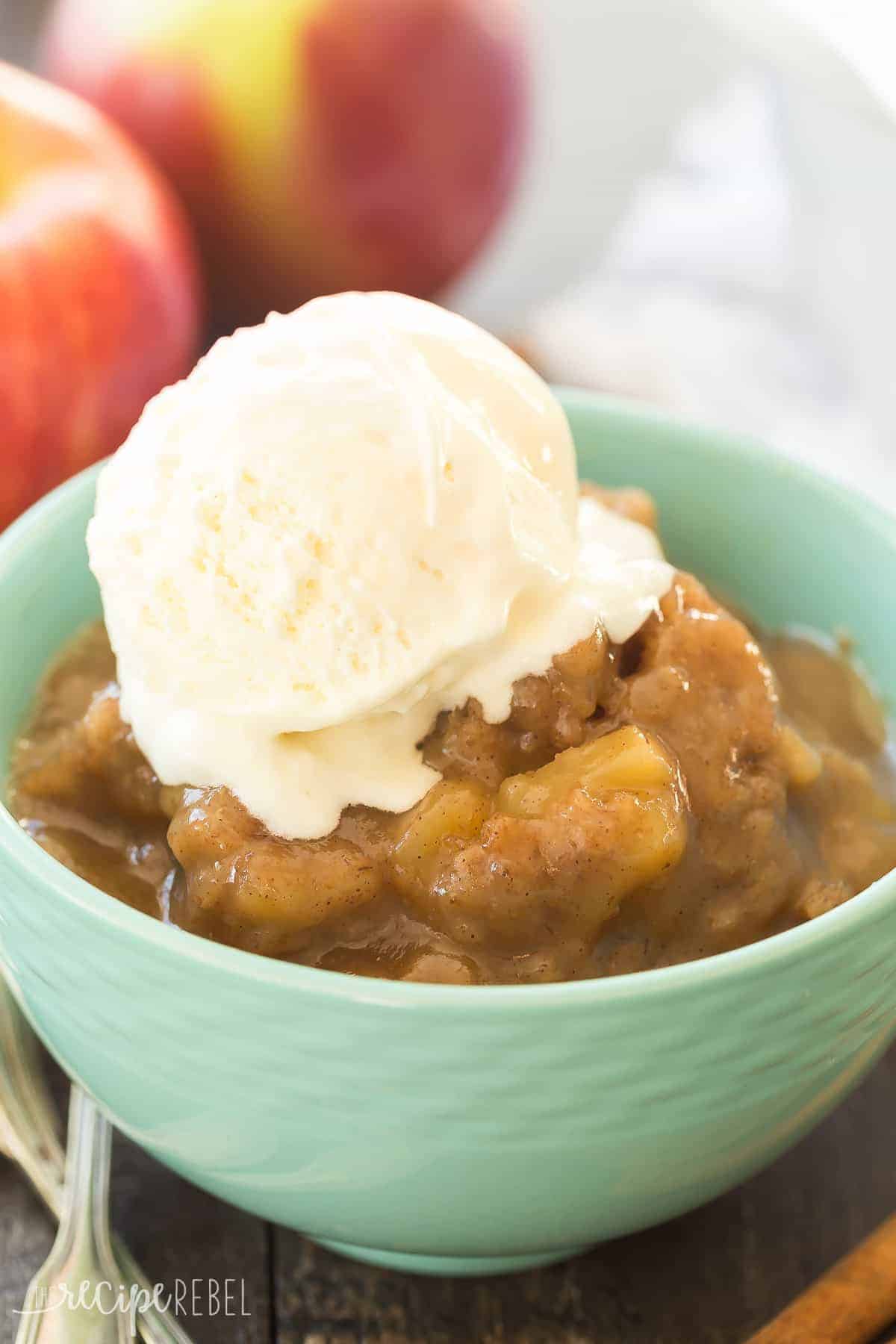 *This post and giveaway is sponsored by BC Tree Fruits — thank you for supporting the brands that help me to bring you all the ooey, gooey, delicious things! Follow along with BC Tree Fruits on Instagram, Twitter and Facebook and visit bctreefruits.ca for more delicious apple recipes. 
See how easy it is to make!
https://youtu.be/snbnK8D1UbA
6
adjust servings
Slow Cooker Caramel Apple Pudding Cake
2 hours 30 mins
Cook Time
This Slow Cooker Caramel Apple Pudding Cake is SO simple, loaded with apples and makes its own hot caramel sauce as it cooks. Our new favorite dessert!
Ingredients
1

cup whole wheat (or all purpose) flour (about 125g)

3/4

cup brown sugar (about 150g)

2

teaspoons baking powder

1/4

teaspoon salt

1

teaspoon cinnamon

1/2

cup buttermilk (or regular milk)

2

tablespoons canola oil

1

teaspoon vanilla

2

large baking apples, peeled and diced
Sauce
1

cup brown sugar (about 200g)

2

teaspoons corn starch

2

tablespoons butter

1 1/2

cups hot water
Instructions
Lightly grease a 3-4 quart slow cooker (mine is a 2.5qt casserole slow cooker, so it has a wider base).
In a large bowl, stir together flour, ¾ cup brown sugar, baking powder, salt and cinnamon until combined.
Stir in buttermilk, oil, and vanilla until smooth (will be thick). Stir in apples and spread in the bottom of the slow cooker.
For the sauce, whisk together 1 cup brown sugar and corn starch until combined. Sprinkle over cake batter and spread evenly.
Melt butter in hot water and pour over brown sugar in slow cooker. Cover and cook on high for 2.5-3 hours until cake is set (will be moist) on top. Sauce will be thin at first -- for a thicker sauce, let sit for 10-20 minutes before serving.
$500 Amazon Gift Card Giveaway!
The giveaway is now over and the winner has been contacted. Thank you to everyone who helped make Apple Month a success!