Six Ingredient Suppers is a new series on The Recipe Rebel — featuring easy, mostly one pot meals made entirely with just 6 ingredients!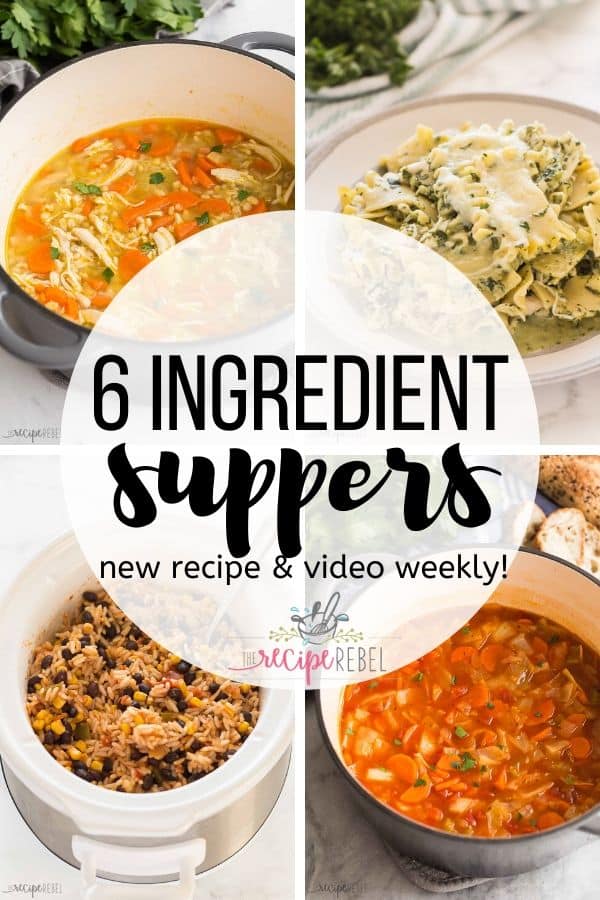 Hey friends!
We're kicking off a New Year with something I'm very excited about!
This week I'm launching a new series called Six Ingredient Suppers — it's all about cutting down on prep time, bringing the family back to the table, and combining "easy" and "delicious" in a way that makes dinnertime more doable.
As a mom of a toddler and two school-aged kids, I don't always have it all together.
Sometimes the thought of cooking dinner gets buried in my to-do list, and all of a sudden it's 5:30 and we're sitting down to a gourmet meal of cold cereal.
I have so thoroughly enjoyed creating these totally doable recipes for busy families, because it means we also have dinner on the table when that time rolls around!
Every month will have a different theme — for example: slow cooker, skillets, sheet pan meals, and on and on! — and a coordinating giveaway will be running in my Facebook group.
See more information on my Facebook group down below!
To receive ingredient lists and stay up to date with the series — and all the other fun stuff going on around here! — enter your information to be added to the list.
Here's how it's going to look:
MONDAYS:
The week's 6 Ingredient Supper will be love on The Recipe Rebel and the full video will be available in the post or on YouTube — I'll send out an email with the video link and the ingredient list so you can follow along!
Every month:
There will be a giveaway related to that month's theme in my Facebook group.
I've been running giveaways and challenges in my Facebook group for the last year and I have loved seeing what you come up with and share! It really helps me to see you making my recipes, and I love the feedback!
This is a way to combine both the Six Ingredient Suppers series and my monthly Facebook group giveaway!
You won't have to make one of the 6 ingredient recipes to enter the giveaway — you can enter as long as its on the same theme and meets the challenge criteria. But I'll be providing you with weekly inspiration on the theme to get you cooking.
How can I see past recipes from the Six Ingredient Suppers series?
There are two places where you can easily see all you've missed, or rewatch any episode!